*** Special HMD offer: As low as $2.19 over spot! ***
Order online with 10% down payment by credit card. See
how to buy
for details.
| | | | | | | |
| --- | --- | --- | --- | --- | --- | --- |
| Size/Qty. | 1-19 | 20-99 | 100-499 | 500-999 | 1,000-4,999 | 5,000+ |
| 1-oz. Coin | $19.71 | $19.61 | $19.51 | $19.41 | $19.41 | $19.31 |
| | |
| --- | --- |
| QTY | |
| | |
Basis: silver @ $17.12 -- Updated: 08/17/2017
Prices & availability subject to change without notice. See Terms & Conditions.
Shipping and handling, per package:
USPS Priority: $17 under $1,000;
USPS Registered: $30 under $100,000
FedEx Express Saver: $25 (No PO boxes)
Mint-sealed 500-oz. monster box delivered no charge, some exceptions apply.
We are excited to offer again backdated 1 oz. American Silver Eagles for as low as $2.19 over spot, while supplies last. This exclusive Hard Money Deal is 40 cents per coin off our normal market pricing. The most popular silver bullion coin in the world, temporarily available at the lowest prices you'll likely find anywhere!
Due to a distress seller, we have 19 original, sealed "monster" boxes of pre-2017 Silver Eagles. Each box contains 500 coins, perfect as the day they were made, packaged and sealed at the US Mint. Because we sourced them at below-market prices, we can pass along the savings to you. But supplies are extremely limited. Once these are gone, we will resume our regular market pricing at $2.59 over spot.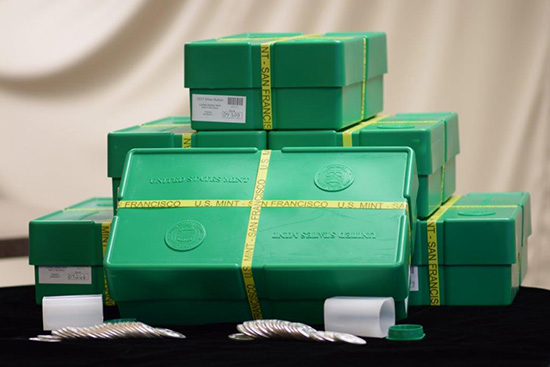 We often have limited supplies of 1-oz. U.S. Silver Eagles from prior years. These backdates often carry lower premiums than current-year Silver Eagles, making them a wonderfully cost-effective way to build your metals portfolio.
U.S. Silver Eagles are an excellent way to buy silver. Backed by the U.S. government for weight and metal content, Silver Eagles are among the safest and most convenient ways to invest in silver bullion. We're now taking pre-orders for the 2017 issue, to begin shipping around the third week in January.
Issued since 1986 as legal tender by the U.S. Mints in Philadelphia and San Francisco, Silver Eagles are only available in the one-ounce weight with a face value of $1.00. The obverse depicts the memorable "Walking Liberty" design by Adolph A. Weinman, adapted from the popular U.S. quarters and half dollars. The reverse features the "Heraldic Eagle" design by John Mercanti.
Just like American Gold Eagles, Silver Eagles are eligible for inclusion in Individual Retirement Accounts.
Benefits of American Eagle silver bullion coins
Highest quality silver -- Each Silver Eagle contains one troy ounce of pure silver, giving it the highest pure silver content of any U.S. coin.
Content guaranteed -- American Silver Eagles are the only bullion silver coins guaranteed as to weight and silver content by the U.S. government.
Official legal tender -- Silver Eagles are the only genuine legal tender pure silver coins issued by the United States Mint. Privately minted silver medallions, tokens, etc., are not legal tender.
Private and non-reportable -- American Silver Eagles are non-reportable to the IRS by brokers. They offer complete financial privacy and the security.
Eligible for Individual Retirement Accounts -- Unlike other silver bullion coins, American Eagles are eligible to fund IRAs.
Instant liquidity -- American Silver Eagle coins are saleable at market value virtually anywhere.
Easy to store and transport -- Silver bullion coins are compact, convenient, and easy to store or transport. We pack them securely in 3-inch tall break-proof plastic tubes, perfect for home safes and bank safety deposit boxes.
Better than bars and ingots -- We recommend silver bullion coins like American Eagles over silver bars and ingots because they're far easier to sell, store, and transport, and do not incur the additional costs of assaying.