$10 Indian MS63 ready for major rise!
Greetings!
I'm very pleased to alert you to a superb opportunity for gold investors. $10 Indian gold coins in choice Mint State 63 grade are now available at their lowest prices in more than seven years and their lowest premiums (value above gold content) in more than a decade. These scarce, classic U.S. gold coins offer all of the investment benefits of gold bullion plus far superior upside potential and very little downside risk in the current market.
Allow me to provide a little more history. Since 2006, these coins have routinely traded between $1,250 and $1,750. During this period, their prices have dropped to a major cyclical bottom near or below $1,200 on four occasions. The first three times, this bottom preceded a major rise to new cyclical highs, labeled Rise A, Rise B, and Rise C below. The fourth time is now.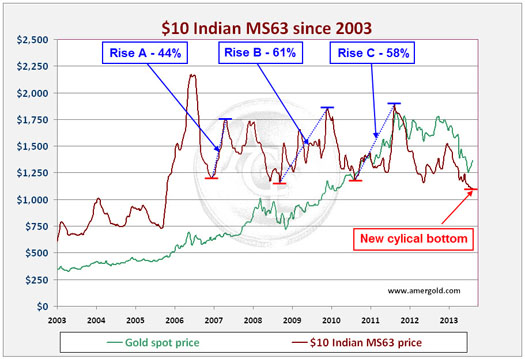 As you can see, Rise A gained 44% in 22 weeks, from $1,205 to $1,740. Rise B gained 61% in 62 weeks, from $1,160 to $1,865. And Rise C gained 58% in 52 weeks, from $1,190 to $1,880.
Our market analysis tells us that prices for $10 Indians MS63 are at another cyclical bottom and ready to begin a new cyclical rise. The last time they rebounded from prices this low, in early 2006, they reached a high of $2,170—nearly twice today's prices—in seven months!
Gold futures have gained 20% since reaching 34-month low in June, catapulting them into a new bull market. Prices for $10 Indians MS63 have yet to catch up to gold's rapid surge, but that won't last long.
Even if these beautiful, historic gold coins merely revert to their 7-year average price of $1,415, they'll realize a gain of 25% from today's low prices. If premiums merely return to their 7-year average of 183% from today's extremely low premium of 66%, $10 Indians MS63 would gain more than 70%—with no increase in the gold price! They've seldom offered better fundamentals for future gains!
Exceptional scarcity, excellent value
Why do prices for $10 Indians MS63 see such large cyclical increases? The main reason is their exceptional scarcity. Out of an original mintage exceeding 15 million, a total of around 80,000 coins have been certified in Mint State 63 by NGC and PCGS, the most trusted grading companies. By contrast, the $20 Saint-Gaudens in MS64, another very popular investment coin, has a certified population of nearly 511,000—more than six times as many. Relatively few $10 Indians MS63 are available through dealers or wholesalers at any given time. This fundamental scarcity and thin supply in the market can drive prices and premiums up very quickly when demand picks up.
We've been fortunate enough to locate a cache of excellent specimens but they won't last long. Rest assured that you will not find better examples at better prices than ours. Once again, at today's extremely low prices and premiums, $10 Indians MS63 offer an exceptional opportunity for gold investors that simply should not be missed!
Please call our friendly, knowledgeable account managers at 1-800-613-9323 if you have any questions.
Respectfully,
Dana Samuelson
President