$20 Liberty MS63 - Low Price, Big Potential!
Greetings!
I'm very pleased to alert you to a superb opportunity for gold investors. $20 Liberty gold coins in choice Mint State 63 grade are trading today at their lowest prices in more than six years with premiums near 10-year lows. They occupy the "sweet spot" for value in the current market and receive our highest recommendation!
Prices for these 100-year-old gold coins are now at the lowest level since September 2008—when gold was under $775 per ounce! Back then, as Lehman Brothers collapsed and the financial crisis unfolded, they gained more than 24% in two weeks, rising from under $1,500 to $1,850. At today's rock-bottom prices they offer excellent upside potential with relatively little downside risk.
Today's premium for these coins—that is, their price above intrinsic gold content—is extremely low at just 32%. Over the past decade, premiums have averaged 73% above gold content—more than twice today's. Only twice in ten years have premiums dipped below 30%, in February 2012 and March 2014. On both occasions they rebounded quickly and strongly, nearly doubling in a matter of months.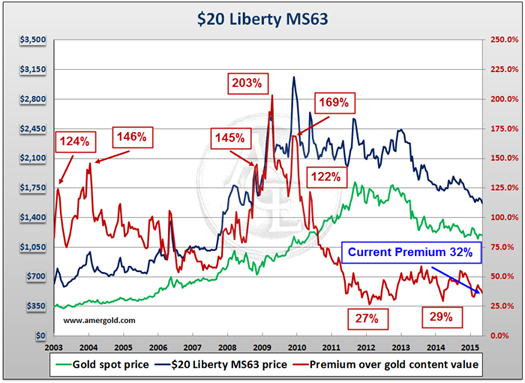 As you can see in the chart above, premiums have risen to cyclical peaks above 120% on six occasions since 2003, reaching an all-time high of 203% in April 2009. In other words, when the gold price rose by $100 an ounce during these cyclical peaks, $20 Liberty MS63 coins rose by $220 to $303 each! This is precisely the kind of "double play" leverage we look for in classic U.S. gold coins: the proven ability to rise by much more than their underlying gold price because of fundamental scarcity and restricted supply in the national market.
If premiums for $20 Liberty MS63 gold coins merely revert to their 10-year average of 73%, these coins would gain by more than $450 from today's low prices. If premiums return to previous cyclical peaks between 120% and 203%, they'd gain between $1,030 and $2,000 each. And that's with no change in the underlying gold price! These coins have seldom been more attractively positioned for future gains!
Compared to $20 Saint-Gaudens MS64
Now let's compare them to a similarly-priced investment coin, the $20 Saint-Gaudens in MS64. This classic U.S. gold coin is among the most popular in the market, and for good reason. It is old, scarce, underpriced, and offers excellent potential leverage to a rising gold price. However, the $20 Liberty MS63, which is quite a bit older than the Saint, is a much better value right now and a more promising coin. Here's why.
First, scarcity. $20 Saint-Gaudens in MS64 have a certified population of more than 526,000 coins (PCGS and NGC combined). $20 Liberty in MS63, however, have a certified population of fewer than 255,900 coins—less than half the population of the Saints. In other words, $20 Liberty MS63 coins are more than twice as scarce as $20 Saint MS64, and scarcity is one of the main drivers of price-appreciation in classic gold coins.
Second, prices. Despite their much greater scarcity, $20 Libs MS63 are trading today at price-premiums of just 2% more than $20 Saints MS64. That's almost unheard of! Take a look at the chart below.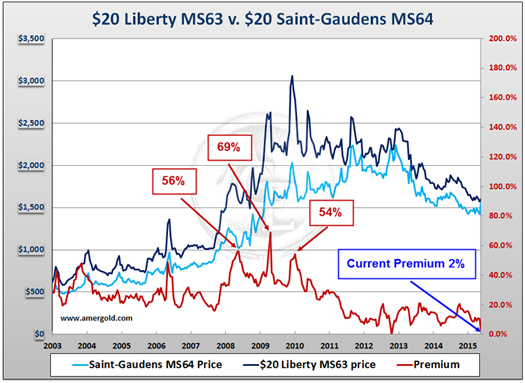 Over the past two years, the premium (or price difference) you had to pay for the much-scarcer $20 Liberty MS63 has generally been between 10% and 20% above the $20 Saint MS64. On three occasions since 2008, this premium has risen to a cyclical peak of more than 50%. Only once has the premium dropped as low as today—in April 2012—and it surged back to 16% within 10 weeks.
Value Sweet Spot
So you can see, $20 Liberty MS63 coins could hardly be more attractively priced or better-positioned for future gains—relative to their own price history, relative to gold bullion, and relative to the popular $20 Saint-Gaudens in MS64. They sit squarely in the value "sweet spot" and simply should not be passed up!
Faced with slower growth in the U.S. and abroad, ever-looser monetary policies around the world, renewed worries about a Greek debt default, and continuing turmoil in the Middle East, global investors are returning to the safety of gold, supporting higher prices. $20 Liberty coins offer all of the advantages of gold bullion plus true scarcity, increased profit-potential, and true financial privacy.
As always, we've cherry-picked the national market for high-quality coins. Rest assured that you will not find better examples at better prices than ours. Once again, these coins offer a fantastic opportunity at today's rock-bottom prices and premiums. They receive our highest recommendation.
Please call us at 1-800-613-9323 if you have any questions.
Respectfully,
Dana Samuelson
President
American Gold Exchange