$20 Liberty MS63 - Lowest premium ever!
Greetings!
$20 Liberty gold coins in choice Mint State 63 grade are trading at the lowest premium we've ever seen! Priced around $150 per coin over a common 1-ounce Gold Eagles, these scarce, classic U.S. gold coins are an absolute steal right now. The market is serving up a stunning opportunity and we think it should not be passed up!
We recommended these same coins 15 months ago when they were trading near today's price. Within three months they had gained $300 each! While history doesn't always repeat itself, these conservative gold investment coins are undoubtedly the best value in the market today, with superb upside potential and relatively little downside risk. Let's look at the facts.
Lowest premium ever
The premium for $20 Liberty MS63 coins—that is, their price above intrinsic gold content—is merely 21% right now, the lowest we've seen in our 37 years in the market. Over the past decade, their premiums have averaged 65%, more than triple today's premium. On three occasions since 2012, after premiums fell to cyclical lows, they rebounded to 54% or higher in a matter of months!
To make $20 Liberty MS63 coins even more attractive, their prices are now the lowest since December 2007—when gold was just $795 per ounce. Within three months of that low, as the financial crisis unfolded, these coins surged 23% in price. By December 2009, their price more than doubled to above $3,000 each. They offer a great track record and strong upside potential, all with the lowest premium risk we've ever seen.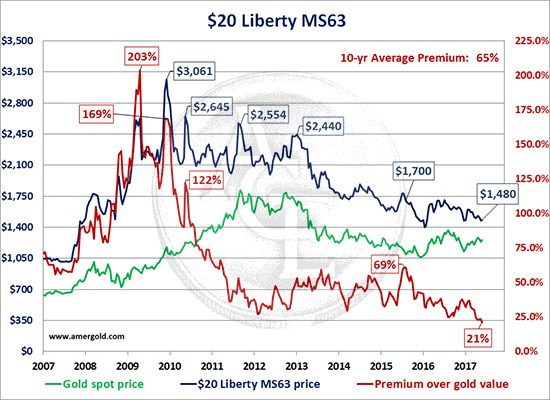 Let's dig a little deeper into premiums. As you can see in the chart above, premiums for these coins have risen to cyclical peaks above 100% on six occasions since 2006, reaching an all-time high of 203% in April 2009. In other words, when the gold price rose by $100 an ounce during these cyclical peaks, $20 Liberty coins in MS63 rose by $200 to $300 each! This is precisely the kind of "double play" leverage we look for in classic U.S. gold coins: the proven ability to rise by much more than their underlying gold price because of fundamental scarcity and restricted supply in the national market.
If premiums for $20 Liberty MS63 gold coins merely revert to their 10-year average of 65%, these coins would gain over $500 from today's low prices. If premiums return to previous cyclical peaks between 100% and 203%, they'd gain between $900 and $1,800 each. And that's with no change in the underlying spot gold price! Truly, these coins have seldom been better-positioned for future gains.
Compared to $20 Saint-Gaudens
$20 Saint-Gaudens gold coins are among the most popular investment coins in the market, and for good reason. They are old, scarce, underpriced, and offer excellent potential leverage to a rising gold price. However, $20 Liberty coins in MS63, which pre-date the Saints, are a much better value right now, with a better track record of price appreciation when the market heats up. Why? Because they are far more scare.
The chart below compares certified survival rates for $20 Liberty MS63 to $20 Saint-Gaudens MS63 and MS64. The blue bar is the total of known survivors, or the coin's "population." The yellow bar is today's price and the green bar is the previous market peak.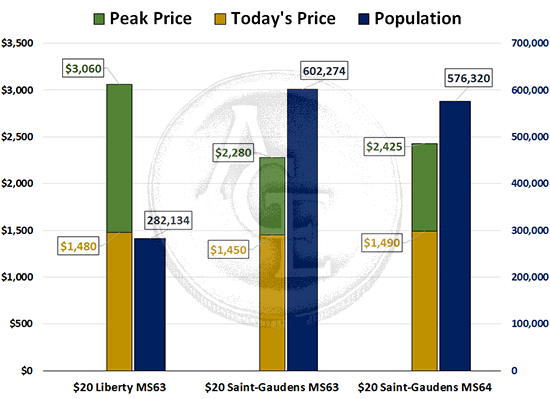 As you can see by the blue population bar, $20 Liberty MS63 coins are over twice as scarce as $20 Saints in MS63 or MS64. However, as the yellow bar shows, they are selling for virtually the same price as the far more common Saints. And their upside potential is greater! As the green bar shows, $20 Liberty coins reached 25% higher than $20 Saints MS64 at their previous market peaks. It's all about scarcity. The $20 Liberty's much greater scarcity makes it a much bigger winner when the market gets hot.
It is worth repeating. The $20 Liberty MS63 coins are the virtually same price as $20 Saints MS64, yet they offer double the scarcity and 25% more proven upside in a hot market! This is why we're strongly recommending them right now! They are clearly the superior choice for savvy buyers. And at today's ultra-low premium and price, they are a very conservative buy as well.
Returning to physical gold
Gold is up 9% so far this year as weak economic growth and political uncertainty at home and abroad are stoking demand for safe havens. After rising to a 14-year high following Donald Trump's election last November, the dollar has fallen into serious downtrend, dropping 2% last week to surrender the last of its post-election gains. Traders now speculate that the increasing turmoil in Washington will impede Trump's pro-growth agenda of tax cuts and infrastructure spending, further pressuring the dollar and supporting higher gold prices.
No wonder global investors are returning to the safety of physical gold. The World Gold Council reported this month that total investment in gold coins and bars rose 9% in the first quarter compared to a year ago. 20 Liberty gold coins in Mint state 63 offer all the advantages of gold bullion plus true scarcity, increased profit-potential, and financial privacy. At today's record-low premiums, they offer an opportunity that should not be passed up!
As always, we've cherry-picked the national market for high-quality coins. Rest assured that you will not find better examples at better prices than ours. Once again, these coins offer a fantastic opportunity at today's rock-bottom prices and premiums. They sit squarely in the value "sweet spot" and simply should not be passed up!
Respectfully,
Dana Samuelson
President
American Gold Exchange