$20 Saints MS64 – Premium near 20-year low!
Greetings!
Gold continues its powerful push higher, adding another 3% in July to gain 26% so far in 2016. But that's just the start. In our opinion, the yellow metal just got the green light to step into a much higher trading range, over $1,360 to as high as $1,500. What happened?
GDP growth in the second quarter came in far weaker than expected at just 1.2%, less than half of most forecasts and barely more than Q1's abysmal 0.8%. With fallout from Brexit still to come, optimistic forecasts for full-year growth have fallen to 2%, even worse than the revised 2.2% average growth from 2012 to 2015. GDP growth is officially going backward!
And so are expectations for a rate hike from the Fed. After July's dovish Fed meeting and awful GDP numbers, and with inflation holding well below the Fed's target 2%, CME FedWatch promptly dropped the probability of a December rate hike from more than 50% to around 30%. The Fed funds market sees no hike until well into 2017. That's bearish for the dollar and gives the green light to gold.
We believe both gold and silver are poised for another, possibly explosive leg up as we enter the fall, which is typically the season of highest demand and greatest price gains. Forecasters like Credit Suisse were already calling for $1,500 gold by year end, and now that target is even more likely.
If you've been on the fence about buying gold this year, waiting for pullbacks, you've watched the market move steadily higher. Now's the time to step in. If you already own gold, you should seriously consider adding to your position before the next big leg up.
$20 Saint-Gaudens in MS64
Better still, if you want a conservative gold buy that offers much greater profit potential than gold bullion for little more than the price of a 1-oz. US Gold Eagle, we've got the perfect vehicle. $20 Saint-Gaudens in MS64 condition are now rising from the lowest premium over bullion in the past 20 years, making them a superb value in today's market.
The 10-year chart below compares the price of $20 Saint-Gaudens MS64 to 1-oz. Gold Eagles. The red line shows the premium, or difference in price, commanded by the scarce $20 Saint MS64 over the common Gold Eagle.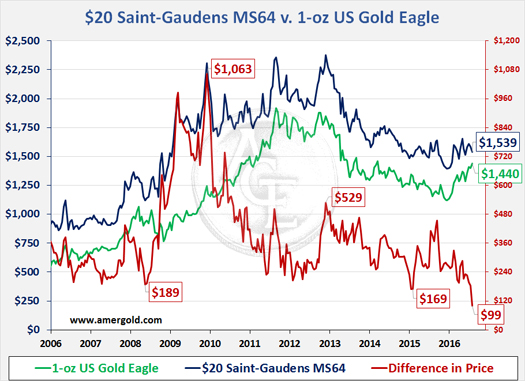 Over the last 10 years, the average premium for $20 Saints MS64 has been more than $400. In 2009, that premium jumped to $1,063 on the heels of the financial crisis. In other words, when safe havens were needed the most, $20 Saints MS64 really came through, generating far more profit than bullion.
Premium near 20-year low
Today, $20 Saints MS64 trade for around $129 more than 1-oz. Gold Eagles. Premiums have risen from a 20-year low of $99 in early August, but they remain far below their 10-year average of $400.
Why are premiums so low? When the gold price makes a quick run higher, as it has in recent months, classic U.S. gold coins often lag before rising themselves. As a result, premiums become temporarily compressed because the intrinsic gold value of the coin has risen at a faster rate than its price. This is exactly what is happening now, creating a fantastic opportunity with the $20 Saint MS64.
Based on the price history of $20 Saints MS64, for around $129 more the cost of a 1-ounce Gold Eagle you could see additional profits of $500 to $1,000 per coin, depending on how the bull market unfolds. And at today's low prices, downside risk for these classic coins is as low as we've seen in years!
How can $20 Saint MS64 gain so much more than bullion during a strong market? In a word, scarcity. Out of the tens of millions originally minted, fewer than 600,000 of these nearly 100-year-old coins have been certified in near-gem Mint State 64. This fundamental scarcity means available supplies can be easily overwhelmed during peak demand, driving prices very high, very quickly. Gold Eagles are minted in unlimited quantities every year and offer no premium for scarcity.
Again, if you've been on the sidelines about buying gold, now is prime time to enter the market. And if your metals portfolio contains bullion coins like Gold Eagles, you have a fantastic opportunity to convert them to $20 Saint-Gaudens MS64, a vehicle offering much higher profit potential, at very little additional cost. The compressed premium for $20 Saint-Gaudens MS64 won't last long, so we urge you to act today!
Respectfully,
Dana Samuelson
President
American Gold Exchange
August 4, 2016