Special Offer: $15 off per coin!
Quantity
1-9
10-19
20-39
40+
Per coin
$1,500.00


$1,485.00

$1,490.00


$1,475.00

$1,480.00


$1,465.00

$1,475.00


$1,460.00
Basis: gold @ $1,199.70 -- Updated: 10/30/2014
Shipping and handling: $30 per package under $5,000; $35 under $100,000.
Prices & availability subject to change without notice. See Terms & Conditions.

| | |
| --- | --- |
| | |
$20 Saints MS63 - Value "Sweet Spot"!
I am very pleased to alert you to a superb opportunity for gold investors. $20 Saint-Gaudens gold coins in choice Mint State 63 grade are trading today near their lowest prices in five years, with premiums near 10-year lows. They occupy the "sweet spot" for value in the current market and should not be passed up!
The last time these classic U.S. gold coins traded at prices this low was 2009, when gold was around $920 an ounce. What's more, their premium today—that is, price above intrinsic gold content—is just 25%, only slightly above their 10-year low of 18%. Over the past decade, the average premium has been 40%—almost twice today's. At current prices and premiums they offer outstanding upside potential with relatively little downside risk relative to gold bullion.
As you can see in the chart below, premiums for these scarce pre-1933 coins have risen to cyclical peaks above 65% on six occasions since 2003, reaching an all-time high of 101% in 2009. In other words, when gold rose by $100 during these cyclical peaks, $20 Saints in MS63 rose by $165 to $201 each! This is precisely the kind of "double play" leverage we look for in classic U.S. gold coins: the proven ability to rise by much more than their underlying gold price because of fundamental scarcity and restricted supply in the national market.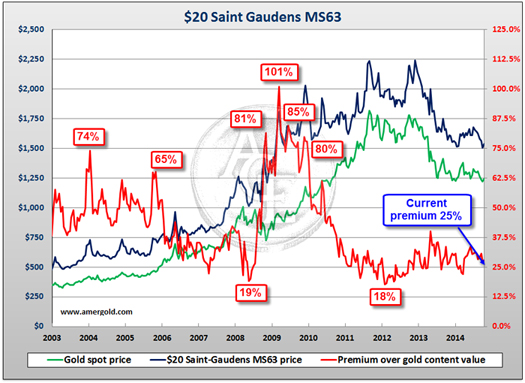 If their premiums merely revert to the 10-year average of 40%, these coins will gain $160 from today's low prices—even if the gold price stays exactly the same as today. If premiums return to previous cyclical peaks between 65% and 101%, they'll gain between $460 and $895 each. With this combination of extremely low prices and exceptionally low premiums, $20 Saints in MS63 have seldom been more attractively positioned for future gains!
Gold is now "on sale"!
The surprise drop in the gold price during the third quarter, driven by an extraordinary rally in the U.S. dollar, has created an exceptional buying opportunity. The dollar's rally appears to have run its course and gold is now rebounding from the lowest prices in four years. But prices for $20 Saints in MS63 have yet to catch up, which is why they are such a great value today.
Faced with slower global growth, falling equities, looser monetary policies in the Eurozone and China, and rising geopolitical turmoil in the Ukraine and the Middle East, investors are returning to gold as a safe haven and alternative store of value. $20 Saints in MS63 offer all of the investment advantages of gold bullion plus true scarcity, increased profit potential, and true financial privacy.
As always, we've cherry-picked the national market for high-quality coins. Rest assured that you will not find better examples at better prices than ours. Once again, these coins offer a fantastic opportunity at today's rock-bottom prices and premiums, and simply should not be missed!
Respectfully,
Dana Samuelson
President
American Gold Exchange
True scarcity, exceptional value
$20 Saint-Gaudens gold coins in Mint State 63 are the value sweet spot for U.S. gold coins right now. Trading near their lowest prices since 2009, and with premiums near 10-year lows at just 25% above gold melt (well below their 10-year average of 40%), these ever-popular coins are highly recommended for conservative buyers of bulk gold.
Minted from 1907 to 1933, $20 Saints were the crucial building blocks of expanding U.S. financial power early 20th century. Often considered the most beautiful of all U.S. gold coins, they combine avid collector interest, true scarcity, and large gold content. Add in very low prices and premiums in choice MS63 grade, and you have a superior value in today's market.
Out of an original mintage of more than 60 million, most have been lost to the ravages of time and the melting pot. Only 556,188 survivors are known in choice Mint State 63 condition (PCGS + NGC, 10/13/2014). This true scarcity can mean higher premiums during periods of increased demand.
Unlike most forms of gold bullion, $20 Saints in MS63 are exempt from broker reporting requirements, making them truly private. In our opinion, they're better than bullion for bulk gold buyers.
Key Benefits
• Prices near 5-year low. Lowest prices since 2009, when gold was $920 per oz. Traded above $2,200 in 2011.
• Premiums near 10-year low. Trading at just 25% above gold melt. 10-year average premium is 40%. Premium hit 101% in 2009.
• Better than bullion. They offer all the advantages of bullion plus true scarcity, increased profit potential, and true financial privacy.
---
$20 Saint-Gaudens (MS63)

Minted: 1907 to 1933 (dates our choice)
Content: 0.9675 oz. pure gold
Size: 34 mm, lettered edge
Weight: 33.436 grams
Population: 556,188(PCGS + NGC, 10/13/2014)