$20 Saints MS64 – Value Sweet Spot!
Greetings!
November's unexpected drop in the gold price has created superb opportunities for long-term gold investors. $20 Saint-Gaudens gold coins in near-gem Mint State 64 grade are trading today at the lowest prices in a year and with premiums near the lowest ever! In our opinion, they occupy the "sweet spot" for value in the current market and should not be passed up!
The last time $20 Saints MS64 were this inexpensive, gold was around $100 lower than today. Over the past decade, premiums for these 100-year-old coins—that is, their value above intrinsic gold content— have averaged 45%. Today, their premium is less than 24%, little more than half of the 10-year average and close to the lowest ever recorded!
Almost the same size and weight as 1-ounce US Gold Eagles, $20 Saints in MS64 are trading for around $175 more than those popular bullion coins, yet they offer far greater upside potential because of their true scarcity and collectability. And at today's extremely low prices and premium, they carry relatively little additional downside risk.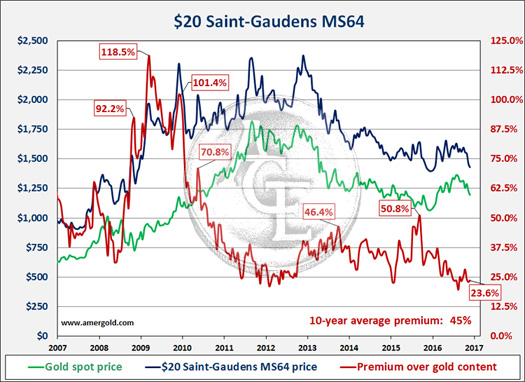 Let's take a closer look at premiums. As you can see in the chart above, on four occasions in the past 10 years, premiums for these classic coins have risen to peaks between 71% and 118% following major cyclical bottoms. In other words, when gold rose by $100 during these peaks, $20 Saints MS64 rose by $117 to $218 each.
This is precisely the kind of "double play" leverage we look for in classic U.S. gold coins: the proven ability to rise by much more than their underlying gold price because of fundamental scarcity and restricted supply in the national market.
If current premiums for $20 Saints in MS64 merely revert to their 10-year average, which they've done following every previous cyclical bottom, these coins will gain around $250 from today's low prices. If premiums return to the previous peak of 118%, they will gain nearly $1,100 per coin—and that's with no change in the underlying gold price! These coins have seldom been more attractively positioned for future gains.
How can $20 Saint MS64 gain so much more than gold? In a word, scarcity. Out of the tens of millions originally minted, fewer than 600,000 have been certified in near-gem Mint State 64. This is a tiny survival rate! When demand increases, buyers can quickly overwhelm existing market supplies, driving prices much higher, often very quickly.
By contrast, 1-ounce US Gold Eagles are minted in virtually unlimited numbers each year and offer no premium for scarcity, so they rise by only as much as the gold price. In fact, the U.S. Mint has already made more 1-ounce Gold Eagles this year than the entire known survival rate of MS64 Saints! That's why we think the Saints are much better than bullion for long-term gold investors.
Déjà vu all over again
In late October of last year, gold was trading at $1,185 when the Fed telegraphed a rate hike for December. Gold fell $130 over the ensuing six weeks, bottoming at $1,055. This proved to be the best buying opportunity in five years. In the New Year, gold surged with a vengeance, punching over $1,250 by the second week of February 2016 and rising to $1,375 by last summer.
This year is looking like déjà vu all over again. The Fed again signaled a December hike in late October, and the markets have already priced it, driving gold to a bottom before the fact. What's more, Donald Trump's unexpected election triggered a frenzy of speculative risk-appetite, driving stocks to new record-highs at the expense of safe-haven assets.
These one-sided trades are starting to subside as caution tempers the initial euphoria. Trump's plan to rebuild infrastructure while slashing regulations and taxes could stimulate growth and corporate profits, but it also runs the risk of stoking high inflation and further ballooning the national debt, both of which are bullish for gold in the longer term.
The bottom line is that gold is unexpectedly back on sale for the second December in a row. If 2017 turns out anything like 2016, the current dip may to prove to be the best buying opportunity of the coming year!
At today's low prices and premiums, $20 Saint-Gaudens gold coins in Mint State 64 are an excellent and quite conservative way to take advantage of this welcome price break. Once again, they occupy the "value sweet spot" in today's market and should not be passed up!
Respectfully,
Dana Samuelson
President
American Gold Exchange