$20 Saints MS65 – Prices at 8-year low!
UPDATED April 10 - We initially made our MS65 Saint recommendation on February 28. Since then, prices and premiums have risen due to increased demand on a fixed supply of coins. The chart below reflects their current price and premium. While the gold price rose 2% since our intial recommendation, the premium for these coins jumped 11%, which is a perfect illustration of the price-leverage to gold these truly scarce coins can offer.
Greetings!
Gold is off to a fantastic 2017, surging 10% so far this year as investors seek protection from rising inflation at home and growing uncertainty abroad. This solid uptrend is creating some superb opportunities in high-grade pre-1933 US gold coins, which typically lag the gold market before accelerating strongly in price.
$20 Saint-Gaudens gold coins in gem-quality Mint State 65 grade occupy the "sweet spot" for value in the current market. They are trading today at their lowest prices in eight years, with premiums near the lowest ever! In our opinion, they should not be passed up!
In 2009, on the heels on the financial crisis, these large-sized, extremely popular gold coins traded for more than $2,900 each, around 75% higher than today's low price. For the next four years, though 2013, they held a range between $2,200 and $2,700. Then, as gold became mired in a bear market through 2015, they slipped into their current range between $1,650 and $2,000.
Gold is emerging from that bear market and we expect $20 Saint-Gaudens MS65 to follow suite, eventually rising back into their higher trading range above $2,200. Historically, a rising gold price has been the most powerful driver of demand for high-grade pre-1933 US gold coins.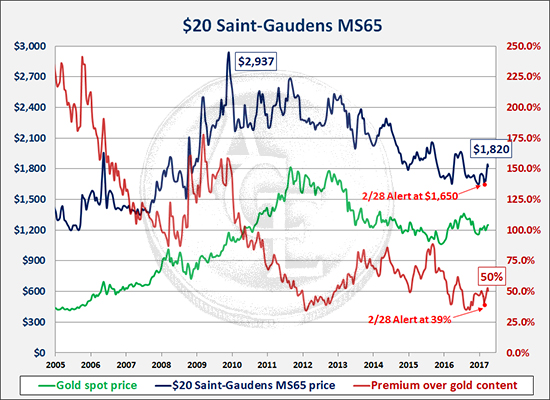 Let's take a closer look at premiums. The last time $20 Saints MS65 were this inexpensive, in October 2008, gold was under $875 and premiums for these coins—that is, their value above intrinsic gold content—were around 102%. Over the past decade, the premium has averaged 81%. Today it is just 39%, less than half of the 10-year average and close to the lowest ever recorded!
If current premiums for $20 Saints in MS65 merely revert to their 10-year average of 81%, these coins will gain around $500 from today's low prices—and that's with no change in the underlying gold price! If premiums remain unchanged and gold gains $100 an ounce, these coins will gain around $140 each. If gold gains $100 and premiums revert to the 10-year average, these coins would gain $666 each!
How can $20 Saint-Gaudens in MS65 so much more than gold? In a word, scarcity. Out of the tens of millions originally minted, fewer than 250,000 have been certified in gem-quality Mint State 65. This is a tiny survival rate! Even a modest rise in sustained demand can overwhelm existing market supplies, driving prices much higher, often very quickly.
$20 Saints MS65 offer precisely the kind of "double play" leverage we look for in classic U.S. gold coins: the proven ability to rise by much more than their underlying gold price because of fundamental scarcity and restricted supply in the national market.
Strong uptrend fundamentals
Last year, gold got off to a roaring start as Europe and Japan introduced negative interest rates, driving investors into the metals as a hedge against currency risk. Prices consolidated into a $1,210 to $1,295 trading range, then punched up to $1,372 in early August on worries about how the Brexit vote would affect the European Union.
Speculative euphoria over the election of Donald Trump rallied the dollar and stocks in Q4, pressuring gold and other alternative asserts. But the metal still finished 2016 with an impressive 8.5% gain.
As 2017 begins, it looks like déjà vu all over again. Gold and silver are rebounding strongly off December lows. Negative rates and monetary easing still dominate the Eurozone and Japan. Upcoming elections in France, Germany, and Holland could undermine the fate of the EU. Uncertainty in the U.S. over interest rates and politics are continuing to support demand for safe havens. What's more, inflation is coming back strongly after a long hiatus, driving investors back into tried-and-true hedges like gold and silver.
At today's low prices and premiums, $20 Saint-Gaudens gold coins in Mint State 65 are an excellent and conservative way to take advantage of what appears to be a solid uptrend in gold. Once again, they occupy the "value sweet spot" in today's market and should not be passed up!
Respectfully,
Dana Samuelson
President
American Gold Exchange