AGE Gold Commentary is our regular report analyzing trends in precious metals and rare coins. We monitor domestic and international markets and extrapolate from our 30 years in metals to place current events into a hard asset perspective. View archives.
---
9/19/2005: Gold breaks out!
Source:
Greetings from American Gold Exchange. In this issue of Gold Market Update:
Gold breaks out!
Katrina's consequences
Escalating oil and deficits
Falling dollar
Demand explodes for classic U.S. gold coins

Gold breaks out!
Last Friday, September 16, the New York gold price closed at $459.00, surpassing its 16-year high of $455.80 achieved in December 2004. This morning gold is up another $8.00, currently trading at $467.00. Gold is now in technical breakout mode. We've been anticipating this breakout for months and advising you of its approach. While it's too early to be certain, we believe this breakout could be the start of gold's push above $480 and towards $550, our established target range for year-end 2005.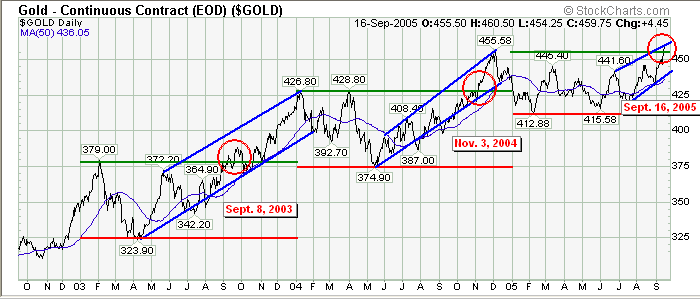 The 3-year gold chart above tracks gold's movement since fall 2002. Each year is marked by an identical formation showing a red bottom support level, a green upside resistance level, and a blue channel indicating upward price movement between August and December. The red circles show the technical breakouts for each of the last three years, and the callout boxes indicate the actual breakout dates.
As the chart clearly indicates, each of the past three fall seasons has brought a technical breakout accompanied by gold's greatest price surge of the year – which makes sense because fall is historically the season of greatest worldwide demand for gold. During each of the past three fall seasons, gold has pushed above its high price of the previous year. Following suit, gold has also closed each year with a successively higher year-end price. Friday's New York close suggests that history is, indeed, repeating itself. We are now in the next technical breakout and the 50-day moving average has turned up as well. The only real difference between 2005 and the prior years, in our opinion, is that the stage is set for much greater price gains this year. In addition, gold is now moving higher in all major international currencies, confirming that the U.S. bull market in gold has now become an international bull market.
Katrina's consequences
For three years now we've described in detail the reasons for gold's escalating price movement. (See Fundamentals point to higher gold.) In the last two months, the fundamental reasons why gold should continue to move higher have become even more convincing. Sadly, much of the recent surge can be summed up in one word – Katrina.
(On a personal note, I'd like to add that I lived in New Orleans for ten years and grew to love the city and its people. I have many friends who were born and raised there, and whose lives have been devastated by this unprecedented natural disaster. Some have lost everything they own; fortunately, all are safe. Just because they've been dealt a horrible hand doesn't mean the game is over. I'm dedicating the coming months to helping my Gulf Coast friends restore a semblance of normalcy to their lives. Please do what you can to help – every little bit matters.)
The devastating impact of Katrina is adding extraordinary pressure to two key financial areas that were already straining at the seams: the huge U.S. budget deficit and the escalating cost of oil. In order to rebuild the Gulf Coast, the federal government must spend billions of dollars it does not have, going further into debt. In addition, approximately 20% to 25% of U.S. oil production capacity was washed away. While the gulf refineries are likely to be rebuilt with all speed, a winter spike above the already-astronomical oil price of $65 a barrel is now possible. Predictions of $100 barrel oil may come sooner rather than later. (See 'Peak oil' gathering sees $100 crude this decade.)
Escalating oil and deficits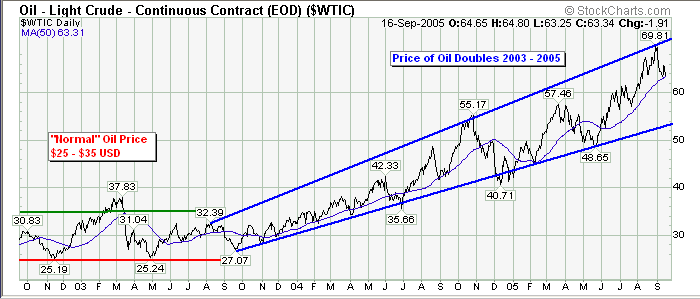 The three-year oil chart just above is pretty straight-forward. The red and the green lines are the boundaries within which many American adults would consider the oil price to be reasonable, between $25 and $35 a barrel. The blue channel shows the dramatic price surge since the fall of 2003, brought on primarily by increased Chinese demand and OPEC's decision, when oil was $12 a barrel, to control the above ground supply rather than invest in increasing production capacity. The oil price has increased by 176% since 2002, rising from $25 to as high as $69 per barrel. The exploding economy of China, which is growing at 10% per year, currently adds approximately 3% to 5% per year to worldwide oil demand, and that figure is likely to grow geometrically in coming years. Now Katrina will further impact an already strained international supply of oil. The result will be increased inflationary pressures and a dampening effect on U.S. equities markets, both of which will be bullish for gold.
While the effects of Katrina on the worldwide oil price may prove to be rather short-lived, the consequences for the U.S. budget deficit will almost certainly be long-term and problematic. After achieving historic surpluses in the late 1990s, which coincided with record stock market and dollar strength, the annual federal budget deficit rose to $438 billion in 2004. The Heritage Foundation, a conservative think tank, predicts annual budget deficits of more than $500 billion by 2009 and $873 billion by 2015 – and these figures do not include the projected costs of the Iraq war and Katrina recovery! Rampant budget deficits like these can significantly undermine foreign investment confidence in U.S. assets and the dollar. Substantial shifts in investor confidence away from these areas will open the door to a much higher gold price.
Falling dollar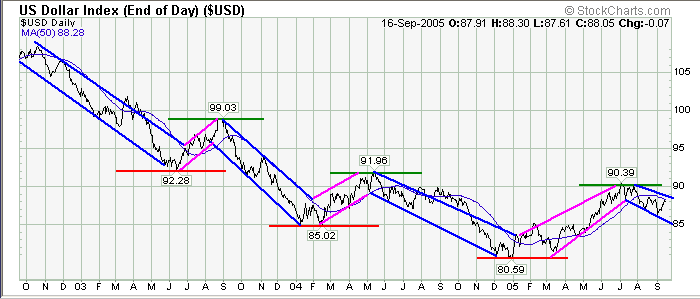 Our latest U.S. dollar chart, just above, reveals the downward step-pattern the U.S. dollar has undergone since 2003. This pattern is remarkably similar to the upward step-pattern of the gold price. The red lines indicate bottom support levels and the green lines indicate upward price resistance levels.
The upward price correction the dollar has been enjoying since May of 2005 (within its larger downward cycle) will now almost certainly reverse itself in the aftermath of Katrina. With the U.S. budget deficit set to explode to unprecedented levels, how can the dollar do anything but take another large step downward? This is horrible news for most Americans, who are just beginning to feel the dollars decline ripple through their pocketbooks. Soccer moms are feeling it at the grocery store and gas pump. My own mother told me recently, "prices aren't a lot higher but the packaging seems to be getting smaller." Do your favorite restaurants have new menus? This is a classic sign of higher prices. You get the picture. It's not pretty, and it won't get better any time soon.
Demand explodes for classic U.S. gold coins
In our last two updates we detailed the decoupling of the gold price from the U.S. dollar (see Rising gold decouples from dollar ), and China's decision to begin decoupling the yuan from the dollar (see Decoupling yuan is bullish for gold). Both of these changes are liberating the gold price to move on its own fundamentals for the first time in years. The unexpected fiscal shock of Katrina will create added pressure to the falling dollar, and gold's upward price potential suddenly seems much greater than we'd previously anticipated. The breakout we've been expecting is now materializing, and we expect this solid gold bull market to continue into the foreseeable future.
Gold's breakout last Friday created a strong surge in physical demand for gold bullion, European gold coins, and classic U.S. gold coins. On the national coin dealer message boards we're suddenly seeing a massive increase in "buy" requests, from the little mom-and-pop dealers to the big trading houses. The national supply of classic U.S. coins, which has been thin for over two years now, has evaporated almost overnight. In the wholesale market, three or four buyers are competing for almost every available coin. It seems we're about to enter a Phase Three coin market, in which prices rise at their fastest rate as dealers compete with each other to fulfill customer requests. (For more on coin market phases, see Bull market raging in rare coins.) We'll be attending one of the major coin shows of the year in Long Beach, California this week, where we expect this trend to be confirmed.
In the mean time, for bulk gold buyers we recommend German gold 20 marks, BU. Minted 1888-1915, these classic European gold coins are a superior value in the gold market today, offering unusual scarcity, low premiums (for now), and better-than-bullion leverage to a rising gold price.
For silver investors we recommend Canadian silver dollars, BU. Minted 1964-1966, these classic silver dollars offer solid leverage to a rising silver price and they're just lovely!
In the classic U.S. gold coin segment, please call our account managers Matt Warden, Tom Simonian, and Tony Caporusso at 800-613-9323 for the best recommendations in the market this week. Next week, be sure to check our classic U.S. gold coins inventory for our latest additions from Long Beach.
That's it for now. We'll have more on the developing gold market as events unfold.
Sincerely,
Dana Samuelson
President and Owner
Metal
Ask
Change

Gold

$1,788.66
$0.90

Silver

$18.25
$-0.16

Platinum

$846.41
$4.71

Palladium

$1,994.29
$10.45
In US Dollars
AGE Gold Commentary
AGE Investor Alert!