AGE Gold Commentary is our regular report analyzing trends in precious metals and rare coins. We monitor domestic and international markets and extrapolate from our 30 years in metals to place current events into a hard asset perspective. View archives.
---
11/11/2005: Precious metals gaining across the board
Source:
Precious metals gaining across the board
Budget warnings from Greenspan
Trade deficits and the national debt
Inflation and the dollar rally
AGE recommendations post major gains

Precious metals gaining across the board
Since our last update, precious metals and classic U.S. gold coins have surged in price across the board. We expected these gains and advised you to expect them, too. In this update we will profile the current state of metals and rare coins markets, outline some of the economic forces that should propel future gains, and review the performance of the items we've been recommending.
Palladium – up 25% – STRONG BUY !
Gaining more than 25% since September 1, palladium has enjoyed the strongest rally in the precious metals sector, and we expect it to continue climbing. (See chart below for pricing details.) According to Citigroup analyst Fidelis Madavo, Russian stockpiles of the metal are much smaller than previously expected. "Based on new production alone, the palladium market is presently in deficit," says Madavo. "Prices may rally strongly once the market realizes that above-ground inventories may not be so large after all" (Reuters, Nov. 7, 2005).
Citigroup is therefore boosting their price projections for palladium from $206 to $265 for 2006, and from $231 to $353 for 2007. Because of palladium's strong surge from recent lows and this new supply information, AGE is issuing a STRONG BUY alert for palladium at this time.
Silver – up 11% – Add on weakness
Silver has jumped almost 12% in price since September 1, from just under $7.00 an ounce to as high as $7.86 in October. Currently trading in the $7.70 range, it retains most of those gains today. So far, silver has not surpassed its 2004 highs of $8.01 in December and $8.22 in April. While silver priced at over $8.00 is psychologically significant, the important technical point is at $8.22. If silver moves over $8.22 and holds, we're looking at what traders call "blue sky on the chart."
Today silver continues to look strong and further gains are expected. In our opinion, when silver moves over $8.22, it could very easily spike to as high as $12.00. Our recommendation is to add to your position on any price weakness.
Platinum – up 5%– Take profits!
Platinum continues to be priced in the stratosphere and, as a result, is the only precious metal of which AGE is wary. Since September 1, it has gained 5% from just under $900 to $955. Although it may continue to rise, relative to the other precious metals platinum remains very expensive.
A rule of thumb over the last 25 years has been: whenever platinum trades under the gold price, it's a great buy; and whenever it trades at $150 an ounce over the gold price, it's a great sell. In the last three years, as it surged to $900, platinum has broken all the rules, and is now trading at an astronomical premium to gold. We believe you should sell part or all of your platinum position, lock in your profits, and move those funds into other sectors that have yet to appreciate fully. If you like platinum at over $900 an ounce, you should LOVE palladium at under $250, and put all or part of your platinum profits there.
Gold – up 5% – Buy on weakness
Of the four traditional precious metals, gold has seen the smallest gain in the last several months, moving from just under $440 on September 1, to as high as $475.50 in October. In the last two weeks, largely in response to dollar strength (see details below), gold has softened to as low as $456 before rallying upwards. Today the price is firming. Trading in the $465 range, gold has excellent prospects for future gains.
At the beginning of 2005 we predicted a late-year price range of $480 to $550 an ounce for gold. This fall the price brushed up against $480 (in fact, gold futures reached $481 in inter-day trading), but $550 in 2005 is looking pretty optimistic at the moment. Nonetheless, fundamentals for gold continue to remain extremely positive and the bull market we've been enjoying since 2002 shows no signs of letting up. Now we're setting our sights higher yet again. The gold market has more room to run and should continue to do so for the next several years. We now believe gold could trade as high as $675 to $750 per ounce in the next 24 to 36 months.
When gold was trading under $300 between 1999 and 2002, we anticipated its return to the mid-1990's trading range of $375 to $400 an ounce. (See Gold Market Update, 3/27/03: Why gold is destined for $375 and higher.) Once gold eclipsed its 1996 high of $417 in early 2004, we predicted a price of $480 in the fall of 2005. (See Gold Market Update, 1/1/04: Gold touches 15-year high.) Now gold is poised to surpass prices we've not seen since the 1980s, specifically its 1987 high of $497 and its 1983 high of $510.
Once those resistance points are passed, gold will have the proverbial blue sky above, and perhaps enough headroom to challenge its 1979 all-time high of $850 an ounce. For the reasons outlined in the following sections on the economy, we expect gold to achieve a price between $675 and $750 an ounce in the coming 24 to 36 months.
Budget warnings from Greenspan
Although the economy is expanding in important fundamental ways, posting an impressive 3.8% growth rate in the last quarter, its long-term health could be in jeopardy from record budget deficits and exploding public debt. Last week departing Federal Reserve Chairman Alan Greenspan issued a dire warning to Congress that the U.S. could face "serious economic disruptions" if the enormous U.S. budget deficits are not curbed.
"I find it utterly inconceivable that [these deficits] will not have a significant impact on long-term interest rates," Greenspan admitted. "Unless the situation is reversed, at some point, these budget trends will cause serious economic disruptions." (See Greenspan warns U.S. on budget deficits.)
Greenspan joins a growing list of economic luminaries who think the U.S is spending its way into financial ruin. Legendary investor Warren Buffet recently warned that the U.S. is in danger of transforming from "an ownership society to a sharecopper's society" because of debt. Former Fed Chief Paul Volcker, who piloted the U.S. economy out of 17% inflation in the early 1980s, believes there's a 75% chance that the U.S. dollar will crash in the next five years. And Stephen Roach, chief economist at Morgan Stanley, has predicted a 40% chance of a hard landing for the U.S. economy in the next year. (See Bush's two big missions.)
It's not difficult to see what all the hand-wringing is about. In the 2005 fiscal year, which ended on September 30, the U.S. government racked up a $319 billion in budget debt, followed by another $50 million for the month of October. Although the 2005 deficit is an improvement over the record-setting previous year, it was still the third-highest deficit on record.
And prospects for the future only look worse. The preliminary 2006 budget predicts a deficit of $390 million – but without the additional, unknown costs of Iraq, Katrina, Rita, Wilma and the avian flu. And although the White House and Congress have pledged to trim $35 billion to $50 billion in spending over five years, that's a drop in the ocean. The government spends more than $2.5 trillion every year. Congress' savings would trim less than half of 1% of annual spending, and would ignore big-ticket spending on defense, homeland security, Medicare and Social Security. Furthermore, the Congressional plan for permanent tax cuts would more than offset these spending decreases. (See Experts: U.S. is spending its way to financial ruin.)
And not to be ignored, of course, are those ten-ton elephants, Social Security and Medicare. In 1985, spending on such entitlements took 45% of the federal budget. It now takes 56%. A decade from now, it will take 62%, according to the CBO, and it gets worse from there, as the first wave of boomers reaches full retirement age in 2011. Medicare benefits promised to 40 million seniors will cost $2.7 trillion more over the next 10 years than what it costs now, according to Heritage Foundation economists. Left unchanged, Medicare promises will cost $30 trillion over 75 years. That would consume all federal revenues, leaving nothing for national defense—or anything else.
"If there's one thing that could bankrupt the country, it's health care," says David Walker, the nation's comptroller general.
Trade deficits and the national debt
Budget deficits accrue to the gross national debt, which is the total amount the government owes itself and others. For the first time ever, on October 18, the gross national debt surpassed $8 trillion! Much of that total is held in accounts such as the highway trust fund; when IOUs in those accounts come due, the government simply issues itself some more debt, deferring payment. No big deal: when you're both the borrower and the lender, terms are easy. But the portion not held by the government, called the net national debt, IS a big deal. Currently a mind-boggling $4.6 trillion, the net national debt must be financed by borrowing in capital markets, which directly affects interest rates and the economy. This is the truly scary number.
More than 46% of our net national debt – more than $2.1 trillion – is now held by foreigners, especially the governments of Japan and China. Because the U.S. imports so much more than it exports, nations like Japan and China take in far more dollars than they return by purchasing U.S. products; so they balance the net flow of capital by purchasing more and more of our national debt in the form of U.S. securities. This is a pretty cozy arrangement: they invest in their primary market, the U.S. consumer; we cram our houses and garages with their inexpensive goods. As long as we keep buying, they're happy to keep financing.
This is precisely the scenario that is so bothersome to Volcker, Buffet, and Roach—and, increasingly, Greenspan. The U.S. economy is importing so much more than it exports—about $2 billion a day more—that the resulting current account deficit is reaching critical proportions. The U.S. net national rate of saving has been running at a record low of about 1.5% of gross domestic product for the past four years and actually dropped into negative territory in July. So, in effect, most of the capital that doesn't go into savings is simply leaving the country and returning as net national debt.
But at some point, all that debt could easily seem like a bad investment to these foreign governments, and that's when the scary part begins. If these nations see U.S. securities as, well, insecure, and decide to put their money elsewhere, the bottom will fall out. Why would they do that? Like any lender, they could easily believe that our fiscal house has become so disordered that we couldn't possibly repay our debt. Or they could fear they will lose money through a fall in the value of the dollar. Or they might need to bring the money home to cope with domestic problems, like a slowdown of the global economy. If a relatively small portion of that investment were to shift into other, safer havens, the value of U.S. assets, and especially the dollar, could absolutely plummet.
The value of gold, in this scenario, would absolutely skyrocket.
Inflation and the dollar rally
In the mean time, and probably for the short term, the dollar seems to be benefiting from another scenario that's historically bullish for gold, inflation. In a major overall downward trend for the last few years, the dollar has seen a recent rally, thanks largely to the rate-raising steps taken by the Fed to curb inflation.
Inflation is on the march. U.S. consumer prices jumped 1.2% in September, the biggest increase in more than 25 years. A record 12% rise in energy prices fueled the historic jump in consumer price index. (See U.S. inflation at 25-year high.)
In addition, U.S. wholesale prices rose a larger-than-expected 1.9% in September, the biggest jump in 31 years. Price increases were led by a 7.1% rise in wholesale energy prices, the biggest jump in 15 years. Food prices also soared, rising 1.4% on a record 49% increase in egg prices. (See PPI surges 1.9%, most since 1974.)
Although core inflation, which excludes food and energy, has remained relatively tame so far, the high cost of oil is beginning to filter into other aspects of the economy. For example, the cost of plastics is going through the roof. Prices for the three most common resins used to make plastic have jumped between 20 and 30% since August — compared with post-Katrina increases of 1.8% in cement, 2% in plywood and 6.5% in structural steel, according to analysts and trade publications. (See Post-Katrina prices put pinch on plastic.) Soon these cost increases will show up in myriad consumer goods, from packaging materials to Christmas toys.
The Fed is understandably afraid that inflation, already worrisome, is now becoming stubborn. In the words of Richard Fisher, the president of the Dallas Federal Reserve Bank, "Inflation has been on an upward tilt the past couple of years. Now, the inflation rate is near the upper end of the Fed's tolerance zone, and shows little inclination to go in the other direction." (See Inflation is becoming stubborn.)
In order to keep inflation in check, the Fed has raised its target for overnight loans between banks by a quarter-percentage on 12 occasions since June 2004. And St. Louis Fed President William Poole signaled just yesterday that the U.S. central bank plans to keep raising rates. Inflation risks are still "skewed toward the high side," Poole told reporters following a speech at Lindenwood University in St. Charles, Missouri. (See Dollar climbs to 2-year high versus euro.)
The dollar, it should be understood, is the primary beneficiary of these interest rate increases. As a result of seven rate increases this year alone, the dollar has climbed more than 15% against the euro and the yen. Almost single-handedly, the Fed's program of ongoing rate increases has created the current dollar rally.
"The interest-rate story is why the dollar has been so strong in the last couple months," said Brian Rose, a currency strategist in New York at Bank of Tokyo-Mitsubishi. "Investors want to buy the dollar because the interest rate goes up every six weeks." (See Dollar climbs to 2-year high versus euro.)
The Fed has been supporting the dollar in the face of more negative economic fundamentals – especially the burgeoning trade deficit and net national debt – that would otherwise pressure it lower. For example, the trade deficit expanded to $66.1 billion in September from a revised $59.3 billion the month before. In the words of Jens Nordvig, a global markets economist in New York at Goldman Sachs Group Inc., "under normal circumstances with this kind of figure, you would expect to see significant dollar weakening. The fact that you're not seeing that seems to indicate that people have quite a bit of appetite to take on long dollar positions.'' (See Dollar climbs to 2-year high versus euro.)
We might not see dollar weakening today, but we will sooner or later, and probably sooner. One indication of overall investor uncertainty about the strength of the dollar, and a strong indicator of the strength of gold, is the fact that gold has been rising along with the rising dollar for the past five months. (See Rising gold de-couples from dollar.) Before June, gold and the dollar moved inversely with each other, almost in lock-step, because gold is denominated in dollars. But for the past five months investors have been buying both.
Investors appear to be buying dollars mainly to profit from these predictable interest rate increases, playing the spread. But because of our enormous budget and trade deficits, investors also seem unconvinced about the overall strength of the dollar and the U.S. economy. So they're hedging their bets: buying the dollar because of the interest rate spread, and buying gold because of its own solid fundamentals, as a hedge against inflation, and as a hedge against an inherently unstable dollar.
At some point in the near future, this rate game will end, the dollar rally will fizzle, and the conditions that are worrying Volcker, Buffet, and Roach will reassert themselves in all of their intractability. Once this happens, in our opinion, gold will be off to the races, perhaps to challenge its 1979 all-time high of $850 an ounce. In the current debt-laden and inflationary economic climate, a price prediction of $675 to $750 for gold in the coming 24 to 36 months does not seem unreasonable. In fact, it's probably a little conservative!
AGE recommendations posting major gains
While the precious metals have posted handy gains since September 1, all of AGE's recommended classic U.S. gold coins have realized far greater percentage gains during the same time-frame. Our recommendations in classic U.S. gold coins are easily understood by the public, and they are of exceptionally high quality. (We're very fussy buyers and quality does matter!) In addition, they have excellent fundamental value and exceptional overall scarcity.
With more than 25 years in these markets, we know the sizzle from the steak, and we understand that quality and scarcity are the real keys to price appreciation in a bull market. Our approach has always been to find good fundamental value in the market and then wait for market forces to work in our favor. We define fundamental value as coins that are popular, high in quality, scarce, and attractively priced.
As you can see in the chart below, which presents the recent performance of our recommended U.S. gold coins and the four precious metals, our strategy is working beautifully!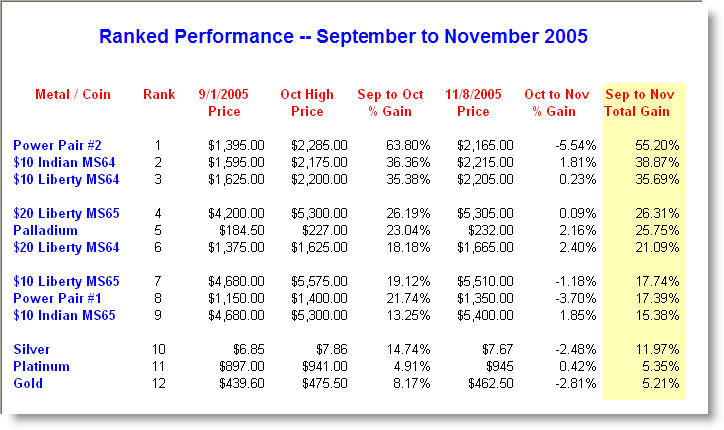 Power Pairs
Our Power Pair #1 ($20 gold coins in MS62 and MS63) and Power Pair #2 ($10 gold coins in MS63) were designed to offer leverage to the early stages of rising bull market through the relative scarcity they offer, and by appealing to the broadest possible market of coin buyers. As you can see, they have done that remarkably well over the last several months.
In the early phases of a gold bull market, many buyers are relatively unsophisticated and don't fully understand the higher leverage opportunities of classic rare coins. As the market matures, however, buyers typically become more sophisticated; they begin to understand that greater scarcity translates into greater leverage to the rising gold price, and higher percentage gains. Demand therefore begins to migrate from quantity to quality, that is, from common mid-grade to scarcer higher grade gold coins.
Indeed, a bull market in rare coins is like a cracking bull whip. It begins with the slower, wider part of the whip—which are the common, larger denomination coins. Then, as the snap builds in power and momentum, the energy moves rapidly into the narrower parts of the whip—into the scarcer coins, which are of higher grade and often smaller denomination. The real power of the cracking bull whip, of course, is in the second half, the smaller part of the whip—or the scarcer coins of highest quality. The greatest profits in a bull market, like the greatest power in a bull whip, occur here. The scarcer the coins, in many cases, the greater the gains—as long as a broad enough market exists for them. These scarcer coins move later than the more common ones, but they ultimately move farther, faster, and with much more power.
In 2002, our focus was first placed on the fat part of the whip: coins that had good underlying scarcity, but were still relatively common and carried low prices relative to the underlying gold price. These were our Power Pair #1, $20 gold coins in MS62 and MS63. Soon thereafter, the energy in the market began its inevitable shift towards scarcity and quality, toward the middle part of the whip—Our Power Pair #2, $10 gold coins in MS63. The fact that our scarcer Power Pair #2 has risen so strongly tells us as market technicians that the bull market is maturing and the buying public is becoming more sophisticated, increasingly choosing quality over quantity.
Market Rockets
Perceiving this trend toward quality and scarcity, we introduced our Market Rockets in mid-2004. Market Rockets are $10 and $20 gold coins in MS64 and MS65, higher grades that are relatively scarcer than the Power Pairs. These coins are farther down the whip but still appeal to a broad market. As we expected, the MS64 grades, which are more common, have seen the greatest gains so far. But the higher grade coins, the MS65s, have the greatest upside today.
The fact that our $10 and $20 coins in MS64 have risen at a greater percentage than the scarcer MS65s confirms that the public's buying focus is shifting towards quality over quantity. Our MS64 Market Rockets have much greater scarcity than our Power Pairs, and we believe they will outperform the Power Pairs in the next phase of the bull market. For the same reason, we believe our $10 and $20 gold coins in MS65 will do even better than the MS64s as the market progresses. So far these gains have yet to be fully realized, but as the market continues to grow and evolve—as the bull whip snaps—the gains of our MS65 Market Rockets should become far greater.
We strongly recommend acquiring scarcer, higher grade U.S. gold coins now. Inventories are becoming limited, and prices are on the rise. Please call our account managers Matt Warden, Tom Simonian, and Tony Caporusso at 1-800-613-9323 to see what's available today.
As always, thanks for your time. We'll keep you informed.
Sincerely,
Dana Samuelson, Owner and President
Dr. Bill Musgrave, Vice President
Metal
Ask
Change

Gold

$1,789.07
$1.31

Silver

$18.24
$-0.17

Platinum

$847.17
$5.47

Palladium

$1,992.79
$8.95
In US Dollars
AGE Gold Commentary
AGE Investor Alert!