AGE Gold Commentary is our regular report analyzing trends in precious metals and rare coins. We monitor domestic and international markets and extrapolate from our 30 years in metals to place current events into a hard asset perspective. View archives.
---
11/30/2006: Gaining gold decouples from oil
Source:
Gaining gold decouples from oil
The incredible diving dollar
Fantastic window for classic U.S. coins
Gaining gold decouples from oil
After a period of consolidation lasting several months, precious metals prices are now moving higher again. On the London fix, spot gold closed out November at over $646 an ounce, its highest close since August 8, after posting more than a $32 gain for the month.
The same fundamental factors that helped to double prices over the last four years—rising world tensions, a falling dollar, burgeoning demand for commodities, and ongoing U.S. fiscal irresponsibility—are beginning to assert themselves once again. In addition, we're now in the typical buying season for gold, which should help to drive demand even higher in coming months.
The most important developments in the gold market in recent weeks have been the decoupling of the gold price from the oil price, and the decline in the U.S. dollar. After moving in tandem with oil for much of 2006, gold began to move independently last month, rising from $580 to $620 per ounce in mid-October while oil fell from $63 to $57 per barrel. In November, gold's climb continued to $646 while oil remained in a consolidation phase, holding between $57 and $63.
Driven in part by the increasing weakness of the U.S. dollar (discussed in detail below), this decoupling of gold from oil is a very bullish sign because it means gold is once again acting as a monetary instrument in addition to being a commodity. For months the gold price was pegged to the general trend in commodities, itself driven by oil. But with international faith in the dollar eroding quickly, gold is once again stepping into its role as the alternative world currency and store of value, which will liberate the gold price to achieve much higher levels.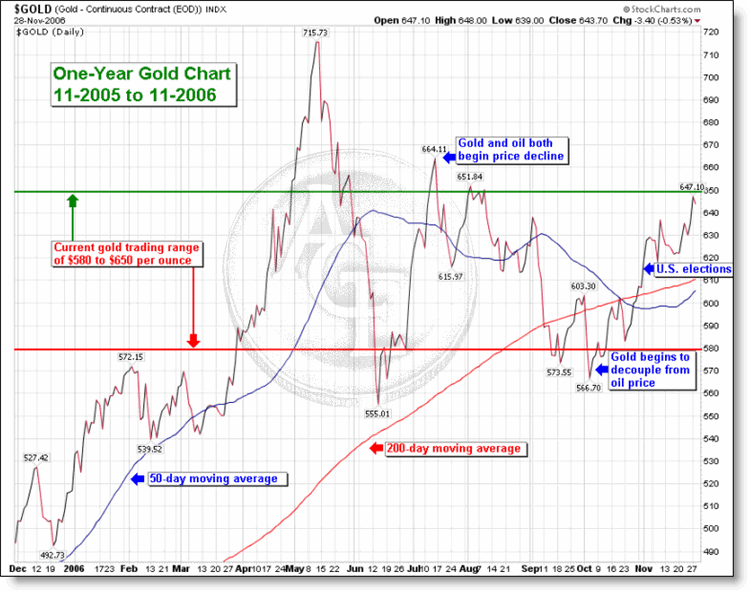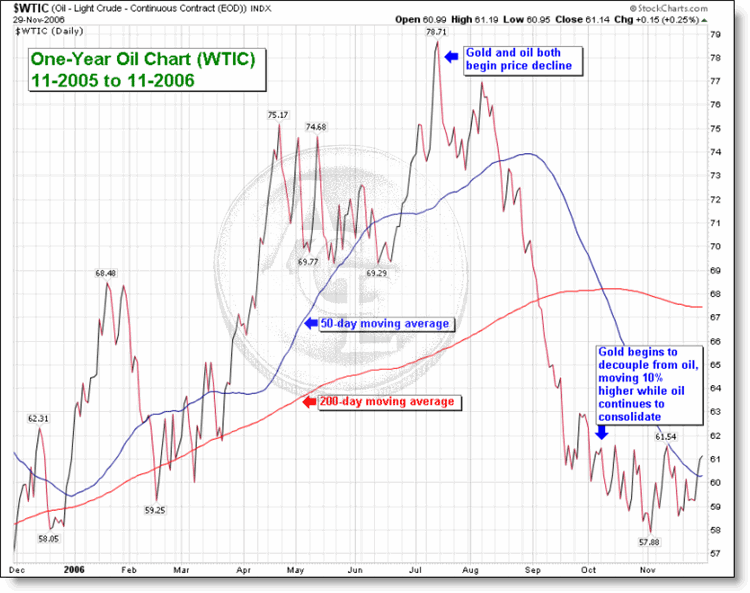 Back in September, when gold was around $580, we said it was cheap under $650 and a steal under $600. Today, with prices channeling between $635 and $647, the market has proven our point. Until gold breaks resistance at $660, the top of its mid-term trading range, we cannot say for certain that the next major phase is underway in gold's renewed rise, but the bias is now definitely towards the upside. Plus, we're in gold's season to shine, with international jewelry and investment demand converging.
We believe gold has the potential to rise above $700 in the next month or two, and perhaps even challenge its May high of $730. While gold is likely to have trouble breaking above $730 in the short-run, we continue to believe it has the potential to move substantially higher in the coming two to four years.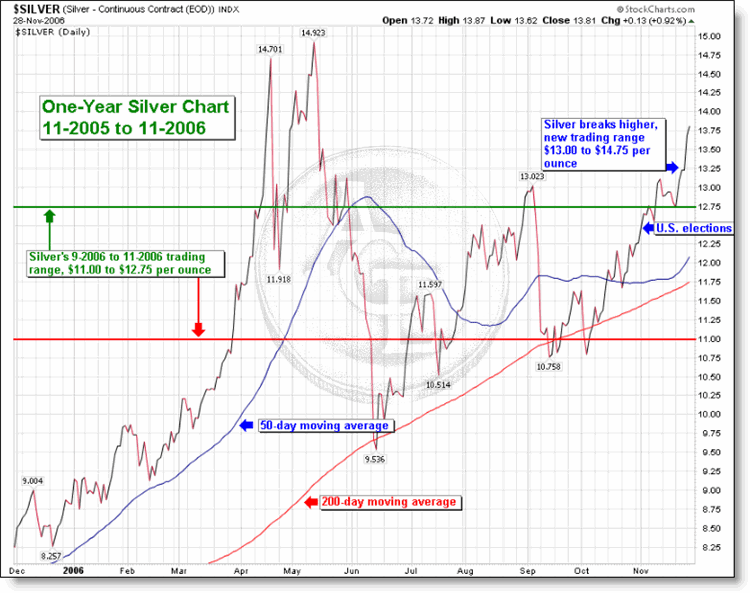 Back in September, when silver was around $10.70, we said it was cheap under $11.50 and dirt cheap under $11.00. Today silver is trading around $13.80, having broken strongly above its September high of $13.03 and moved firmly into a higher technical trading range between $13.00 and $15.00. We expect silver to continue grinding higher towards $15.00 over the next several months. Like gold, silver looks very bullish in the longer term.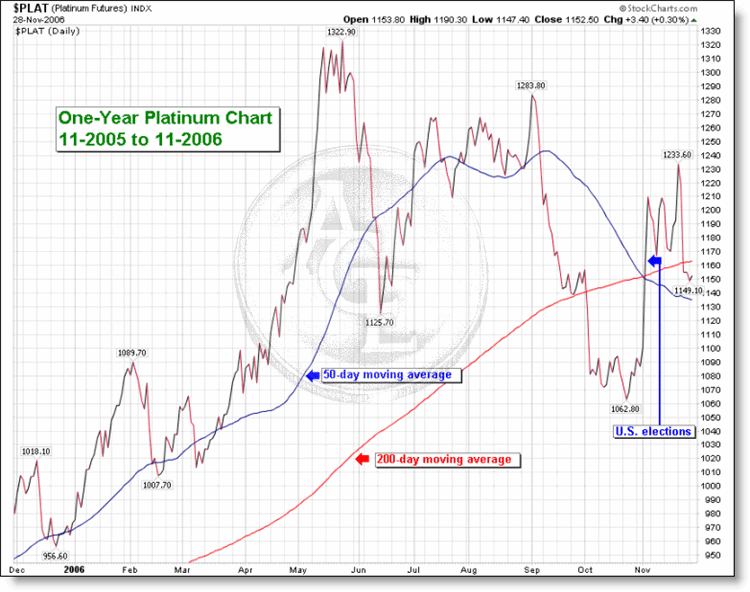 Platinum has been extremely volatile over the last several months, moving from a peak of $1,280 to as low as $1,062, back up to $1,235, and then back down to current levels around $1,150. Rumors of the new platinum ETF have contributed to its recent volatility, although they remain unconfirmed as we send out this update. These wild price fluctuations can make or break a speculator's trading year. We continue to believe platinum is over-priced, especially relative to gold, silver, and palladium. For the brave of heart with perfect timing, the platinum market has presented some nice profit opportunities over the last several months, and may continue to do so. Nonetheless, we think it's too risky so we're sidestepping this market. The other precious metals, in our opinion, offer better prospects with lower risk.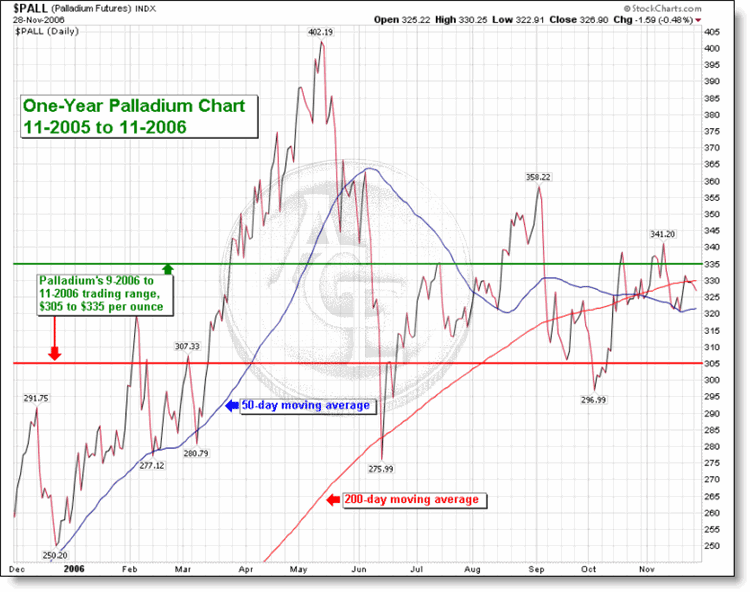 Palladium has been showing some volatility, too, but it's been rather tame compared to platinum. In September, palladium was trading between $310 and $320. Since then it's fallen as low as $295, rallied above $340, and settled down to just under $330. We continue to favor palladium over platinum as an excellent long-term investment. As you may know, palladium is a substitute for platinum in industrial applications like automotive catalytic converters. We keep thinking about all those cars in China with no pollution controls; then we think about the wide price differential between platinum and palladium. Sooner or later, market forces would suggest that carmakers are going to want quite a bit of palladium!
The incredible diving dollar
In the last few weeks the dollar has begun its much-anticipated decline, falling this week to a 14-year low against the British pound, a 20-month low against the euro, and a 10-week low against the yen. With economic growth slowing considerably in the U.S and prices rising in eurozone nations, it seems likely that the Federal Reserve may lower interest rates earlier than expected, while the European Central Bank is likely to continue raising rates to curb inflation. The prospect of this interest rate differential is one reason traders and Central Bankers are increasingly bailing out of dollars.
"Sentiment for the dollar has been deteriorating steadily over recent weeks," said Mitul Kotecha, head of global foreign-exchange strategy at French investment bank Calyon. The decline was not prompted by a particular piece of news or data release, "but rather a general worsening in sentiment that saw long held technical levels breached. We expect the dollar to weaken further into year end, and retain this tone in the early months of 2007." (See Dollar woes poised to carry over into next year.)
The U.S. currency has lost about 12% against the euro in the past year and almost 50% over the past five years. Against the yen, the greenback has declined about 3% in the past year and 6% in the last five years. And the losses are likely to continue. Jim Swanson, chief investment strategist at MFS Investment Management, expects the dollar to drop 15% against the euro and 15% against the yen in the next 12 months.
A growing list of nations apparently agrees with this dim prognosis for the dollar. Zhou Xiaochuan, governor of the People's Bank of China, stated recently that China has very clear plans to diversify its reserves, which now stand at more than $1 trillion, away from dollars. Officials in Beijing have also repeatedly indicated that China might gradually reduce its purchases of dollar-denominated assets. China's reserves increased by a massive $850 billion in the past five years, and about 72% of China's reserve assets were denominated in U.S. dollars.
A number of other countries including Sweden, the United Arab Emirates, Qatar, and Russia also announced intentions this year to diversify their reserves away from dollars. Central banks worldwide have been diversifying their reserves since 2001. Since then, they have reduced their holdings of the U.S. dollar from 70% of reserve assets to 66% at the end of March 2006.
A wide range of alternative instruments are under consideration, with gold, oil, and euros being among the most prominent. Leading government think tanks in Beijing, for example, have recently recommended using some of their reserves to buy gold and oil, and other Central Bankers are following this strategy.
"About 60% of total international reserves were held in gold in 1980. That figure was just 9% in 2005," according to Tony Crescenzi, chief bond market strategist at Miller Tabak & Co. "Obviously there is plenty of scope for central banks to increase their gold reserves going forward." (See Dollar, gold move on China's diversification talk.)
This accelerating shift in global asset allocation bodes extremely well for gold. Immediately following China's announcement the gold price reached a two-month high, and that's just the beginning. For months we've been anticipating a large downturn in the dollar and a concomitant upturn in the gold price, and now it's happening. Whether this is the start of the massive dollar plunge many experts have predicted, it's too early to tell; but based on the monstrous U.S. trade and budget deficits, and the darkening sentiments toward the dollar worldwide, we don't see how the currency can maintain its strength in coming years.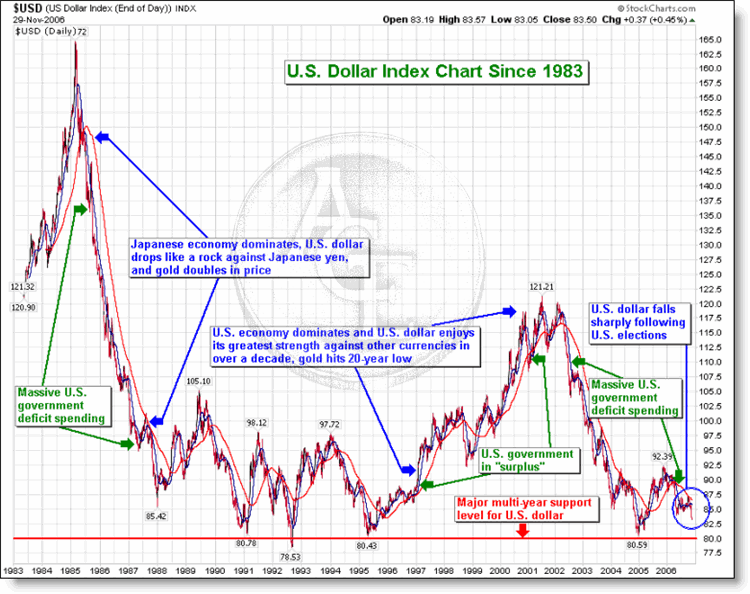 The U.S. dollar index chart above shows the big picture since 1983. Two major points must be emphasized. First, dollar is rapidly approaching its most critical and fundamental support level of just under 80 on the index chart. Since 1983, the dollar has fallen below this level just once, in 1993, when it briefly touched an all-time low of 78.3. Should the dollar break below this critical support level, it has the potential to go into a very step decline. This event would be extremely bullish for gold.
Second, as the call-out boxes show, when the U.S. has been fiscally irresponsible, the dollar has fallen in value against other currencies. Conversely, when the U.S. has been fiscally responsible, the dollar has risen in relative value. The bad news is, our government has seldom been more fiscally irresponsible than it's been since 2001, running up the largest budget and trade deficits the world has ever seen. This unfortunate reality is another reason why further declines for the dollar are likely, and why we remain so bullish on gold.
During the 1980s, the yen was the world's currency of choice. During the late 1990s, the dollar took its place. Today, almost by default, the dollar remains the dominant currency, but for how much longer? Clearly, the world is beginning to lose its taste for dollars, and no other paper currency is well-positioned to take its place. So it's no surprise that gold is coming back into favor as the international currency of choice. Last year's major gold rally in all major foreign currencies confirmed the world's growing taste for gold as an insurance policy against governmental irresponsibility and the dollar's demotion. Indeed, against this fiscal backdrop, the current bull market for gold is far from over. In fact, it may just be getting started!
Fantastic window for classic U.S. coins
Following the gold market and a little behind it, the market for classic U.S. gold coins has been consolidating over the last several months. The gold price has firmed up by 10% in the last month, but coin prices have barely budged. This lag is a temporary phenomenon, and presents a fantastic window of opportunity for classic U.S. gold coins. Many of the coins we favor as portfolio builders are currently 10% to 30% under-priced, in our opinion. If gold continues to move higher and breaks above $660, these coins will almost certainly accelerate very quickly in price and more than overtake the gains in gold. Even if gold holds where it is today, our recommended coins should gain simply because they have yet to catch up with the recent gold market rise. If ever there was a safe window for investing classic in U.S. coins, it's right now!
As 2006 closes out, these are the classic U.S. coins we recommend most highly:
Power Pair #1 – An inexpensive pair of classic U.S. double eagles in mid-range mint condition at low premiums relative to gold bullion. Appropriate for conservative investors who like modest leverage to gold and complete financial privacy.
$10 Indian MS64 – A classic coin that's under-priced by at least 15% right now, making it a great value with superb upside potential. Appropriate for the investor who appreciates strong leverage with modest downside risk.
$20 Liberty MS65 – This blue chip classic U.S. gold double eagle is about 25% undervalued right now relative to its historic premium and its May 2006 price. Appropriate for the long-term value investor who will buy and hold for the greatest rewards.
1921-P Morgan silver dollar rolls, BU – The smart way to buy silver. Inexpensive with excellent scarcity for the price. We have a nice 1,000 coin bag of brilliant uncirculated coins available, and this particular date seems like a real sleeper to us.
That's it for now. As always, thanks for your time.
Sincerely,
Dana Samuelson, President and Owner
Dr. Bill Musgrave, Vice President
Metal
Ask
Change

Gold

$1,787.67
$-0.09

Silver

$18.37
$-0.04

Platinum

$840.09
$-1.61

Palladium

$1,989.36
$5.52
In US Dollars
AGE Gold Commentary
AGE Investor Alert!