AGE Gold Commentary is our regular report analyzing trends in precious metals and rare coins. We monitor domestic and international markets and extrapolate from our 30 years in metals to place current events into a hard asset perspective. View archives.
---
5/18/2009: Gold firming as dollar weakens
Source:
In this issue of AGE's Gold Market Commentary:
Gold firming as dollar weakens
Modern bullion premiums receding
Strong demand for classic U.S. gold coins


Gold firming as dollar weakens
Following typical seasonal price weakness in April, precious metals have been firming up over the last two weeks while the U.S. dollar has weakened again. Commodity prices on the whole, which formed a large, U-shaped bottom in the early months of 2009 after a massive July-through-December sell-off, are now moving cautiously higher. Oil, after channeling in the $45 to $55 range for months, recently moved over $55 for the first time since November 2008 and is flirting with $60 per barrel.
While commodity prices are rising cautiously, the pile of debt accumulated by the U.S. government continues growing exponentially. When one tries to fathom the size of the U.S. debt—with all the bailouts, the stimulus packages, loan windows, etc.—the numbers become mind boggling. With all of the trillions of dollars being printed and thrown around by the Fed and Treasury, it's easy to lose sight of the trees for the forest.
One tree that does stand out, however, is the projected U.S. budget deficit for fiscal year 2009. Based on an anticipated budget of $3.55 trillion dollars, the U.S. government will spend approximately $1.85 trillion it doesn't have, a new record. This is not just any record, though. The 2009 U.S. budget deficit will be four times larger than last year's $455 billion deficit, itself a record. In other words, the new budget will grow the national debt by as much in one year as it did between 2005 and 2008, and do so by borrowing almost 50 cents for every dollar it spends. Is all this deficit spending necessary to save the U.S. and the global economies? Possibly. But in the words of renowned contrarian investor Doug Casey, "this is a chicken that will come home to roost," most likely in a crippled U.S. dollar and massive future price inflation.
The rip tide of this unprecedented financial fiasco is now moving from the big banks, Wall Street investment firms and car companies towards credit card companies, commercial real estate, insurance companies, pension funds and state and local governments whose tax revenues are being decimated by the housing crisis. Credit card and commercial real estate defaults are the next big shoes to drop. Bank "stress test" results suggested that the nation's 19 biggest banks could expect nearly $82.4 billion in credit card losses by the end of 2010—if nothing gets worse in the economy. But if unemployment breaks 10%, as most economists expect, credit card write-offs could top $186 billion, according to the New York Times. Federal regulators are projecting losses of up to 12% on commercial real-estate loans in the 19 largest banks over two years, according to The Wall Street Journal.
Smaller banks and savings and loans are in even greater danger of failing because so many concentrated on commercial real estate during the boom. Since late 2007, 58 banks and savings institutions have failed, with assets totaling about $400 billion, and analysts are forecasting hundreds of more closures in the next five years. Overall, the nation's banks and thrifts, which hold $1.8 trillion of commercial real-estate debt on their books, are expected to incur $216 billion in losses by the end of 2010 on bad commercial real estate alone. No wonder banks are still refusing to lend!
Before the economic melt-down started, baby boomers were already set to bankrupt Social Security and Medicare. Trustees of the programs said this month that Social Security will start paying out more in benefits than it collects in taxes in 2016, one year sooner than projected, and the giant trust fund will be depleted by 2037, four years sooner. Medicare is in even worse shape. The trustees said it will pay out more in benefits than it collects this year and will be insolvent by 2017, two years earlier than projected. (See full story.)
The list goes on and on. So far the U.S. government continues to say "yes we can" but at some point taxpayers will be forced to say "no we can't." Or the Japanese and Chinese governments will do so, by simply refusing to finance our profligacy any longer. This year we'll ask them to loan us four times last year's amount! No wonder China, the world's largest holder of U.S. debt, has been diversifying out of dollars and into gold in recent months, and will continue to do so. (See full story.)
Last week, in an Op-Ed piece in the New York Times, NYU economist Nouriel Roubini argued that the days of the U.S. dollar as the world's reserve currency are numbered, specifically because of our profligate spending. Roubini and his team of analysts at RGE Monitor have been uncannily accurate in predicting the course of this financial crisis, so his words carry weight.
"We may now be entering the Asian century, dominated by a rising China and its currency," Roubini contends. "This decline of the dollar might take more than a decade, but it could happen even sooner if we do not get our financial house in order. The United States must rein in spending and borrowing, and pursue growth that is not based on asset and credit bubbles. For the last two decades America has been spending more than its income, increasing its foreign liabilities and amassing debts that have become unsustainable."
Exploding national debt, collapsing banks, rising inflation, and a faltering currency. Not a pretty picture. Gold is the best financial insurance you can own in this environment, bar none. It has tripled in value in the last six years (just like it did in the early 1970s) and it's likely to double or triple in value again before this crisis is over (just like it did in the late 1970s.) The more things change, the more they stay the same. In our last update, we discussed at length the pending demise of the dollar in the face of quantitative easing and exploding debt. Some of you may want to revisit it. Let's take a look at the latest dollar chart and we'll see the dollar, indeed, is falling again.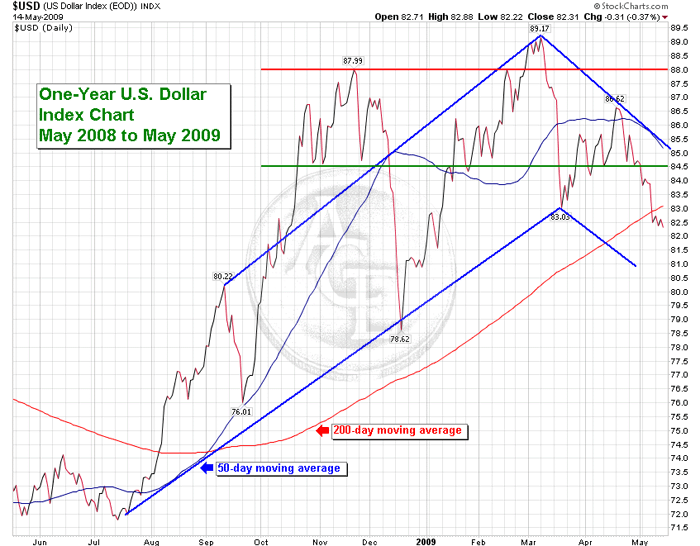 U.S. Dollar
In March, we discussed the overall decline in value of the U.S. dollar since 2002, and its counter-trend rally from August 2008 until mid-March 2009. Through April, the buck continued to hold support at 84.50 on the index chart, but barely. During the first week of May, however, it broke sharply below 84.50, signaling a renewed bout of weakness. As you can see, the 50-day moving average has turned over, and the dollar is now trading below its 200-day moving average, too. While it's unlikely to plummet abruptly over the next few months, an erosion of the dollar's value is almost certain as the ever-increasing U.S. debts and deficits begin to register with investors and international creditors.
Seasonal weakness and April's dollar strength contributed to gold's lower trading price this past month. We've been watching the $890 support level since February, and while gold fell below this level in April, it didn't fall as far as it might have in a normal financial environment, and didn't stay down for as long. Our colleague and friend James Turk recently noted that the gold chart is in the process of establishing an inverse left-shoulder, head, and now right-shoulder formation. This pattern points towards explosive upside potential for gold in the coming months and years.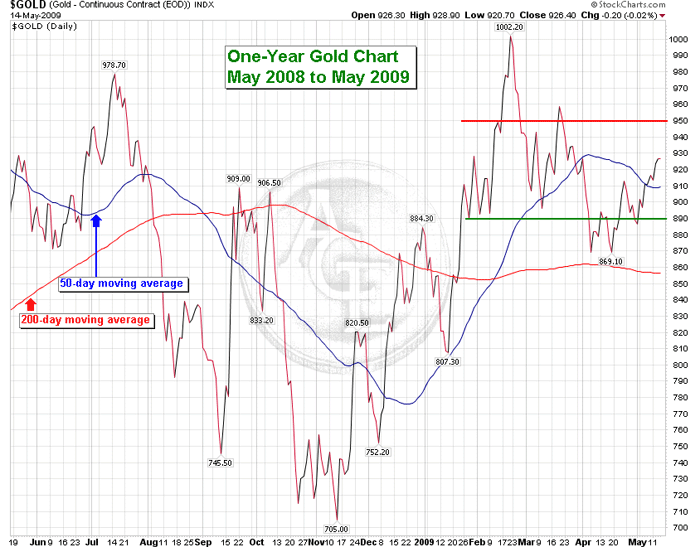 Gold
Last month's short dip below $890 reaffirms gold's resilience in this unprecedented time of world-wide financial upheaval. After the last 12 months of volatility, a period of relative stability in the gold market is a welcome development. For the next several months, gold will likely remain within its primary $890 to $950 trading range. While its bias remains distinctly to the upside, it may experience another bout of price weakness this summer. If so, buy on dips, and aggressively below $890.
Gold is now in a consolidation phase, which is typical for this time of year. But the lull could end at any time. In the short term, the value of the U.S. dollar will most likely have the greatest impact on the gold price, yet some unforeseen event or new default could easily bump it up $100 or more very quickly. So please don't let the current calm give you a false sense of complacency. This gold market has explosive potential to the upside!
Our friends Mary Anne and Pamela Aden at The Aden Forecast, one of our favorite investment newsletters, wrote that gold could reach $1,200 by year-end before passing $2,000 as its eventual target. We concur. For now, we recommend that you continue to accumulate holdings while the gold price remains below $950.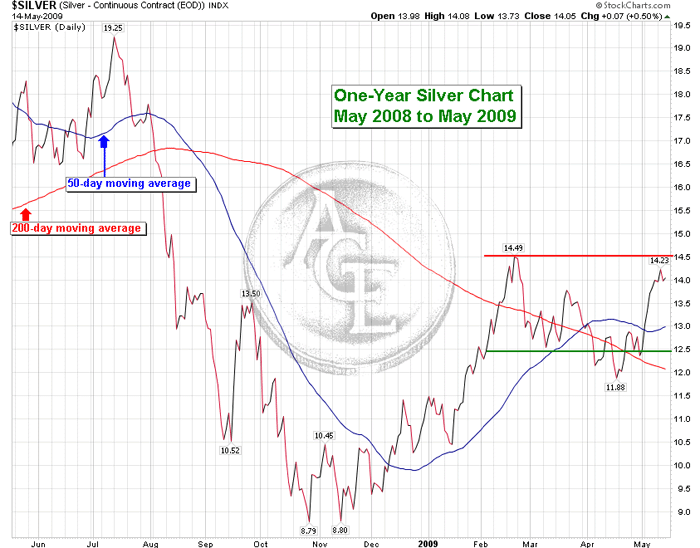 Silver
Silver remains the most undervalued of the four precious metals, with the best short-term upside potential. It briefly broke below support at $12.50 last month, dropping as low as $11.90. Today, it remains in its primary trading range of $12.50 to $14.50, back above its 200-day moving average, with bias towards the upside. As we said in our last update, once it breaks higher, silver will have room to run and should be trading over $16.50 by the end of 2009. Our advice is to continue to accumulate silver while it remains under $14.50. Like gold, silver may experience bouts of price-weakness in coming months, typical of the summer season. If the opportunity arises, buy aggressively.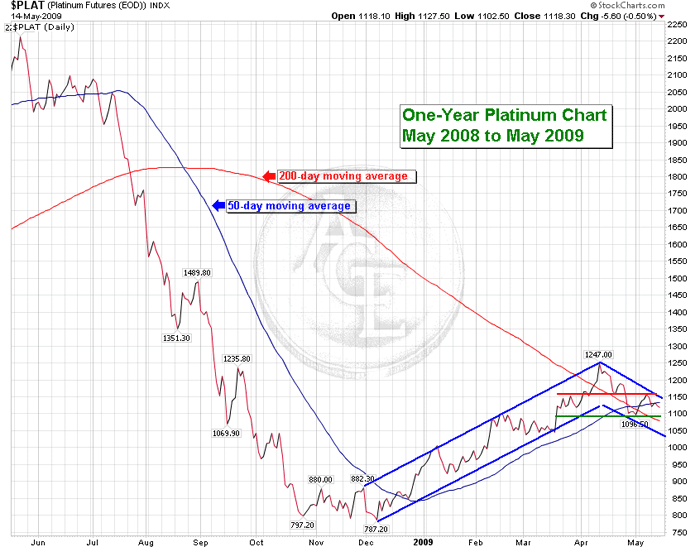 Platinum
Until last month's price dip, platinum had been grinding steadily higher since the huge July to December 2008 washout. It appears, finally, to be finding equilibrium between $1,100 and $1,150 an ounce, representing fair value in the current environment. Trading at a $200 to $300 premium to gold, platinum seems reasonably priced and back within its 30-year historical gold-to-platinum ratio (-$100 to +$300).
We expect to see platinum trade between $1,050 and $1,200 in the coming months, with a neutral bias through the summer. We don't see any compelling reasons why it should move substantially higher or lower for the next several months. Because the platinum price is driven by a combination of investment, jewelry, and industrial demand, predicting its course in the current environment is very difficult. Jewelry and industrial usage are likely to be curtailed in 2009. We continue to shun platinum in favor of silver and gold, and to a lesser degree, palladium.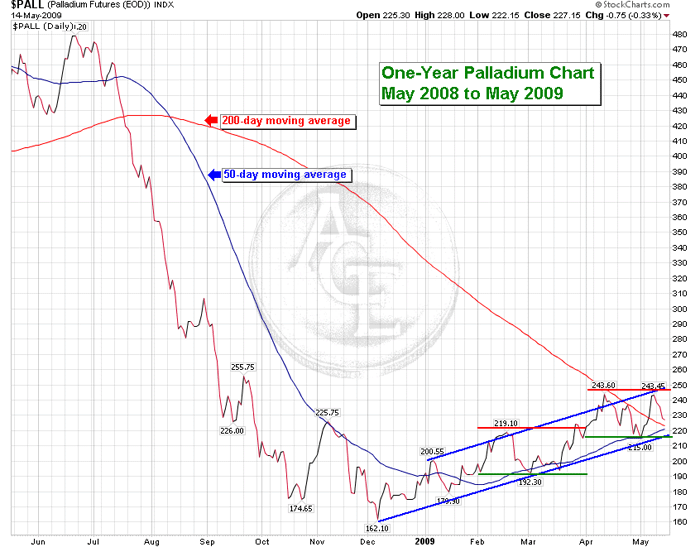 Palladium
In the past month, palladium pushed over $225, signaling an end to the bottoming phase that followed its washout from July to December, and establishing an equilibrium price within the $225 to $250 range. As with platinum, we see no compelling short term reason why palladium should move substantially higher or lower for the next several months. Widely used in catalytic converters, it's suffering now along with the automobile industry, so we see little reason for it to make a strong move to the upside in the near term. We continue to favor gold and silver.
Modern bullion premiums receding
Here's some good news: modern bullion coins are once again returning to pre-September 2008 pricing and availability. In just the past two weeks, mints have reduced their premiums to near-normal levels, and we've dropped our prices accordingly. This is a welcome development, indeed!
One-ounce gold bullion coins like American gold eagles, Canadian gold maple leafs, and Austrian gold philharmonics are all trading at pre-September 2008 premiums, and deliveries are no longer delayed. We've been able to offer tenth- and quarter-ounce gold maple leafs during the past month at slightly higher than normal premiums. These are the only fractional modern gold bullion pieces available at this time. First come, first serve.
For our bulk silver investors, we've been able to maintain a steady supply of U.S. 90% silver "junk" bags, and now 100-ounce silver bars are becoming available again at normal pricing. We can also source high-quality, privately minted .999 fine 1-ounce silver rounds, which we highly recommend. American silver eagles eagles are still pricing slightly inflated premiums, but close to normal. Physical platinum and palladium is becoming sporadically available at slightly higher than normal price levels.
Strong demand for classic U.S. gold coins
Demand for pre-1933 U.S. gold coins has also been very strong across the board in all sizes and states of preservation, from raw, circulated coins to certified, gem-quality Mint State 65. Many investors are buying U.S. common date gold coins in bulk, especially $20 Liberty coins in AU and $10 Liberty coins in AU. We highly recommend these slightly circulated, uncertified U.S. gold coins as a better alternative to modern bullion. They offer all of the advantages of bullion plus genuine scarcity, increased profit potential, and complete privacy, making them a smart buy for bulk gold investors.
Please keep in mind that availability of these extremely popular coins changes on a daily basis, so be sure to call one of our knowledgeable account managers at 1-800-613-9323 if you have any questions or wish to place an order.
Outstanding values are currently available in some of the certified, mid-quality Mint State U.S. gold coins. We just reintroduced our extremely popular Power Pair #2, which combines one $10 Liberty in MS63 with one $10 Indian in MS63 for a potent low-cost investment. This combo offers far greater scarcity than the AU coins mentioned above yet the premiums remain quite low in the current market. Greater scarcity can mean accelerated profits during periods of peak gold demand.
Availability of higher-quality U.S. gold coins in MS64 and MS65, which had been as low as we'd ever seen in close to 30 years of trading in this market, has improved in the last month, but only slightly. Our hand-selected U.S. gold coins inventory list offers perhaps the best selection of scarce certified U.S gold and silver coins in the country. We attended the Central States coin show in Cincinnati two weeks ago and, once again, cherry-picked the national market for quality and price.
A curious anomaly now exists in the national market, one that some of you may want to exploit. During the mad rush for anything gold last fall as the financial crisis exploded, new buyers rushed into gold coins like proverbial kids into an unguarded candy store. Premiums surged for all gold coins, with the biggest increases coming in coins that were the cheapest to start with, relative to their intrinsic gold content. But it was a rush into quantity, not quality. As a result, several types of investment-quality U.S. gold coins are now under-priced by anywhere from 10% to 30%, offering unusually good buying opportunities.
Some excellent trade options exist for customers who wish to take profits from over-performing classic U.S. gold coins and redirect them into underperforming ones, or into gold and silver bullion. Some of you may also want to shift a portion of your gold bullion position into silver. With so many changes in the market over the last six years—and especially the last six months—our specific trading recommendations will be contingent upon your own unique hard asset portfolio. What might be appropriate for one client might not be for another, depending upon acquisition price, holding time, investment goals, etc. So please consult with your account manager for specific recommendations, based on your unique situation and the current market.
If you have not reviewed your portfolio with your account manager here at AGE recently, now is the time. We want to make sure your portfolio is designed to accomplish your goals and takes the fullest advantage of this bull market as it continues to evolve. Please call 1-800-613-9323 and speak to your account manager for a free portfolio consultation.
That's it for now. As always, thanks for your time.
Sincerely,
Dana Samuelson, President
Dr. Bill Musgrave, Vice President
Metal
Ask
Change

Gold

$1,787.09
$-0.67

Silver

$18.36
$-0.05

Platinum

$839.14
$-2.56

Palladium

$1,977.20
$-6.64
In US Dollars
AGE Gold Commentary
AGE Investor Alert!