AGE Gold Commentary is our regular report analyzing trends in precious metals and rare coins. We monitor domestic and international markets and extrapolate from our 30 years in metals to place current events into a hard asset perspective. View archives.
---
9/16/2010: Gold hits record high of $1,280
Source:
In this issue of AGE's Gold Market Commentary:
Gold hits record high of $1,280
Bullish charts for precious metals
Classic U.S. gold coins ripe for gains
European gold and modern bullion coins in stock


Gold hits record high of $1,280
In our last update, when gold was under $1,200 an ounce and silver under $18.50, we advised that gold was gearing up for an autumn charge mainly because of a weakening U.S. dollar. Our expectations were quickly met. Today, both gold and silver set new 2010 highs of $1,280 and $20.80, respectively, in intraday trading. And both palladium and platinum are also showing excellent strength. The autumn charge we anticipated is off to a flying start! More gains seem quite likely as we move into what's usually the hottest time of the year for precious metals. Let's take a look at the current charts.
Bullish charts for precious metals
U.S. Dollar
Since 2002, the U.S. dollar has fallen in value by 35% to 40%. As we discussed in detail last time, this decline has been a primary driver of the current bull market in gold, which has risen from $300 to almost $1,300 today. Over the last eight months, the dollar rebounded significantly from near all-time lows, primarily because of the sovereign debt and euro crisis in Europe last spring. Yet gold has continued to move higher in price, breaking its traditional negative correlation with the dollar and rising on its own powerful fundamentals. Now we are seeing the dollar weakening again and perhaps substantially, so we believe gold will continue gaining in coming weeks and months.
Look at the last five months in the Dollar Index chart above and you'll notice that it climbed from 80.19 to 88.51 between April and June on safe-haven buying because of Greek debt default and the ensuing euro crisis. After this crisis abated the dollar gave up all those gains between June and August. Its recent move from an early-August low of 80.40 to a late-August high of 83.26 is looking more and more like a proverbial "dead cat bounce" with little to sustain it. Indeed, over the last few weeks the dollar has trended bearishly through a series of lower highs and lower lows.
Now, as weaker U.S. economic fundamentals reassert themselves, the Federal Reserve is responding with yet more monetary easing, which will continue to weaken the beleaguered buck. Within the last several trading sessions, it dropped sharply below its late August support level of 82, signaling that a test of critical support at 80 is on the horizon. Below 80 lies modest support at 77.5 and then significant support at 75.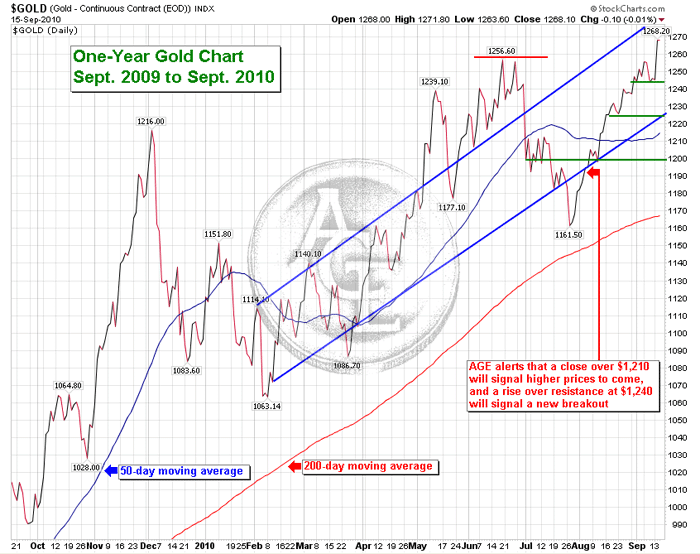 Gold
If the dollar is heading back to the 70s on the Index chart in coming months, gold is likely to be heading back to the 1970s. If you'll recall, that's the decade when gold built momentum toward a record price of $850 in 1980, which is equivalent to around $2,300 per ounce today. Gold remains remarkably strong, as the latest one-year chart clearly shows. Since moving back over $1,200 in May, it has quickly firmed up after every dip. And its powerful surge from the late-July low of $1,161.50 to a new all-time high of $1,280 today is yet another testament to gold's price resilience.
In our last update, we advised that if gold broke $1,210, it would quickly reach $1,240; a move over $1,240, in turn, would signal a new technical breakout to the upside. Gold burst through upside resistance at $1,256 this week and the bias clearly remains higher. Technical support exists in a series of stair-steps higher at $1,161, $1,185, $1,200, $1,225, and now $1,245 an ounce.
As the parallel blue lines indicate, gold has renewed the solid uptrend it was developing last spring before the euro crisis turbocharged it in May and June. Today's surge to $1,280 lifts it a little above its channel, so some price correction may occur in the near term. But we see no reason why gold shouldn't continue this upward trend line for the rest of 2010, at least. In the short term, see upside resistance at $1,275 and then at or near $1,300. Technically, the gold market looks very strong to us!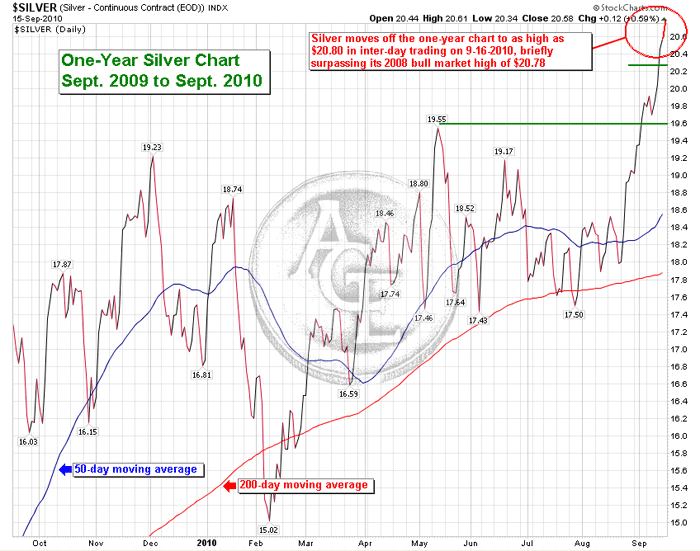 Silver
Like gold, silver is now in breakout mode. In our last update, we advised that silver above $18.70 would imply an assault on the 2010 high of $19.55. As the chart shows, once it broke over $18.70 in late August, silver rose to upside resistance at just under $20.00. Since this bull market began in earnest in 2002, silver has been over $20.00 only once, in early 2008, when it spiked briefly to $20.78. Today, it punched through to $20.80, a new record for this bull market.
Looking at the latest chart, the recent surge from $18.00 to over $20.80 today has been extremely strong—perhaps too strong. We would not be surprised to see silver give back some of its gains on short-term profit-taking. In the past, after these big surges, the previous upside resistance level has often become silver's new downside support level. So we see short-term technical support at $19.55, $19.25, and then strong support at $18.60. Upside resistance remains at the 2008 high of $20.78 an ounce, which we're now hitting, and again at about $21.25.
We expect the bias for silver to continue to the upside but it could show some volatility in the coming weeks until the latest gains have been fully consolidated, probably between $19.55 and $20.25. We would look to buy silver at our support level of $20.25. If it falls below $20.00, we would try to buy as close to $19.55 as possible if the opportunity presents itself.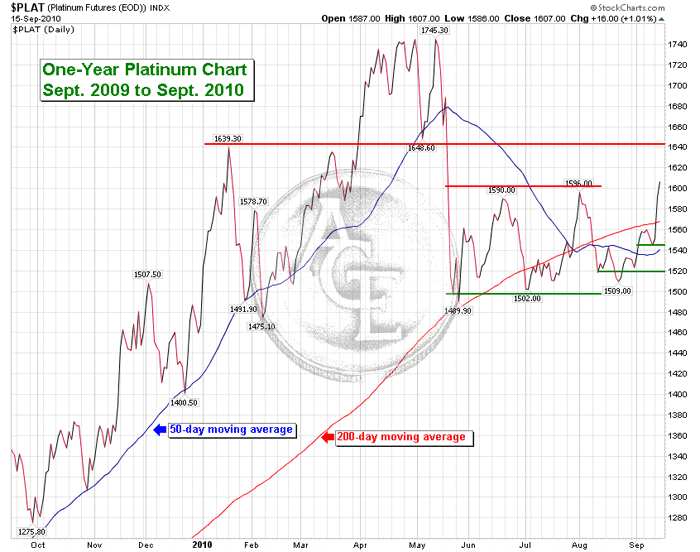 Platinum
Until the last few trading sessions, platinum had been vacillating between support at $1,500 and resistance at $1,600, bound within the range we identified in our last update. With its latest move over $1,600, platinum has entered a technical breakout and we see its range moving higher to $1,545 support and $1,640 resistance. The 50-day moving average continues to remain below the 200-day moving average, which normally means a good buying opportunity is at hand.
Privacy-oriented clients who wish to own a valuable precious metal that is significantly scarcer than gold, easily portable, and has never been confiscated may want to consider platinum in lieu of gold. At the current platinum-to-gold spread of $400, it's fairly attractive. We've seen this spread as high as $1,200 in recent years when platinum was red hot. But upward mobility will most likely be more modest for platinum than the other three precious metals. In the current market we believe gold, silver, and palladium all have greater opportunity with less risk.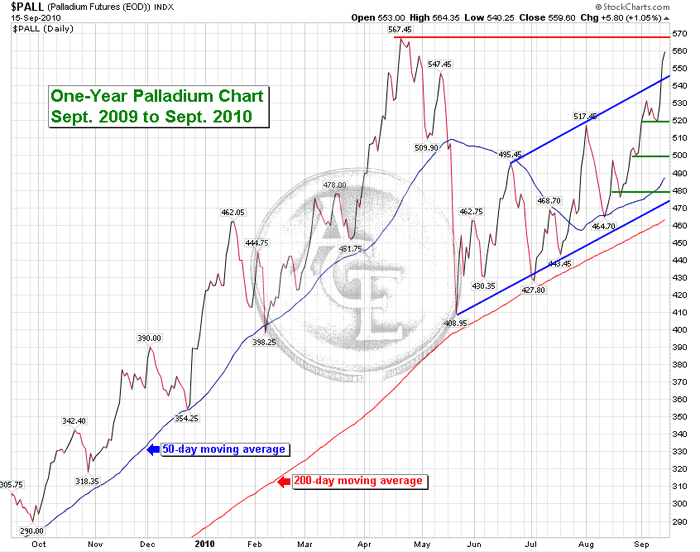 Palladium
The uptrend we identified last month for palladium remains intact and is now getting stronger. After bottoming in May, it has continued to set a series of higher highs and higher lows. Its 50-day moving average has confirmed this renewed uptrend over the past few weeks. And in the last few trading sessions, palladium has surged sharply higher, rising above the trend lines we've been following since August. Its sharp rise over resistance at $530 means new upside resistance at the April high of $567.45.
In the short term, we see support for palladium at $520, $500, and $480. Historically, palladium is very expensive over $500 an ounce, so we're a bit wary at the current price. It could test support in coming weeks on profit-taking before moving higher. However, mining giant Norilsk Nickel warned today that Russian Palladium stockpiles are very low, and probably insufficient to enact Russian government sales in 2011. This supply problem could underpin palladium prices this year and bouy them higher. Time will tell. Like silver, the palladium price will probably be choppy in coming weeks. Because it's primarily an industrial metal, palladium substantially above $550 is hard to envision without a robust rebound in the global economy.
Classic U.S. gold coins ripe for gains
If you're looking for excellent value today in classic U.S. gold coins, then look no further than $20 Saint-Gaudens MS63 and $20 Saint-Gaudens MS64. Also superb values in the current market are $20 Liberty MS63 and $20 Liberty MS64. Minted from 1850 to 1933, these $20 coins are the big, heavy double eagles that were used in commerce and banking when gold was still circulating currency. We advised last month that the premiums over gold melt value for these extremely popular collector coins are well below normal due to the strongly rising gold price. They are currently undervalued by 20% to 40% and offer complete financial privacy.
But don't just take our word for it. This week, Tom Dyson of Steve Sjuggerud's Daily Wealth called these classic U.S. gold coins "the only cheap gold investment left." He went on to say: "Given how cheap they are compared to gold…and how special they are, vintage gold coins are the safest, lowest-risk, highest-reward gold investment in the world right now. If you're considering buying gold, you should think about vintage gold coins first."
We agree with Mr. Dyson completely. (And we're pleased to add that Steve Sjugerrud's Daily Wealth recommends AGE as a trusted source for precious metals and rare coins.)
If you look at the $20 Saint-Gaudens MS64 price chart below and compare the coin price to the gold spot price, you can clearly see how the scarcity "premium" for these classic U.S. gold cons expands and contracts relative to the underlying gold price because of fluctuations in national supply and demand.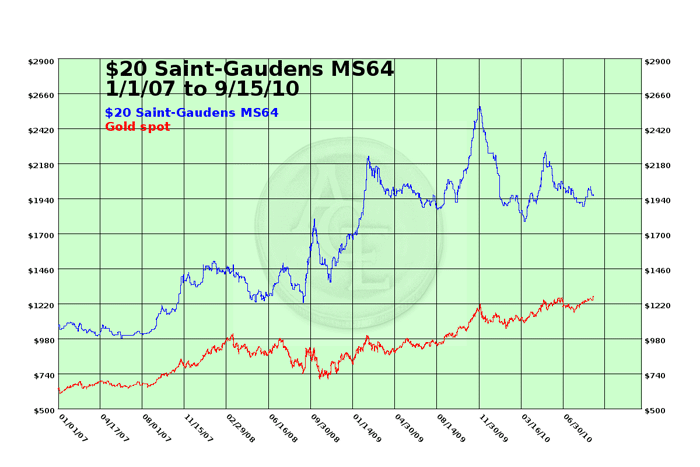 When gold was surging at the end of 2009, these classic gold coins outperformed gold bullion by a factor of around two to one. Their premiums then contracted as the euro crisis unfolded last spring and panicked investors lost all taste for risk. Today prices remain near their crisis lows, still lagging the surging gold price. This situation won't continue. If they perform even close to how they did last year at this time, they could easily gain $600 per coin from today's depressed prices. And even if they rise more modestly, they're still the safe, low-risk investment described by Mr. Dyson.
We see the same chart pattern today for the $20 Saint-Gaudens in MS63 and the $20 Liberty in MS63 and MS64 condition. They are all great buys today! And to sweeten our recommendation, we are offering $20 discounts on purchases of $20 Saint-Gaudens and $20 Liberties in MS63 and MS64 condition—while supplies last. Call your account manager for details at 1-800-613-9323.
European gold and modern bullion in stock
We have an excellent supply of classic European gold coins right now, mostly minted pre-1933, and prices are unusually attractive. Most of Europe goes on vacation in August, so supplies are strained until the first or second week of September. With Europe getting back to work, supplies are back to normal and premiums are somewhat lower than a month ago. Our pricing is always among the most competitive in the national market and our customers know we never sacrifice on quality.
We also have our full inventory of gold and silver modern bullion coins available, with some platinum and palladium coins and bars as well. Please call your account manager at 1-800-613-9323 for current pricing and availability.
That's it for now. As always, thanks for your time!
Sincerely,
Dana Samuelson, President
Dr. Bill Musgrave, Vice President
Metal
Ask
Change

Gold

$1,798.01
$-9.42

Silver

$18.98
$-0.16

Platinum

$851.12
$-10.27

Palladium

$2,047.68
$-0.35
In US Dollars
AGE Gold Commentary
AGE Investor Alert!