AGE Gold Commentary is our regular report analyzing trends in precious metals and rare coins. We monitor domestic and international markets and extrapolate from our 30 years in metals to place current events into a hard asset perspective. View archives.
---
4/12/2012: Gold readies for next big rally
Source:
Easing "on the table"
Unpleasant surprises
Negative real interest rates
Gold, silver charts bullish
Stunning values in U.S. gold coins
One of gold's most attractive qualities in a portfolio is its dual nature. It can trade as a traditional commodity, tracking higher with risk assets like equities, or as a safe haven currency, providing low or negative correlation to equities and other typical forms of risk. For most of 2011, gold's safe-haven role was dominant as investors sought refuge from sovereign debt problems at home and abroad. For much of this year, its commodity role has shone brightly, rising with risk assets on loose monetary policies and improved prospects for economic growth. In the past week, gold has ebbed back toward its traditional role as a safe haven store of value again. We think this change sets stage for its next big rally in this ongoing bull market.
This year's rallies in gold and stocks were driven in large part by more than $2.3 trillion of liquidity injected into the economy during two rounds of quantitative easing (QE1 and QE2), and the pervasive belief that QE3 would be forthcoming this spring. In the past six weeks, gold came under selling pressure as prospects for QE3 seemed to diminish. Testifying before Congress on February 29, Fed Chair Ben Bernanke made no mention of QE3. Gold immediately dropped by 4% in two days as hedge funds and other large speculators sold out of their long positions. Similarly, the minutes of the March Fed meeting released last week showed a disinclination toward more easing. Gold and equities dropped hard again. It's noteworthy that on neither occasion did Bernanke say QE3 would not happen. But given the manic disposition of the markets these days, the absence of supportive language was enough to pull equities and gold lower.
Easing "on the table"
Of course, it would be wrong to conclude that accommodative monetary policies are at an end. The Fed has affirmed its intention to maintain interest rates near zero-percent until late 2014, guaranteeing a weak dollar. Indeed, Fed vice-chair Janet Yellen is now calling for extending near-zero rates until late 2015 or well beyond. Since the last Fed meeting, statements by Chairman Bernanke and San Francisco Fed President John Williams, another voting member of the FOMC, have clearly stated that all policy options remain "on the table." And that includes QE3.
Concerns are mounting that Spain could become the next Greece, requiring massive debt restructuring to prevent sovereign default. The eurozone's fourth largest economy is mired in its second recession in three years with a crashed housing market and unemployment running above 23%. Loan defaults have reached the highest level in 18 years and yields on Spanish bonds have been soaring. Zero Hedge published a report showing that, including liabilities to the EU for bailout loans, Spain's actual debt-to-GDP ratio is more than 133%—uncomfortably close to Greece's 165% in 2011 and nearly twice the official ratio of 68%. If Spain's sovereign debt risks deepen, or if Italy and Portugal have more problems, they could easily undermine the U.S. and global recoveries, and prompt more easing from the Fed, driving gold higher. We'd also expect safe-haven demand for gold to increase in the eurozone and Asia as investors and central banks protect themselves.
Closer to home, Bernanke has repeatedly stressed that jobs and housing are the litmus tests of the recovery (and therefore of more policy actions), yet both are looking shaky. Last Friday, the newest U.S. non-farm payrolls report came in far worse than expected, with job growth of merely 120,000, the smallest gain since October. The abysmal report sent equities into a tailspin while gold, notably decoupling from risk, rallied nearly 4% in subsequent days. For the week ending April 7, jobless claims jumped to 380,000, the highest level since late January. And the most recent S&P/Case-Shiller found that home prices dropped for the fifth straight month to the lowest level since early 2003. Robert Shiller, the Yale economist behind the housing index, said the housing market might be in a "Japan-like slump that will go on for years and years," and it's possible that "we will never in our lifetime see a rebound in these prices in the suburbs."
Unpleasant surprises
Of course, the economy is by no means falling off a cliff. Indeed, the Fed's April Beige Book notes "modest to moderate expansion," the same bland phrase it's been using for months. But as you can see in the chart below, the Citigroup Economic Surprise Index, which tracks positive and negative surprises in U.S. economic data, is telling another story.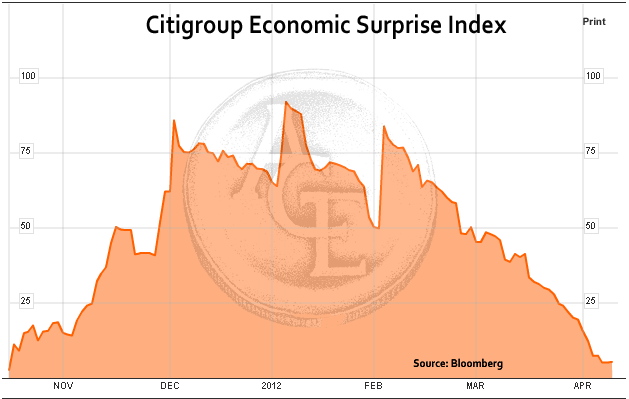 A positive reading on this index indicates that economic data has been, on balance, beating consensus expectations; negative means the data is coming in worse. Clearly, the index has been dropping consistently for months and is about to turn negative for the first time since mid-October. That means data is consistently slipping in the wrong direction, surprising analysts with its weakness. When gold reached its all-time high over $1,900 in early September, the Surprise Index was at negative 0.5, not far from where it is now.
Taken together, these negative trends are beginning to drive investors back into gold as a safe haven. At the same time, they increase the possibility of new policy interventions by the Fed, which would likely drive gold to a new all-time high. Gold gained by some 85% after QE1 and QE2. We think it is well-positioned for strong gains this year either way.
Negative real interest rates
But even without more easing, the main driver of the current U.S. bull market is still very much in place, and that's negative real interest rates. As long as nominal rates remain below the rate of inflation, gold is an attractive safe haven store of wealth, and its bull market will continue. As Jeff Clark said in a recent report for Casey Research: "When real interest rates are at or below zero, cash or debt instruments (like bonds) cease being effective because the return is lower than inflation. In these cases, the investment is actually losing purchasing power – regardless of what the investment pays. An investor's interest thus shifts to assets that offer returns above inflation…or at least a vehicle where money doesn't lose value. Gold is one of the most reliable and proven tools in this scenario."
The most recent CPI shows annual inflation running at 2.9%. The Fed's commitment to zero interest rates through late 2014 or beyond, combined with the inflation-inducing $2.3 trillion in liquidity already released into the economy via QE1 and QE2, all but guarantee that real interest rates will remain negative for a long time to come.
Other central banks have been printing money as fast as the Fed. So it's not surprising that global demand for physical gold is soaring. Reuters reports that Hong Kong's gold exports to China increased by 20% in February, driven by increased central bank buying. China's rising inflation rate, which came in at a surprising 3.6% last month, is also causing private investors to seek out inflation hedges. And precious metals consultancy GFMS reported yesterday that global demand for gold bars surged 37% last year to a new record of 1,209 tons. This growth was the result of "strong demand for physical gold as a store of value in China and India as well as safe haven interest from western investors," the report said. Gold bar demand from China alone rose 40% in 2011. GFMS expects this trend to continue in 2012 as physical demand for gold from emerging markets continues to grow, pushing gold prices above $2,000 this year.
Gold's recent sell off, while sobering, detracts little from its long-term prospects as a safe-haven store of wealth or as a commodity that can rise with risk assets. Recent selling pressure is actually creating a superb buying opportunity, and the fundamentals that have propelled precious metals to new highs are still strongly in place.
Let's take a look at the latest charts.
Gold, silver charts bullish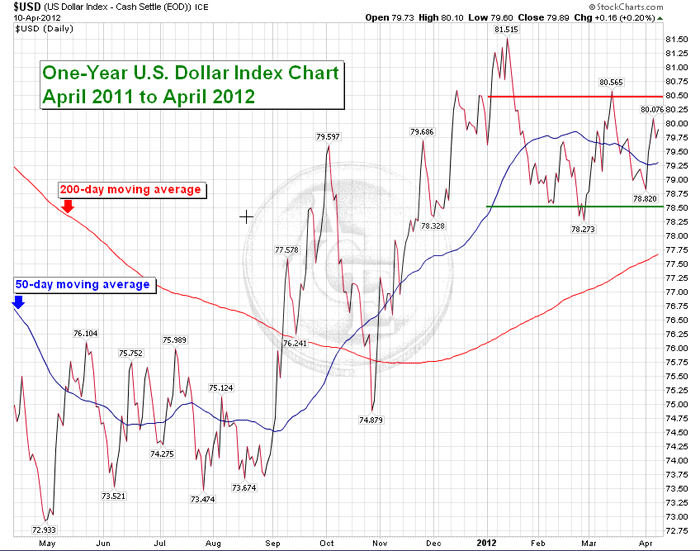 U.S. Dollar
In our last update, the dollar was heading sharply lower after peaking at 81.51. We said at the time to anticipate support at 78.50 and that's where it held. Over the last few weeks, it's been trading choppily between support at 78.50 and resistance at 80.50, rising to the high side on safe-haven inflows whenever the eurozone debt crisis heats up. Greece seems settled for now but other nations like Spain, Italy, and Portugal remain quite vulnerable. The dollar will most likely enjoy occasional support from euro-flight in coming months as the debt crisis unfolds.
The modestly improving U.S. economy has also lent some support to the dollar of late. But Friday's jobs report undermined it as currency traders saw the increased likelihood of more easing. In the short term, the dollar will most likely continue a sideways pattern, tugged by the eurozone crisis and U.S. economic data until a clearer direction becomes apparent.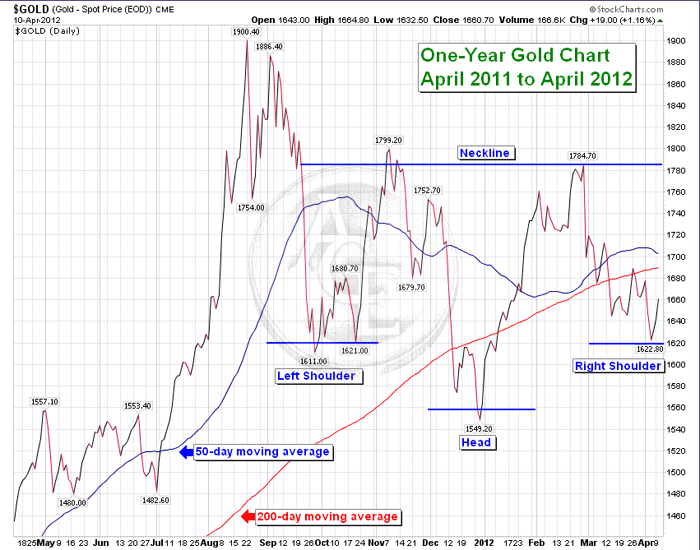 Gold
The current gold and silver charts are very interesting. Both are now completing a technical formation that could lead to an explosive surge higher for each metal: the inverse head-and-shoulders pattern. These patterns usually signal the start of a reversal of the latest trend, which for gold and silver has been downward since the peak last September. Technically, this formation shows us that gold's consolidation phase since its all-time high of $1,900 is drawing towards a close, and it is now positioned for a run at new highs in the coming months.
As you can see on the chart above, gold's inverse head and shoulders pattern began with the price corrections following last summer's peaks, and evolved through the latter part of 2011 into early 2012. The left shoulder formed when gold bottomed in September and October in the low $1,600s. The head formed during the year-end sell-off that drove gold as low as $1,549. And now we're seeing the formation of the right shoulder at the recent gold low of $1,613 on the chart.
The key to the head-and-shoulder pattern is the neckline, where the greatest amount of short-term resistance is found. On this gold chart, the neckline is at $1,785. Twice in the last six months gold has rallied to this level or slightly higher but has been unable to break upwards. Based on what we are seeing, once the right shoulder formation is completed, gold should be able to break through resistance at the neckline, setting itself up for a major new rally that could take it to $1,800 and beyond to new highs.
Taking a closer look, you can see that our support levels in our last update—at $1,680 and again at $1,620 and the resistance level at $1,760—were right on the money. After gold broke support at $1,680, it fell as low as $1,613 during inter-day trading on April 5, but has otherwise held above $1,620. In the short term, we now see support at $1,620, $1600, and $1580. Upside resistance is at $1,685, $1720, $1,760, and then major upside resistance at the $1,785 neckline.
Gold's recent price-correction is reminiscent of two previous, important corrections in this bull market. The first was in April 2006, after gold broke through $700; the second was after gold broke $1,000 for the first time in March of 2008. Like this one, they followed major new highs and were extended in duration. Ultimately, both led to much higher prices. We believe this one will, too.
The key will be gold's ability to move and hold over the neckline at $1,785. With gold being supported by negative real interest rates, high inflation risk, flights to safety from the eurzone debt crisis, and the prospect of additional monetary easing from the Fed, we think it's only a matter of time. Until then, we see gold at under $1,680 as a great buying opportunity that should not be missed. Buy the dips!
Silver
With some minor exceptions, the gold and the silver charts are very similar. Like gold, silver is completing an inverse head-and-shoulders pattern. The left shoulder is at $29.97, the head is at $27.15, and the right shoulder is forming around the recent low $31.35. The critical neckline is at $35.50. This is potentially an explosive formation for silver that could result in substantially higher silver prices in the coming months.
Looking more closely at the latest chart, silver has been trading between $31.00 and $33.25 in the last few weeks, although it pushed as low as $30.98 during inter-day trading on April 5. The short-term trading range is now between $31.00 and $33.25, with additional support at $30.00 and resistance at $34.00. If silver breaks $34.00 in coming weeks, we'd expect a quick test of major resistance at $35.50, the important "neckline" of the current formation. Above $35.50, silver enters a technical breakout with room to run towards $40.00 and above.
Silver is much more volatile than gold. In the current market, we believe it has greater potential for short-term percentage gains as well. The current lull, with silver consistently pricing under $32.00, is an excellent buying opportunity, one that's probably drawing to a close.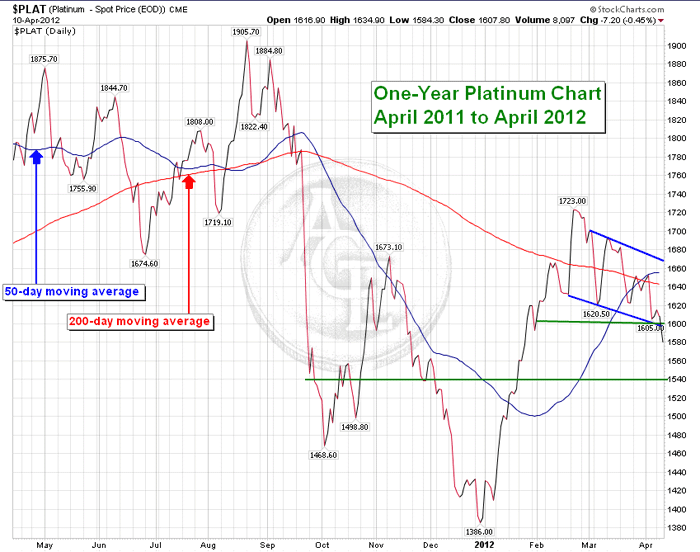 Platinum
Since our last update, platinum has been modestly stronger than we anticipated, moving as high as $1,739 in inter-day trading on February 28, and even briefly surpassing the gold price. Since peaking in late February, however, it's been in a slow decline, holding a range between $1,620 and $1,700 until the latest bout of selling pushed it briefly under $1,600 on April 4.
Holding support at $1,600, platinum looks technically weak in the short term. If it breaks support at $1,600 it could fall as low as $1,540. Trading today between $1,600 and $1,620, it has upside resistance at $1,640 and again at $1,675, with support at $1,600 and $1,540.
Platinum has been extremely volatile over the past seven months and is in no man's land at the moment. Strongly tied to risk assets, it will erode in price if the global economy slows down, but it doesn't offer as much safe-haven protection as silver or gold. If last Friday's payrolls report is repeated in April, look for a sharply lower platinum price. We favor gold and silver over platinum in the current market.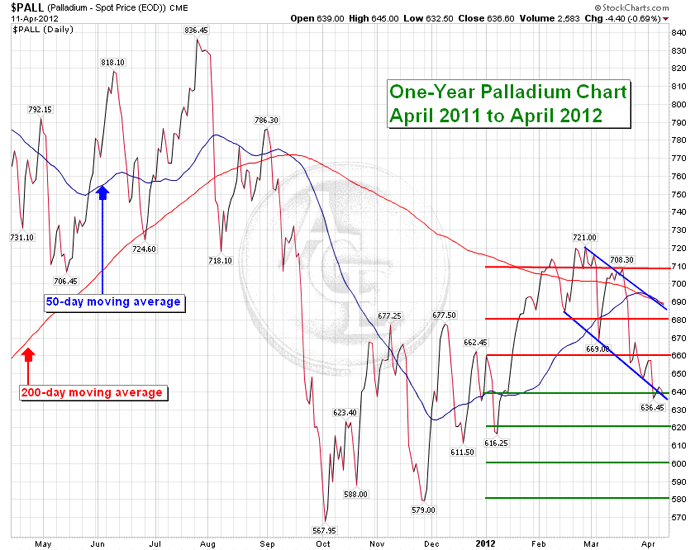 Palladium
Like platinum, palladium entered a short-term decline in late February, and looks technically weak, trading just above near-term support at $640. A break lower will test additional support at $620, $600 and $580. Upside resistance is at $660, $675 and $710 in the short term. Like platinum, palladium will probably have to move lower before it has a chance to go higher. We'd strongly consider palladium under $600 should the opportunity arise in the coming weeks.
Stunning values in U.S. gold coins
Classic U.S. gold coins are the most under-valued we've seen in years. Relative to their underlying gold content and overall market scarcity, most of these coins just could not be more attractive. As Matt Warden, our Senior Account Manager, put it: "It's hard NOT to buy great coins at a fantastic prices right now; it's just a matter of which ones best suit your portfolio."
For conservative investors, the $20 Saint Gaudens in MS63 condition is a wonderful buy, selling today for around 19% over gold content. The ten-year average premium for these coins is 45% over gold content, and at times we have seen premium as high as 100%. For relatively little cost they offer excellent upside potential and true financial privacy.
For more speculative investors on a budget, nothing beats the $10 Liberty in MS64 right now. This coin has a low overall survival rate of just 20,416 pieces, which is less than 1% of the original mintage, and it's under-priced by $500 to $750 in the current market, in our opinion. With a previous market high of $3,055, it offers profit-potential of around 50% from its current rock-bottom prices. We only have a handful to offer, and the national market is very thinly supplied, so don't delay.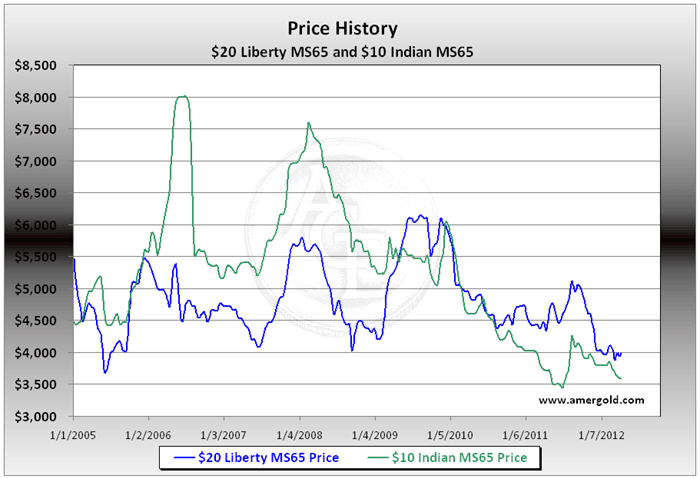 At slightly higher price-points, $20 Liberty in MS65 and $10 Indian in MS65 are both terrific values. As you can see on the chart above, they're trading near their lowest prices in years right now. With a previous market high of $6,255, the $20 Liberty in MS65 offers a profit-potential of almost 50% from current prices. This gem-quality coin is extremely scarce, with only 13,338 known survivors in its grade. The $10 Indian in MS65 is even scarcer and has even more upside. Merely 5,689 survivors are known in gem-quality MS65. And with a previous market peak of $8,000, it offers a profit-potential of more than 100% from today's prices.
These are great investment coins at prices and premiums that just don't come around very often. And as always, we've cherry-picked the national market for the finest coins in their grade. You simply won't find better coins at better prices! Call your account manager at 1-800-613-9323 today, while supplies last.
The bullion sector is firing on all cylinders again. After a series of interruptions, government mints around the world are functioning normally and supplies of gold, silver, platinum, and palladium bullion coins are solid. Because of the ongoing eurozone debt crisis, supplies of classic European gold coins are occasionally weak but premiums remain quite reasonable. We continue to recommend Swiss 20 francs in BU condition as one of the best values for bulk gold buyers who want smaller coins.
That's it for now. As always, thanks for your time.
Respectfully,
Dana Samuelson, President
Dr. Bill Musgrave, Vice President
Metal
Ask
Change

Gold

$1,796.01
$0.00

Silver

$24.45
$0.00

Platinum

$1,050.34
$0.00

Palladium

$2,054.00
$0.00
In US Dollars
AGE Gold Commentary
AGE Investor Alert!