---

= Special Offer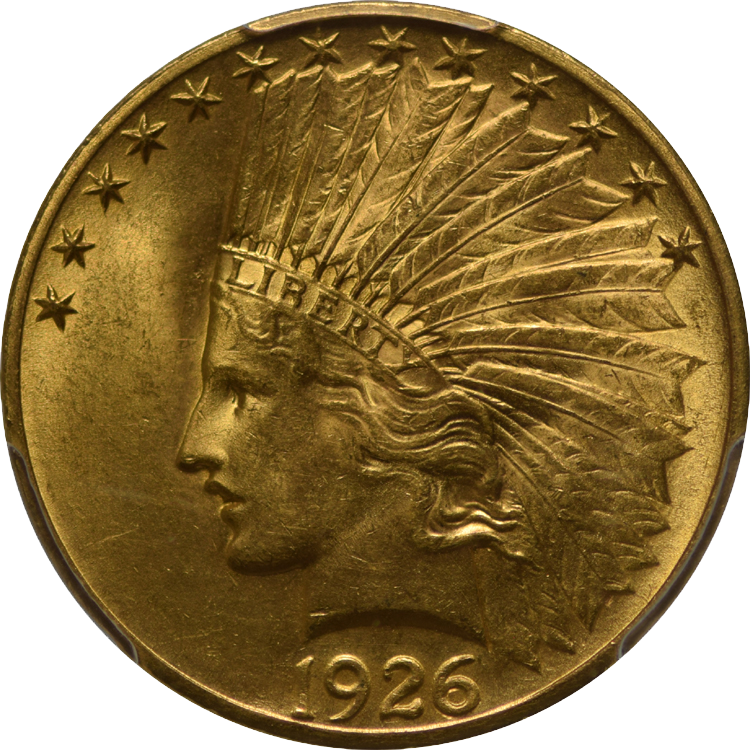 AGE Investor Alert!
$10 Indian MS63 - Low price, ready to rise!
Greetings!
I'm very pleased to alert you to a superb opportunity for gold investors. $10 Indian gold coins in choice Mint State 63 grade are now available at the lowest price in more than ten years and the lowest premium on record!
These scarce, classic U.S. gold coins offer all the investment benefits of gold bullion plus far superior upside potential and very little downside risk in the current market. At today's extremely low prices and premiums, they simply should not be passed up!
Extremely low prices
With our special offer of $21 off per coin, $10 Indians in MS63 are trading near the lowest price in more than a decade. From 2008 to 2012, following the financial crisis, these coins traded between $1,180 and $1,885 each, or 47% to 126% higher than today. For the past five years, they have often traded over $1,100 and their average price has been $985, or 23% higher than today.
What's more, $10 Indians in MS63 have an established track record of achieving strong gains after hitting major cyclical bottoms. Our market analysis tells us they are at or near major cyclical bottom now, which means they are ready to begin a new cyclical rise.
Let's look at their recent historical performance. From June 2012 onward, prices have fallen to major cyclical bottoms on four previous occasions, labeled Rise A, Rise B, Rise C, and Rise D in the chart below.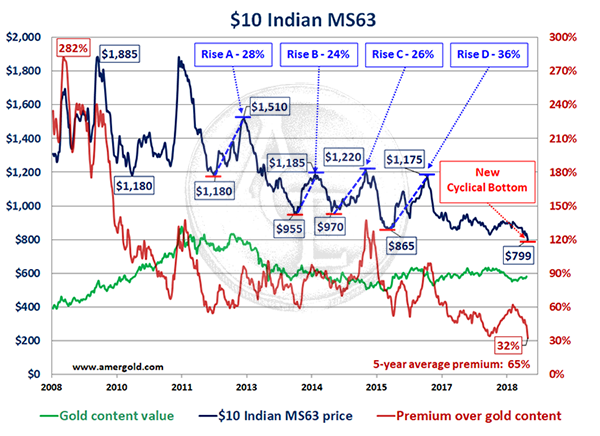 As you can see, Rise A gained 28%, from $1,180 to $1,515, in 7 months. Rise B gained 24%, from $955 to $1,185, in 5 months. Rise C gained 26%, from $970 to $1,220, in 9 months. And Rise D gained 36% from $865 to $1,175, in less than 11 months.
The last time $10 Indians MS63 hit a major bottom near today's prices (Rise D), they gained more than $300 each in less than a year!
Since early 2017, when the Fed began raising interest rates in earnest, $10 Indians have been channeling in a narrow range along with gold, while a record-high stock market has captured most investment money. But we think that's about to change.
The Fed has signaled rate hikes may end soon. Global growth is slowing, trade wars are raging, and political uncertainty is mounting. The Dow has lost nearly 10% since early October, and investors are rushing back to safe havens like gold.
Gold has gained $70 since reaching a 19-month low in August, but prices for $10 Indians MS63 have yet to catch up, compressing premiums. This situation will not last long, in our opinion.
Lowest premium on record
Over the past 5 years, the average premium for $10 Indian MS63 (that is, cost above intrinsic gold value) has been 65%. Over the past 10 years the average premium has been 93%. In 2009, during the height of the financial crisis, premiums soared to 282%. Today's premium is just 32%, the lowest on record and less than half the 5-year average.
If premiums on $10 Indians MS63 merely revert to their 5-year average, these coins would gain nearly $200 from our current special price. If premiums revert to the 10-year average, $10 Indians MS63 would gain $366. And that's with no change in the underlying gold price! Truly, they've seldom been better-positioned for future gains.
Exceptional scarcity
Why do prices for $10 Indians MS63 see such large cyclical increases? The main reason is their exceptional scarcity. Out of an original mintage exceeding 15 million, only 103,886 coins have been certified in Mint State 63 (NGC + PCGS, 8/7/18). At any given time, only a tiny fraction may be available on the national market. Most are held by collectors and investors, perhaps for generations to come.
By contrast, the $20 Saint-Gaudens in MS63, another very popular investment coin, has a certified population of 675,000, more than six times as many.
Fundamental scarcity and thin supply in the market can drive prices and premiums up very quickly when demand picks up, causing large spikes in gains, as we've seen repeatedly with $10 Indians MS63 after cyclical bottoms over the past 7 years.
These coins are so scarce in the national market that it has been five years since we've been able to source enough to make special offer like this one. We've been fortunate to locate a cache of excellent specimens, but they won't last long.
Rest assured that you will not find better examples at better prices than ours. Once again, at today's extremely low prices and premiums, $10 Indians MS63 offer an exceptional opportunity for gold investors that simply should not be missed!
We also have a few scarcer dates available on a first-come, first-served basis, so don't delay. Please call our friendly, knowledgeable account managers at 1-800-613-9323 if you have any questions.
Respectfully,
Dana Samuelson
President
Quantity
Price per coin
1-9
10-19
20-39
40+
Basis: gold @ $1,282.36, 01/20/19
Prices, availability subject to change.
Where applicable and unless specified,
NGC or PCGS and dates/mints our choice.
See Terms & Conditions.

Buying $10 Indian Gold Eagle Coins
Indian Head $10 gold coins, or gold eagles, were produced by US Mint each year from 1907 to 1916, and then intermittently until 1933. Replacing the Liberty (or Cornet) gold eagles that had been produced since 1838, Indian gold eagles were the last $10 gold coins minted for circulation. Today, they are avidly sought by investors and collectors for their beautiful design, excellent minting, and large gold content.
New Gold Coin Designs
In 1904, President Theodore Roosevelt commissioned the renowned sculptor Augustus Saint-Gaudens to create new, more artistic designs for U.S. gold coins. Saint-Gaudens' work was well known to the President. He had designed the Sherman Monument in New York's Central Park, a stirring combination of statues featuring Nike, the Greek goddess of victory, crowned with laurels, striding alongside the Civil War General, who is mounted on horseback.
Saint-Gaudens also designed Roosevelt's Inaugural Medal, which featured a bust of the new President on the obverse and a standing eagle on the reverse. The eagle image was derived from an ancient Egyptian coin that Saint-Gaudens admired.
The Gold Indian is Born
For his new $10 gold eagle coin Saint-Gaudens drew on both of these earlier creations. The coin's obverse, featuring a profile of Liberty, was modeled on his statue of Nike. On the reverse, the depiction of a defiant Bald Eagle standing upon a bundle of olive branches was drawn from the Egyptian eagle design used for Roosevelt's medal.
The most remarkable aspect of the new $10 gold eagle coin, however, was pure Roosevelt. The President insisted that Nike's laurel crown be replaced by an Indian war bonnet emblazoned with LIBERTY. He wished to broaden the symbolism of American democracy to include and honor American Indians. With this meaningful alteration, the new $10 Indian Head gold eagle was born. Without Teddy's broadminded intervention, the beloved $10 Gold Indian would have been just one more $10 Liberty design.
$10 Indian Gold Eagles, "Wire Rim"
The first 500 $10 Indian gold eagles struck in 1907 were the so-called "wire rim" coins. To create dramatic relief, the fields of the coin's surface in the original design rose sharply to the edge, omitting the flattened rim typical of other U.S. gold coins. While beautiful, wire rims proved impractical because coins wouldn't stack properly and the edge could be easily broken. Charles Barber, the chief engraver, quickly designed a flat rim and changed the dies.
$10 Indian Gold Eagles, "No Motto"
The next 500,000 or so gold eagles struck, in 1907 and into 1908, were the so-called "No Motto" variety of $10 Indians, omitting the words IN GOD WE TRUST. Saint-Gaudens wanted to keep lettering to a minimum because he considered it an artistic intrusion. The pious Roosevelt preferred to exclude this motto because he felt it blasphemous to use the name of the deity on money, which could be applied to immoral ends.
$10 Indian Gold Eagles, "With Motto"
Bowing to religious public opinion, in March 1908, Congress passed a bill requiring the motto IN GOD WE TRUST to appear on the new gold eagle and gold double eagle coins. Roosevelt reluctantly signed it into law. Placed in the field before the standing eagle's breast on the reverse, this motto appeared on most of the gold eagles struck in 1908 and all issues thereafter.
| | |
| --- | --- |
| Minted: | 1907-1933 |
| Content: | .48375 oz gold |
| Purity: | .900 fine |
| Diameter: | 27 mm |
| Thickness: | 2.03 mm |
| Designer: | Augustus Saint-Gaudens |
Grade
Certified
Population
Lowest
Price
MS65

7,957

$2,480

MS64

43,866

$1,110

MS63

103,886

$834

MS62

116,290

$770

AU

--

$725

XF

--

$690

Certified Populations (PGCS + NGC, 08/07/2018)