Questions? Call 1-800-613-9323
---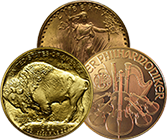 AGE's Specials represent some of the best values currently available in U.S. gold coins, world gold coins, and bulk precious metals.
We carefully monitor the changing markets for items offering the highest value and promise for you. Our long presence in the industry and unsurpassed reputation for reliability allow us to trade immediately with almost all suppliers and dealers. The result for you, plainly put, is a better coin at a better price than you'll find elsewhere.
New specials are added whenever great opportunities arise, so be sure to check back often! Supplies are limited so get 'em while you can!
---
Featured Rare Coins
$20 Liberty Type 3 1882-CC AU-55 NGC

$6,475

$20 Liberty Type 3 1899 MS-64+ NGC

$2,195

$20 Liberty Type 3 1900 MS-65 NGC

$3,675

$20 Liberty Type 1 1853-O AU-53 NGC

$15,750
$20 Saint-Gaudens, MS64
Only $99 over gold bullion!
---


Lowest premiums on record! 5-year average premium is 52%. Today it's just 16%!
AGE Investor Alert!
As low as $1,435
$20 Saint-Gaudens, MS65
Special offer: $25 off per coin!
---


Ultra-low premium above gold melt! True scarcity, gem quality, and large gold content at low, low prices!
Highly recommended!
As low as $1,655
Britain Gold Sovereign, BU
Special offer: $5 off per coin!
---


George V design. Scarce, historic gold coins at low prices. One of most popular European gold coins. Excellent choice for bulk gold buyers!
Better than bullion!
As low as $320.63