---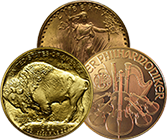 European and world gold coins are an overlooked but very promising sector of today's gold market for bulk gold investors and collectors.
Minted mostly pre-1935, these classic gold coins from many nations offer all of the benefits of modern gold bullion coins plus extra benefits like limited supply, collector demand, financial privacy, and extra premium potential because of scarcity.
AGE offers a wide variety of high-quality European and World gold coins. All of our coins are carefully hand-selected for quality and eye-appeal. Please call and speak to one of our knowledgeable account managers for the best values in today's market.
Benefits of European & World gold coins
Low prices, great value.
Relatively few gold buyers are aware of these classic European and World gold coins so prices remain relatively low. In most cases, they trade at modest premiums over modern bullion coins like Eagles, Maple Leafs, and Krugerrands. Yet they're a much better value, offering all of the advantges of bullion plus extremely limited supply, high collector demand, and complete financial privacy--all for very little additional cost.
True scarcity.
Supplies are extremely limited to what has survived the ravages of time, melt downs, hoarding, and other means of attrition. Modern bullion coins are produced every year in virtually unlimited numbers, which means they offer no premium for scarcity.
Additional profit opportunity.
Because the supply of classic European and World gold coins is limited to what was minted long ago, these coins tend to increase in value faster than bullion in a rising gold market. In addition, collector demand can maintain or even increase value when the gold price is flat or falling.
Easy liquidity.
European and World gold coins are collected across the globe, ensuring constant demand and easy liquidity.
Financial privacy.
Unlike most forms of gold bullion, they are exempt from broker reporting requirements.
True historical significance.
European and World gold coins are fascinating pieces of historical artwork commemorating the cultural values and important leaders of their respective nations of origin.
... Read More »
Read Less «
---
Featured Rare Coins
$10 Liberty Coronet Motto 1901 MS-65+ NGC

$2,900

$20 Liberty Type 3 1907-D MS-64 NGC

$3,575

$20 Liberty Type 1 1856-S AU-55 PCGS

$6,975
AGE's Classic European & World Gold Coins
Prices below indicate largest quantity discounts. Single-coin prices available.

= Special Offer
Nation
Denomination
Design
Dates Minted
Grade
Gold oz. AGW
As Low As
Argentina
5 Peso
Liberty Head
Argentino
1881-1896
XF-AU
.2334
$322.61
Belgium
20 Franc
Leopold II
1867-1882
BU
.1867
$263.05
Belgium
20 Franc
Albert I
Military Bust
1914
BU
.1867
$281.06
Brazil
10,000 Reis
Pedro II
1853-1889
XF-AU
.2643
$372.34
Brazil
20,000 Reis
Pedro II
1851-1889
VF-XF
.5286
$732.68
Britain
Sovereign
Edward VII
1902-1910
BU
.2354
$334.25
Britain
Sovereign
George V
1911-1935
BU
.2354
$329.25
Denmark
20 Kroner
Frederick VIII
1908-1912
BU
.2592
$365.62
Nation
Denomination
Design
Dates Minted
Grade
Gold oz. AGW
As Low As
Denmark
20 Kroner
Christian X
1913-1917
BU
.2592
$365.62
France
20 Franc
Napoleon III
1853-1870
AU
.1867
$261.05
France
20 Franc
Angel
1871-1898
BU
.1867
$266.05
France
20 Franc
Rooster
1906-1914
BU
.1867
$260.05
France
40 Franc
Napoleon I
1807-1813
VF-XF
.3734
$570.87
France
100 Franc
Angel
1878-1914
AU
.9335
$0.00
Germany
20 Mark
Wilhelm II
1888-1915
BU
.2304
$334.66
Italy
20 Lire
Umberto I
1880-1897
BU
.1867
$264.05
Nation
Denomination
Design
Dates Minted
Grade
Gold oz. AGW
As Low As
Netherlands
10 Guilder
Willem III
1875-1889
BU
.1947
$276.60
Netherlands
10 Guilder
Wilhelmina
1911-1933
BU
.1947
$271.61
Sweden
20 Kronor
Oscar II
1873-1902
BU
.2593
$378.62
Switzerland
20 Franc
Helvetia (or Vreneli)
1897-1935,
1947,1949
BU
.1867
$260.05
Uruguay
5 Peso
Jose Artigas
1930
BU
.2501
$350.61
Basis: gold @ $1,317.97 per oz. Updated: 04/26/18.