Questions? Call 1-800-613-9323
---

= Special Offer
AGE Investor Alert!
US Silver Eagles -- Low-Priced Silver!
Greetings!
While gold has surged around $100 since mid-December, silver has been underperforming and is deeply undervalued relative to gold. In our last AGE Gold Commentary, we discussed how the gold-to-silver ratio was at an extreme over 80:1, which is at the very high end over the past 25 years. Today, it's even higher at 81:1. When silver gets this inexpensive compared to gold, it is an unusually good relative value. And with silver under $16.50 an ounce in the current market, it is undervalued in absolute terms, too.
Why is silver so inexpensive today? Primarily because the US stock markets were so stunningly strong in 2017, pulling investment demand away from other assets like precious metals. As a result, simply put, there have been more silver coins than buyers in the market for several months, driving premiums (that is, prices above silver bullion content) to their lowest levels in a decade.
But the markets are changing quickly. Stocks have shown vulnerability for the first time in a year; bond yields and inflation are rising sharply; and our staggering national debt, which surpassed $20 trillion this month, continues to grow unabated. Demand for precious metals as a hedge against inflation and financial vulnerability is again on the rise, and that means premiums will not stay this low much longer!
As low as $1.99 over spot!
While supplies last, we're offering Backdate US Silver Eagles for as low as $1.99 over the spot silver price!
This is the lowest premium we've offered on Silver Eagles in over a decade! We also have mint-sealed Monster Boxes of 500 coins available for bulk buyers that include free shipping. Of course, all our backdate Silver Eagles are mint-fresh coins that we will gladly buy back in the future, should you wish to liquidate.
Please note: this special is for backdated Silver Eagles only, 2016 issues and earlier. 2017 and 2018 Silver Eagles come to us with higher costs from the US Mint, so we are unable offer them at this special rate.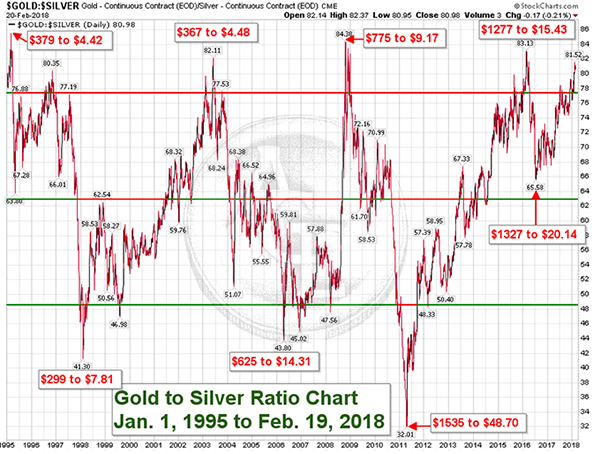 Gold-to-Silver Ratio
This 25-year gold-to-silver ratio chart shows the fluctuations in value of the two metals relative to each other. The equilibrium ratio over this period is 63:1, but it routinely gyrates between 78:1 and 48:1, as marked by the trendlines. Occasionally, the ratio has surged beyond this range when either metal has become abnormally expensive or inexpensive relative to the other.
As you can see, these extreme valuations tend to be sharp spikes, and they rarely last for long. When market forces, for whatever reason, move either gold or silver sharply, the lagging metal always eventually plays catch up and the ratio moves from extreme highs and lows back towards equilibrium.
An important take away from analyzing this chart is how volatile and fast-moving silver can be when dynamics change. If you compare prices from the 84:1 peak in the fall of 2008, when gold was $775 and silver $9.17, to the next low of 32:1 in the summer of 2011, gold almost doubled from $775 to $1,535, silver exploded five times in value from under $10 to almost $50.
Big upside potential
Today, the ratio is 81:1. This is extremely and abnormally high. Based on history, it is just a matter of time until silver catches up and pulls the ratio back towards equilibrium around 63:1. Indeed, silver could easily gain 20% or more without gold rising at all. Were that to happen, silver would be back above $20, and the gold-to-silver ratio would be back to 65:1, just like it was recently when gold was at $1,327 and silver at $20.14.
With today's extreme gold-to-silver ratio, silver has excellent potential to rebound sharply from today's low price. Our special offer on Backdate US Silver Eagles gives you a fantastic way to take advantage of this anomaly in the silver market. But it won't last long, and supplies are limited, so don't delay!
Please call us at 1-800-613-9323 to speak to one of our precious metals experts. We will be happy to help you make an informed decision about what is best for you.
Sincerely,
Dana Samuelson
President
Quantity
Price per coin
1-19
20-99
100-499
500+
Basis: silver @ $16.63, 03/23/18
Prices, availability subject to change.
Unless specified, NGC or PCGS
and dates/mints our choice.
See Terms & Conditions.

Buying Silver Eagle Bullion Coins
American Silver Eagles are an excellent way to buy silver. Containing a full ounce of .999 fine silver and backed by the U.S. government for weight and metal content, Silver Eagles are among the safest and most convenient ways to invest in silver bullion.
Issued since 1986 as legal tender by the U.S. Mints in Philadelphia and San Francisco, Silver Eagles are only available in the 1 oz size with a face value of $1.00. The obverse depicts the memorable Walking Liberty design by Adolph A. Weinman, adapted from the popular U.S. quarters and half dollars. The reverse features the Heraldic Eagle design by John Mercanti.
Silver Eagle Monster Box
We offer 1 ounce Silver Eagles individually and in Monster Boxes of 500 coins. Sealed at the US Mint, Monster Boxes contain 25 tubes of 20 coins, making them an efficient way to buy and store Silver Eagles. Compared to 1 oz Canadian Silver Maple Leafs, which have 20 tubes of 25 coins per Monster Box, they take up a little less vertical space in storage with a slightly larger footprint.
Just like American Gold Eagles, Silver Eagles are eligible for inclusion in Individual Retirement Accounts.
Benefits of American Silver Eagle bullion coins
Only $1.99 over spot silver!
-- This is the lowest premium we've offered on Silver Eagles in over a decade!
Highest quality silver
-- Each Silver Eagle contains one troy ounce of pure silver, giving it the highest pure silver content of any U.S. coin.
Content guaranteed
-- American Silver Eagles are the only bullion silver coins guaranteed as to weight and silver content by the U.S. government.
Official legal tender
-- Silver Eagles are the only genuine legal tender pure silver coins issued by the United States Mint. Privately minted silver medallions, tokens, etc., are not legal tender.
Private and non-reportable
-- American Silver Eagles are non-reportable to the IRS by brokers. They offer complete financial privacy and the security.
Eligible for IRAs
-- Unlike many other silver bullion coins, American Eagles are eligible to fund Individual Retirement Accounts. Please call us at 1-800-613-9323 for details.
Instant liquidity
-- American Silver Eagle coins are saleable at market value virtually anywhere.
Easy to store and transport
-- Silver bullion coins are compact, convenient, and easy to store or transport. We pack them securely in 3-inch tall break-proof plastic tubes, perfect for home safes and bank safety deposit boxes.
Better than bars and ingots
-- We recommend silver bullion coins like American Eagles over silver bars and ingots because they are far easier to sell, store, and transport, and do not incur the additional costs of assaying.
| | |
| --- | --- |
| Content: | |
| Purity: | |
| Thickness: | |
| Diameter: | |
| Mint: | |