---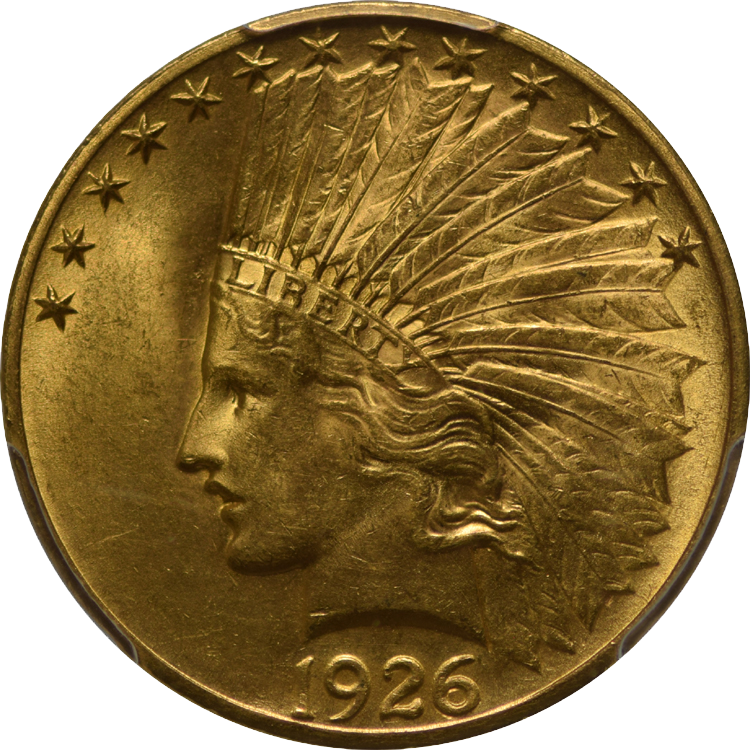 Quantity
Price per coin
1-9
10-19
20-39
40+
Basis: gold @ $1,918.78, 09/25/23
Prices, availability subject to change.
Where applicable and unless specified,
NGC or PCGS and dates/mints our choice.
See Terms & Conditions.
Available to ship on
Click for Interactive Chart
Buying $10 Indian Gold Eagle Coins
Indian Head $10 gold coins, or gold eagles, were produced by US Mint each year from 1907 to 1916, and then intermittently until 1933. Replacing the Liberty (or Cornet) gold eagles that had been produced since 1838, Indian gold eagles were the last $10 gold coins minted for circulation. Today, they are avidly sought by investors and collectors for their beautiful design, excellent minting, and large gold content.
New Gold Coin Designs
In 1904, President Theodore Roosevelt commissioned the renowned sculptor Augustus Saint-Gaudens to create new, more artistic designs for U.S. gold coins. Saint-Gaudens' work was well known to the President. He had designed the Sherman Monument in New York's Central Park, a stirring combination of statues featuring Nike, the Greek goddess of victory, crowned with laurels, striding alongside the Civil War General, who is mounted on horseback.
Saint-Gaudens also designed Roosevelt's Inaugural Medal, which featured a bust of the new President on the obverse and a standing eagle on the reverse. The eagle image was derived from an ancient Egyptian coin that Saint-Gaudens admired.
The Gold Indian is Born
For his new $10 gold eagle coin Saint-Gaudens drew on both of these earlier creations. The coin's obverse, featuring a profile of Liberty, was modeled on his statue of Nike. On the reverse, the depiction of a defiant Bald Eagle standing upon a bundle of olive branches was drawn from the Egyptian eagle design used for Roosevelt's medal.
The most remarkable aspect of the new $10 gold eagle coin, however, was pure Roosevelt. The President insisted that Nike's laurel crown be replaced by an Indian war bonnet emblazoned with LIBERTY. He wished to broaden the symbolism of American democracy to include and honor American Indians. With this meaningful alteration, the new $10 Indian Head gold eagle was born. Without Teddy's broadminded intervention, the beloved $10 Gold Indian would have been just one more $10 Liberty design.
$10 Indian Gold Eagles, "Wire Rim"
The first 500 $10 Indian gold eagles struck in 1907 were the so-called "wire rim" coins. To create dramatic relief, the fields of the coin's surface in the original design rose sharply to the edge, omitting the flattened rim typical of other U.S. gold coins. While beautiful, wire rims proved impractical because coins wouldn't stack properly and the edge could be easily broken. Charles Barber, the chief engraver, quickly designed a flat rim and changed the dies.
$10 Indian Gold Eagles, "No Motto"
The next 500,000 or so gold eagles struck, in 1907 and into 1908, were the so-called "No Motto" variety of $10 Indians, omitting the words IN GOD WE TRUST. Saint-Gaudens wanted to keep lettering to a minimum because he considered it an artistic intrusion. The pious Roosevelt preferred to exclude this motto because he felt it blasphemous to use the name of the deity on money, which could be applied to immoral ends.
$10 Indian Gold Eagles, "With Motto"
Bowing to religious public opinion, in March 1908, Congress passed a bill requiring the motto IN GOD WE TRUST to appear on the new gold eagle and gold double eagle coins. Roosevelt reluctantly signed it into law. Placed in the field before the standing eagle's breast on the reverse, this motto appeared on most of the gold eagles struck in 1908 and all issues thereafter.
| | |
| --- | --- |
| Minted: | 1907-1933 |
| Content: | .48375 oz gold |
| Purity: | .900 fine |
| Diameter: | 27 mm |
| Thickness: | 2.03 mm |
| Designer: | Augustus Saint-Gaudens |
Grade
Certified
Population
Lowest
Price
MS65

8,716

$3,180

MS64

55,402

$1,805

MS63

125,854

$1,610

MS62

123,532

$1,320

AU

--

$1,185

XF

--

$1,155

Certified Population = PCGS + NGC, 12/29/2022.
Grade
Current
10-Yr
Avg
20-Yr
Avg
MS65

247%

347%

773%

MS64

97%

111%

283%

MS63

76%

64%

148%

MS62

44%

43%

82%

MS61

40%

38%

63%

Premium = Price percentage above gold content value.