---
AGE Investor Alert!
2018 Platinum Eagles MS70 - $50 off!
Greetings!
I am very excited to offer a small cache of 2018 US Platinum Eagles in Mint State 70 at $50 off per coin. Extremely popular among investors and collectors, Platinum Eagles in MS70 have a history of trading at substantial premiums in the secondary market because of their high grade and low original mintages.
With our special offer of $50 off per coin for any quantity, Platinum Eagles MS70 are an outstanding value and a great way to take advantage of today's abnormally low platinum price. In our opinion, they should not be passed up!
Fundamental scarcity, higher premiums
Platinum Eagles are minted in remarkably small numbers. Only 30,000 coins were produced in 2018, and only a tiny fraction of those have been certified in near-perfect MS70. Our coins were among the very first struck on brand-new dies, certified by PCGS as "First Day of Issue."
We seldom see quantities of Platinum Eagles in the national market after the initial mintage disperses, let alone certified in MS70. That's why I'm so excited about this offer. Their fundamental scarcity almost always creates higher premiums once the year of issue is over, which is precisely why these coins are such a good long-term value.
A rising collector premium can insulate buyers from a declining platinum spot price while enhancing their profitability in a rising platinum market. Few other modern-era coins provide this kind of double-play profit opportunity. Platinum Eagles in MS70 offer all the investment power of platinum bullion with the collector demand of ultra-high-grade certified coins.
Platinum is cheap today!
In my entire 38-year career, I have never seen platinum as inexpensive as it is today, relative to gold. Since 1980, platinum has normally traded at a 10% to a 30% premium to gold. The few times the platinum price has fallen below the gold price, the discount has been only about 10%, and those discounted times have been very short-lived.
Today, platinum is trading at a discount to gold of nearly 30%, which is absurd, especially given that platinum is about ten times scarcer than gold in the ground.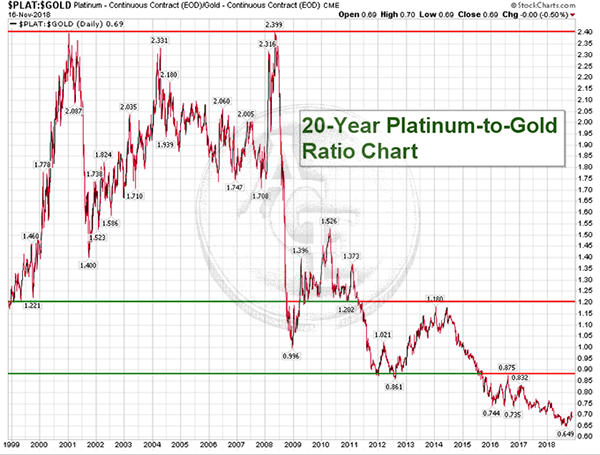 As you can see on the 20-year platinum-to-gold ratio chart, platinum almost never traded for less than gold from 1997 through 2015. For most of this time, in fact, it traded at a 20% premium to gold, at a minimum! The ratio recently bottomed at a 35% discount (.649 on the chart), a 20-year low. But an uptrend has firmly developed, which is a very positive sign.
Why has platinum been trading at a discount to gold? In large part, because the VW diesel scandal in late 2015 reduced industrial demand for the metal, which is widely used in diesel catalytic converters. The market for diesel vehicles is recovering, however; and while the push is on to reduce diesel engine use in the future, platinum can still be used in gasoline catalytic converters. As the price of palladium price rises further (it recently hit an all-time high), platinum will become more attractive to manufacturers for this purpose.
Rebounding from 2018 lows
Platinum's recent price action looks promising. As you can see in the chart below, after declining in June and July (along with gold and silver), and bottoming in August and September at just under $780 per ounce, the metal has entered an uptrend.
This falling, bottoming, and rebounding in price has created what traders call an inverted-head-and-shoulders pattern (indicated by the green lines), with the neckline at just under $850 (indicated by the red line.) This technical pattern often signals a price-reversal, with confirmation being a movement back above the neckline.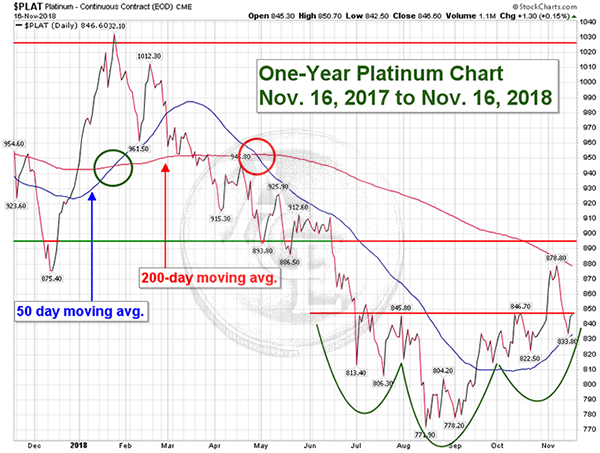 Platinum's punch up to $878 earlier this month was a clear breakout higher, but like gold and silver today, it has been capped by US dollar strength. This could easily change, however, due to rising volatility in the US stock market and slowing global growth.
In addition, prominent Fed officials have recently stated that US interest rates are nearing the targeted neutral level, where they neither stimulate nor slow economic growth. Neutral rates will slow or end future rate hikes, further undermining the dollar's rise.
Low price, exceptional value
Platinum certainly looks like a great value today and safer bet than it's been in quite a while. Given its long history of trading for more than gold, its recent low in the platinum-to-gold ratio, and its rising pattern over the past two months, now is a good time to pick up platinum on the cheap.
Our special offer on 2018 Platinum Eagles in MS70 is a great way to take advantage of today's abnormally low platinum price. These beautiful coins offer the opportunity for additional gains from rising collector premiums in the secondary market. Get 'em while you can because this cache is very limited and won't last long! We do have other platinum bullion products available. Please call your account manager for details.
Sincerely,
Dana Samuelson,
President
Quantity
Price per coin
1-9
10-19
20-39
40+
Basis: platinum @ $790.91, 12/12/18
Prices, availability subject to change.
Where applicable and unless specified,
NGC or PCGS and dates/mints our choice.
See Terms & Conditions.

Buying Certified American Platinum Eagles
American Platinum Eagles are among the most popular platinum bullion coins in the world. They were first produced by the US Mint in 1997. The 2017 issue marked the 20th anniversary of their welcome debut.
American Platinum Eagles are legal tender and have the highest face value ($100) of any US coin ever minted. The beautiful design features the John Mercanti "Portrait of Liberty" on the obverse. The reverse is graced with the majestic "Soaring Bald Eagle" by Thomas D. Rogers. Platinum Eagles are the only platinum bullion coins backed by the US government for weight and metal content.
Low mintage, great value
During the first few years of production, mintage totals for Platinum Eagles were relatively large, as you can see in the mintage chart below. But since 2000, mintages have been remarkably low, ranging from 4,700 to 20,800 per year through 2008. In six of the past ten years, no Platinum Eagles were made at all!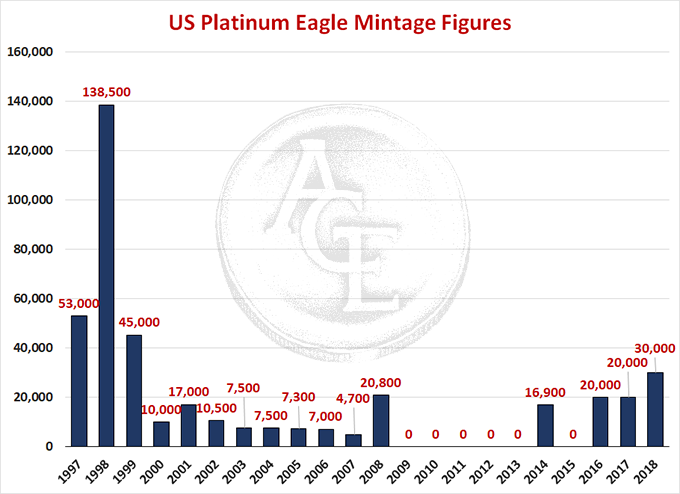 Mintages for 2016 and 2017 are 20,000; 2018 mintage is 30,000. Only a tiny fraction of those are certified as MS70 "First Day of Issue" coins. Because of this minscule production, premiums can rise substantially in the secondary market as time passes. The potential for a strong collector premium is very high with these coins.
US Platinum Eagles are eligible for IRAs.
Benefits of American Platinum Eagles MS-70, PCGS First Strikes
Best of the best
-- Mint State 70 is the highest Mint State grade, and "First Day of Issue" coins are among the first struck on new, polished dies. Certified for authenticity and grade by PCGS, one of the most respected certification companies in the world.
Platinum content guaranteed by the US
-- American Platinum Eagles are the only platinum bullion coins guaranteed as to weight and platinum content by the US government.
Highest quality platinum
-- Each one-ounce Platinum American Eagle is minted in 99.95% fine platinum and weighs 1.0005 troy ounces.
Private and non-reportable
-- American Platinum Eagles are non-reportable the IRS by brokers. They offer complete financial privacy.
| | |
| --- | --- |
| Content: | |
| Purity: | |
| Thickness: | |
| Diameter: | |
| Mint: | |