American Platinum Eagles, Certified
---

Quantity
Price per coin
1-9
10-19
20-39
40+
NOTE: Because of sales tax restrictions,
this item is not available for shipping to
CT, MA.
Basis: platinum @ $946.02, 12/03/23
Prices, availability subject to change.
Where applicable and unless specified,
NGC or PCGS and dates/mints our choice.
See Terms & Conditions.

Available to ship on

Buying Certified American Platinum Eagles
American Platinum Eagles are among the most popular platinum bullion coins in the world. They were first produced by the US Mint in 1997. The 2017 issue marked the 20th anniversary of their welcome debut.
American Platinum Eagles are legal tender and have the highest face value ($100) of any US coin ever minted. The beautiful design features the John Mercanti "Portrait of Liberty" on the obverse. The reverse is graced with the majestic "Soaring Bald Eagle" by Thomas D. Rogers. Platinum Eagles are the only platinum bullion coins backed by the US government for weight and metal content.
Low mintage, great value
The U.S. Mint debuted 1-oz Platinum Eagles in 1997. During the first few years, mintage totals were relatively large, as you can see in the mintage chart below. But since 2000, mintages have been remarkably low, ranging from 4,700 to 20,800 per year. In six of the past 11 years, no Platinum Eagles were made at all!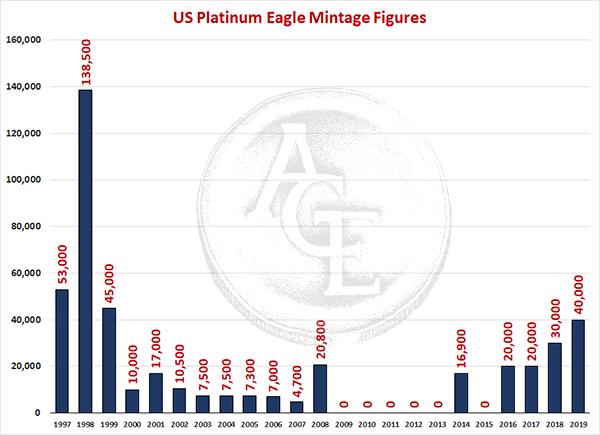 2016 and 2017 mintages were 20,000 coins; 2018 mintage was 30,000. Because of these low mintages, premiums have already risen in the secondary market. For 2019, the total mintage has been limited to 40,000 pieces. Only a tiny fraction of those are certified as MS70 "First Day of Issue" coins. Because of this minscule production, premiums can rise substantially in the secondary market as time passes.
US Platinum Eagles are eligible for IRAs.
Benefits of American Platinum Eagles MS-70, PCGS First Strikes
Best of the best
-- Mint State 70 is the highest Mint State grade, and "First Day of Issue" coins are among the first struck on new, polished dies. Certified for authenticity and grade by PCGS, one of the most respected certification companies in the world.
Platinum content guaranteed by the US
-- American Platinum Eagles are the only platinum bullion coins guaranteed as to weight and platinum content by the US government.
Highest quality platinum
-- Each one-ounce Platinum American Eagle is minted in 99.95% fine platinum and weighs 1.0005 troy ounces.
Private and non-reportable
-- American Platinum Eagles are non-reportable the IRS by brokers. They offer complete financial privacy.
| | |
| --- | --- |
| Content: | |
| Purity: | |
| Thickness: | |
| Diameter: | |
| Mint: | |