$2.50 Liberty Gold Quarter Eagles
---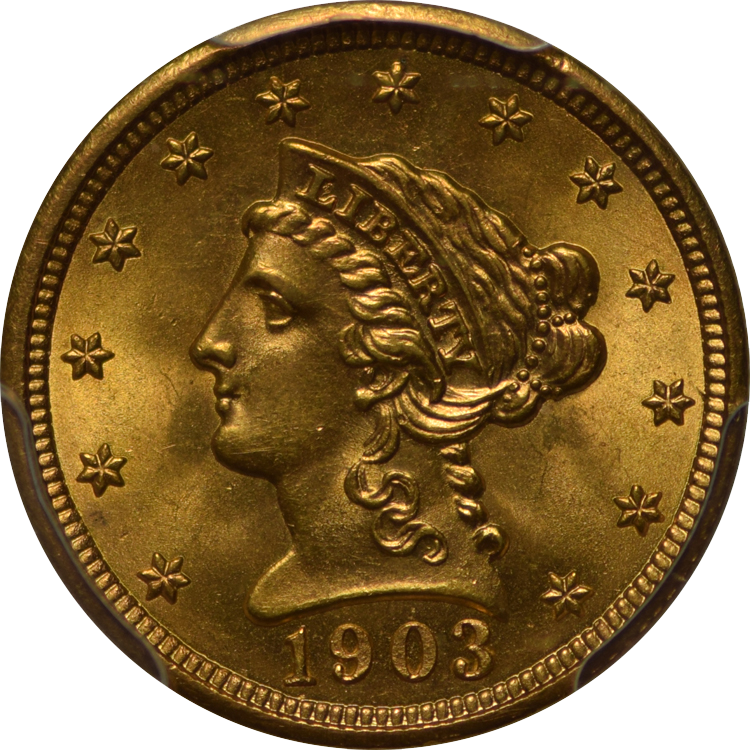 Quantity
Price per coin
1-9
10-19
20-39
40+
Basis: gold @ $2,075.98, 12/03/23
Prices, availability subject to change.
Where applicable and unless specified,
NGC or PCGS and dates/mints our choice.
See Terms & Conditions.
Available to ship on
Click for Interactive Chart
Buying $2.50 Liberty Quarter Eagle Gold Coins
$2.50 Liberty (or Coronet) Quarter Eagle gold coins were minted from 1840 to 1907. Often overlooked by gold investors in favor of larger-denomination coins like $20 Double Eagles and $10 Eagles, $2.50 Liberty coins are substantially undervalued relative to their fundamental scarcity, especially in higher Mint State grades. They offer a classic design, rich history, and exceptional scarcity—all at moderate prices.
Nearly 12 million $2.50 Liberty gold coins were struck at five mints: Philadelphia (no mint mark), Charlotte (C), Dahlonega (D), New Orleans (O), and San Francisco (S). Almost all have been lost to time and the melting pot, making them extremely scarce in the market today, especially in higher grades. In Mint State 63 through Mint State 65, for example, the number of certified survivors ranges from around 25,000 to fewer than 12,000, respectively. Yet their prices remain remarkably affordable.
America's longest-lived coin
The Liberty (or Coronet) design of the Quarter Eagle gold coin remained fundamentally unchanged for its entire mintage history of 67 years, giving it the greatest longevity of any U.S. coin of any kind. The matching $5 Half Eagle was redesigned in 1866 to include the motto IN GOD WE TRUST. The Quarter Eagle was spared this change because of its small size.
Quarter Eagles were the among first gold coins minted by the United States, authorized by the Coinage Act of April 2, 1792. With a denomination of $2.50, Quarter Eagles contain around an eighth of an ounce of pure gold. Because of their small size, they were widely used in daily transactions, which meant relatively few escaped heavy wear from circulation. Along with $5 Half Eagle gold coins, they were frequently given to children in well-off families at Christmas as stocking-stuffers, especially on the East Coast.
Classic gold coin design
Designed by Christian Gobrecht, the $2.50 Liberty Quarter Eagle gold coin features a classical bust of Liberty in profile facing left on its obverse. Liberty's hair is gathered in a bun, held in place by a string of beads, and ornamented with a coronet bearing the inscription, LIBERTY. Thirteen stars surround Liberty's head, representing the original states.
The reverse depicts an American eagle, breast shielded and wings spread wide, clutching the arrows of war and olive branches of peace. Gobrecht's Liberty design also appeared on the $10 Gold Eagle released in 1838 and the $5 Half Eagle beginning in 1839.
| | |
| --- | --- |
| Minted: | 1840-1907 |
| Content: | .12094 oz gold |
| Purity: | .900 fine |
| Diameter: | 18 mm |
| Thickness: | 1.27 mm |
| Designer: | Christian Gobrecht |
Grade
Certified
Population
Lowest
Price
MS65

11,170

$895

MS64

23,948

$610

MS63

26,994

$575

MS62

28,890

$525

AU

--

$475

XF

--

$460

Certified Population = PCGS + NGC, 12/29/2022.