$2.50 Indian Gold Quarter Eagles
---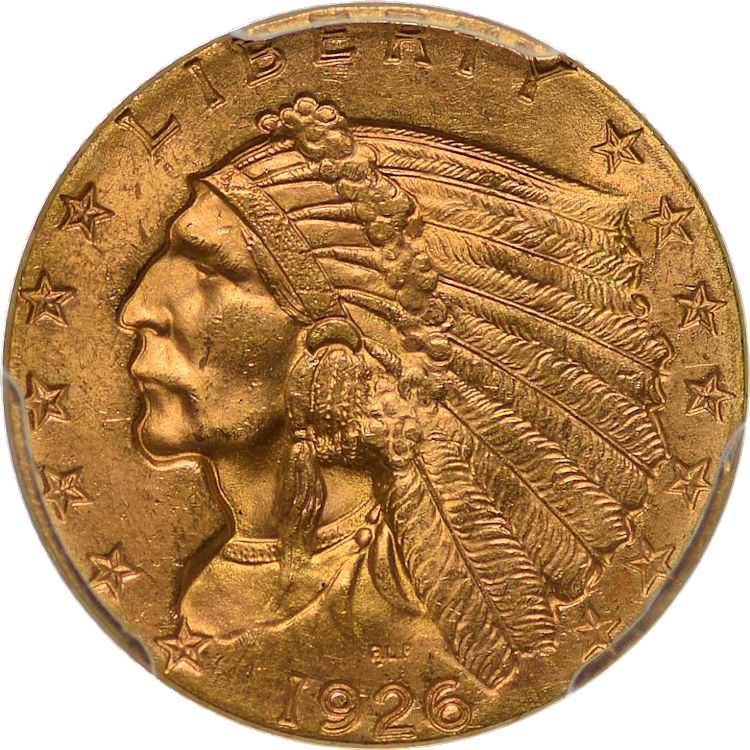 Quantity
Price per coin
1-9
10-19
20-39
40+
Basis: gold @ $2,075.98, 12/03/23
Prices, availability subject to change.
Where applicable and unless specified,
NGC or PCGS and dates/mints our choice.
See Terms & Conditions.
Available to ship on
Click for Interactive Chart
Buying $2.50 Indian Quarter Eagle Gold Coins
$2.50 Indian Half Eagle gold coins were minted each year from 1908 to 1915, and again from 1925 to 1929. With their unusual incuse design and rich history, they are a fascinating and largely overlooked member of the classic US gold coin family, deserving of a place in every gold coin collection and portfolio.
Extremely scarce in the higher Mint State grades, $2.50 Indians have the potential to appreciate quickly in a sharply rising gold market. Yet they are trading today at remarkably low prices. We think they are real sleepers!
Unique "incuse" gold coins
Along with their $5 Indian Half Eagle counterparts, $2.50 Indian Quarter Eagles are unique among all U.S. gold coins because of their "incuse" design. Whereas other coins are struck in "bas relief," meaning their designs are raised above the fields, these Indian gold coins have their designs engraved into their fields.
The bold incuse design, inspired by ancient Egyptian coins, was chosen because it enabled a "High Relief" gold coin to be produced without the problems of stacking and excessive wear that plagued the original $20 Saint-Gaudens gold coins, forcing them to be redesigned in lower relief.
When the new Indian gold coins entered circulation in 1908, they were met with surprising criticism. Some critics thought they could be easily counterfeiting by carving into blanks of metal. Some found the Native American on the obverse to look emaciated and unhealthy. Oddest of all was the contention that the incuse design would spread disease by capturing germs!
New gold coin designs
In 1904, when Teddy Roosevelt decided to remake all U.S. gold coins on classical models, he called upon famed sculptor Augustus Saint-Gaudens to create the innovative designs. Saint-Gaudens produced the gorgeous $20 "High Relief" Double Eagle that bears his name, and the classic $10 Indian Half Eagle gold coin.
Turning its attention $5 and $2.50 gold coins, the Mint planned to use Saint-Gaudens's design but were unable to find the room for the required inscriptions on the smaller coins. Roosevelt then asked Boston sculptor Bela Lyon Pratt to redesign the Half Eagle and Quarter Eagle, keeping the Native American theme.
Instead of the idealized female Liberty with headdress featured on the Saint-Gaudens $10 Indian, Lyon Pratt chose to depict a realistic male Native American on the obverse. The reverse, carrying over Saint-Gaudens' design from the $10 Indian gold coin, features a bald eagle.
| | |
| --- | --- |
| Minted: | 1908-1915, 1925-1929 |
| Content: | .12094 oz gold |
| Purity: | .900 fine |
| Diameter: | 18 mm |
| Thickness: | 1.14 mm |
| Designer: | Bela Lyon Pratt |
Grade
Certified
Population
Lowest
Price
MS65

9,685

$1,695

MS64

47,617

$700

MS63

71,700

$575

MS62

101,968

$520

AU

--

$465

XF

--

$460

Certified Population = PCGS + NGC, 12/29/2022.