1921 Morgan Silver Dollars
---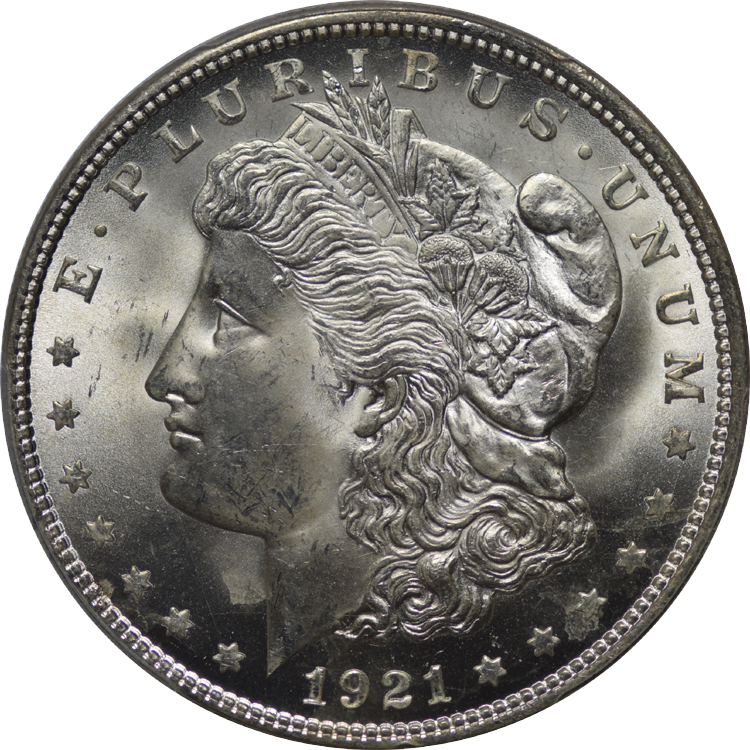 Quantity
Price per coin
1-19
20-99
100-499
500+
Basis: silver @ $23.06, 09/26/23
Prices, availability subject to change.
Where applicable and unless specified,
NGC or PCGS and dates/mints our choice.
See Terms & Conditions.

Available to ship on
Buying 1921 Morgan Silver Dollars
The 1921 Morgan dollar is the most unusual issue in the entire series. After 1904, with national silver bullion supplies all but exhausted, the government suspended coinage of silver dollars altogether. In 1918, under the Pittman Act, more than 270 million silver dollars were melted down for bullion.
By 1921, with the U.S. economy booming after World War One, the need for silver dollars became acute. The government resumed production for less than a full year, with a few minor refinements, until the newly-authorized Peace dollar design was rolled out in late 1921. Because of its orphaned striking after a long hiatus, the 1921 Morgan dollar could be considered a one-year type coin unto itself.
Like pre-1921 Morgan silver dollars, the 1921 strike is popular among investors and collectors because of its iconic design, excellent minting, large silver content, and numismatic history. They were produced at the Philadelphia, San Francisco, and Denver Mints.
Few silver survivors
While more than 86 million 1921 Morgan silver dollars were produced at all three mints combined, many were lost to the melting pot during the Great Depression and again in the 1960s and 1980s, when the price of silver skyrocketed. A small fraction survives in the higher Mint State grades, with population numbers roughly equal to those of pre-1921 Morgan silver dollars.
All of our Mint State 1921 Morgan silver dollars are certified for grade and authenticity by PCGS or NGC, the most-trusted independent certification companies, and then hand-select by AGE for outstanding eye-appeal and superior technical merit within grade.
| | |
| --- | --- |
| Minted: | 1921 |
| Content: | 0.7734 oz silver |
| Purity: | .900 fine |
| Diameter: | 38.1 mm |
| Thickness: | 3.1 mm |
| Designer: | George T. Morgan |
Grade
Certified
Population
Lowest
Price
MS66

1,871

$540

MS65

17,391

$171

MS64

98,293

$84

MS63

119,261

$61

Certified Populations = PCGS + NGC, 12/29/2022