---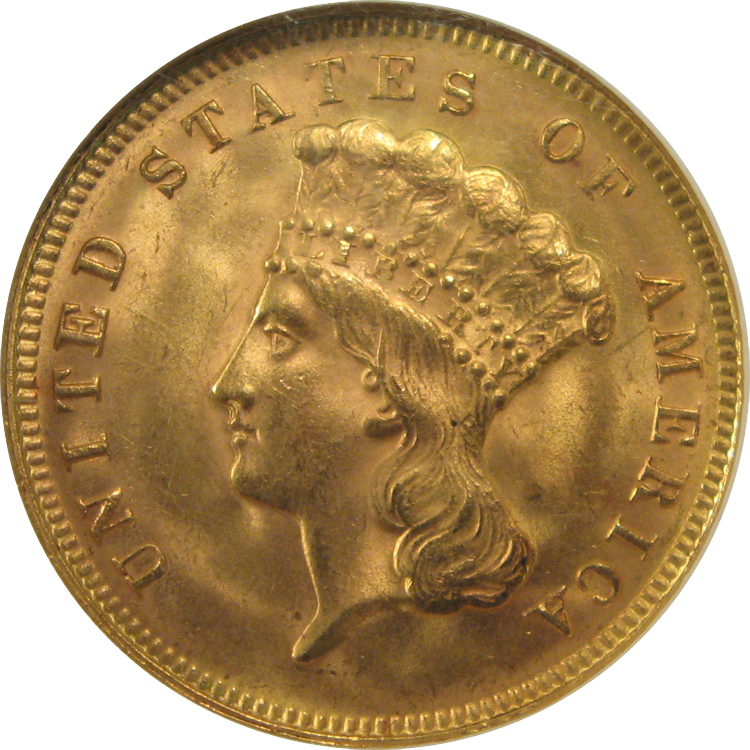 Quantity
Price per coin
1-9
10-19
20-39
40+
Basis: gold @ $1,916.52, 09/26/23
Prices, availability subject to change.
Where applicable and unless specified,
NGC or PCGS and dates/mints our choice.
See Terms & Conditions.
Available to ship on
Click for Interactive Chart
Buying $3 Princess Gold Coins
$3 "Princess" Gold Coins were minted from 1854 to 1889. With their odd denomination, stunning design, and extraordinary scarcity, they have long been coveted additions to US gold coin collections.
Mintages of $3 Princess gold coins are extremely low for most years, often less than 5,000 pieces, which is why they were among the first U.S. coins to gain numismatic interest. Production exceeded 20,000 in only a handful of years, and only two years (1854 and 1878) saw more than 80,000 pieces minted. Almost all were made at the Philadelphia Mint (no mint mark) with six dates also at San Francisco (S) and one date each at the Dahlonega (D) and New Orleans (O) Mints.
Very few Mint State examples of $3 Princess gold coins survive from any but the two commonest dates, and even these are extraordinarily scarce. The certified population of Mint State 63 to Mint State 65 coins, almost entirely from 1854 and 1878, range from around 3,200 pieces to around 800, respectively.
Given their extreme scarcity, exceptional collector interest, and remarkably low prices, $3 Princess gold coins are an excellent value for investors and collectors in the current gold market.
Gold coins for bulk postage
$3 Princess coins were ostensibly created so that 3-cent postage stamps could be easily bought in sheets of 100. Congress authorized the first official US postage stamps in 1845, printed with a fixed value of 5 cents. Postage was reduced to 3 cents in 1851 because the higher rate was considered an impediment to commerce. Congress then authorized the minting of 3-cent silver coins in 1851 to ease the purchase of new 3-cent stamps. By 1853, the $3 gold piece was authorized to encourage the sales of stamps in bulk.
Iconic gold coin design
Created by Mint Chief Engraver James B. Longacre, the obverse design of the iconic $3 Princess features Liberty wearing a Native American headdress of equal-sized feathers, with the band inscribed LIBERTY. Beginning in the early 17th century, America was often represented by mapmakers as a Native American princess crowned with this type of bonnet. Longacre is thought to have modeled his Indian Princess on a statue of "Crouching Venus" on display in a Philadelphia museum at the time, connecting pre-European America to the classical ideals upon which the United States was founded.
The reverse of the $3 Princess features a wreath of tobacco, corn, cotton, and wheat, symbolizing the agrarian wealth and fertility of the land and nation.
| | |
| --- | --- |
| Minted: | 1854-1889 |
| Content: | .14512 oz gold |
| Purity: | .900 fine |
| Diameter: | 20.5 mm |
| Thickness: | 1.1 mm |
| Designer: | James B. Longacre |
Grade
Certified
Population
Lowest
Price
MS65

918

$11,540

MS64

3,166

$5,670

MS63

3,481

$4,280

MS62

5,183

$2,920

AU

--

$1,635

XF

--

$1,390

Certified Population = PCGS + NGC, 12/29/2022.