$10 Liberty Gold Eagles, With Motto
---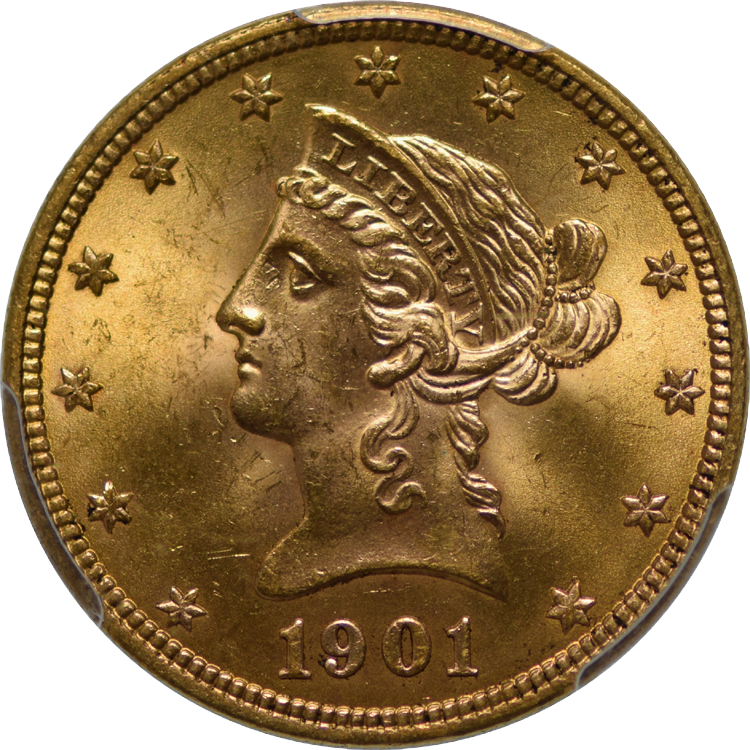 Quantity
Price per coin
1-9
10-19
20-39
40+
Basis: gold @ $1,918.79, 09/25/23
Prices, availability subject to change.
Where applicable and unless specified,
NGC or PCGS and dates/mints our choice.
See Terms & Conditions.
Available to ship on
Click for Interactive Chart
Buying $10 Liberty Eagle Gold Coins
$10 Liberty gold eagle coins were introduced by the U.S. Mint in 1838 and continued in production until 1907 with only one substantial design change, the addition of the motto IN GOD WE TRUST on the reverse in 1866. The first variety, the "No Motto" $10 Liberty gold eagle, was minted from 1838 to 1866. The second variety, the "With Motto" $10 liberty, was made from 1866 until 1907.
Also called the $10 Coronet Gold Eagle, the $10 Liberty was created by Christian Gobrecht, an engraver who also is credited with the Seated Liberty silver dime, quarter, and half dollar designs of the same era. Gobrecht's $10 gold coin design features a bust of Liberty in left profile on the obverse, with the word LIBERTY emblazoned in a coronet upon her head (hence the alternative name, Coronet Gold Eagle). The reverse depicts a heraldic eagle, wings spread and head turned left, clutching olive branches of peace and arrows of war in its talons. This design was also the prototype for the Half Eagle and Large Cent in 1839.
When gold was money
When $10 Liberty gold eagles were minted, gold was money. The gold eagle was a base-unit of denomination in US gold coinage, originally established by the Coinage Act of 1792. With the purity of gold in circulating coins fixed at .900 in 1837, and with the price of gold fixed at $20.67 per ounce by law, the value of the gold content in each $10 Liberty gold eagle was held at exactly $10. Smaller-denomination coins were simply fractions of this base unit. Half Eagles, containing half as much gold, were worth $5. Quarter Eagles contained 25% of the gold in a Gold Eagle, so they were worth $2.50.
$10 Liberty Gold Eagles, "No Motto"
Minted from 1838 to 1866, No Motto $10 Liberty Gold Coins are generally rare and expensive in higher grades. Few were minted and fewer survived. With the country mired in an economic depression from 1838 to 1844, $10 was a huge sum, which meant there was little demand for gold eagles. When conditions improved in the 1850s, $10 gold coins were still impractical for most Americans; and during the Civil War, mintage totals became even smaller—often fewer than 10,000 per year. As a result, this earlier variety of $10 Liberty gold eagles is a favorite of serious gold coin collectors. Please contact us if you are interested in specific dates and grades of "No Motto" $10 Liberty gold double eagles for your collection.
$10 Liberty Gold Eagles, "With Motto"
Following the Civil War, America experienced a religious "awakening" as citizens struggled to make sense of its carnage and turmoil. Responding to this movement, Congress directed the US Mint include the motto IN GOD WE TRUST on all gold and silver coinage. In 1866, this motto was added to $10 Liberty gold eagles in the field above the eagle's head on the reverse.
While mintages totals remained small for most years of issue, With Motto $10 Liberty gold eagles are more widely available than the earlier variety, and at much lower prices, making them an excellent value in today's gold market. Surviving specimens today in near-gem or gem quality condition are much scarcer than their successor design, the $10 Indian.
| | |
| --- | --- |
| Minted: | 1866-1907 |
| Content: | .48375 oz gold |
| Purity: | .900 fine |
| Diameter: | 27 mm |
| Thickness: | 2.03 mm |
| Designer: | Christian Gobrecht |
Grade
Certified
Population
Lowest
Price
MS65

7,200

$3,155

MS64

36,648

$2,135

MS63

109,488

$1,585

MS62

194,363

$1,425

AU

--

$1,070

XF

--

$1,050

Certified Population = PCGS + NGC, 12/29/2022.
Grade
Current
10-Yr
Avg
20-Yr
Avg
MS65

244%

322%

759%

MS64

133%

115%

280%

MS63

73%

54%

127%

MS62

56%

35%

48%

MS61

24%

26%

36%

Premium = Price percentage above gold content value.