$10 Liberty Gold Eagles, With Motto
---

= Special Offer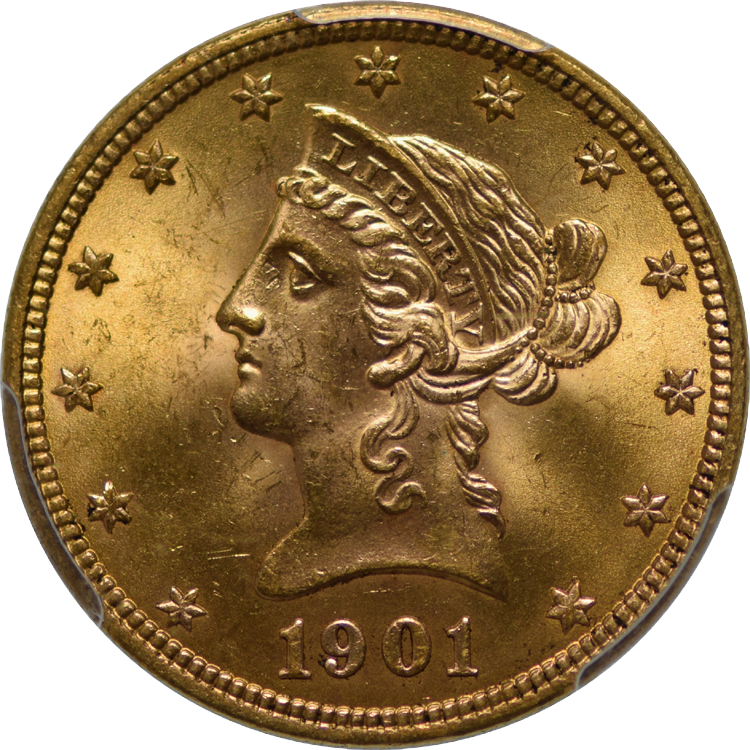 AGE Investor Alert!
$10 Liberty MS63 - Lowest Premiums Ever!
Greetings!
We are thrilled to offer one of best fundamental values we've seen in a long time. $10 Liberty gold eagle coins in Choice Mint State 63 grade are now trading at their lowest premium (value over gold content) on record! What's more, they are priced near 12-year lows! The last time they were this cheap, in October 2017, these classic coins jumped $100 in three months with just a $40 rise in the gold price. They offer exceptional scarcity, historical significance, constant collector demand, and best of all, proven upside potential. At today's prices and premiums, they should not be passed up!
Exceptional Scarcity
Minted from 1877 to 1907, $10 Liberty gold eagles were a workhorse coin of daily commerce, heavily circulated for everyday transactions. $20 gold double eagles, by contrast, were used more frequently in bank-to-bank transactions and saw less circulation, with many remaining locked away in vaults. As a result, survival rates for $10 Liberty gold coins in uncirculated grades are far, far lower. For example, $20 Liberty MS63 coin have a survival rate of 294,748 (PGCS+NGC, 9/17). $10 Liberty MS63, on the other hand, have only 83,822 survivors, less than one-third as many!
This exceptional scarcity has historically meant sharp appreciation during periods of high demand. From July 2009 to October 2015, these coins often traded above $1,250 and never traded under $1,000. In December 2009, with gold at $1,178, they traded for $1,840! At today's historically low price of $779, they simply could not be better-positioned for future gains.
Lowest Premium Ever!
Let's take a closer look at premiums. With a 10-year average premium of 87%, and a 5-year average premium of 60%, $10 Liberty MS63 has a proven track record of outstanding leverage to the gold price. Today's premium of 23% is the not simply the lowest on record, it's about as low as it can possibly go, in our opinion. If these $10 Libs merely revert to their 5-year average premium, they will gain around $240 from today's price. If they revert to their 10-year average premium, they'll gain more than $410. And that's with no change in the underlying gold price!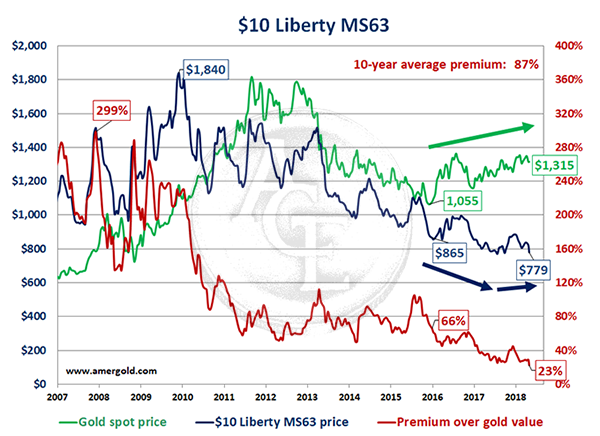 As you can see in the chart above, the gold price has been in a solid uptrend since hitting a major bottom at $1,055 in December 2016. The price of $10 Liberty in MS63 continued to decline until July 2017 and then started to rise. Classic US gold coins often lag the gold price by several months, being slower to fall and slower to rise. If gold breaks out, as we believe it will, $10 Liberty MS63 coins are poised to explode higher because there simply won't be enough coins to fill a surge in demand. This is an ideal scenario for sharply rising premiums and prices.
Gold Poised for Breakout
With U.S. debt surpassing $21 trillion, unemployment under 4%, oil over $70, and inflation sharply on the rise, we are convinced that gold is on the verge of a major breakout over $1,370, heading toward towards $1,500 before the year is over. A gold breakout creates the perfect scenario for rising premiums and prices with these undervalued coins.
For now, however, it's still a buyer's market in U.S. pre-1933 gold coins. We think $10 Liberty gold coins in MS63 offer the best value and opportunity. And at today's prices, almost anyone can afford one or two of these historic 110-year-old gold coins.
Again, these $10 Liberty coin in MS63 are truly one of the best values on the market. Put away a few today. You'll be glad you did!
Sincerely,
Dana Samuelson
President
Quantity
Price per coin
1-9
10-19
20-39
40+
Basis: gold @ $1,280.22, 06/19/18
Prices, availability subject to change.
Where applicable and unless specified,
NGC or PCGS and dates/mints our choice.
See Terms & Conditions.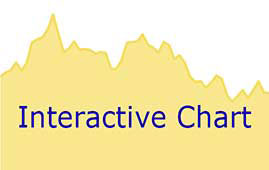 Buying $10 Liberty Eagle Gold Coins
$10 Liberty gold eagle coins were introduced by the U.S. Mint in 1838 and continued in production until 1907 with only one substantial design change, the addition of the motto IN GOD WE TRUST on the reverse in 1866. The first variety, the "No Motto" $10 Liberty gold eagle, was minted from 1838 to 1866. The second variety, the "With Motto" $10 liberty, was made from 1866 until 1907.
Also called the $10 Coronet Gold Eagle, the $10 Liberty was created by Christian Gobrecht, an engraver who also is credited with the Seated Liberty silver dime, quarter, and half dollar designs of the same era. Gobrecht's $10 gold coin design features a bust of Liberty in left profile on the obverse, with the word LIBERTY emblazoned in a coronet upon her head (hence the alternative name, Coronet Gold Eagle). The reverse depicts a heraldic eagle, wings spread and head turned left, clutching olive branches of peace and arrows of war in its talons. This design was also the prototype for the Half Eagle and Large Cent in 1839.
When gold was money
When $10 Liberty gold eagles were minted, gold was money. The gold eagle was a base-unit of denomination in US gold coinage, originally established by the Coinage Act of 1792. With the purity of gold in circulating coins fixed at .900 in 1837, and with the price of gold fixed at $20.67 per ounce by law, the value of the gold content in each $10 Liberty gold eagle was held at exactly $10. Smaller-denomination coins were simply fractions of this base unit. Half Eagles, containing half as much gold, were worth $5. Quarter Eagles contained 25% of the gold in a Gold Eagle, so they were worth $2.50.
$10 Liberty Gold Eagles, "No Motto"
Minted from 1838 to 1866, No Motto $10 Liberty Gold Coins are generally rare and expensive in higher grades. Few were minted and fewer survived. With the country mired in an economic depression from 1838 to 1844, $10 was a huge sum, which meant there was little demand for gold eagles. When conditions improved in the 1850s, $10 gold coins were still impractical for most Americans; and during the Civil War, mintage totals became even smaller—often fewer than 10,000 per year. As a result, this earlier variety of $10 Liberty gold eagles is a favorite of serious gold coin collectors. Please contact us if you are interested in specific dates and grades of "No Motto" $10 Liberty gold double eagles for your collection.
$10 Liberty Gold Eagles, "With Motto"
Following the Civil War, America experienced a religious "awakening" as citizens struggled to make sense of its carnage and turmoil. Responding to this movement, Congress directed the US Mint include the motto IN GOD WE TRUST on all gold and silver coinage. In 1866, this motto was added to $10 Liberty gold eagles in the field above the eagle's head on the reverse.
While mintages totals remained small for most years of issue, With Motto $10 Liberty gold eagles are more widely available than the earlier variety, and at much lower prices, making them an excellent value in today's gold market. Surviving specimens today in near-gem or gem quality condition are much scarcer than their successor design, the $10 Indian.
| | |
| --- | --- |
| Minted: | 1866-1907 |
| Content: | .48375 oz gold |
| Purity: | .900 fine |
| Diameter: | 27 mm |
| Thickness: | 2.03 mm |
| Designer: | Christian Gobrecht |
Grade
Certified
Population
Lowest
Price
MS65

4,667

$2,335

MS64

23,730

$1,075

MS63

82,615

$785

MS62

171,349

$730

AU

--

$675

XF

--

$675

Certified Populations = PCGS + NGC, 9/18/2017