---
Quantity
Price per coin
1-9
10-19
20-39
40+
Basis: platinum @ $850.43, 03/22/19
Prices, availability subject to change.
Where applicable and unless specified,
NGC or PCGS and dates/mints our choice.
See Terms & Conditions.

AGE Investor Alert!
Buying American Platinum Eagles
We are very pleased to offer US Platinum Eagles in Brilliant Uncirculated condition, the only platinum bullion coin backed for weight and purity by the United States Government.
The U.S. Mint debuted 1-oz Platinum Eagles in 1997. During the first few years, mintage totals were relatively large, as you can see in the mintage chart below. But since 2000, mintages have been remarkably low, ranging from 4,700 to 20,800 per year. In six of the past ten years, no Platinum Eagles were made at all!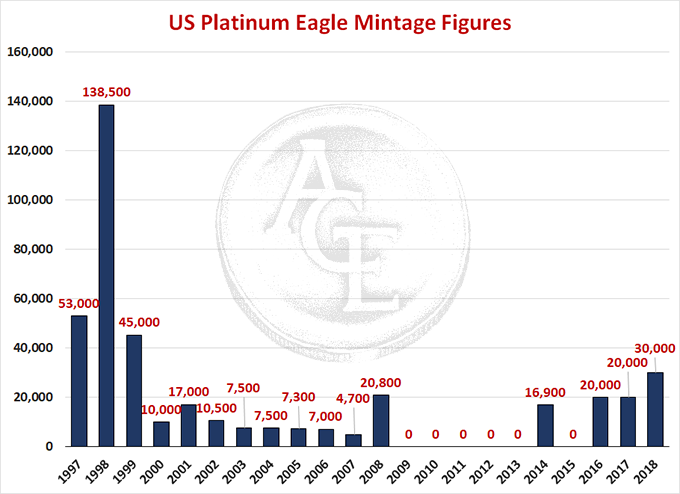 2016 and 2017 mintages were 20,000 coins. Because of this low mintage, premiums have already risen in the secondary market. 2018 mintage was 30,000, and 2019 is projected to be around the same. The potential for a strong collector premium is high with these coins!
Solid platinum fundamentals
Today both gold and platinum are undervalued, but platinum more so. Yet its fundamentals are very strong. The World Platinum Investment Council reports platinum has been in a modest supply deficit for the last five years. With annual demand exceeding mine production and recycling supplies, this deficit is projected to continue for the next several years.
We do not expect the current platinum-to-gold discount to continue. Analysts like the World Platinum Investment Council are projecting a supply deficit of over 250,000 ounces in 2018, with demand rebounding 9% to 12% while mining production decreases modestly.
Platinum Eagles are a bargain, and they offer precisely the kind of "double play" leverage we look for in our recommendations. They'll gain with a rebound in platinum, plus they have the potential for additional collector premiums because of low mintages.
Legal tender platinum coins
Issued by the U.S. Mint as legal tender, 1-oz American Platinum Eagle have the highest face value ($100) of any U.S. coin ever minted. A truly beautiful design, the obverse features the "Portrait of Liberty" by John Mercanti. The reverse shows the majestic "Soaring Bald Eagle" by Thomas D. Rogers, Sr. They are the only platinum bullion coins backed by the U.S. government for weight and metal content.
U.S. Platinum Eagles are eligible for IRAs.
Benefits of American Platinum Eagles
Highest quality platinum
-- Each one-ounce Platinum American Eagle is minted in 99.95% fine platinum and weighs 1.0005 troy ounces.
Content guaranteed
-- American Eagles are the only bullion platinum coins guaranteed as to weight and platinum content by the U.S. government. Each coin is stamped with its platinum content.
Official legal tender
-- Platinum Eagles are the only genuine legal tender platinum coins issued by the United States Mint. The one-ounce Eagle has the highest face value ($100) of any U.S. coin ever minted.
Private and non-reportable
-- American Platinum Eagles are non-reportable the IRS by brokers. They offer complete financial privacy.
Eligible for Individual Retirement Accounts
-- Unlike some other platinum bullion coins, American Eagles are eligible to fund IRAs.
Instantly liquid
-- American Platinum Eagle coins are saleable at market value anywhere and anytime.
Easy to store and transport
-- Platinum bullion coins are compact, convenient, and easy to store or transport. We pack them securely in 3-inch tall break-proof plastic tubes, perfect for home safes and bank safety deposit boxes.
Better than bars and ingots
-- We recommend platinum bullion coins like American Eagles over bars and ingots because they are far easier to sell, store, and transport, and do not incur the additional costs of assaying.
| | |
| --- | --- |
| Content: | |
| Purity: | |
| Thickness: | |
| Diameter: | |
| Mint: | |