France Gold 20 Franc
Low Prices and Premiums!
---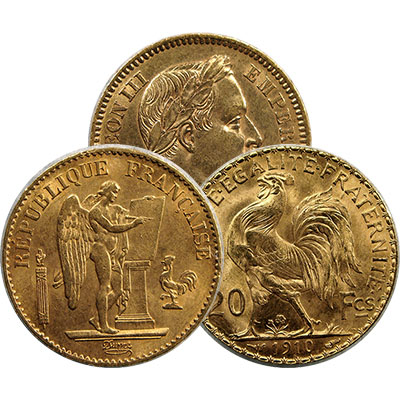 Quantity
Price per coin
1-19
20-39
40-99
100+
Basis: gold @ $1,917.53, 09/26/23
Prices, availability subject to change.
Where applicable and unless specified,
NGC or PCGS and dates/mints our choice.
See Terms & Conditions.
Available to ship on
Buying France 20 Franc Gold Coins
France gold 20 franc coins have been one of the most popular and important gold coins in the world for almost 200 years. Today, gold investors and collectors seek them out for their rich history, fine minting, and beautiful designs.
Although "franc" had been used as a loose term for French coinage since the 14th century, the modern decimal franc was instituted as the official national currency of France in 1795 by the French Revolutionary Committee. Under Napoleon, the size and gold content for 5, 10, 20, 40, and 100 franc gold coins were established, with the 20 being most common.
Gold Napoleons
French 20 franc gold coins were first issued In 1802. Produced under the direction of First Consul Napoleon Bonaparte and bearing his image, they were quickly labelled gold "Napoleons." Although the designs changed to reflect changes in political leadership, gold 20 franc coins continued to be minted by France until 1914. Their size and gold content remained constant throughout this 111-year history, adhering to the specifications established under Napoleon.
The Euro of Gold Coins
France 20 franc gold coins became the model for gold coinage in much of the rest of Europe. Under the Latin Monetary Union of 1865, Switzerland, Italy, Belgium, and later Greece agreed to standardize their gold coins on the French gold 20 franc. Known today as "the euro before the euro," this LMU standard for gold coins eased trade by making European currencies interchangeable. Many other nations also standardized on the French gold 20 franc coin without officially entering the LMU, which continued until 1927.
| | |
| --- | --- |
| Content: | .1867 oz gold |
| Purity: | .900 |
| Thickness: | 1.3 mm |
| Diameter: | 21 mm |
| Mint: | French Mint |