US Peace Silver Dollars
Great for Silver Bullion Buyers
---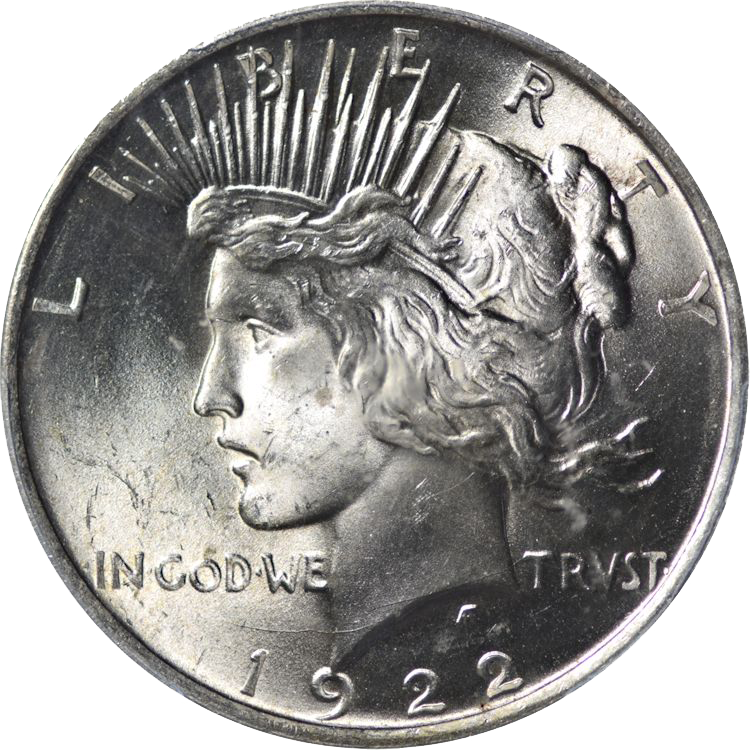 Quantity
Price per coin
1-19
20-99
100-499
500+
Basis: silver @ $24.40, 06/09/23
Prices, availability subject to change.
Where applicable and unless specified,
NGC or PCGS and dates/mints our choice.
See Terms & Conditions.

Available to ship on
Buying Peace Silver Dollars
Minted from 1921 to 1928, and again in 1934 and 1935, Peace Silver Dollars were created to commemorate the end of World War I and celebrate America's emergence as the leading world power.
Today, Peace silver dollars are among the most popular of all U.S. silver coins, sought worldwide for their inspiring design, excellent strikes, and fine silver content.
Designed by the renowned medalist Anthony De Francisci, these gorgeous coins feature a radiant profile of Miss Liberty on the obverse. On the reverse, a powerful image of the American eagle is perched on the rock of Peace, proudly watching the sunrise over a hopeful new era of national strength and prosperity. They were produced at the Philadelphia, San Francsico, and Denver Mints.
All of our Mint State Peace silver dollars are certified for grade and authenticity by PCGS or NGC, the most-trusted independent certification companies. They are then hand-select by AGE for outstanding eye-appeal and superior technical merit within grade.
The last true silver dollar
Throughout the Roaring Twenties, Peace Dollars jingled in American pockets and helped the good times roll. By the mid-1930s, however, the Great Depression was upon the nation and another World War was looming. In 1935, the U.S. government ceased the production of Peace Dollars altogether, and would never again release a dollar coin made from real silver.
In 1964, Congress did authorize the production of 45 million new silver dollars, and more than 300,000 Peace dollars dated 1964 were struck at the Denver Mint. Plans for completing mintage were scrapped, however, and all of the coins were melted down.
The Peace Silver Dollar remains a symbol of unwavering American optimism and resilience during the best and worst of times, and will always be treasured as the last true American silver dollar.
| | |
| --- | --- |
| Minted: | 1921-1928, 1934, 1935 |
| Content: | 0.7734 oz silver |
| Purity: | .900 fine |
| Diameter: | 38.1 mm |
| Thickness: | 3.1 mm |
| Designer: | Anthony De Francisci |
Grade
Certified
Population
Lowest
Price
MS66

20,917

$490

MS65

140,026

$125

MS64

595,153

$77

MS63

564,424

$63

Certified Populations = PCGS + NGC, 12/29/2022