$5 Liberty Gold Half Eagles, With Motto
---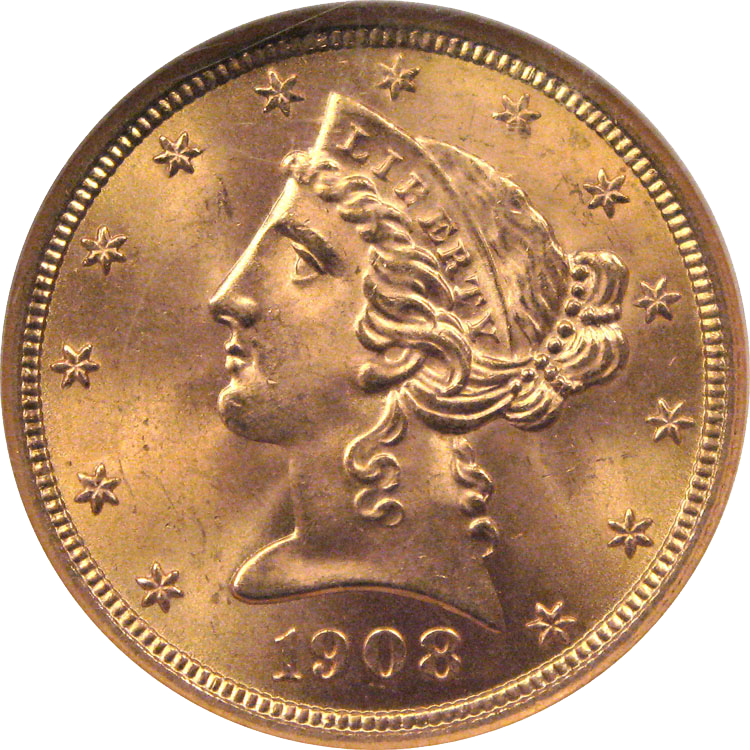 Quantity
Price per coin
1-9
10-19
20-39
40+
Basis: gold @ $2,075.98, 12/03/23
Prices, availability subject to change.
Where applicable and unless specified,
NGC or PCGS and dates/mints our choice.
See Terms & Conditions.
Available to ship on
Click for Interactive Chart
Buying $5 Liberty Half Eagle Gold Coins
$5 Liberty (or Coronet) "With Motto" Half Eagle gold coins were minted from 1866 to 1908. With their rich history, classic design, exceptional scarcity, and moderate prices, they are popular additions to gold coin collections and investment portfolios, especially in higher Mint State grades.
The "With Motto" variety of the $5 Liberty was produced in far greater numbers than previous half eagles, including the $5 Liberty "No Motto" variety of the same design, but most have been lost to the ravages of time and the melting pot.
These coins remain exceedingly scarce in the higher Mint State grades today, with certified populations ranging from around 100,000 in MS62 to fewer than 6,000 in MS65, yet their prices remain remarkably affordable, ranging from a few hundred to less than two thousand dollars, respectively.
Unlike most forms of gold bullion, they are exempt from broker reporting requirements because of their status are collectibles. In our opinion, they're better than bullion for bulk gold buyers.
Half Eagles -- America's first gold coins
Half Eagles were the very first gold coins minted by the United States. Authorized by the Coinage Act of April 2, 1792, they went into production in 1795 and continued almost without interruption until 1929, making them the longest-lasting of all US gold coin types.
With a denomination of $5, Half Eagles contain nearly a quarter-ounce of pure gold. Their smaller size allowed them to be used in almost every aspect of American economic life, from daily commerce in stores and saloons to large banking transactions and international trade. Among affluent families in the late 19th Century, they even became traditional stocking-stuffers for fortunate children at Christmas!
$5 Liberty "No Motto" Gold Half Eagles
$5 Liberty Half Eagle gold coins were made in two varieties, almost identical but for the appearance of the motto IN GOD WE TRUST on the reverse of the later version. The first variety, minted from 1839 to 1866, had no motto. These earlier Liberty Half Eagles tend to be exceptionally scarce and expensive in Mint State grades.
$5 Liberty "With Motto" Gold Half Eagles
Following the horror of the Civil War and the assassination of Abraham Lincoln, many Americans sought comfort and meaning in religious faith. Responding to popular sentiment, Congress mandated the inclusion of the motto IN GOD WE TRUST on coinage in March 1865. Beginning in 1866, this motto was added to the $5 Half Eagle gold coin, as well as its companion $2.50 Liberty Quarter Eagle and $10 Liberty Half Eagle. It appears in a banner above the eagle on the reverse.
Classic gold coin design
Designed by Christian Gobrecht, both varieties of $5 Liberty gold coins feature a classical bust of Liberty in profile facing left on the obverse. Liberty's hair is gathered in a bun, held in place by a string of beads, and ornamented with a coronet bearing the inscription, LIBERTY. Thirteen stars surround Liberty's head, representing the original states.
The reverse depicts an American eagle, breast shielded and wings spread wide, clutching the arrows of war and olive branches of peace. Gobrecht's Liberty design also appeared on the $10 Gold Eagle released in 1838 and the $2.50 Quarter Eagle quarter eagle of 1840.
| | |
| --- | --- |
| Minted: | 1866-1908 |
| Content: | .2419 oz gold |
| Purity: | .900 fine |
| Diameter: | 21.6 mm |
| Thickness: | 1.59 mm |
| Designer: | Christian Gobrecht |
Grade
Certified
Population
Lowest
Price
MS65

6,860

$2,020

MS64

40,211

$875

MS63

97,190

$705

MS62

160,826

$625

AU

--

$575

XF

--

$565

Certified Population = PCGS + NGC, 12/29/2022.