France Gold 40 Francs
Low Prices and Premiums!
---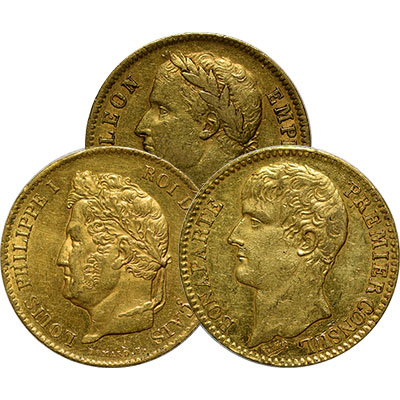 Quantity
Price per coin
1-19
20-39
40-99
100+
Basis: gold @ $2,075.98, 12/03/23
Prices, availability subject to change.
Where applicable and unless specified,
NGC or PCGS and dates/mints our choice.
See Terms & Conditions.
Available to ship on
Buying France 40 Franc Gold Coins
France gold 40 franc coins have been foundational to European coinage for almost 200 years. Today, gold investors and collectors seek them out for their fascinating history, beautiful designs, and exceptional minting.
While the term "franc" had been loosely used for French coins since the 14th century, the modern decimal franc was created as the official national currency of France in 1795 by the French Revolutionary Committee. The size and gold content for 5, 10, 20, 40, and 100 franc gold coins were then established in 1802 under Napoleon Bonaparte when he was elected First Consul.
Gold 40 Francs - Napoleon as First Consul
First issued in 1802 (or AN XI, in the French Revolutionary calendar), the gold 20 franc coins were quickly labeled gold "Napoleons" because they were authorized by the First Consul Napoleon Bonaparte and bore his image. The 40 franc denomination became colloquially known as the Double Napoleon because it contained twice the gold.
These first 40 franc gold coins carried the name "Bonaparte" and title "Premier Consul" on the obverse. The French Revolution modeled itself on the Roman Republic, in which First Consul was the highest elected political office. A one-year position in Rome, it was often awarded to a victorious general like Julius Caeser. Like Caesar, however, Napoleon had higher ambitions.
Gold 40 Francs - Napoleon as Emperor
In 1804, Napoleon dispensed with any pretense that France was still a republic. He declared himself Emperor of the French and struck new 20 franc and 40 franc gold coins to make the point. The new designs dropped the name "Bonaparte" and replaced it with "Napoleon," reverting to the first-name designation of kings, and "Premier Consul" was replaced with "Empereur." In 1806, Napoleon would erase the last vestiges of the Revolution on French gold coinage, dropping the Revolutionary Calendar dating system and returning to the Gregorian calendar to date gold 20 franc and gold 40 franc coins.
Gold 40 Francs - After Napoleon
After Napoleon's reign as emperor came to an end in 1815, the restored King Louis XVIII modified Napoleon's coinage to carry the king's name, portrait, and title "King of France." But for the next 99 years, while the designs changed to reflect changes in political leadership, French gold 40 franc coins continued to be minted according to specifications created under Napoleon.
| | |
| --- | --- |
| Content: | 0.3734 oz gold |
| Purity: | .900 fine |
| Thickness: | 1.6 mm |
| Diameter: | 26 mm |
| Mint: | French Mint |