Belgium Gold 20 Franc
Low Prices and Premiums!
---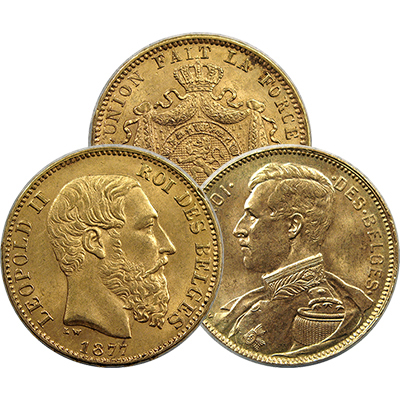 Quantity
Price per coin
1-19
20-39
40-99
100+
Basis: gold @ $2,075.98, 12/03/23
Prices, availability subject to change.
Where applicable and unless specified,
NGC or PCGS and dates/mints our choice.
See Terms & Conditions.
Available to ship on
Buying Belgium 20 Franc Gold Coins
Classic Belgium gold 20 franc coins were minted intermittently from 1834 to 1914. All are identical in size, weight, and gold content. Later-issue Belgium 20 franc gold coins are a highly recommended alternative to bullion coins for bulk gold investors. They offer all the benefits of gold bullion plus true scarcity, excellent minting, and classic European beauty, often at close to bullion prices.
Leopold I gold 20 franc coins
The Royal Belgian Mint in Brussels began producing 20 franc gold coins in 1834. After centuries under the dominion of the Hapsburgh Empire, Belgium became a consitutional monarchy in 1830 under Leopold I, who was featured on the first Belgian gold coins. Leopold I gold 20 francs came in two designs. The first, featuring a profile of the king as a young man with laurel wreath and sideburns, was minted for four years (1834, 1835, 1838, 1841) in very small numbers. A revised 20 fanc gold coin, featuring Leopold I as an older and more austere ruler, was minted in 1865 only, but in larger quantities.
Leopold II gold 20 franc coins
If you are buying gold bullion or bulk gold, Leopold II gold 20 franc coins are your best choice. Featuring Belgium's second monarch, they were minted in much larger numbers than the earlier design, and therefore carry a smaller premium over gold content than the quite scarce Leopold I gold coins.
Albert I gold 20 franc coins
As Europe entered the World War I, Belgium issued a new 20 franc coin for the first time in almost 50 years. The design featured Albert I in profile wearing a military officer's uniform with a prominent, braided epaulette. Known as the Albert I Military Bust design, it was minted in small quantities for only one year, 1914. It was made in two variations, one with the legend "King of the Belgians" in French, one with the legend in Dutch.
| | |
| --- | --- |
| Content: | .1867 oz gold |
| Purity: | .900 fine |
| Thickness: | 1.4 mm |
| Diameter: | 21.4 mm |
| Mint: | Belgian Royal Mint |