$20 Liberty Gold Double Eagles, Type 3
---

= Special Offer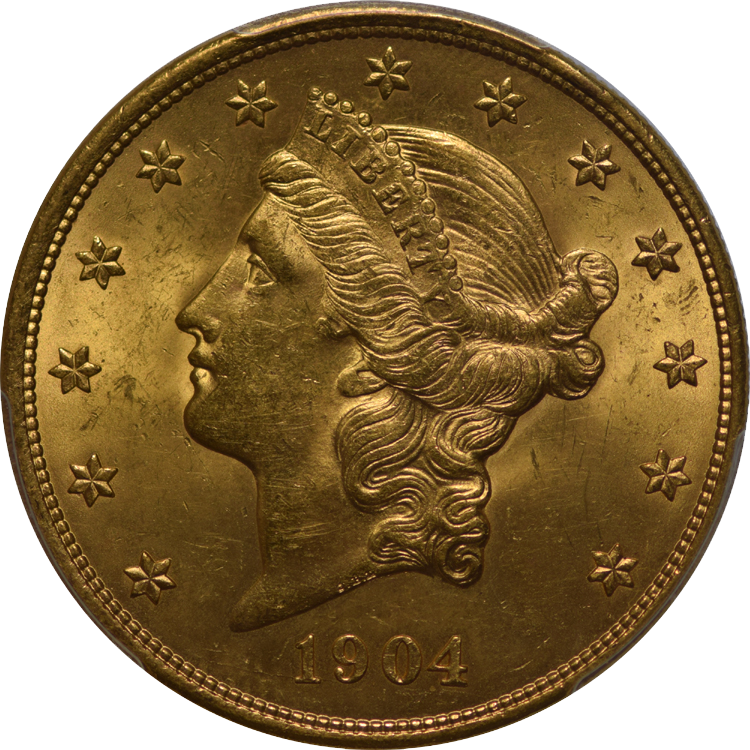 AGE Investor Alert!
$20 Liberty MS63 - Low price and premium!
Greetings!
We are thrilled to offer another fantastic value in Pre-1933 US gold coins. $20 Liberty gold coins in choice Mint State 63 grade are now trading at a premium of 18%, just slightly above the all-time low of 17.5%. Priced around $100 per coin over common 1-ounce Gold Eagles, these scarce, classic US gold coins are an absolute steal right now. The market is serving up another stunning opportunity and we think it should not be missed!
In the past three years, with the gold price just a little higher than today, these $20 Liberty MS63 coins have traded for $100 to $300 more than their current selling price. With demand finally shifting out of the stock market, these coins can easily gain 5% to 15% without any change in the underlying gold price. They offer the potential for strong leverage to rising gold that modern bullion coins simply cannot match.
Special 4-coin offer: 3 scarcer dates at common prices
As a special bonus, on a first-come, first-served basis, we're offering four-coin lots of $20 Liberty MS63 featuring 3 scarcer dates, including a premium pre-1900 date (1899) and the last year of issue (1907), which are always popular with collectors, at no extra cost. This four-coin set is just $5,676, or $1,419 per coin.
If you purchase four coins, you'll receive, while supplies last, one each dated: 1899, 1900, 1904, and 1907. While 1904 is the common date for the series, the 1900 is 3 times scarcer than the 1904; the 1907 is almost 10 times scarcer; and the 1899 is over 12 times scarcer than the 1904! In fact, the 1899 date normally commands a premium of $50 to $150 per coin over common dates. If you buy fewer than four coins, you'll receive dates of our choice.
We have never been able to offer a cache like this including the super-scarce 1899 date in my entire 38-year career. With premiums for these coins at an all-time low, they are an absolute bargain. We have limited availability so please don't hesitate to call.
Scarcer than $20 Saints
Minted from 1877 to 1907, $20 Liberty double eagles were struck as-needed and most were immediately put into circulation for use as currency. Survival rates are low for the most years, especially when compared to their successors, the $20 Saint-Gaudens (minted 1907 to 1933). Because the design on the Saint-Gaudens is more popular, $20 Liberty coins are often overlooked by novice buyers, creating excellent buying opportunities for savvy investors.
$20 Liberty MS63 are more than twice as scarce as $20 Saint-Gaudens MS63, yet today they are trading for just 5% more than the Saints. This fundamental scarcity is what gives these $20 Liberty coins enhanced market leverage when demand is strong, so it makes perfect sense that they have better previous track records for profits.
At their previous market peaks, $20 Liberty MS63 traded at $3,060 while $20 Saints MS63 peaked at $2,280. For an additional 5% today, you get 35% greater profit opportunity based on previous market history. This is exactly the fundamental value we love to find in this market.
Near the lowest premium ever!
With our special offer, the premium for $20 Liberty MS63 coins (that is, their price above intrinsic gold content) is 18% right now, just above the lowest ever, which was 17.5% in early June. Over the past ten years, their premium has averaged 53%, more than triple today's low premium. On three occasions since 2012, after premiums fell to cyclical lows, they rebounded to 62% or higher in a matter of months!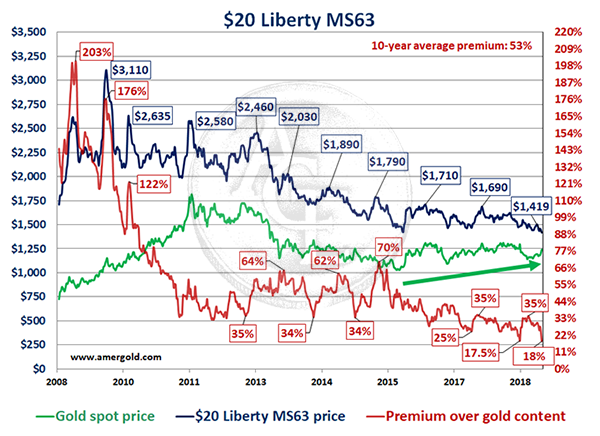 Let's dig a little deeper into premiums. As you can see in the chart above, premiums for these coins have risen to cyclical peaks above 100% on five occasions since 2008, reaching an all-time high of 203% in April 2009. In other words, when the gold price rose by $100 an ounce during these cyclical peaks, $20 Liberty coins in MS63 rose by $200 to $300 each!
This is precisely the kind of "double play" leverage we look for in classic US gold coins: the proven ability to rise by much more than their underlying gold price because of fundamental scarcity and restricted supply in the national market.
If premiums for $20 Liberty MS63 gold coins merely revert to their 10-year average of 53% these coins would gain over $418 from today's low prices. If premiums return to previous cyclical peaks between 100% and 203%, they'd gain between $983 and $2,220 each. And that's with no change in the underlying spot gold price! Truly, these coins have seldom been better-positioned for future gains.
Gold heading for breakout
As indicated by the green arrow in the chart above, the gold price has been in a solid uptrend since hitting a major bottom at $1,055 in December 2016. It is now rising from 2018 lows just under $1,200. Classic US gold coins often lag the gold price by several months, being slower to fall and slower to rise.
If gold breaks out, as we believe it will, $20 Liberty MS63 coins are poised to explode higher because there simply won't be enough coins to fill a surge in demand. This is an ideal scenario for sharply rising premiums and prices.
US debt has surpassed $21 trillion and global debt is now 70% higher than in 2009. US stocks have surrendered most of this year's gains, and economic growth is weakening in China, Japan, and Europe. Trade wars loom and uncertainty over Brexit is unsettling Britain and the Eurozone.
In this precarious environment, gold remains an excellent and underpriced form of portfolio insurance. Doesn't it make sense to add gold now, while prices are near their cyclical 2018 lows?
At today's extremely low prices and premiums, our special-offer $20 Liberty coins in MS63 are one the very best ways to take advantage of today's low gold price before it breaks higher. We urge you to put away a few today. You'll be glad you did!
Sincerely,
Dana Samuelson
President
Quantity
Price per coin
1-9
10-19
20-39
40+
Basis: gold @ $1,245.26, 12/12/18
Prices, availability subject to change.
Where applicable and unless specified,
NGC or PCGS and dates/mints our choice.
See Terms & Conditions.

Buying $20 Liberty Double Eagle Gold Coins
$20 Liberty gold double eagles are one of the world's most recognized gold coins. A workhorse coin of commerce, it was one of the building blocks of the growing U.S. economy and financial markets in the 19th and early 20th centuries.
Also known as Coronet Double Eagles because of the coronet, or crown, adorning the head of Liberty on the obverse, $20 Liberty gold coins were used in every aspect of American economic life. Their large gold content (almost a full ounce) made them especially useful in banking transactions and international trade. The classic portrait of Miss Liberty on the coin's obverse and the bold heraldic Eagle on its reverse stand as inspiring symbols of America's emergence as a mature world power during this wild and exciting period in our nation's history.
Today, due to their limited numbers and worldwide popularity, $20 Liberty gold double eagles are avidly sought by coin collectors and gold investors looking for extra leverage to the gold price. Because of their true scarcity and strong collector demand they can appreciate in a rising gold market much faster than gold bullion. And unlike modern bullion coins, $20 Liberty gold coins offer financial privacy because they are exempt from broker reporting requirements to the IRS.
Gold Price, Content Fixed by Law
During the time of the $20 Liberty's issue, the price of gold was fixed by law at $20.67 an ounce. The gold content of the Double Eagle was fixed at .9675 oz., so that the value of its weight in pure gold would be equal to its $20 denomination. Prior to 1849, the largest gold coin issued by the U.S. Government had been the $10 Gold Eagle, first struck in 1795. The new $20 Liberty gold pieces quickly were dubbed "Double Eagles" because they were twice the size of the established and popular $10 Gold Eagles.
Type 1 $20 Liberty Gold Double Eagles, "No Motto"
$20 Liberty Double Eagle gold coins were produced in three varieties by the U.S. Mint over the course of their history, Type 1, Type 2, and Type 3. The first U.S. $20 gold coins ever made were the Type 1 $20 Liberty double eagles, minted in 1849. It is thought only two coins were struck dated 1849 (perhaps several others as well). One currently resides in the national collection at the Smithsonian Institution. Regular production of $20 gold coins for circulation commenced in 1850 at the Philadelphia and New Orleans mints. The San Francisco mint issues began in 1854, the year this western mint first opened. The last New Orleans mint Type 1 $20 Liberty was struck in 1861. In the spring of that year, the mint in New Orleans was seized, first by the State of Louisiana, then by the Confederacy. The Type 1 design became known as the "No Motto" design because, unlike later types, it did not feature the national motto "IN GOD WE TRUST" on the reverse.
Type 2 $20 Liberty Gold Double Eagles, "With Motto"
Beginning in 1866, the motto IN GOD WE TRUST was added to the reverse of $20 Liberty gold coins for the first time. This alteration in the coin's design quickly became known as the "With Motto" variety. Type 2 $20 Liberty Double Eagles were struck from 1866 to 1876 at the Philadelphia and San Francisco mints. Then, beginning in 1870, the newly-opened Carson City mint began to produce Type 2 $20 Liberty gold coins as well. This famous Wild West mint produced $20 Liberty Gold Double Eagles, $10 Liberty Gold Eagles, and $5 Liberty Gold Half Eagles for only 23 years, until it closed in 1893.
Type 3 $20 Liberty Double Eagles
In 1877, the $20 Liberty Double Eagle was modified for the third and last time. Miss Liberty's portrait on the obverse was refined, now showing more delicate detail in the face and hair. On the reverse, the spelling of the value was changed from TWENTY D. to TWENTY DOLLARS. Type 3 Liberty gold coinss were minted in Philadelphia, San Francisco, Carson City; they were also struck in New Orleans in 1879 only, and in Denver for just two years, 1906 and 1907. The last $20 Liberty Double Eagle gold coins were struck in 1907. In that year, the mint released a new design by renowned sculptor Augustus Saint-Gaudens, one that would reflect the vibrancy of America as a dominant world leader.
$20 Liberty Gold Double Eagle Special Issues
In addition to "business strikes," which were coins intended for use as currency, $20 Liberty Double Eagles were also struck as presentation pieces in Proof condition, intended to be given to foreign dignitaries and government officials, or to be sold to collectors. Proof coins are struck at least twice, with specially prepared and polished dies on specially prepared and polished blanks. Proof coins feature razor-sharp strikes, often with especially frosty devices (Miss Liberty's image, for example) and highly polished, mirrored fields. Proof gold coins usually have very small mintage figures, normally from 25 to 125 pieces for a given year. Proof $20 Liberty gold coins were minted from 1859 to 1907. Most Proof $20 Liberty mintage figures average around 50 coins per year. Typically, all Proof issues are struck only at the Philadelphia mint, although several Branch Mint Proof gold issues are known to exist.
| | |
| --- | --- |
| Minted: | 1877-1907 |
| Content: | .9675 oz gold |
| Purity: | .900 fine |
| Diameter: | 34 mm |
| Thickness: | 2.41 mm |
| Designer: | James B. Longacre |
Grade
Certified
Population
Lowest
Price
MS65

16,891

$2,740

MS64

127,239

$1,645

MS63

302,276

$1,419

MS62

410,118

$1,345

AU

--

$1,285

XF

--

$1,285

Certified Populations (PGCS + NGC, 08/07/2018)