$20 Liberty Gold Double Eagles, Type 3
---

= Special Offer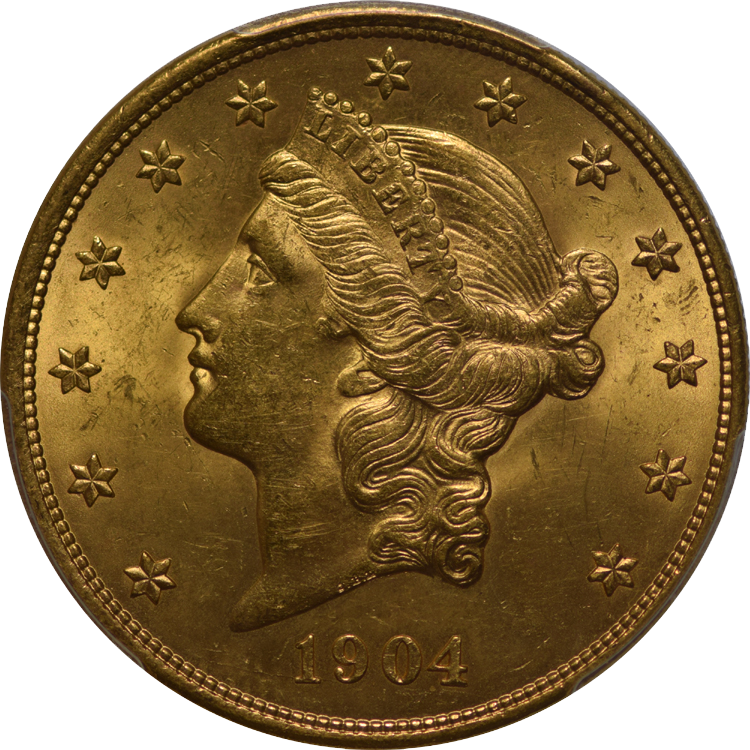 AGE Investor Alert!
Pre-1900 $20 Liberty MS62 - Near bullion prices!
Greetings!
I'm excited to bring back a superb value in US gold coins. While supplies last, we have pre-1900-dated for $20 Liberty Double Eagles in Mint State 62 at $20 off per coin! These exceedingly scarce gold coins are trading for just 3% more than common 1 oz US Gold Eagle bullion coins, making them a fantastic bargain in today's market.
Last month we made a similar offer that sold out in less than 24 hours. Luckily, we've found another small cache of these scarce yet incredibly inexpensive gold coins in the national market. Prices and premiums remain extremely low for now, but we think this anomaly will not last. In our opinion, these excellent investment coins should not be passed up!
Exceptional scarcity
$20 Liberty gold double eagles were one of the workhorse coins of commerce, minted from 1877 to 1907. Most were heavily used in circulation or melted down during the gold recall in the early 1930s. Only 410,118 survivors have been certified in MS62 by PCGS and NGC, all dates combined. That's a tiny survival rate!
Our special pre-1900 dates are even scarcer. We have five dates to offer in the 1890s, each with a total certified population of fewer than 20,000 coins (PCGS+NGC). On top of that, every five-coin order will include at least two scarcer coins from the San Francisco Mint, which normally carry a $25 premium! By comparison, the common date in the series, 1904, has a known survival rate of over 130,000 coins, more than six times as many as these special-offer coins!
In 2009, when gold was $1,215, these coins traded for $2,095 each, around 60% higher than today's price! Their exceptional scarcity means their value can rise much faster and higher than gold bullion when gold prices rise.
Gold ready to rebound
As the fall buying season gets underway, demand for gold is picking up again. Interest rates are rising, causing stocks to falter. Oil is now back over $70 per barrel. With the U.S. economy humming, wages are climbing, too. This is a recipe for escalating inflation. In our opinion, it's just a matter of time until gold punches substantially higher!
These scarce, pre-1900 $20 Liberty MS62 gold coins are a great way to take advantage of today's low gold prices. They offer proven upside performance with very little downside risk. Supplies are severely limited so call us at 1-800-613-9323 today!
Respectfully,
Dana Samuelson
President
American Gold Exchange
Quantity
Price per coin
1-9
10-19
20-39
40+
Basis: gold @ $1,203.77, 11/13/18
Prices, availability subject to change.
Where applicable and unless specified,
NGC or PCGS and dates/mints our choice.
See Terms & Conditions.

Buying $20 Liberty Double Eagle Gold Coins
$20 Liberty gold double eagles are one of the world's most recognized gold coins. A workhorse coin of commerce, it was one of the building blocks of the growing U.S. economy and financial markets in the 19th and early 20th centuries.
Also known as Coronet Double Eagles because of the coronet, or crown, adorning the head of Liberty on the obverse, $20 Liberty gold coins were used in every aspect of American economic life. Their large gold content (almost a full ounce) made them especially useful in banking transactions and international trade. The classic portrait of Miss Liberty on the coin's obverse and the bold heraldic Eagle on its reverse stand as inspiring symbols of America's emergence as a mature world power during this wild and exciting period in our nation's history.
Today, due to their limited numbers and worldwide popularity, $20 Liberty gold double eagles are avidly sought by coin collectors and gold investors looking for extra leverage to the gold price. Because of their true scarcity and strong collector demand they can appreciate in a rising gold market much faster than gold bullion. And unlike modern bullion coins, $20 Liberty gold coins offer financial privacy because they are exempt from broker reporting requirements to the IRS.
Gold Price, Content Fixed by Law
During the time of the $20 Liberty's issue, the price of gold was fixed by law at $20.67 an ounce. The gold content of the Double Eagle was fixed at .9675 oz., so that the value of its weight in pure gold would be equal to its $20 denomination. Prior to 1849, the largest gold coin issued by the U.S. Government had been the $10 Gold Eagle, first struck in 1795. The new $20 Liberty gold pieces quickly were dubbed "Double Eagles" because they were twice the size of the established and popular $10 Gold Eagles.
Type 1 $20 Liberty Gold Double Eagles, "No Motto"
$20 Liberty Double Eagle gold coins were produced in three varieties by the U.S. Mint over the course of their history, Type 1, Type 2, and Type 3. The first U.S. $20 gold coins ever made were the Type 1 $20 Liberty double eagles, minted in 1849. It is thought only two coins were struck dated 1849 (perhaps several others as well). One currently resides in the national collection at the Smithsonian Institution. Regular production of $20 gold coins for circulation commenced in 1850 at the Philadelphia and New Orleans mints. The San Francisco mint issues began in 1854, the year this western mint first opened. The last New Orleans mint Type 1 $20 Liberty was struck in 1861. In the spring of that year, the mint in New Orleans was seized, first by the State of Louisiana, then by the Confederacy. The Type 1 design became known as the "No Motto" design because, unlike later types, it did not feature the national motto "IN GOD WE TRUST" on the reverse.
Type 2 $20 Liberty Gold Double Eagles, "With Motto"
Beginning in 1866, the motto IN GOD WE TRUST was added to the reverse of $20 Liberty gold coins for the first time. This alteration in the coin's design quickly became known as the "With Motto" variety. Type 2 $20 Liberty Double Eagles were struck from 1866 to 1876 at the Philadelphia and San Francisco mints. Then, beginning in 1870, the newly-opened Carson City mint began to produce Type 2 $20 Liberty gold coins as well. This famous Wild West mint produced $20 Liberty Gold Double Eagles, $10 Liberty Gold Eagles, and $5 Liberty Gold Half Eagles for only 23 years, until it closed in 1893.
Type 3 $20 Liberty Double Eagles
In 1877, the $20 Liberty Double Eagle was modified for the third and last time. Miss Liberty's portrait on the obverse was refined, now showing more delicate detail in the face and hair. On the reverse, the spelling of the value was changed from TWENTY D. to TWENTY DOLLARS. Type 3 Liberty gold coinss were minted in Philadelphia, San Francisco, Carson City; they were also struck in New Orleans in 1879 only, and in Denver for just two years, 1906 and 1907. The last $20 Liberty Double Eagle gold coins were struck in 1907. In that year, the mint released a new design by renowned sculptor Augustus Saint-Gaudens, one that would reflect the vibrancy of America as a dominant world leader.
$20 Liberty Gold Double Eagle Special Issues
In addition to "business strikes," which were coins intended for use as currency, $20 Liberty Double Eagles were also struck as presentation pieces in Proof condition, intended to be given to foreign dignitaries and government officials, or to be sold to collectors. Proof coins are struck at least twice, with specially prepared and polished dies on specially prepared and polished blanks. Proof coins feature razor-sharp strikes, often with especially frosty devices (Miss Liberty's image, for example) and highly polished, mirrored fields. Proof gold coins usually have very small mintage figures, normally from 25 to 125 pieces for a given year. Proof $20 Liberty gold coins were minted from 1859 to 1907. Most Proof $20 Liberty mintage figures average around 50 coins per year. Typically, all Proof issues are struck only at the Philadelphia mint, although several Branch Mint Proof gold issues are known to exist.
| | |
| --- | --- |
| Minted: | 1877-1907 |
| Content: | .9675 oz gold |
| Purity: | .900 fine |
| Diameter: | 34 mm |
| Thickness: | 2.41 mm |
| Designer: | James B. Longacre |
Grade
Certified
Population
Lowest
Price
MS65

16,891

$2,725

MS64

127,239

$1,550

MS63

302,276

$1,405

MS62

410,118

$1,290

AU

--

$1,245

XF

--

$1,245

Certified Populations (PGCS + NGC, 08/07/2018)