Britain Gold Sovereign
Low Prices and Premiums!
---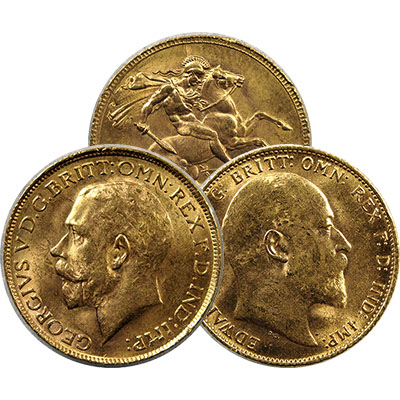 Quantity
Price per coin
1-19
20-39
40-99
100+
Basis: gold @ $2,075.98, 12/03/23
Prices, availability subject to change.
Where applicable and unless specified,
NGC or PCGS and dates/mints our choice.
See Terms & Conditions.
Available to ship on
Buying Britain Sovereign Gold Coins
Britain Gold Sovereign "Kings" are an excellent way to buy bulk gold. Similar in size and weight to modern 1/4-oz American Gold Eagle bullion coins, they offer all of the investment advantages of gold bullion plus relative scarcity, historical importance, ongoing collector demand, and financial privacy--all for little more than the cost of modern bullion coins.
The world's most recognized gold coins
British sovereigns are perhaps the most widely recognized gold coins in the world. They were minted for more than 100 years in 11 designs at seven Royal Mints on five continents, during the era when "the sun never set on the British Empire." So universally recognized are gold sovereigns that they were even included in U.S. aviator survival kits during World War II and Operation Desert Storm.
Unlike most forms of gold bullion, British gold sovereigns are exempt from broker reporting requirements to the IRS. In our opinion, they're better than bullion for bulk gold buyers.
| | |
| --- | --- |
| Content: | .2354 oz gold |
| Purity: | .9167 fine |
| Thickness: | 1.52 mm |
| Diameter: | 22.05 mm |
| Mint: | British Royal Mint |