---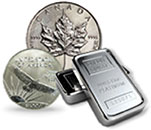 Platinum and palladium have enormous potential as precious metals for investment. Both are much rarer than gold and silver, and have more industrial applications. Plus, they are more difficult and expensive to mine. Yet because platinum and palladium are relatively new to investors, they have only recently become estabished as as stores of wealth and value similar to gold and silver.
Physical platinum and palladium
As with gold and silver, investors can buy platinum and palladium as physical or paper assets. The physical metals are usually platinum coins and bars produced by government mints or highly-respected private mints. Paper platinum and palladium products are typically ETFs or mining shares that represent the metals or the promise of profits to be made from them. Buyers of physical platinum and palladium prefer the security of holding the metals themselves. Investors in paper assets find the ease of trading them to offset their potential risk of default.
Platinum coins and bars
In response to growing demand for platinum among investors, several government mints are currently producing platinum bullion coins. American Platinum Eagles from the U.S. Mint and Platinum Maple Leaf coins from the Royal Canadian Mint are the most popular. Containing a full ounce of .9995 pure platinum, these coins make investing in the physical metal easy and convenient. Other major platinum bullion coins are the Australian Platinum Koala, the Isle of Man Noble, and the Chinese Platinum Panda. Platinum bars are also an efficient way to buy bulk platinum. Valcambi Suisse is one of the most respected refiners and manufactures of platinum bars in the world.
Palladium bullion coins
Palladium coins are the newest addition to the market for physical precious metals. The first 1 oz American Palladium Eagle from the U.S. Mint was launched in 2017 to widespread acclaim.The Royal Canadian Mint launched the 1 oz Palladium Maple Leaf in 2005 and has been producing it intermittently since. The Russian Mint has produced more palladium coins than any other government mint, including the popular Ballerina series from 1989 to 1991.
What are platinum and palladium?
Platinum and palladium are members of the Platinum Group Metals (PGMs), along with rhodium, ruthenium, osmium, and iridium. They have similar properties, and are often found together in ore deposits. Most of the world's platinum and palladium is mined in South Africa and Russia, with smaller amounts found in Canada and Montana.
While platinum and palladium look almost identical, they do have subtle differences. Platinum is far denser, so it is often preferred in men's jewelry where heaviness is preferred. Palladium has a lower melting point, so it is easiesr to work into alloys.
Both platinum and palladium have a lustrous silver-white beauty that does not tarnish. These qualities make them increasingly popular in high-end jewelry. Both may be alloyed with gold to create the "white-gold" so desirable in watches and rings. They are also highly conductive of electricity, making them widely used in electrodes, fine wiring, and other electronic applications. By far the largest use for platinum and palladium is for catalytic convertors in automobiles, comprising more than half of annual consumption.
... Expand Text »
Close «
---
Metal
Ask
Change

Platinum

$915.58
$-5.50

Palladium

$1,262.25
$-4.75