AGE Gold Commentary is our regular report analyzing trends in precious metals and rare coins. We monitor domestic and international markets and extrapolate from our 30 years in metals to place current events into a hard asset perspective. View archives.
---
9/26/2003: Gold hits $393, eyes $417
Source:
Greetings! In this issue of Gold Market Commentary:
Gold hits $393, eyes $417
OPEC is just the icing
Time to buy aggressively
Silver gaining, platinum holding gains
Long Beach Coin Show – Strongest coin market in years!

On the heels of last Wednesday's announcement that OPEC will cut oil production and raise prices effective November 1, gold broke $393 yesterday, achieving its highest level in seven years before surrendering its gains to profit-taking, closing at just under $384. This is almost exactly what we anticipated and reported to you in our last email alert.
Since July, gold has been consistently pushing higher in price, consolidating its gains, and then pushing higher still. This pattern of ratcheting upward — spiking to higher highs, then yielding to profit-taking, and then ratcheting higher still — is the mark of a solid, progressive, long-term bull market. (Please see the 3-month gold chart below, running through to Tuesday's high of $388.40.)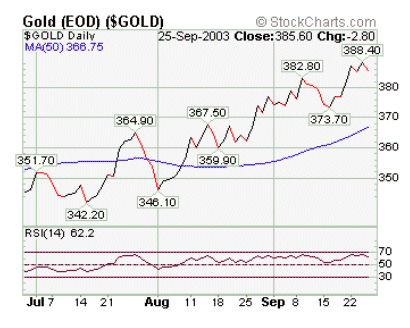 Momentum is now building to bust through the psychologically significant $400 mark at any time. When the gold price passes $400, and it should happen soon, the news will be plastered all over the major media outlets and web sites. New investors will pile in to the gold market at that point, pushing prices higher still.
The more significant technical mark is $417, the level beyond which gold failed to advance during its impressive run-up in 1996. Market fundamentals today clearly indicate that gold is likely to exceed this crucial threshold, perhaps by the end of the year.
Even some conservative investment bankers, rarely mistaken for gold bugs, now predict that gold may surpass $417 in coming months. Barclays Capital, for example, said on Monday that gold prices could hit $418 an ounce by the end of the year. "After a six-month period of consolidation, we believe a springboard has been built that is capable of propelling gold to $401 an ounce and possibly even to $418," said technical analyst Phil Roberts in the Barclay quarterly Commodity Refiner research report. (Read the full story, dated 9/22, in the AGE Newsroom.) It should be noted that the Barclays report predicted this lofty price level before the OPEC announcement, which can only add to gold's luster.
Once gold breaks $417, as market fundamentals indicate it probably will, a movement into the $450 to $475 range could occur quickly.
OPEC is just the icing
Yesterday's surprise announcement that OPEC will soon cut oil production and boost prices is certainly bullish for gold. Analysts believe that higher oil prices could lead to higher interest rates, hampering prospects for sustained recovery and stifling growth among the world's largest economies. The oil supply news helped gold to rally not only because it renewed gold's status as a safe-haven asset, but also because of gold's longstanding importance as a hedge against inflation.
But the OPEC announcement is just the icing on a very bullish cake for gold. More important is the fact that gold is now gaining in price in all major currencies, and the dollar is losing ground. The world is beginning to move away from paper assets, which have been unstable for several years, and toward history's strongest form of currency, gold.
Last weekend the Group of Seven major industrial nations, meeting in Dubai, called for more flexibility in the global currency markets — a signal that currencies like the yen might no longer be held at artificially low levels. The dollar immediately fell nearly 2 percent as investors contemplate a global financial system in which Japanese authorities do not systematically weaken the yen. The falling dollar took with it U.S. stock and bond markets, which were fearful that a weak dollar would bring an exodus of foreign investors from dollar-denominated assets.
"If you undermine an investor's faith in a currency, it takes a long time to win those investors back," said Chris Low, chief economist at FTN Financial. (Read the full story, dated 9/23, in the AGE Newsroom.)
The conciliatory response by U.S. officials to the G-7 agreement clearly indicates that we have abandoned the strong dollar policy. Gold continues to gain significantly from a weaker dollar, as gold is priced in dollars and would become cheaper for foreign investors.
We look at the G-7 action as a strongly bullish development for gold. Combined with a still-weak U.S economy, an unstable Middle East, the ongoing threat of world terrorism, and the anticipation of a renewed Central Bank accord, a weaker U.S. dollar will help to boost the gold price to over $417 this year, in our opinion. This constellation of very bullish fundamentals is also why we believe it's only a matter of time until gold surpasses the $500 an ounce mark, most likely sometime in the next twenty-four months.
Time to buy aggressively
Our advice since early this year has been to buy gold aggressively under $375. For a while that advice might have seemed a bit cockeyed, as gold traded in the mid-$340s and $350s. But we have confidence in our convictions and hope you do, too. If you heeded our advice, you're now well positioned for handsome profits. More profits are coming.
We now recommend buying gold aggressively under $400. Market fundamentals are the strongest we've seen in years, and gold is poised to lavish substantial rewards on investors.
Silver gaining and platinum holding gains
In other metals news, silver is grinding higher as well, climbing as high as $5.32. We have an upside target price for silver in the $6.50 to $7.00 range. Silver over $5.20 is bullish, and now the silver price seems capable of holding above this mark. We suggest that you accumulate silver more aggressively now that we have confirmation of a better market – finally!
Platinum is still trading just over $700 and looks substantially overpriced to us. You should consider selling part or all of your platinum holdings if you are in a profit position! I must report that one of our trusted allies believes platinum has $100 to $150 more upside potential from here, but I have a hard time seeing it. Time will tell. Undeniably, gold remains the best value in precious metals today.
Long Beach Coin Show – Strongest coin market in years!
We've just returned from the Long Beach Coin Show, where demand for classic U.S. gold and silver coins completely outstripped available supplies. Dealers were aggressively competing with each other for product, and prices are now surging in earnest.
Since October of 2002 we've tried to quietly advise our loyal customers and readers that this rally in classic U.S. coins was coming. (Read our archived email alert here.)
Now the rally has arrived, and it's what we anticipated and reported to you far in advance. If you don't already have a position in classic U.S. gold coins, it's not too late, but time is slipping away! This market still has a lot of upside potential but waiting will diminish your profit potential. Act now!
If you already own classic U.S. gold coins, we advise you NOT to sell into this rally yet. As time passes and the rally matures, however, we may begin to advise you to take profits on certain sectors of the U.S. gold coin market, so stay tuned. We have target prices in mind for some of our "Specials," which are now up substantially from our initial offering prices, but we haven't quite hit them yet. We'll let you know when it's time to sell.
For current classic U.S. gold coin recommendations, please call our account managers, Matt Warden and Tom Simonian, at 1-800-613-9323. I wish we could simply make a blanket recommendation to you, but the market is moving quickly and our recommendations are evolving in real time. Matt and Tom will be happy to help you determine what may be most suitable for you.
Please visit our website to review our current inventory of hand-selected, classic U.S. gold coins and our extremely competitive prices for common date U.S. gold coins.
Since 1998 we've quietly built a solid reputation and a loyal clientele by correctly identifying the major market trends in advance and positioning our customers for substantial gains. None of our competitors, to my knowledge, can equal our track record. We take pride in calling ourselves Your Reliable Hard Asset Advisor, and we do our best to live up to this moniker every day.
That's it for now. We will keep you posted as events develop.
As always, thanks for your time!
Sincerely,
Dana Samuelson
Owner
American Gold Exchange
Metal
Ask
Change

Gold

$1,802.86
$-4.57

Silver

$19.03
$-0.11

Platinum

$849.14
$-12.25

Palladium

$2,047.39
$-0.64
In US Dollars
AGE Gold Commentary
AGE Investor Alert!