AGE Gold Commentary is our regular report analyzing trends in precious metals and rare coins. We monitor domestic and international markets and extrapolate from our 30 years in metals to place current events into a hard asset perspective. View archives.
---
5/20/2004: Gold steps down to $371, then rallies
Source:
Greeting from American Gold Exchange. In this issue of Gold Market Update:
Gold steps down to $371, then rallies
Economic concerns resurface
Stocks down, inflation up
Dip in U.S. coins prices — great buying opportunity!


Gold steps down to $371, then rallies
Since our last Gold Market Update of April 30, the precious metals complex has remained volatile. In that update, after gold had fallen to $380.50 and rebounded to $390, we observed that the weakness in precious metals appeared to be over. Well, we have to admit that we were a bit optimistic in that observation.
Gold fell as low as $371 on May 10, after stronger-than-expected U.S. employment reports for March and April suggested that the promised U.S. economic recovery was finally at hand. In addition, indications by the Federal Reserve of their intent to raise interest rates have contributed to a short-term shift into the dollar and out of safe-haven gold by trade insiders, speculators, and institutional investors.
Over the past five weeks we've noticed a step-down pattern in the gold price. This pattern indicates weakness in the market, but that weakness may finally be over. As you can see in the chart below, after falling from its peak at $428.80 on April 1, the gold price followed each short-term increase with a decline of greater magnitude. Each successive high was lower than the previous high, and each successive low was lower than the previous low.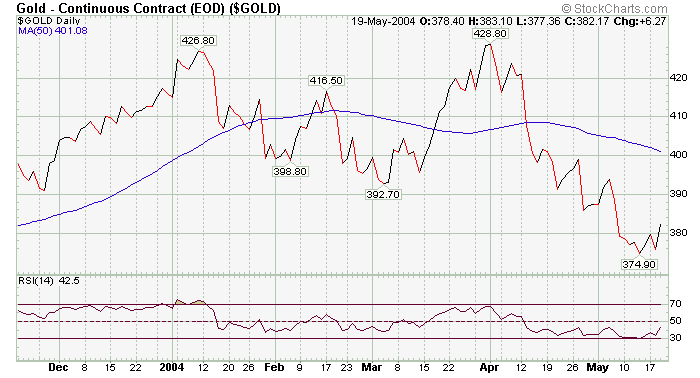 On April 13, gold was range bound and hovering at the $420 mark. Then the surprising March employment report and retail sales reports came out, and the sell-off began in earnest. (See Gold Market Update, April 14: "Gold and silver drop, dollar rallies on retail sales.") Gold hit expected support at the $400 mark; but failing to rally significantly, it fell further to $392, the previous level of major support, before rallying again. On April 28, with gold recovering towards $400, Chinese Premier Wen Jiabao's made his "cool down" comments and gold fell further. (See Gold Market Update, April 30: "Gold dips on China comments.") And then again, as gold was attempting to rally, the better-than-expected April employment report was released on May 6, and it fell to $371, a new low for 2004.
In a nutshell, these two surprising employment reports sandwiched the Chinese "cool down" comments, and investors who held gold in their portfolios as a counterbalance to economic uncertainty saw less of a reason to hold it, especially if Chinese demand was to be suddenly curtailed. The Chinese GDP had been growing at nearly 10% annual rate for the last 12 months. This explosive growth has been a primary driver in the worldwide commodities boom that we've witnessed since 2000. Some analysts have speculated that Wen's plan, in part, was to talk down the price of commodities and save China some money in the short term. If so, they've succeeded nicely. But this analysis also means that strong demand from China is likely to resume in the near future, perhaps at a slightly diminished level, which will have a bullish impact on gold.
In the last few trading sessions this step-down pattern has started to reverse itself and the gold market is showing signs of real strength again. The price has risen back above $380, including a $7 gain on Wednesday alone in response to economic concerns over renewed dollar weakness, stock market disappointments, growing inflation, and ongoing geopolitical instability. Although the market may continue to be pressured for the time being, $371 seems to be a solid bottom. This time we may finally be correct in saying, "the worst now appears to be over"! Indeed, demand for gold as a safe haven, an alternative to stocks, and a hedge against inflation is increasing once again.
We firmly believe that gold is undervalued below $400. Still, the gold price is likely channel in the $371 to $392 range before moving substantially higher. In effect, the recent weakness has presented an unexpected buying opportunity in what continues to be a bull market for gold. As we've correctly recommended at every major point of weakness in the last twelve months, buy the dips!
Platinum, palladium, and silver have all drifted lower in sympathy to gold. Platinum is holding at the $800 level; palladium is trading just under $250; and silver is now trading at $5.90 after falling as low as $5.50 on May 10. We continue to favor palladium and highly recommend it as an investment at under $300 an ounce.
Economic concerns resurface
Recent events are signaling that gold, at some point in the near future, will renew its assault on the mid- to high-$400 level. The metal's upward momentum this week shows a renewed flight to quality and value among institutional and private investors faced with the triple threat of economic uncertainty, geopolitical instability, and inflation. All three, unfortunately, may be with us for some time to come.
Despite recent gains in manufacturing output and some employment measures, economists are voicing concern that the scenario for U.S. economic recovery is, perhaps, not so rosy after all. Dr. Irwin Kellner, chief economist for CBS.MarketWatch.com and Weller professor of economics at Hofstra University, recently argued that pending interest rate increases are already undermining the stock market and could easily slam the brakes on U.S. economic growth. (See Economy Watch, May 17: "Where have you gone, Rosy Scenario?")
According to Dr. Kellner, the Dow is likely to realize no gains at all this year, largely because of rising interest rates, poor corporate earnings, and depressed consumer spending. Bond rates have already risen by a full point in the past two months, driving mortgage rates significantly higher. Once the Fed raises rates, mortgages will get even more expensive and the housing market is likely to cool off dramatically. Refinancing, which has already dropped by 60% since March, will screech to a halt, depriving consumers of the ready cash that's been supporting the recovery. As home sales decline, so will the associated spending on consumer goods – spending that has kept our economy afloat for the past three years. And with no more tax cuts on the horizon, new stimuli for free spending will be hard to find.
Stocks down, inflation up
The anemic stock market is contributing to economic worries among the general public. More than half of American citizens own stocks, and since February, when the Dow was trading as high as 10,794, they've watched their investments steadily erode. The Dow recently fell back under 10,000 for the first time since December 2003. The result for many Americans is diminished confidence in the economy and decreases consumer spending. Indeed, retail sales slowed in April after increasing in March, and recent reports show that consumers are increasingly worried about inflation, which will further hamper spending. (See Inflation Watch , May 14: "Core inflation mounts, consumers worry.")
Since Alan Greenspan sparked renewed interest in inflation with his testimony before Congress on May 5, we've seen numerous stories on inflation in the national media. Pressure is building to raise U.S. interest rates from their lowest level in 40 years. The era of cheap money is quickly ending and inflation, indeed, is afoot. In much of the country the cost of basic food items and healthcare has increased by 20% in recent months. The price of gasoline is now averaging over $2.00 per gallon for the first time ever, and oil is over $40 per barrel with no respite in sight.
The rippling effect of escalating oil prices cannot be easily dismissed. Wal-Mart chief executive Lee Scott complained last week that higher gasoline prices are siphoning $7 a week from the average consumer's disposable income. Daniel Yergin, Chairman of Cambridge Energy Research Associates, says that each $1 increase in the oil price acts like a $20 million-a-day tax — $7.3 billion a year — on the rest of the economy. With oil up more than $15 a barrel in the past year, a levy of nearly $110 billion annually is burdening the economy – a Sisyphean weight for a recovery that's already struggling mightily to get up the hill.
The oil price is being driven higher primarily by wildly increased demand worldwide. Approximately 40% of the new demand since 2000 is from China alone, a nation whose appetite for energy will only grow. Supplies are also being pressured by the thriving industrial renaissance in India. Factor in the additional demand caused by growing industrial production in the U.S., and oil prices closer to $50 per barrel make a lot of sense. Not so long ago oil was $12 a barrel and gold was under $275. While oil has increased 300% in price, gold has increased a marginal 50% so far.
We think gold will play catch-up with oil by moving substantially higher in price. Despite recent short-term weakness, we continue to set our medium-term (next 12 to 24 months) gold target price at somewhere between $480 and $550 an ounce. Buy the dips!
Dip in U.S. coins prices — great buying opportunity!
The recent fall in the gold price has slightly slackened the huge demand for classic U.S. gold coins that we've been noting for the past six to nine months. Although supplies remain razor thin and the overall demand for quality coins remains strong, the frenzied buying that's been driving the coin market this year has temporarily cooled. Prices are nominally lower, but dealer inventories remain scant and we expect the current lull to be short-lived. We urge you to stock up on classic U.S. gold coins while you can. This is a rare buying opportunity that should not be passed up!
We've just returned from one of our favorite shows, the Central States Numismatic Societies annual show, this year in Milwaukee. We found some excellent coins, although fewer than we'd hoped. Prices for some of our favorites — $10 Liberty, $10 Indian, and $20 Liberty — are slightly lower than a few weeks ago, so your investment dollars will go a little further this month. Sales are picking back up, now that gold has firmed in price and the Dow has weakened. As always, it's first-come, first-served!
View our inventory of classic U.S. gold coins.
We've also obtained some classic U.S. rare coins that are simply amazing. These are superb, museum-quality rarities that would stand out in any collection. To see our exceptional new coins, please view our inventory of classic rare coins.
And finally, we still have a few coins left from a small stash of 1878 Morgan Silver dollars, including the extremely popular Carson City issue. As the first year of issue of this extremely popular design, these coins are quite scarce but not very expensive overall. View our inventory of classic U.S. silver coins.
That's it for now. We'll keep you informed.
As always, thanks for your time!
Sincerely,
Dana Samuelson, Owner and President
Dr. Bill Musgrave, Vice President
Metal
Ask
Change

Gold

$1,788.66
$0.90

Silver

$18.25
$-0.16

Platinum

$846.41
$4.71

Palladium

$1,994.29
$10.45
In US Dollars
AGE Gold Commentary
AGE Investor Alert!