AGE Gold Commentary is our regular report analyzing trends in precious metals and rare coins. We monitor domestic and international markets and extrapolate from our 30 years in metals to place current events into a hard asset perspective. View archives.
---
6/21/2004: Precious metals pushing higher!
Source:
Greeting from American Gold Exchange! In this issue of Gold Market Update:
Precious metals pushing higher!
Slowing U.S. economic growth
Growing inflation and trade deficit
Rare Coin Canards – how to protect yourself!
U.S. gold coins – superb buying opportunity remains!

Precious metals pushing higher!
Since our last Gold Market Update of May 17, the precious metals complex has remained bound in its recent range, as we told you it would. The gold price, which has been channeling between $371 and $392, is now pushing toward the high end of its range, which is a very positive sign. Gold is likely to test $400 soon.
The chart below shows the gold price for the last six months, including the 50-day moving average and the 200-day moving average. As you can see, those two averages have recently converged at the $395 mark, and the gold price has pushed up to this mark on two separate occasions since our last update. The weakness we saw between April 1 and May 17 appears be over.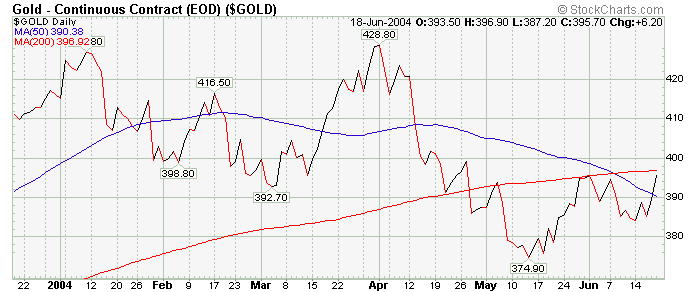 We remain very bullish on gold in the long term and expect the price to rise to between $480 and $550 in the next twelve to twenty-four months. In the short and intermediate terms, we expect gold to push back over $400 and test the January and April $430 highs. However, for gold to break above $430 it will need an external push — either from continued dollar weakness or stock market weakness or, unfortunately, renewed terrorist activity. We strongly recommend that you buy gold aggressively under $395!
Silver, since our last update, has held support above $5.52. After rising as high as $6.20 in late May, it has primarily channeled in the $5.65 to $5.95 range. We recommend buying silver as low as possible under $5.95 an ounce.
Platinum, after dropping hard from the $925 level of mid-April, rebounded from the $765 mark in early May to as high as $840 in late May, and has subsequently settled in the $775 to $800 range. We remain skeptical about platinum's ability to rise substantially from current levels. We recommend that you do not buy platinum at current levels. Sell platinum above $800 if possible, but don't hold out for $800 if you're already in profits. We recommend trading platinum for gold or palladium (see below).
After reaching as high as $325 in April, palladium fell to $210 last week, its lowest point since we made our strong buy recommendation at $200 on January 1. At current prices around $227, palladium is an excellent buy and remains, in our opinion, the precious metal most likely to double in price in the next twenty-four months! Buy palladium under $240 while the opportunity exists!
Slowing U.S. economic growth
Two of the primary reasons for recent weakness in the precious metals prices have been the renewed vigor of the U.S. economy and its buoying effect on the U.S. dollar. For three consecutive months the primary measures of economic growth have been improving. However, three recent studies indicate that this impressive growth is now slowing and is likely to slow even more in the coming year.
According to a report by the independent Economic Cycle Research Institute (ECRI) issued last Friday, the pace of growth in the U.S. moderated to a 13-month low last week. A separate report issued by the Philadelphia Federal Reserve Bank forecasts the U.S. economy to slow down over the next year. And the semi-annual survey of 26 private-sector and academic economists predicted the world's largest economy will grow by 3.8 percent in the first half of 2005, down from 4.1 percent in the second half of this year.
"These are very clear signs of deceleration on the horizon," said ECRI Director of Research, Anirvan Banerji. (See Economy Watch, June 18: "U.S. current account gap widens to record")
All indications are that the economy will continue to grow, but not as fast as we've seen over the past two quarters. Slower growth will mean a softer dollar. Indeed, because of growing inflation and exploding trade deficits, the dollar is more likely to lose value than gain in coming months. As the dollar drops, gold will rise.
Growing inflation and U.S. trade deficit
The improving U.S. economy is creating significant growth in both inflation and the already enormous U.S. trade deficit. The headline producer price index (PPI) is up by 5 per cent over the past year, reaching its highest level in a year. The core price index (CPI) has risen 1.7 percent, reaching its highest level in three years. And intermediate goods prices are up by a whopping 7.1 percent.
According to the Financial Times, "Larger-than-expected gains in producer prices, together with signs of inflation in the pipeline as the prices of intermediate goods rise, will add to concerns in some quarters that the Federal Reserve is too sanguine on the outlook for inflation."
Indeed, the Fed has no choice but to raise interest rates in this week's meeting, signaling the beginning of the end of the era of cheap money. What we don't know is how far or how fast the Fed will be forced to raise rates in the coming months.
Even with inflation on the rise, the U.S. trade deficit is swelling again to record levels. The gap in the current account balance, the broadest measure of the nation's trade with the rest of the world, widened by a larger-than-expected $17.9 billion to an all-time record $144.9 billion in the first quarter, the Commerce Department reported last Friday. This amounts to 5.1 percent of the total U.S. economy, up from 4.6 percent in the fourth quarter.
As we reported to you in our Gold Market Update of April 2002, Caroline Freund of the Federal Reserve Bank analyzed 25 episodes in developed economies of large adjustments in the current-account deficit. She found that deficits usually began to reverse when they exceeded 5% of GDP. Such adjustments were typically accompanied by a 10-20% fall in the real exchange rate. Despite the dollar's already precipitous drop, further declines – perhaps dramatic declines – are likely and now appear imminent. (See Gold Market Update, April 2002: "Important! Dollar declining, gold rising")
The current account deficit is now being blamed for weakening the dollar against other currencies, as Americans import more than they export and borrow from the rest of the world to make up for the shortfall in their domestic savings. Friday's Commerce Department report immediately renewed downward pressure on the dollar in morning trading, with the euro gaining about 0.6 percent on the day against the U.S. currency.
"Although the U.S. remains the world's primary economic growth engine, the rest of the world is financing a substantial portion of that spending," said Steven Wood, chief economist at Insight Economics. He pointed out the U.S. needs to borrow nearly $1.5 billion per day in order to finance this shortfall. (See Economy Watch, June 18: "U.S. current account gap widens to record")
One of the most dramatic and alarming representations of the "era of cheap money" is the increasing ratio of U.S. consumer debt relative to our Gross Domestic Product. As you can see in the chart below, consumer debt has out paced GDP by a factor of two to one in the last ten years. Since 1995, GDP has risen by 50% while consumer debt has risen by 100%!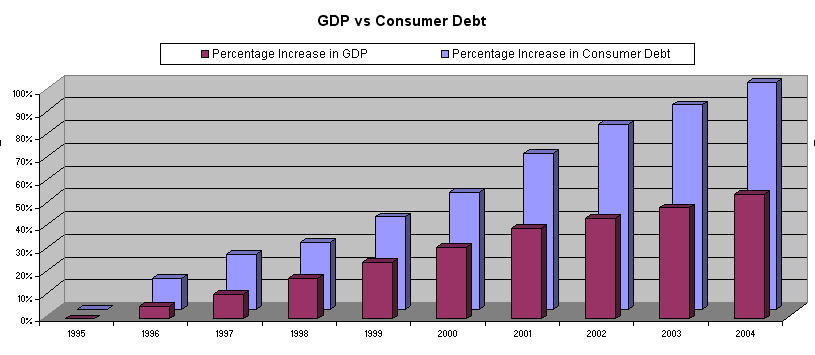 All this debt will come back to haunt us. In the short term, rising interest rates will help to buoy the U.S. dollar, which is now holding value in range-bound trading against other currencies. However, if our massive trade deficit continues – and by all indications it will — the dollar will sink.
The U.S. trade deficit is the real key to the future of the dollar and gold price, in our opinion. We anticipate another strong downward cycle in the value of the dollar versus international currencies in the near future. Gold and other precious metals, as a result, will experience a strong leg up. Although it might take some time to develop fully, gold's next strong upward movement should push the gold price firmly over $430, perhaps as high as $550, before it stalls. We believe this major upward movement is now beginning.
Rare Coin Canards – how to protect yourself!
The surge in precious metals prices since 2002 has brought along a new wave of rare coin buyers, novices venturing into the market for the first time. Unfortunately, this new interest has also brought an increase in some unscrupulous tactics by dealers who are more interested in making a buck than in providing good value.
We've just produced a special report identifying the four most basic "Rare Coin Canards," false stories that some dealers use to ensnare unwitting new buyers. To learn how to protect yourself from these shady tactics and bad investments, we highly recommend you read our report, now posted to our website.
Here's a little sample: S.S. Republic Shipwreck silver coins, which are now being aggressively marketed by several large dealers, are GROSSLY OVERPRICED! If you want an odd and interesting piece of history, go ahead and buy one. But if you want an investment that will turn a profit, avoid them! To learn more, check our website on Wednesday!
U.S. gold coins – superb buying opportunity remains!
Although supplies are razor thin and overall demand for quality coins remains strong, the frenzied buying that's been driving the classic U.S. gold coin market this year has temporarily cooled. Prices are nominally lower, but dealer inventories remain scant and we expect the current price lull to be short-lived. We urge you to stock up on classic U.S. gold coins while you can. This is a rare buying opportunity that should not be passed up!
Prices for some of our favorites ($10 Liberty, $10 Indian, $20 Liberty) are the most attractive we've seen all year. Sales are picking up now that gold has firmed in price. If you want good value for your money, we've got it in these coins — but they're first-come, first-served. Our prices and quality are typically much better than our competitors, so if you're doing business with another dealer you're probably paying too much. It's always a good idea to check with AGE before you buy elsewhere!
View our inventory of classic U.S. gold coins.
We've also obtained some classic U.S. rare coins that are simply amazing. These are superb, museum-quality rarities that would stand out in any collection. To see these exceptional coins, please view our inventory of classic rare coins.
That's it for now. We'll keep you informed.
As always, thanks for your time!
Sincerely,
Dana Samuelson, Owner and President
Dr. Bill Musgrave, Vice President
Metal
Ask
Change

Gold

$1,798.01
$-9.42

Silver

$18.98
$-0.16

Platinum

$851.12
$-10.27

Palladium

$2,047.68
$-0.35
In US Dollars
AGE Gold Commentary
AGE Investor Alert!