AGE Gold Commentary is our regular report analyzing trends in precious metals and rare coins. We monitor domestic and international markets and extrapolate from our 30 years in metals to place current events into a hard asset perspective. View archives.
---
9/1/2004: Gold pushing higher – get used to it!
Source:
Greetings from American Gold Exchange. In this brief Gold Market Update:
Gold pushing higher – get used to it!
Oil over $40 a barrel – get used to it!
Economy slowing – get used to it!
Pittsburgh ANA - U.S. coins selling like hot cakes
Market Rockets – coins that are ready to blast off! !
Gold pushing higher – get used to it!
For the past three weeks, gold has been ratcheting higher and is now trading in the $405 to $415 range, up from the $387 to $404 range we saw in late July and early August.
Summer is normally a quiet time for our industry, but July and August were anything but quiet for us. It seems people are finally realizing the economy is not as healthy as advertised, and the problems won't be fixed easily or soon. So investors are returning in droves to hard assets, both as a safe haven for wealth and as one of the only profitable investments available. Gold is up 50% in price since 2002, making it one of the very best performing assets in the last two years. Classic U.S. gold coins, too, are selling like hot cakes; and while prices have been rising, more gains are on the way.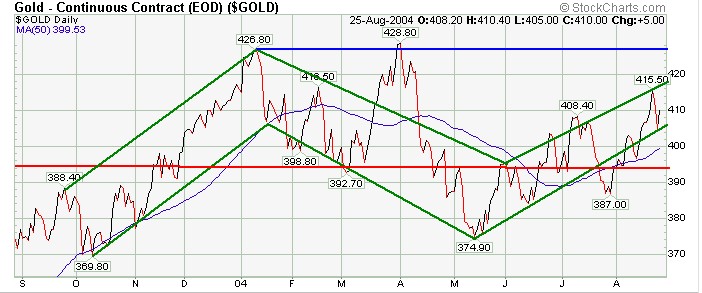 As the chart above indicates, gold has been in a consolidation phase for the past four months. This classic pattern suggests further gains are on the way. On the way up from under $300 in 2002, gold reached $330 twice and consolidated its gains. Then it ratcheted to $379, consolidated again, and then built up to $430, its 2004 high.
We are now passing through the tail-end of this most recent consolidation phase. The channel drawn above (two green parallel lines) shows the major consolidation moves, while the blue horizontal line shows the double-top at $430.
What is most important today, and what we wish to point out, is the formation of a rising bottom with a flat-top. The lower green line shows a rising bottom beginning in mid-May at $374.90 and moving steadily higher since. At some point the rising bottom will intersect the flat-top at $430 — that's when the next breakout up should occur. This is exactly formation we reported in our Gold Market Update of December 9, 2002, just before gold jumped from under $330 to $375 in just two months.
Based on this technical analysis and a wealth of solid market fundamentals, we now believe gold will break over $430 this fall, and challenge or surpass $450 before year's end. We continue to target gold somewhere between $480 and $550 sometime in 2005 or early 2006.
Oil over $40 a barrel – get used to it!
Although it has retreated from its recent record-high of $50 a barrel, expensive oil is going to be a drag on world economies for the foreseeable future. Why? Because of basic market forces: steadily increasing demand, especially from China, whose economy is barreling headlong into full-scale industrial capitalism, is out-pacing current production capacity. OPEC has failed to invest adequately in new production capacity over the last several years, and is simply unable to pump enough oil to quench the world's growing thirst. In addition, other producers like Yukos in Russia have interrupted their production; but the real cause and affect is simply excess demand. Prices have risen as a result, and will remain high for months to come.
Economy slowing down – get used to it!
Last this spring, GDP and employment figures released by the government strongly suggested the U.S. economy was in a rebound phase. As the summer months have passed, however, it's become increasingly clear that rumors of our recovery, to paraphrase Mark Twain, have been greatly exaggerated. Those heady spring employment figures have been sharply adjusted downward, and GDP growth will be lower this year than last. In a nutshell, it appears the combined stimuli of tax cuts and 40-year lows in interest rates are wearing off. Businesses have not created enough new jobs to give our economic recovery any real traction. If jobs creation, as economists say, is the backbone of any true economic recovery, our recovery is looking more like a jellyfish every day.
According to Steven Roach, chief economist at Morgan Stanley, private non-farm payroll figures are 8 million below where they were at this point in the cycle during the last six U.S. economic recoveries. This is not good news! And higher oil prices should only increase our concern. The past three U.S. recessions were all preceded by higher oil prices, and today we're seeing the highest oil prices ever. High oil prices act like a huge, hidden tax sucking millions of dollars out of our economy every day.
Factor in the enormous and growing U.S. trade and budget deficits, which we've addressed in detail in previous updates, and we have an over-spiced recipe for economic disaster. We think this unsavory bouillabaisse may soon reach its boiling point.
Pittsburgh ANA - U.S. coins selling like hot cakes
Recently we returned from the biggest coin show of the year, the summer ANA in Pittsburgh. Action on the bourse floor was strong and steady, just like today's market in classic U.S. gold coins. Classic rare coins are selling fast at record setting prices. Prices realized at public auctions are almost mind-boggling already; and with each passing month the supplies of available coins gets smaller and smaller while the pool of buyers expands.
As we explained in our Gold Market Update of August 6, 2004, there are two major factors that drive the general public into buying precious metals and classic U.S. coins: higher gold prices and declining stock prices. Both are at work today.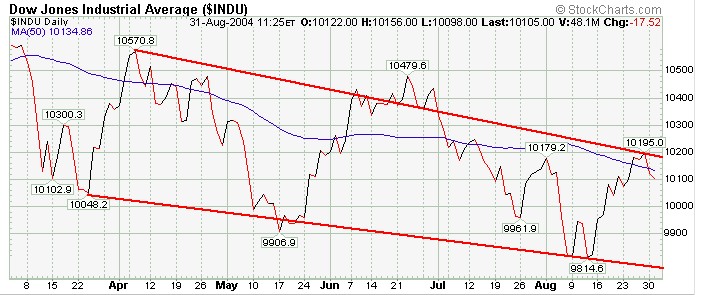 Since January the Dow has been in a step-down pattern, with successively lower highs and lows. In August, the Dow dipped under 10,000 and our phones started ringing off the hook. Since we returned from the ANA, we've sold more coins in a shorter time than we have in years, and there is no end in sight. Higher gold and lower stock prices will send the classic coin market into a frenzy, and we may be on the verge of both in the closing months of 2004. In each of the last four years, gold has traded near or at its highest price of the year in the last four months of the year. And you all know that October can be an absolutely horrible month for stocks.
Fall is already shaping up to be one of the most active we have seen in years in our industry and this year will prove to be more exciting than normal because it's also a Presidential Election year.
Market Rockets – coins that are ready to blast off!
After extensive technical and historical analysis of the gold and classic U.S. coin markets, we are shifting our primary investment recommendations to the numismatic coins we believe have the best chance to achieve the highest gains as gold pushes above $430 this fall. These coins – common date $10 Liberty, $10 Indian, and $20 Liberty gold coins in MS64 and MS65 – combine extraordinary relative scarcity with the broadest possible market of buyers, to ensure the greatest gains in the next phase of gold's great bull market.
We call them Market Rockets because they're ready to blast off when gold breaks above $430, which we expect to happen this fall. They receive our highest recommendation!
That's it for now. As always we'll keep you posted as market conditions warrant. Please have a happy and safe Labor Day weekend.
Best regards,
Dana Samuelson, Owner and President
Dr. Bill Musgrave, Vice President
Metal
Ask
Change

Gold

$1,787.71
$-0.05

Silver

$18.33
$-0.08

Platinum

$837.28
$-4.42

Palladium

$1,965.41
$-18.43
In US Dollars
AGE Gold Commentary
AGE Investor Alert!