AGE Gold Commentary is our regular report analyzing trends in precious metals and rare coins. We monitor domestic and international markets and extrapolate from our 30 years in metals to place current events into a hard asset perspective. View archives.
---
10/12/2004: Gold pushes over $420
Source:
In this brief Gold Market Update:
Gold pushes over $420
Dollar must fall, says Fed's McTeer
Silver surges over $7.00
Oil over $50 and climbing
Saint Louis Coin Show Report


Gold pushes over $420
Currently trading in-range between $414 and $421, gold has continued to push higher in price since our last update, as we told you it would. A variety of powerful forces are combining to drive up the gold price, including a weaker U.S. dollar, record-high oil prices, continued violence in Iraq, poor job growth figures, and other evidence that the U.S. economy is simply not as robust as expected. Taken together, these factors point toward the possibility of explosive upward price movements for gold in the near future.
Timing market movements is incredibly difficult, but seeing a clearly defined trend is not, and the trend for gold is certainly up. Since 2002 gold has gained more than 50%, making it one of the best-performing investments anywhere. And this bull market is far from over.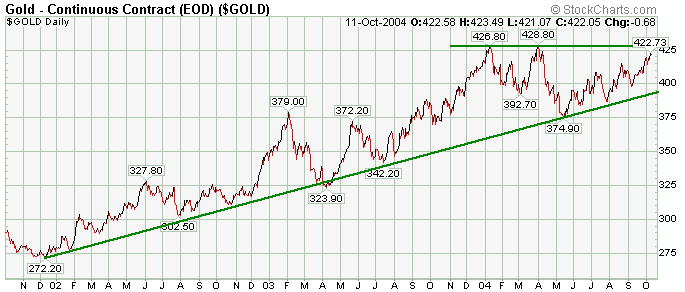 As you can see in the chart, gold has gained steadily since 2001 and is now re-approaching its 2004 high of $428.80. More gains are on the way.
Today's pullback to just under $415 appears to be nothing more than a classic speculative long shake-out, which is actually quite healthy for the gold market. Since May, gold has climbed in a stair step-up pattern with higher lows followed by higher highs. Today's pullback fits that pattern perfectly, providing a solid platform for the next step higher.
Although the gold price might backtrack in range a bit, we expect it to challenge $428.80 within the coming weeks. Looking further out, we target a 2004 year-end price of $450, and continue to expect gold to reach $480 to $550 in 2005.
Dollar must fall, says Fed's McTeer
We've been telling you for two years that the key to the gold price is the dollar, and the key to the dollar is the record-high U.S. trade deficit, or the amount we spend with other countries compared to what they spend with us. The gap in the current-account balance, the broadest measure of the nation's trade with the rest of the world, widened to an all-time record of $166 billion in the second quarter of 2004. This total now amounts to 5.7 percent of the U.S. gross domestic product (GDP), and continues to mushroom despite substantial declines in the dollar since 2002.
Finally, official voices are joining ours in warning about a pending crisis. Last week Federal Reserve Bank of Dallas President Robert McTeer stated unequivocally that the U.S. current-account deficit, now at a record $166 billion, will lead "inevitably" to a radical drop in the value of the dollar. He warned that "there will be crisis that will result in rapidly rising interest rates and a rapidly depreciating dollar that will be very disruptive" (Bloomberg FedWatch, 10-07-04). McTeer is the third Fed official in a month to speak out about the damaging effects of our trade imbalance on the dollar.
All this overspending is a recipe for disaster. As we've reported to you before, the Federal Reserve Bank analyzed 25 episodes of large current account deficits in developed economies. The Fed found that when deficits exceeded 5% of GDP, they triggered a 10-20% fall in the real exchange rate of that nation's currency, which was necessary to offset the trade imbalance. Today, despite the fact that the dollar has already lost about 15% of its value internationally, the U.S. current account deficit is still well in excess of 5% of GDP. This means that further declines in the value of the dollar – perhaps dramatic declines – appear to be imminent.
While gold has been driven higher to some degree by the increase in geopolitical instability since 9/11, the primary driver of this 50% gain has been the falling U.S. dollar. We expect gold to continue to move higher, to as much as $550 an ounce, based on conservative economic considerations alone. If a dollar crisis occurs, as outlined by Fed President McTeer and others, the gold price could move dramatically higher than our predictions.
Oil over $50 and climbing
Since our last update oil has continued to set daily price records. Now costing more than $53 a barrel, the oil price ripples through every facet of our economy like a huge hidden tax. Daniel Yergin, Chairman of Cambridge Energy Research Associates, says that each $1 increase in the oil price acts like a $20 million-a-day tax on the rest of the economy. We repeat, like a $20 million–a-day tax for every $1 increase in the price of a barrel of oil!
Just one year ago, oil at $35 a barrel seemed expensive. Today oil is $53, or $18 more. If you multiply this $18 by the $20 million-a-day cost-per-dollar increase, you get an equivalent daily "oil tax" of $360 million. Multiply this amount by 365 days a year and you get an annual "oil tax" of $131 billion dollars!
Now let's think about this for a minute. If our Gross Domestic Product (GDP) is approximately $11 trillion, and our annual fiscal growth for 2004 is projected to be about 3%, our actual dollar growth would be around $330 billion in 2004. But the projected drag on our economy from an $18-per-barrel increase in oil prices, the "oil tax," would negate $131 billion of that growth! That's nearly 40% of our projected growth for 2004, up in smoke! How can our economy hope to recover with that kind of weight on its back? High oil prices do nothing but divert dollars from the profit-column and into the cost-column of almost every balance sheet in the U.S.
Just as the dollar cannot continue to support the weight of our record trade imbalance, our economy cannot continue to grow with excessively high oil prices for very long. No wonder Fed President Robert McTeer is worried. Shouldn't you be?
Silver surging over $7.00
In the last three weeks, silver has surged about 10% in price to over $7.00 an ounce. Overall, this rise looks solid. We expect the price to hold over $6.75 an ounce, and perhaps test this year's high of $8.29.
Platinum is holding steady at the $840 mark but still looks over-priced to us. Palladium looks downright cheap at $226. Buy silver on any weakness, sell platinum and buy palladium. For our best recommendations, please call Matt Warden or Tom Simonian toll free at 1-800-613-9323.
Saint Louis Coin Show Report
We just returned from the Saint Louis Airport Hilton Coin Show. Because this is a relatively small show, our expectations were muted. Nonetheless, we found quite a few choice U.S gold coins, which we've now added to our Classic U.S. gold coins inventory list.
What was especially noteworthy about this show was the presence several major rare coin wholesalers who were there merely to buy coins. They weren't selling, they were just buying, which is unusual. When the bourse floor opened we scrambled for the best coins, and after three hours little was left. This competition for quality coins is a sign of the times: demand continues to be very strong and there are not enough coins to go around. Since we've returned from the show, wholesale prices for our favorite classic U.S. coins have been rising. Dealers without coins are outbidding each other on the national trading networks. Nonetheless, in this environment, higher bid prices are unlikely to draw many new coins into the national market. Higher prices lie ahead!
Only three good coin shows remain in 2004. If gold breaks over $428.80, its previous high this year, or if the Dow breaks down substantially, demand for classic coins will completely over-run existing supplies. Prices will surge substantially from today's levels. We've been warning you about this situation for months, and now it has arrived in earnest. If you have not already done so, we recommend that you add to your existing position in classic U.S. gold coins before prices pop again.
For our current, conservative recommendations in the classic U.S. gold coin sector, see our Market Rockets.
For a current inventory of our U.S. gold coins, including the new Saint Louis purchases, see our Classic U.S. gold coins inventory list.
That's it for now. Thanks for your time. We'll keep you posted as market developments warrant.
Sincerely,
Dana Samuelson, Owner and President
Dr. Bill Musgrave, Vice President
P.S. — With the holidays fast approaching, you may want to take a look at our online shop, The Gold Coin Store, for quick and easy gift ideas. Credit cards are accepted, and our quality and service are unsurpassed!
Metal
Ask
Change

Gold

$1,780.89
$0.00

Silver

$18.21
$0.00

Platinum

$832.41
$0.00

Palladium

$1,973.67
$0.00
In US Dollars
AGE Gold Commentary
AGE Investor Alert!