AGE Gold Commentary is our regular report analyzing trends in precious metals and rare coins. We monitor domestic and international markets and extrapolate from our 30 years in metals to place current events into a hard asset perspective. View archives.
---
11/8/2004: Gold breaks out, hits 16-year high!
Source:
In this very brief Gold Market Update:
Gold hits 16-year high!
Dollar hits 9-year low
Market Rockets take off!


Gold hits 16-year high!
The gold price hit a 16-year high of $434.20 last Friday, following the re-election of President Bush and renewed weakness in the dollar. Silver followed suit by surging to $7.50 an ounce. Platinum rose to $860 while palladium is holding steady at $215.
Rolling easily past last spring's high of $428.80, gold is now technically in breakout mode to the upside. Unlike the typical breakout, however, wherein the market surges quickly higher with little resistance, this market is grinding higher with resolve. At some time in the near future we do expect it to surge, but for now we're likely to see slow, steady gains. Our target price of $450 for gold by the end of 2004 now seems highly likely, and our upside target of $550 by the end of 2005 might be conservative.
As the one-year gold chart below indicates, gold has been in a stair step-up pattern since bottoming at $374.90. The chart shows in detail the upside resistance gold encountered earlier in the year at the $428 mark, the consolidation phase over the summer, and now the breakout over $428.00. This breakout over $428 is very bullish for gold and signals the beginning of the next major upward movement.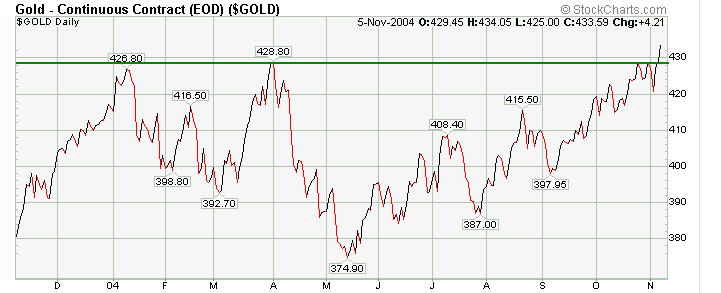 Looking at the bigger picture, the three-year gold chart below clearly shows gold in a solid up-trend, and indicates similar resistance points at just under $300, $325, $379, and, of course, this year's previous high of $428. In each instance, gold channeled under these resistance points before breaking substantially higher.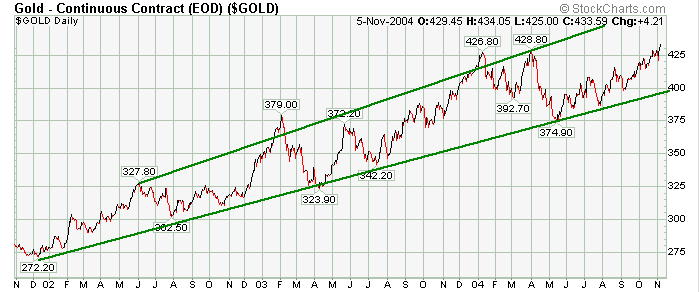 Dollar hits 9-year low
As gold hit a 16-year peak last week, the dollar sank to 9-year lows as the currency markets absorbed President Bush's re-election. Since the start of Mr. Bush's first term the dollar has fallen 20.8 per cent in trade-weighted terms. Last week's dollar sell-off resumed amid fears among traders that Mr. Bush's victory will bring four more years of widening U.S. budget and current account deficits, heightened geopolitical risks, and a policy of "benign neglect" of the dollar. (See Economy Watch, 9/4: Dollar slumps to nine-year low ).
"Dollar sentiment is dire at the moment," said Derek Halpenny, senior currency economist at Bank of Tokyo-Mitsubishi. "Bush has been given an extremely strong mandate and that raises doubts about his commitment to reduce the budget deficit by half over a five-year period."
Even before the election, the dollar had been falling at its fastest rate all year. As the one-year dollar chart below indicates, the U.S. dollar index fell below the key support level of 87 and tested the 2004 low of 85 two weeks ago. Now it has broken below the key previous support level of 85 on the U.S. dollar index (red line) and below 127 vs. the Euro.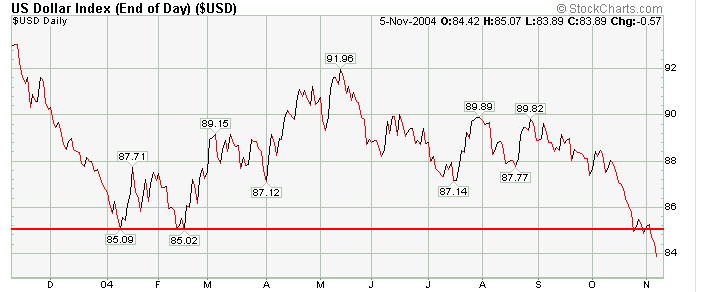 The dollar now looks extremely weak and further declines seem imminent. The record U.S. budget deficit and current accounts deficit (currently at 5.7% of GDP) have been steadily undermining support for the dollar against its major rivals, and will continue to do so.
Many foreign countries that hold large dollar reserve positions are now said to be sellers of the dollar. Just yesterday the Financial Times reported that China may be selling off some of its $515 billion in dollar reserves limit exposure to U.S. assets. Any such re-allocations could push the dollar sharply lower and Treasury yields markedly higher. (See Economy Watch, 9/8: Dollar expected to fall amid China's rumoured selling).
In addition, increased tensions in the Middle East as a result of the Iraq war and Arafat's illness are likely to drive up oil prices, which will further erode the dollar. This combination of ballooning deficits, high oil prices, ongoing instability in the Middle East, and dollar liquidation all support a substantially higher gold price!
The three-year dollar chart just below reveals the bigger trend for the dollar since 2002, which is clearly down. Further declines are now likely.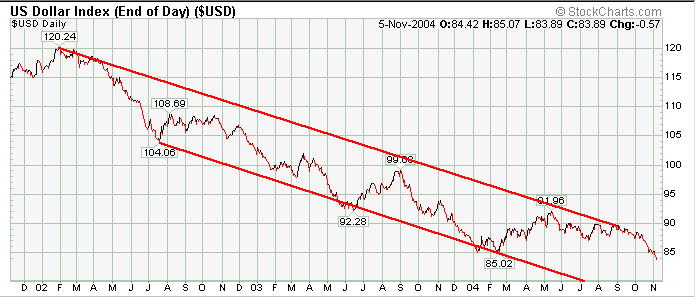 Market Rockets take off!
As expected, our Market Rockets have surged in price in the last several weeks on strong demand from the public and very narrow supplies. Our philosophy at AGE has always been to find good value in the market and wait for market forces to move prices. These classic U.S. gold coins are now beginning to gain in earnest, and more gains are on the way. They continue to receive our highest recommendation.
Below is a brief chart of recent pricing, historical pricing, and our recommended exit strategies for our Market Rockets. As you can see, huge upside potential remains for all of them.

Dealers across the country are now aggressively competing with each other to buy any quality coins for inventory. We've been anticipating this market scenario for a long time. With so few coins in the market, prices are now hair-trigger sensitive to any increases in demand. These coins are still relatively inexpensive! Please take advantage of the buying opportunity while it remains good!
Once again, our target price of $450 for gold by the end of 2004 now seems likely and our upside target of $550 an ounce by the end of 2005 may now be conservative. We are re-evaluating our long term upside target for gold, now that the election has been decided. We'll have more on that in future updates.
What's most important to remember now is this: the key to a much higher gold price has been turned and the door is opening. The dollar looks extremely weak. As the dollar falls, gold will rise. This scenario is extremely bullish for gold both in the short and long terms.
Please visit our Newsroom for live precious metals prices and relevant news.
For our current, conservative recommendations in the classic U.S. gold coin sector, see our Market Rockets.
For a current inventory of our U.S. gold coins see our Classic U.S. gold coins inventory list.
That's it for now. Thanks for your time. We'll keep you posted as market developments warrant.
Sincerely,
Dana Samuelson, Owner and President
Dr. Bill Musgrave, Vice President.
P.S. — With the holidays fast approaching, you may want to take a look at our online shop, The Gold Coin Store, for quick and easy gift ideas. Credit cards are accepted, and our quality and service are unsurpassed!
Metal
Ask
Change

Gold

$1,780.89
$0.00

Silver

$18.21
$0.00

Platinum

$832.41
$0.00

Palladium

$1,973.67
$0.00
In US Dollars
AGE Gold Commentary
AGE Investor Alert!