AGE Gold Commentary is our regular report analyzing trends in precious metals and rare coins. We monitor domestic and international markets and extrapolate from our 30 years in metals to place current events into a hard asset perspective. View archives.
---
1/12/2005: Gold hits $457, falls to $417, and rebounds
Source:
In this edition of Gold Market Update:
Gold hits $457, falls to $417, and rebounds
Dollar plummets, then rallies
Market rockets blast off and hold orbit

Gold hits $457, falls to $417, and rebounds
Since our last update the precious metals and related financial markets have seen a lot of action. In this very brief edition of Gold Market Update, we'll explain why gold rose to $457 and then fell to $417, why classic coin prices exploded in late November and December, and what's in store for 2005.
Gold hit a 16-year high of $457 an ounce on Friday, December 3, driven by a plummeting dollar and rumors the U.S. would allow the ailing greenback to fall as low as 145 vs. the euro before intervening its behalf. While this rumor has proven to be false (so far), the dollar fell to almost 135 vs. the euro on Monday, December 7, before rebounding two days later on a classic short-covering rally. In response, gold fell to $432 and subsequently held in the $430 to $440 range through the end of 2004. Gold dropped further in the first two weeks of 2005, down to as low as $417 this past Friday, on fund liquidation and another dollar rally before rebounding this week.
As of this morning, gold is rallying back into the high $420s in response to an unexpected surge in the U.S. trade deficit, which reached a new record-high of $60.3 billion in November. The worst of this correction in the gold market appears to be over.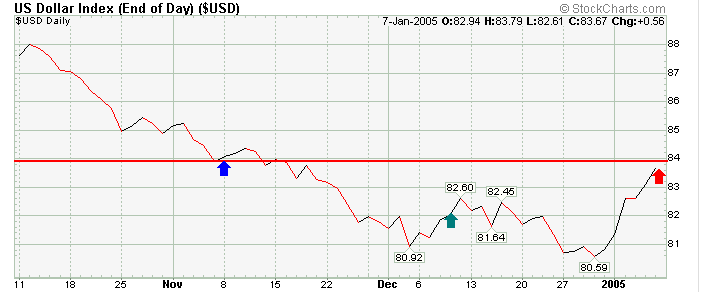 Dollar plummets, then rallies
Above is the 3-month U.S. dollar index chart. The blue arrow shows the value of the dollar on 11-8-04, when we sent out our last Gold Market Update; the green arrow marks the day gold hit $457, its highest price in sixteen years; and the red arrow shows Tuesday's price. Once the dollar fell below the key support level of 85 on the dollar index, further losses were imminent (hence our email alert of 11-8-04), and the dollar plummeted to new multi-year lows of close to 80 on this key index. As you know, gold has been moving inversely to the dollar for the past three years, gaining when the dollar falls and falling when the dollar rallies. The dollar's recent volatility (sharply down, then sharply up) has in turn created volatility in the gold price. But like we've said before, the trend is your friend, and the trend for the dollar remains decidedly bearish despite its recent, temporary show of strength.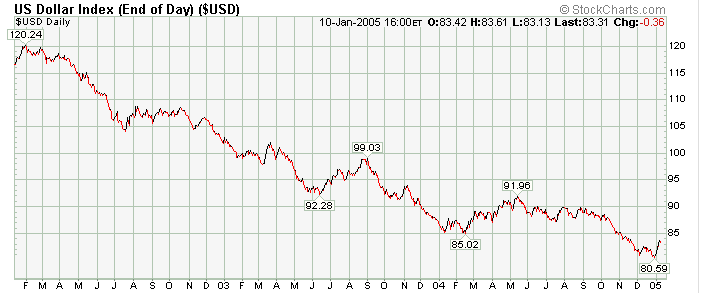 As you can see in the 3-year dollar chart just above, the greenback's fall from 120 to 80 follows a step-pattern rather than a straight line – just like gold's ascent during the same period. In the last three years, amidst its overall downward trend, the dollar has twice spiked upwards but both rallies soon fizzled. The present rally, too, will almost certainly falter and the dollar will resume its downward trend during 2005.
The combined weight of record U.S. budget deficits, record U.S. trade deficits, and record U.S. current accounts deficits are the proverbial millstone around the dollar's neck, dragging it inexorably lower. This compound fiscal irresponsibility on the part of U.S. consumers and the U.S. government comes with a high price – a high gold price, that is – and it's why we believe gold will rise to more than $500 an ounce sometime this year.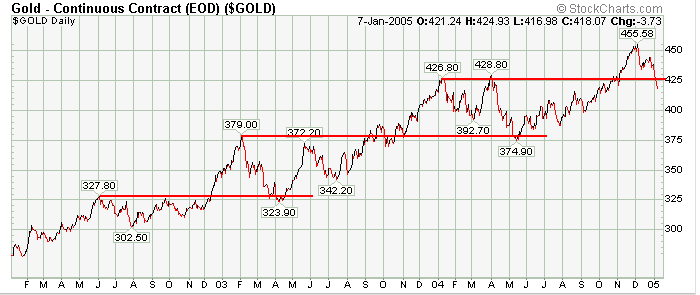 The 3-year gold chart just above demonstrates nicely what market analyst Peter Grandich, editor of The Grandich Letter, calls the "two steps forward, one step back" progress of the current bull market. Since 2002, gold's upward trend has consistently followed a pattern of pushing through key resistance points, establishing new highs, and then falling back to support-levels that are substantially higher than the earlier resistance points. After consolidating gains at the higher level, gold begins the pattern again, driving to new highs before receding somewhat and consolidating again at a higher bottom than before.
As you can see, throughout most of 2002, gold was unable to climb above $330 (1st red line). When it finally broke through this key resistance level, it rose sharply to $379 (2nd red line) before stepping back down to $323 to catch its breath. Riding the larger bull market trend, gold didn't rest for long in the $320s before driving over $370 once again, only to slip back to a new, higher support level at $342. After setting a double-top in the $370s and consolidating in the $340s, gold then drove upward with gusto to almost $430 (3rd red line) before the "two steps forward, one step back" pattern lowered the price to a new, higher support level at $390. Finally, gold broke over $430 resistance level to reach its 16-year high of $457.
In each instance, the double-top (red line) has been followed by a big break above, then a smaller fall below, before rising even higher again. (This may sound complicated in the description but it's clearly visible on the chart.) The current pullback in the gold price from $457 to $419 is disappointing, but so were the three previous pullbacks from $327.80 to $302.50, $379.00 to $323.90, and $428.80 to $374.90. In each earlier instance, the fall was sharp but relatively short-lived, and gold used each of these "corrections" as a springboard to reach new multi-year highs.
We believe the current correction will be similar to the previous three: a chance to consolidate gains and gather strength before making an assault on a substantially higher gold price. In our opinion, gold will move over $500 an ounce, and probably in 2005. As we've recommended (and correctly, we might add) since gold first rose above $300, BUY THE DIPS! This correction, like the last three, offers an excellent buying opportunity that should not be passed up!
Now the national media is starting to jump on gold's bandwagon. We've seen more stories in the mainstream press about the falling dollar and the rising gold price in the last thirty days than in the previous five years. Our own local paper, the Austin American Statesman, recently featured a huge picture of a gold bar on the front page of the business section. More importantly, a national discussion is beginning about the declining value of the U.S. dollars and its ramifications for the future. What the public at large is beginning to understand is this:
• The dollar is losing its status as the world's leading international currency, challenged by the euro, yen, and rinimbi.
• Without the enormous support given the dollar by Chinese and Japanese money managers, who now own approximately 30% of outstanding U.S. treasury bills, the dollar would be much lower in value than it is today. This support will not last.
• Unless the U.S. takes Herculean measures to clean its fiscal stables and reverse its seemingly compulsive deficit-spending habits, the dollar can only fall further.
Will this increased general awareness of dollar weakness make a difference in the spendthrift habits of our citizens and government? Sorry, but we don't think so….
Market Rockets blast off and hold orbit
As expected, our Market Rockets have absolutely taken off as the gold price has risen, gaining an average of 31% from August 1 until December 12. Since then, although the gold price has dropped sharply and the market has been through its normally quiet holiday period, only one of our six Market Rockets has fallen significantly from its new high, the $20 Liberty in MS64. The rest have held their gains remarkably well.
Today $20 Liberty gold in MS64 receives our top recommendation because, at its current low price, it offers superlative value and upside potential.
As the gold market heats back up (which seems to be happening now) $20 Liberty gold in MS64 is likely to provide the greatest gains out of all six Market Rockets. And since we believe these coins, as a group, to be the most promising ones on the market today, that's high praise indeed! Our philosophy at AGE has always been to find good value in the market and wait for market forces to move prices. These coins offer the best value in the market right now. We urge you to acquire $20 Liberty gold in MS64 today while the prices remain low!
Below is a brief chart of recent pricing, historical pricing, and our recommended exit strategies for all of our Market Rockets. As you can see, huge upside potential remains for all of them!

That's it for now. We'll have more in-depth analysis and commentary after we return from the first major coin show of 2005, the FUN Show in Ft. Lauderdale, which takes place this week.
Please visit our Newsroom for live precious metals prices and relevant news on precious metals
For our current, conservative recommendations in the classic U.S. gold coin sector, see our Market Rockets.
For a current inventory of our U.S. gold coins see our Classic U.S. gold coins inventory list.
Thanks for your time. We'll keep you posted as market developments warrant.
Sincerely,
Dana Samuelson, Owner and President
Dr. Bill Musgrave, Vice President
Metal
Ask
Change

Gold

$1,780.89
$0.00

Silver

$18.21
$0.00

Platinum

$832.41
$0.00

Palladium

$1,973.67
$0.00
In US Dollars
AGE Gold Commentary
AGE Investor Alert!