AGE Gold Commentary is our regular report analyzing trends in precious metals and rare coins. We monitor domestic and international markets and extrapolate from our 30 years in metals to place current events into a hard asset perspective. View archives.
---
2/14/2005: Precious metals regaining traction
Source:
In this Gold Market Update:
Precious metals regaining traction
Dollar rally fizzles
Rising budget and trade deficits
Rising personal and corporate deficits
Market Rockets powering up!

Precious metals regaining traction
Precious metals have been channeling in lower-than-expected trading ranges across the board in recent weeks. Gold has been holding between $411 and $427 an ounce; silver between $6.50 and $6.80. Platinum has been trading from $850 to $871 so far this year; and palladium has been surprisingly inexpensive, ranging from $179 to $191.
Beginning last week, however, the metals markets appear to be regaining traction. Gold closed the New York trading session up $6 on Thursday and another $2 on Friday, finishing the week at $420.90. Today gold is up another $5, closing at $425.90. Silver surged more dramatically on Thursday, up a strong 38 cents from $6.56 to $6.94, and on Friday gained 24 cents to close the week at $7.17. Today silver is up another 14 cents, closing at $7.31
We believe gold under $430 an ounce is under-priced. Momentum is a big factor in any market these days and precious metals are no exception. Strong market sentiment (negative or positive) and large, one-sided speculative positions usually lead to strong market reversals. That's what occurred with the gold price in mid-December and that's exactly what happened last week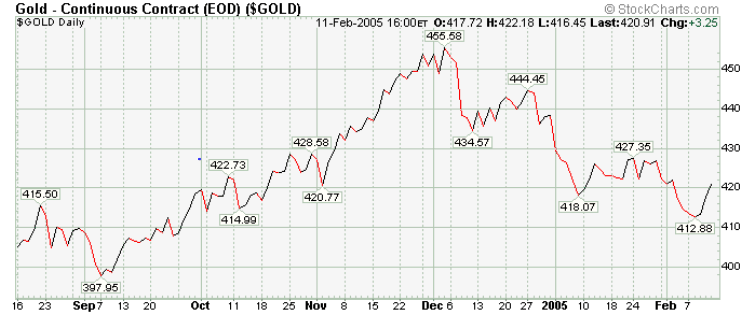 When gold surged over $450 in December and the dollar was falling sharply, gold market sentiment was strongly positive and a large speculative long position was created in the market. When upward momentum peaked at $457, speculators were forced to sell their long contracts quickly in order to lock in profits or stop losses. Heavy selling creates strong downward pressure, so gold fell from $457 to the low $430s. From a technical perspective, the rest of the drop down to $411 was due to market momentum and growing negative sentiment.
Last week we witnessed the opposite event: a classic short covering rally where downward momentum stalled and the short speculators stampeded to buy back their short contracts. We've been waiting for the gold market to bounce on this kind of rally before issuing a new Gold Market Update, and now we have it.
If you've been on the sidelines, waiting to add to your gold market position, now is the time to act. As we've said before, smart gold investors buy the dips in the market. The latest dip is ending and prices are likely to rise again. Don't delay!
Dollar rally fizzles
Apart from technical trading reasons, why did precious metals prices lose momentum recently? Much of the answer lies in a temporary rebound in the dollar. After losing more than 40% of its value over the past three years, the dollar picked 6% this year. These gains have resulted primarily from optimism generated by successful Iraqi elections, and from superficial signs that the U.S. economy is slowly strengthening.
But we believe this dollar rally will be short-lived. The dollar simply cannot bear up for long under the combined weight of our record trade deficits, record current accounts deficit, record U.S. budget deficit, and burgeoning corporate and private debt.
Already we're seeing the signs that this dollar rally is turning sour and the metals markets are picking up steam. Last week the dollar lost ground largely because of the increasing unwillingness of foreign investors to purchase U.S. assets (See AGE Newsroom, "Dollar rally loses steam"). Foreign purchases of U.S. bonds are seen as a key short-term way to finance U.S. trade and budget shortfalls, bringing the dollar relative stability.
However, foreign investors are highly sensitive to what they perceive as flagrant U.S. fiscal irresponsibility, manifested specifically in our trade and budget deficits, which are undermining dollar strength. "The fact that America's trade deficit grew by 24 percent on a yearly basis, along with the dollar's inability to hold key technical support levels, sent it tumbling to one-week lows against the euro and the Swiss franc," said Alex Beuzelin, senior market analyst with Ruesch International in Washington.
As you may recall from our November and December updates, the dollar fell precipitously in value at the end of 2004, primarily against the Euro, and has been in an upward corrective phase since. Although the dollar's larger trend remains distinctly downward, there have been two episodes in which the dollar rallied between 5% and 8% within this larger downtrend. The currency market is now concluding what we believe to be the third corrective upward phase within the dollars larger downtrend, and a new dollar decline is about to begin in earnest.
Rising budget and trade deficits
The cause of the dollar's persistent decline can be summed up in one word: deficits. The U.S. continues to spend far more than it receives in tax revenues, creating the largest budget deficits in modern history, and our trade deficit with our international trading partners continues to grow to historical highs. In addition, personal and corporate debt in the United States remains at historical highs and there's no end in sight to this massive overspending.
In the New York Times last week, Edmund Andrews argued that the cornerstone of Mr. Bush's red ink budget strategy is a belief that "vigorous economic growth, spurred by supply-side tax cuts designed to provide incentives for upper-income Americans to produce more wealth, will generate the big jumps in tax revenues that are needed to gradually reduce the deficit" ("Trim Deficits? Only if Bush Uses Magic," New York Times, 2/7/05). Surging tax revenue came to Washington's rescue during the economic boom of the 1990s, pushing the budget from the red to the black. But Republican and Democratic budget analysts agree that such an event is much less likely this time around. The contrasts, according to Mr. Andrews, are stark:
• Through the 1990s government spending grew at a snails pace. Today government spending has soared.
• In the 1990s, the biggest tax revenues came from high-income taxpayers who made enormous profits in the stock market bubble. The tax cuts of 2001 and 2003 reduced rates on the wealthiest taxpayers and cut taxes on dividends and capital gains in half, making it all but impossible for revenues to rise at a substantially faster pace than economic growth.
• Mr. Bush has vowed to cut 150 government programs, but Republican congressional analysts predicted last week that those cuts, if they materialize, would be unlikely to save more than $15 billion.
• Brian Riedl, budget analyst at the Heritage Foundation, a conservative research group, estimated that deficits would remain around $400 billion through 2009 if current spending on Iraq and major benefit programs continued.
• Senator Judd Gregg, Republican of New Hampshire and chairman of the Senate Budget Committee, said neither Mr. Bush's spending cuts nor his hope of strong economic growth would be enough to close the gap.
Obviously, the U.S. will continue to spend far more than it receives in tax revenues in the near future. After all, Vice President Cheney is on record as stating that "President Regan proved that deficits don't matter." I guess we're going to find out whether they matter or not….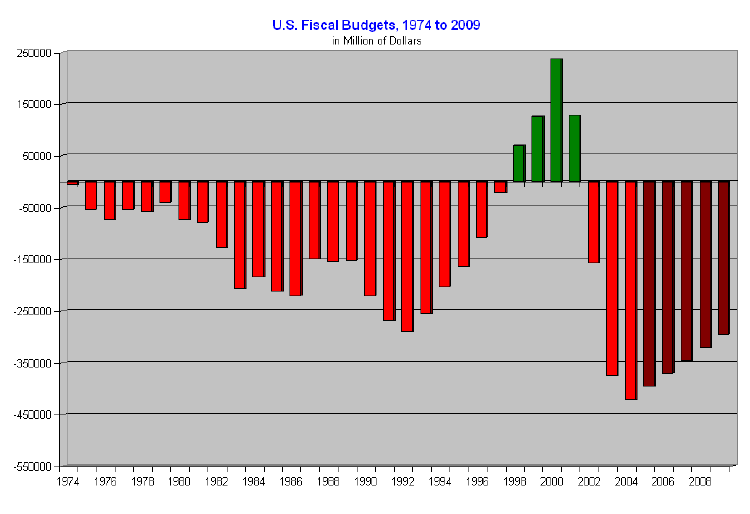 Our chart above shows the U.S. Fiscal Budget from 1974 thru 2004, and includes our own budget projections through 2009, which assume the budget deficit will diminish by $25 billion a year from 2005 through 2009. Based on these projections, the current administration will overspend almost as much in eight years as President's Reagan, Bush, and Clinton combined in the preceding 20 years. And keep in mind, these budget estimates do not include an estimated $80 billion increase in Medicare and Social Security expenditures in 2005. Both programs, immune from budget cuts, are expected to grow exponentially in coming years.
If projected U.S. budget deficits are dismaying, the growing U.S. trade deficits are downright depressing. Last year, according to the U.S. Commerce Department, the U.S. spent a record $618 billion more with international trading partners than they spent with us, a whopping 24% increase from 2003. Over 30% of our trade deficit came from China alone, by far the biggest gap with any single partner. This spendthrift activity it is a recipe for disaster.
According to Lehman Brothers Chief Economist, Ethan Harris, "the basic problem is we're handing over too much control of the economy to the fickle fate of foreign capital inflows. While everyone says it's a ticking time bomb, it's difficult to say how short the fuse is."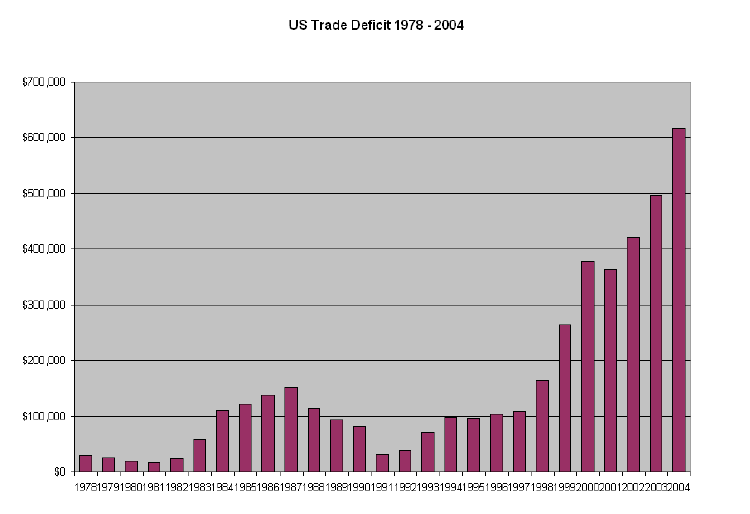 To put the current U.S. trade gap in perspective, in 1983 the U.S. deficit in goods and services trade was only $57.8 billion, roughly the size of recent monthly trade gaps. In 1998, the total U.S. trade deficit was $164.9 billion, only slightly larger than the 2004 trade gap with China alone.
Increasingly foreign investors are gaining control of the fate of the dollar and therefore, perhaps, the U.S. economy itself. More than 40% of our national debt is now held by foreign countries. China holds $500 billion in Treasury bonds, Japan $720 billion. The only viable solutions seem to be for Americans to consume fewer cheap foreign goods, or for the dollar to drop precipitously in value. We're betting on a dropping dollar….
Rising personal and corporate deficits
As if our national deficits aren't enough to carry, personal and corporate deficits have also gone to the moon. Because of abnormally low interest rates, consumers have been on spending and refinancing binges, resulting in the lowest U.S. savings rate in generations and asset bubbles in the housing and equities markets. One study shows the average American household with triple the amount of credit card debt it had ten years ago. Home foreclosures and bankruptcies have become commonplace as consumers bought houses they could barely afford, and then took out second mortgages on them to pay other bills. Corporations, too, have joined the roulette of mindless ravenous spending, as high risk corporate debt rose to record highs last year.
But don't look to the employment market for salvation. As we've reported before, the current U.S. economic recovery is the weakest since the 1930s due to the abysmally low level of new job creation. Every previous U.S. economic recovery in the 20th century created between 7 million and 8 million more new jobs than this recovery, at this point in the cycle. Many of those old jobs have simply disappeared, moved to foreign soil, where they help to create the inexpensive products that perpetuate our immense trade gap. What a vicious cycle we've entered!
2005 may be the tipping-point year. If consumer spending runs out of gas, the fiscal imbalances of massive debt, coupled with a diminishing ability to repay this debt, could turn this apparent economic recovery into another depression in the equities and housing markets. If these unfortunate dominoes fall, a severely tumbling dollar is not far behind them.
Market Rockets powering up!
How do you protect yourself from this perfect storm of deficits? Precious metals remain among the safest and, over the last three years, most profitable assets in the world today.
Based on current market conditions, we expect the gold price to rise to between $480 and $550 an ounce by 2005 or 2006. As you know, we've therefore shifted our highest recommendations to U.S. $10 Liberty, $10 Indian, and $20 Liberty gold coins in Mint State 64 and Mint State 65 condition. In the business these coins are known as "numismatics." We call them Market Rockets because they have the potential to blast off in value as gold reaches $500 an ounce!
We believe our Market Rockets offer the best combination of low risk and high profit-potential in the gold market today. Their fundamental scarcity, exceptional performance histories, relatively low price points, and superior leverage to a rising gold price all combine to rank these coins among the most promising investments in today's precious metals and rare coin markets.

As you can see in the chart above, our Market Rockets are doing quite well despite the gyrations in the gold price over the past few months. $20 Liberty coins in both MS64 and MS65 condition are the best deal today. Because they have the largest population of survivors, these coins are the most sensitive to any pull-backs in the gold price. The recent correction phase in the gold market has made these coins exceptionally inexpensive, and they should not be passed up!
But all of these coins continue to rank as our best recommendations for customers who want safe investments with excellent leverage to the gold price. You don't need to be a rare coin expert to understand these bread-and-butter coins, yet they are scarce enough to offer accelerated gains in a rising gold market. Immensely popular, so they also offer instant liquidity at any time.
For our detailed information, please see our Market Rockets.
We invite investors with a deeper interest in classic U.S. gold coins to browse our online inventory of hand-picked U.S. gold coins. If you'd like additional information, please call our account managers, Matt Warden and Tom Simonian, at 1-800-613-9323. They'll be happy to answer any questions about our classic U.S. coin inventory.
We've also added quite a few nice new silver dollars to our inventory of classic U.S. silver coins, so be sure to check them out.
And please visit and bookmark our Newsroom for live precious metals prices and breaking gold market news.
As always, thanks for your time. We'll keep you posted as market developments warrant.
Sincerely,
Dana Samuelson, Owner and President
Dr. Bill Musgrave, Vice President
Metal
Ask
Change

Gold

$1,780.89
$0.00

Silver

$18.21
$0.00

Platinum

$832.41
$0.00

Palladium

$1,973.67
$0.00
In US Dollars
AGE Gold Commentary
AGE Investor Alert!