AGE Gold Commentary is our regular report analyzing trends in precious metals and rare coins. We monitor domestic and international markets and extrapolate from our 30 years in metals to place current events into a hard asset perspective. View archives.
---
5/12/2005: Fundamentals point to higher gold
Source:
In this Gold Market Commentary:
Precious metals range-bound
Oil and deficits dragging dollar
Fundamentals point to higher gold
Gold coin recommendations


Precious metals range-bound
Precious metals have been range-bound in recent weeks. After hitting lows for the year in early February, all four metals firmed in price, as we anticipated in our last update. Since then gold has been channeling in the $425 to $445 range while silver has shown a little more volatility, trading between $6.85 and $7.59. Platinum remains between $850 and $885, and palladium between $185 and $210 per ounce.
The dollar, too, has been stuck-in-range since February. Trading today at just under 84 on the dollar index, it has vacillated between a high of 85 in early February and its low (so far) for 2005 of 81.50. Oil, concomitantly, bubbled up from an early February low near $45 to almost $58 a barrel in both March and April. Pulling back recently, it's now priced at just under $50. As oil has gained, the Dow has generally eroded since its 2005 peak of 10,940 in March, nearly dropping beneath psychologically crucial 10,000 mark in mid-April before firming up to around 10,340 this week.
Deficits and oil dragging dollar
Yesterday's trade report from the Commerce Department showed a surprising improvement in the trade deficit for the month of March, which narrowed to $54.99 billion from the all-time record high of $60.57 billion set in February. Exports increased and imports declined in March, according to the Associated Press, in part because of a slowdown in clothing shipments from China. While most nations are struggling to accelerate their economic growth, China is actually trying to slow its economy, which grew at an astronomical rate of 10.3% in the first quarter of 2005.
While the March trade gap report surprised economists, who were forecasting another record-breaking high, they've been quick to caution against overstating one month's improvement. "This is a brief respite from a lot of continued red ink, said Mark Zandi, chief economist at Economy.com, a research firm. "The large decline clearly overstates any improvement we will see this year."
Indeed, despite the unexpected improvement in March, the trade deficit through the first three months of 2005 is running at an annual rate of $696 billion, 12.8% higher than the $617.08 billion record set for all of 2004 (Associated Press ).
And our escalating federal budget deficit is just as alarming. Even Fed Chair Alan Greenspan, who seems increasingly concerned about his long-term legacy as he approaches the end of his tenure, is earnestly waving the red flag about deficits. Appearing before the Senate Budget Committee last month, Greenspan repeated his call for Congress to reinstate rules making it harder to cut taxes or increase spending if it increased the deficit.
"The federal budget is on an unsustainable path, in which large deficits result in rising interest rates and ever-growing interest payments," Greenspan said, adding that a combination of spending cuts and tax increases would likely be needed in any long-term fix. "At some point, these deficits would cause the economy to stagnate or worse" (USA Today).
These are bold and direct words coming from the inscrutable master of equivocation. As long as the current trend of blithe U.S. fiscal irresponsibility continues, the dollar should continue to drop in value while gold and the other precious metals rise.
Fundamentals point to higher gold
So what does it all mean? Looking at the bigger picture, nothing much has really changed since last fall, when gold rose to multi-year highs and the dollar fell to multi-year lows. The U.S. economic recovery has proven (so far) to be the weakest in decades. Debt as a percentage of GDP has risen to unheard of levels. The U.S. trade deficit, despite dropping a bit last month, continues to be gargantuan – even after a 26% decline in the dollar index since 2002. And oil prices still threaten to rise to astronomical levels, with some experts anticipating $100 per barrel prices within the next decade. (See EconomyWatch, 4/25/05.) Along with escalating oil prices, which we discuss in more detail below, the enormous U.S. budget and trade deficits are an immense drag on our economy and dollar, and combine to favor a much, much higher gold price.
We are now in period of consolidation, which is to be expected after the huge, tectonic shifts that occurred in the metals markets, the dollar, and the oil price over the past the past four years. However, after the dust settles, and sooner rather than later, the larger trends of the declining dollar and the rising gold price will reassert themselves once again. We continue to believe that 2005 is the year when gold will rise above the $500 mark and retest its mid-1980 highs.
To get a better sense of these trends, let's review the recent charts gold and dollar charts.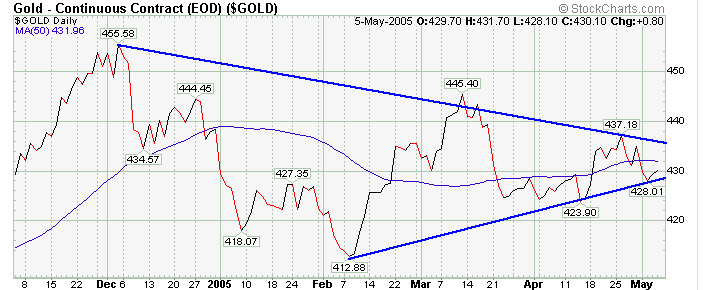 The 6-month gold chart above shows the December 2004 high of $455 and the February 2005 low of $412. The blue line is the simple 50-day moving average. Since its February low gold has settled into a $425 to $445 trading range. What is most interesting about this chart is the recent narrowing or compression of the trading range into an arrowhead shape. We've seen this type of arrowhead compression pattern twice before in the last several years, and in both instances it was followed by a breakout to a substantially higher gold price. Take a look at the 3-year gold chart below to see what we mean.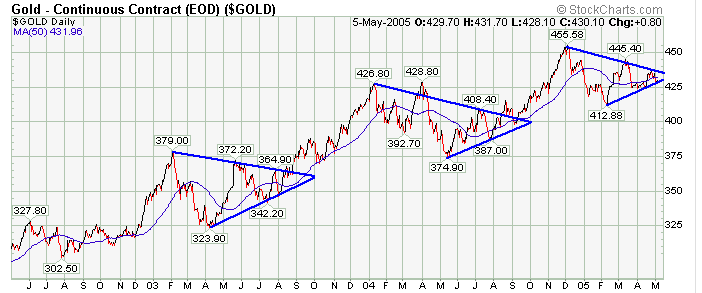 Between February and October of 2003, gold's range of highs and lows compressed from $379 and $324, respectively, to a point at which the gold price exploded upward, reaching a new high of $426 in early 2004. Then, between April and October of 2004, the range again compressed from between $428 and $375 to a breakout point that carried the gold price to a new 15-year high of $455. The same arrowhead compression pattern is clearly in place today.
The bias in the gold market continues to be to the upside, and we expect this year to bring a significant breakout beyond the 2004 high of $455, and into the $480 to $550 range. The gold price continues to be most affected by the value of the U.S. dollar, which is in a major overall downtrend.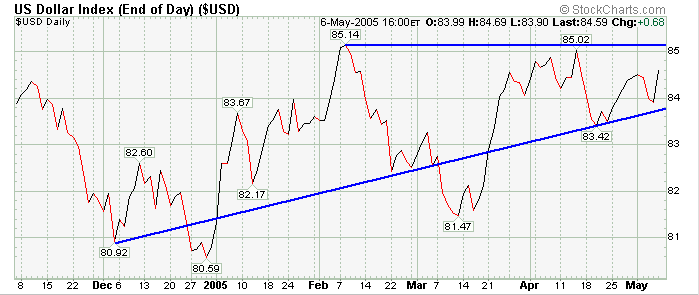 As you can see in the 6-month U.S. dollar index chart above, so far this year, after falling steadily for several years, the dollar has managed to hold its ground as the markets consolidate. Since hitting its lowest point on the dollar index last December (concurrent with gold's high of $455), the dollar has even scratched out a bit of a rebound. But like the gold price, the dollar is also entering an arrowhead compression pattern wherein its range is narrowing. Rather than exploding to the upside, however, the dollar's move promises to be downward. Based on the continued, enormous U.S. trade deficits, the projected U.S. budget deficits, and the escalating price of oil, we continue to believe the dollar's recent consolidation above the 80 mark on the dollar index will give way to further and perhaps sharp declines.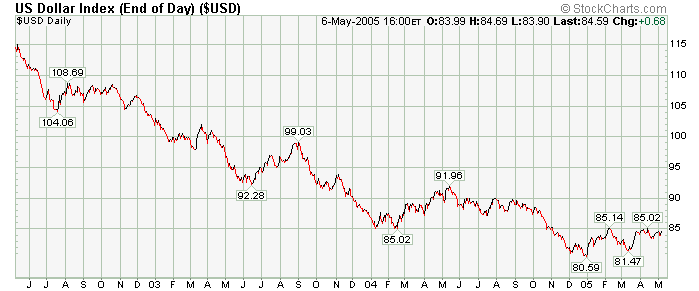 Once we expand this view into the 3-year chart above, the dollar's strong overall downtrend becomes obvious. Despite some steadiness this year the dollar's recent gains have failed to surpass its previous low of 85 on the chart. Similarly, over the last three years, whenever the dollar has rebounded (like it's doing now), it has nonetheless failed to surpass its previous low. As long as it remains below 86 on the index chart, the dollar remains in a downward pattern. We believe it's only a matter of time until the dollar's decline resumes in earnest, falling another 10% to 30%, in our estimation. This dollar decline should raise the gold price into the target range we've been indicating in recent months, between $480 and $550 an ounce.
Inflation is another force that depresses the dollar, and it's becoming more of an issue in the United States. Despite the precipitous dollar decline in recent years, we continue to be a strongly net-importing nation, as our massive trade deficit reflects. As the dollar declines in value, so does our purchasing power – but not, it seems, our appetite for foreign goods, which simply cost us more. Add to this equation a strongly rising oil price and it equals more trouble for the beleaguered greenback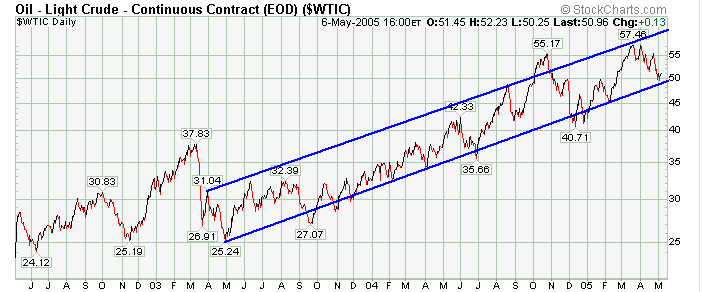 As you can see in the 3-year oil chart above, the oil price has risen steadily in price as increasing demand has out paced above-ground supplies. Our regular readers know that we were among the first to correctly identify the fundamental reasons why oil was rising in price and why it would probably not decline in price as quickly as it rose. (See Gold Market Commentary, 10/12/04 and EconomyWatch, 4/25/05.)
How high can the price of oil go? It's anyone's guess. Expect volatility and don't expect any real price weakness in the short run. What we do know is this: unless the oil price returns to more traditional levels (between $25 and $35 a barrel), U.S. consumers will continue to pay higher than normal prices for everything oil-related. This means further losses in purchasing power for most U.S. citizens.
Because of enormous U.S. trade deficits, bloated U.S. budget deficits, stubbornly high oil prices, and an anemic economic recovery, the larger trends of higher gold and lower dollar should persist. It's really quite simple: the relatively calm period we have witnessed over the last several months should give way to further declines in the dollar and further gains in gold as 2005 unfolds.
In hindsight, the spring of both 2003 and 2004 offered some of the best buying opportunities in recent years. As spring moved into summer and fall, prices for gold and classic coins escalated in both years. 2005 is shaping up the same way. Today's lull is opportunity knocking for the savvy investor. If events develop as we believe they will, prices will escalate strongly again this summer and fall. In fact, we believe this fall may provide the strongest gains we've seen so far in this bull market.
Gold coin recommendations
Our regular customers understand and appreciate our overall philosophy: identify and recommend good value in the current market and wait for market forces to drive values higher. Emulating the approach of Warren Buffet, this strategy is sound and usually results in the best overall gains for our customers.
In today's classic coin market we continue to favor our Market Rockets, with the MS64 examples, in particular, being very attractively priced. Demand for coins, which skyrocketed through the end of 2004, has abated a bit this spring, and supplies on the national market are a bit more plentiful than they've been since last summer. As a result, prices are marginally lower, yielding an unexpectedly good buying opportunity in these popular yet scarce classic U.S. gold coins. But prices won't stay low for long.
For our detailed information, please see our Market Rockets.
In the European gold sector, we have a small group of superb German 20 Marks. and Denmark 20 Kroners available. These classic European gold coins are very scarce, yet their premiums over intrinsic gold value are very modest when compared to their overall market scarcity. Once again, low price combines with limited availability to create good value, and these coins have it all in spades!
Among the other precious metals, palladium is the most undervalued, in our opinion, and could easily surpass $300 over the next 12 to 24 months for a fast 50% gain over today's price. It's a good speculation in today's market. We offer 1-ounce and 10-ounce palladium bars at very competitive prices, and you can even put them into your IRA through your independent precious metals custodian. Call or email for details.
We invite investors with a deeper interest in classic U.S. gold coins to browse our online inventory of hand-picked U.S. gold coins. If you need further information please call our account managers Matt Warden, Tom Simonian, and Tony Caporusso at 1-800-613-9323. They'll be happy to answer any questions about our classic U.S. coin inventory.
We've also added quite a few nice new silver dollars to our inventory of classic U.S. silver coins, so be sure to check them out.
And please visit and bookmark our Newsroom for live precious metals prices and breaking gold market news.
As always, thanks for your time. We'll keep you posted as market developments warrant.
Sincerely,
Dana Samuelson, Owner and President
Dr. Bill Musgrave, Vice President
Metal
Ask
Change

Gold

$1,780.89
$0.00

Silver

$18.21
$0.00

Platinum

$832.41
$0.00

Palladium

$1,973.67
$0.00
In US Dollars
AGE Gold Commentary
AGE Investor Alert!