AGE Gold Commentary is our regular report analyzing trends in precious metals and rare coins. We monitor domestic and international markets and extrapolate from our 30 years in metals to place current events into a hard asset perspective. View archives.
---
7/27/2005: Decoupling yuan is bullish for gold
Source:
Greetings from American Gold Exchange. In this Gold Market Commentary:
Chinese yuan decoupling from dollar
Housing bubble worries
Job cuts abound
Oil and stocks
Gold coin recommendations

Gold rose last week after China revalued the yuan, fueling speculation the dollar will decline further and boost the precious metal's appeal as an alternative investment to the U.S. currency.
Gold has risen 22% in the past two years as the dollar declined. Worries about the nation's record current account and federal budget deficits sent the dollar to multi-year lows late last year, although the currency has rebounded somewhat this year, fueled mainly by higher interest rates in the U.S. This dollar rebound may now be coming to an end and further dollar declines are likely. This change is bullish for gold.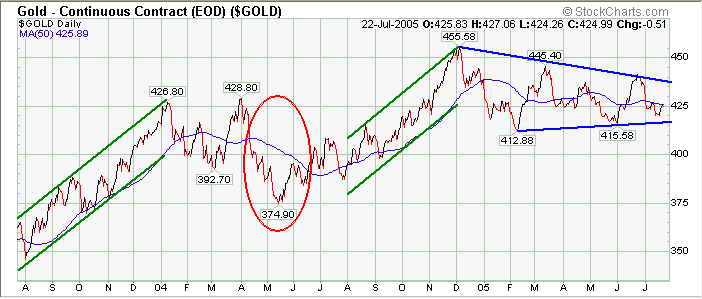 The two-year gold chart above reveals several important trends that remain applicable in the current market. First, the two sets of green parallel lines show the surge of the gold price to new highs in both the fall of 2003 and the fall of 2004. Approximately 50% of the annual physical demand for gold occurs between September and December, so upward price pressure is normally greatest during this time frame, and we believe 2005 will prove to be no exception. We are advising our customers to look for a surge in the gold price this fall to between $480 and $550.
The red circle on the chart reflects the growing influence of China in the international commodities markets. Since 2000, China has been on a commodities buying binge, purchasing the building blocks of its rapidly developing infrastructure. According to the Aden Forecast, the Asian powerhouse now uses 40% of the world's cement, 25% of the steel, 33% of the coal, and 20% of the world's copper. In April, 2004, with his nation's economy growing at the astronomical rate of nearly 10% per quarter, Premier Wen Jiabao stated publicly that China would soon take measures to slow its economic growth before inflation became a major problem. If Wen Jiabao was trying to talk down the red hot commodities market, it worked: prices tumbled across the board and gold fell in sympathy with the base metals. But because gold had no other fundamental reasons to fall as low as it did, the price soon climbed back over $400 where it belonged.
This abrupt gold price action underscores the fact that China has become a major player in all world markets, including gold. As the Chinese continue to earn their way out of poverty, they will create upward price pressure on all commodities for years to come. In fact, the Chinese government has been actively urging its citizens to buy gold, which can only lead to a higher future gold price.
Getting back to the gold chart, the blue lines show the gold price movement of 2005, continuing the narrowing pattern we described in our Gold Market Update of May 12: Fundamentals point to higher gold. This pattern has developed twice before in the last two years, and both times it led to a higher gold price. We see no solid reason why gold should move substantially lower, and many reasons why it should move much higher from current levels in the coming months.
Chinese yuan decoupling from dollar
In the last two months gold has been effectively decoupling from the dollar, which is a very bullish step for the metal. From mid-May to July 1, the U.S. Dollar Index was up 5.8%, yet gold was also up 6% during the same period. So, for the last month and a half, and for the first time in recent memory, gold has stepped beyond its inverse relation to the dollar, and is gaining purely own bullish fundamentals. In addition, over the past twelve months, gold has been slowly trending higher in almost all the other major currencies. For example, in June gold hit a 13-year high against the Japanese yen. This decoupling from the dollar marks the beginning of an international bull market in gold and not just a dollar-denominated bull market in the United States.
What is more, now foreign currencies are starting to decouple from the dollar, too, which is an even more bullish development for gold, one that could drive the gold price to $480 or higher before year end.
In a seismic shift of policy last week, China ended the yuan's peg of about 8.3 per dollar that had been in place since 1995, creating an immediate 2.1% appreciation of the yuan to 8.11 per dollar. Instead of tying its currency to the dollar, China is planning a currency system similar to the managed float operated by Singapore, in which the yuan would be pegged to a basket of currencies reflecting the country's trade.
Because the U.S. imports so much more from China than it exports, China's reserves of dollars increased by more than $100 billion in the first six months of this year to more than $711 billion total, and are on track to pass $1,000 billion by next June. In order to whittle down this staggering total, the Bush administration and some members of Congress have been pressuring China to revalue its currency. Last week's move, while applauded, is seen as just the start of what is likely to become a 40% devaluation of the dollar in relation to the yuan over time, regardless of Beijing's claims otherwise.
The present currency imbalance arises from America's seemingly uncontrollable compulsion to purchase far more from other nations, especially China and Japan, than those nations buy from us. Payment for imports is made in dollars, and because foreign countries end up with more dollars than they spend, they lend the excess back to Americans, who then use the debt to purchase yet more imported goods.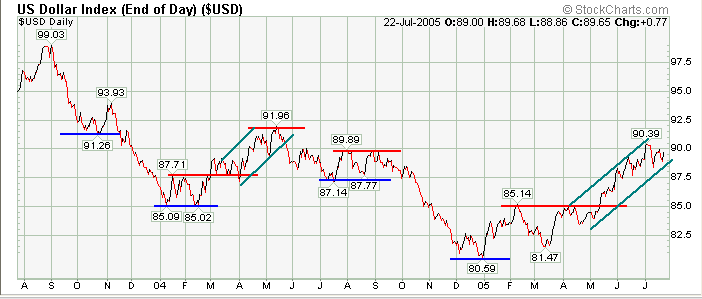 The two-year dollar chart above continues to be basically an inverse mirror of the gold chart, with the notable exception being last month's price action in gold, when it began decoupling from the dollar. Despite the recent surge in the dollar index above 86, gold has remained within its recent trading range without dropping to a new low for 2005, which is what would have occurred if gold were not decoupling from the dollar.
The blue lines on the chart show the support levels for the dollar, and the red lines show the resistance levels. In most instances, when the dollar fell and rebounded, it did not rebound above the previous low on the chart. Twice we've seen the dollar resist its continuing downtrend by rebounding above its previous low — in March of 2004 and again just last month — as indicated on the chart by the parallel green lines. After the first time, the dollar's decline resumed in earnest and gold surged higher. We have every reason to expect the same results this time around, with gold surging higher again.
Clearly, gold is beginning to show price movement that's not inversely related to dollar movement. As we explained in our Gold Market Updateof June 16: Rising gold decouples from dollar, this decoupling of gold from the dollar opens the door to a higher gold price. Now that the yuan is starting to decouple from the dollar, too, this door could be kicked off of its hinges. A stronger yuan will put renewed downward pressure on the dollar, and gold's upward price potential is suddenly much greater. This is very, very bullish for gold.
One of the main ways in which current accounts and capital outflows are balanced is by foreign central banks purchasing U.S. Treasuries with their excess reserves of dollars, in effect loaning dollars back to America. These capital inflows are a prime method of financing the growing U.S. current account deficit and federal budget deficit. But a devalued dollar makes dollar-denominated assets less attractive to foreign investment, naturally decreasing demand for U.S. Treasuries. So it was no surprise that Treasuries and stocks dropped in response to the yuan announcement last week, while foreign currencies and precious metals spiked upward.
In essence, this change means China has finally elected to stop propping up the dollar, and that's a potentially huge development. While some elected leaders would like us believe this change is positive for the economy, many economists and central bankers think it could be disastrous for the overall health of the dollar.
Indeed, even before the yuan revaluation, the dollar was edging lower versus major rivals early last week, despite U.S. portfolio flow data for May that normally would be positive. The ability of the U.S. to finance its ballooning deficits remains a significant concern, and foreign purchases of U.S. assets had fallen short of meeting the funding needs of the trade deficit for the two previous months.
These recurrent shortfalls mean demand for the dollar among foreign central banks, on the whole, is beginning to wane. China's change in its dollar peg is just one in a series of indications that a global shift away from the dollar in underway. Last week Malaysia's currency, the ringgit, was also unpegged from the dollar, and this trend is likely to continue among Asian countries. Earlier this year South Korea announced its desire to diversify some of its reserves out of dollars, only to take back its comments later that day after causing a wave of greenback selling.
The more the dollar loses the confidence of foreign central banks, the worse the consequences will be, according many economists, including Paul Volker, the former Federal Reserve chairman.
"The circumstances seem to be as dangerous and intractable as any I can remember," Volcker said last Thursday. "If people lose confidence in the dollar as a store of value, or lose confidence in the political strength of the United States relative to other countries, there is going to be trouble."
According to various studies, the U.S. now produces only about 75 percent of the goods it consumes, down from 90 percent ten years ago. This percentage was even higher in the late 1980s, the last time the dollar experienced a long, managed decline against the currencies of its major import trading partners — Germany, France, and Japan. Between 1985 and 1987 the dollar lost about 50% of value against the yen alone, and gold simultaneously rose almost 70% in value. Today's markets are potentially even more explosive.
As the dollar lost value, domestic manufacturing increased, exports rose, and the trade deficit diminished, but the interest rate manipulation involved in managing the currency helped to produce the stock market crash in October 1987, some economists argue.
This time it's the housing market rather than the stock market that could crash if the flow of dollars lent from Asia were to slow too abruptly. The result would be a shortage of money to lend and a sharp rise in mortgage interest rates, which are tied to the yields on the Treasuries that the Japanese and Chinese often buy.
Housing bubble worries
One major consequence of the yuan revaluation and ensuing devaluation of the dollar is the likelihood of higher interest rates ahead. If the China and other foreign central banks stop purchasing U.S. debt, interest rates are bound to rise, effectively choking off the housing market which has been the lifeblood of the U.S. economic recovery for the past several years.
According to a recent Merrill Lynch report, U.S. homeowners have enjoyed a $4 trillion increase in wealth, resulting from a 40 percent gain in house prices since early 2001. If Americans spend 6 cents of every extra dollar, this adds up to $50 billion in additional spending each year, contributing about half a percentage point to annual GDP since 2000. "If home prices just level off, this could slice a full percentage point from GDP growth in 2006," the Merrill study said.
Even if the market cools in only those parts of the country that Federal Reserve Chairman Alan Greenspan describes as "frothy," we're in trouble. Based on benchmarks from a recent International Monetary Fund study comparing the stock and housing market bubbles, there are about 15 markets that are vulnerable to a housing market correction. These represent about 35 percent of gross domestic product, the broadest measure of the nation's economy.
"A significant correction in consumption spending in these states is bound to have significant effects on national growth," said Thomas Helbling, an economist at the IMF in Washington. "The output loss associated with the typical housing price bust (about 8 percent of GDP) was twice as large as that associated with a typical equity price bust" (see Housing may sting more than dot.com bust).
Paul Ashworth, North American economist for Capital Economics, says 933,000 of the jobs created in the current U.S. economic upswing owe their existence in one way or another to real estate.
"A full 37.8 percent of all new jobs created have come in construction, real estate, architecture, building supply, home furnishing retailers and building services, even though those sectors only account for 11.6 percent of total nonfarm payrolls," he told MarketWatch.com.
So, if foreign central banks curtail their investment in dollar-denominated assets like U.S. Treasuries because of currency revaluations, and interest rates must rise as a consequence in order to offset the massive U.S. deficits, the housing bubble could pop and all of the related props to the U.S. economy could all too easily be knocked out of place.
Job cuts abound
Although many economic indicators have been positive over the past few months, one area of real concern has been the increase in job cuts in various sectors of the economy. Job cuts jumped 35 percent in June, with the number of layoff announcements pushing the monthly total to its highest level since January of last year, an employment firm said Wednesday.
Employers announced 110,996 job cuts in June, compared to 82,283 in May, according to a monthly report issued by Challenger, Gray & Christmas, a Chicago-based employment research firm. June job cuts rose 73% from the year-ago period. So far this year, 538,274 job cuts have been announced this year, 14% more than the six-month total of 472,735 last year. The struggling U.S. auto industry cut 45,378 jobs in June while 24,065 cuts were made in the retail industry, according to the report.
"The pace of job cutting in the second half of 2005 is expected to stay ahead of last year, as employers continue to close facilities and consolidate in order to achieve maximum efficiency," the Challenger report forecast
Some economists are concerned that these job cuts, which have resulted from outsourcing, mergers, technological change, and shifting patterns in consumer demands, indicate problems down the road.
"We won't know till afterwards, but I do think we may be seeing a tipping point in the economic cycle that these big layoffs are flagging," said John Challenger, chief executive of Challenger, Gray & Christmas. "I think it's a sign that leaks are breaking out" (see June job cuts highest since Jan. '04).
Oil and stocks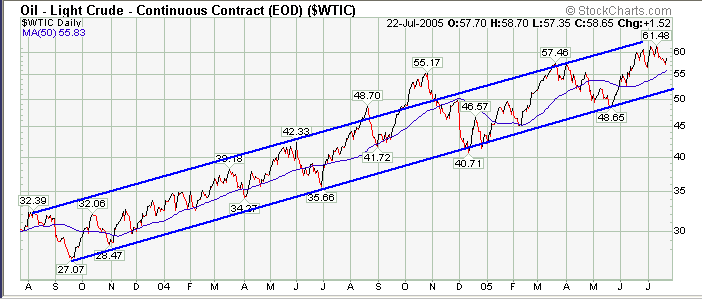 Our third chart is a two year oil price chart. Oil has done nothing but moved steadily higher for the last two years. The extremely high oil price is finally beginning to ripple through to the public. Worries about rising oil prices have weighed on the stock market for some time, mainly because higher energy prices mean higher business expenses and decreased consumer spending, which drives two-thirds of the nation's economy.
Interestingly enough, although crude oil has been trading near record highs the last week or so, stocks have barely reacted. That may be because investors have already factored in oil at roughly $60 a barrel. Many economists believe, however, that $100 a barrel oil is coming, and sooner than anyone wants to believe (see 'Peak oil' gathering sees $100 crude this decade ). But even if oil merely remains near today's record highs, it's likely to prevent the stock market from rallying during the second half of 2005, according to some experts.
"It's not causing a sell-off like it has in the past, but it does make it unlikely the market can move a lot higher," said Timothy Ghriskey, chief investment officer at Solaris Asset Management (see Stocks skid on oil slick ).
Gold coin recommendations
As we enter the fall buying season for gold, the door is wide open for a much higher gold price. We believe the current market offers the last excellent buying opportunity before the gold price really begins to run up, probably between 10% and 20%, if not higher.
Remember, between August and December of 2003, gold gained 17%, or more than $65 per ounce. In 2004, during the same months, it gained 16%, or $63 per ounce. This year, because of gold's decoupling from the dollar, and the dollar beginning to decouple from foreign currencies, we think the gains could be even greater.
Because the gold market has been relatively calm for the first half of 2005, prices for some of our favorite classic U.S. gold coins have drifted lower and are now firmly within our 'strong buy recommendation' price ranges. $10 Liberty and $10 Indian gold coins in Mint State 63, the coins in our Power Pair # 2 are downright cheap, offering some of the best values in the market right now.
In the past fifteen years these coins have traded for up to $3,000 each. In the past two years they've risen to recent market highs of $1,040 in 2003 and almost $1,000 in 2004, per coin. But today they're trading for just over $700 per coin, or nearly 25% less than their recent market highs. Entering the peak buying season 2005, we think they have an excellent chance of surpassing their recent market highs in the coming months.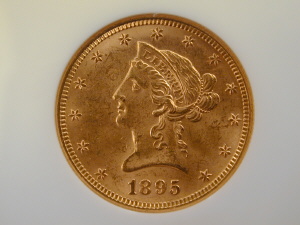 Click here for more information on our highly recommended $10 Liberty gold coins in MS63, shown above.
We also highly recommend German 20 mark gold coins in Brilliant Uncirculated condition. These beautiful coins are currently one of the very best values in the European gold market. Many times scarcer British Sovereign "Kings," a perennial favorite, they are currently available at no additional premium over sovereigns. When the gold price begins to rise, the exceptional scarcity of these German 20 marks can drive their prices higher and faster than common European gold coins. This additional leverage to the gold price, combined with their unusually low premiums today, make them a great buy in bulk gold.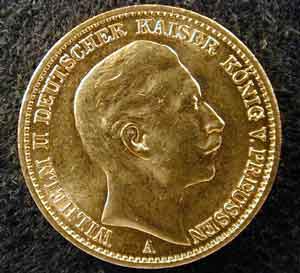 Click here for more information on German 20 mark gold coins, BU, shown above.
To determine the coins best suited your individual investment needs and goals, please call one of our market advisors at 1-800-613-9323. This summer is shaping up as a truly outstanding buying opportunity in gold, so don't miss out!
We're attending the Summer ANA coin show, one of the largest of the year, which begins today in San Francisco. Next week we'll have many new offerings in classic U.S. gold coins posted to our website, so be sure to check our U.S. gold coins inventory.
We'll keep you posted on future developments in this exciting gold market.
As always, thinks for your time!
Sincerely,
Dana Samuelson, President and Owner
Dr. Bill Musgrave, Vice President
Metal
Ask
Change

Gold

$1,805.61
$-1.82

Silver

$19.10
$-0.04

Platinum

$858.69
$-2.70

Palladium

$2,050.01
$1.98
In US Dollars
AGE Gold Commentary
AGE Investor Alert!