AGE Gold Commentary is our regular report analyzing trends in precious metals and rare coins. We monitor domestic and international markets and extrapolate from our 30 years in metals to place current events into a hard asset perspective. View archives.
---
12/21/2005: International bull market gathers strength!
Source:
Greetings from American Gold Exchange. In this edition of Gold Market Commentary :
International bull market gathers strength!
Palladium surges since Strong Buy Alert
Market Rockets take off!
Introducing Power Pair #3


The last quarter of 2005 has realized the most impressive price gains in precious metals since this bull market began in 2002. In the past two months, gold, silver, and platinum have all hit multi-year highs, and classic U.S. coin prices have surged. Palladium, too, has been gaining strongly since we issued our Strong Buy Alert for the metal in November (see Precious metals gaining across the board). 'Tis the season to be invested in hard assets!
The chart below shows the recent performance of the four precious metals and AGE's recommended classic U.S. gold coins. Included are percentage gains from September to December highs, and the December 19, 2005 price levels of each. We observed the same types of seasonal gains in 2003 and 2004, and we alerted you to expect the same in 2005. The market has cooperated, and customers who took our advice are now enjoying nice year-end bonuses!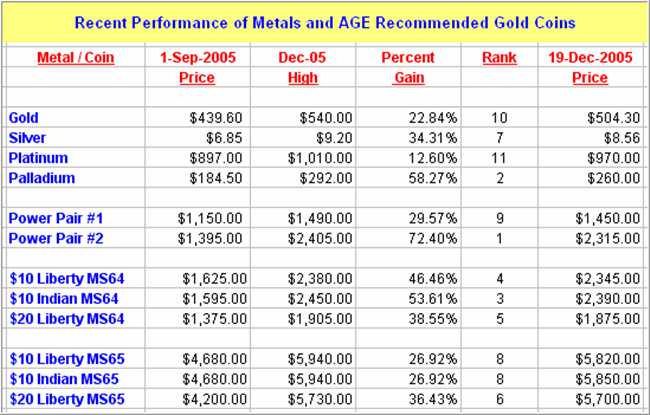 While these price gains are certainly impressive, we believe more than ever that precious metals and classic U.S. coins have extremely strong upside potential in the next several years. The economic and political fundamentals that have been driving the gold market remain firmly in place: record-high U.S. trade and budget deficits, runaway spending, expensive oil, burgeoning inflation, record-high individual and national debt, and continuing global instability. All of these factors combine to create a pessimistic overall outlook for the U.S. dollar, which has lately been enjoying a rally in the midst of an overall downward trend, and an optimistic outlook for gold. (For a detailed analysis of current economic fundamentals, please see Precious metals gaining across the board.)
In addition, foreign investment demand for gold has absolutely begun to blaze, especially in Japan, Russia, China, India, and the Middle East. Individual investors are snapping up gold bullion; and international central bankers, after years of reducing their gold reserves, are now looking at increasing their reserves in order to offset potentially precarious positions in dollar-related assets. Industrial demand for all precious metals is also increasing. With worldwide demand bidding up the gold price in many currencies, an international bull market in gold is beginning to gather momentum. This shift to a worldwide bull market for gold is extremely encouraging and opens the door to a much higher gold price.
In the current debt-laden and inflationary U.S. economic climate, and with international demand starting to catch fire, we're now targeting a gold price of $675 to $750 per ounce in the coming 24 to 36 months. Remember, in January 2004, we predicted a gold price of $480 to $550 within 12 to 24 months, and we hit the price-range and time-frame almost exactly. (See 2003 in review: Gold touches 15-year high.)
International bull market gathers strength!
Beginning in the summer of 2005, the secular U.S. bull market in gold began to expand into an international bull market. From 1999 through 2004, the gold price generally rose in U.S. dollars but not in other major world currencies. Because gold is denominated in dollars, and because the dollar was falling against major world currencies like the euro, yen, Swiss franc, etc, a falling dollar meant a rising gold price—in dollars, but not in the other currencies. In the last six months, however, both the dollar and the gold price have been rising at the same time. (For details, please see our June and July 2005 Gold Market Updates, Rising gold decouples from dollar and Decoupling yuan is bullish for gold.) This decoupling of the gold price from the dollar was the first indication that the U.S. bull market for gold was about to enter a new and even more bullish stage, expanding beyond our borders to become a truly international bull market with worldwide demand driving the gold price higher in many different currencies.
Since summertime, gold has been moving higher in all major world currencies, confirming that this international bull market is truly gathering strength. In July gold moved over 350 euros per ounce for the first time ever. This was a key break-out level, one that we'd been patiently awaiting. Since September gold has surged by more the 20 percent in euros, from 350 to almost 450 today. In July gold rose to over 550 Swiss francs for the first time in this bull market, and since September it has risen to about 660 Swiss francs, another 20 percent gain. The charts for British pounds, Australian dollars, Japanese yen and Chinese yuan all show similar gains. In the last three months gold has surged to new highs in all these currencies as buyers around the globe have been flocking to the metal.
Click here to see 5-year gold price charts in U.S. dollars and a variety of major foreign currencies.
Once again, this shift into an international bull market is a very powerful development for gold, and is one more reason why, in our opinion, the market will continue to be very strong for several more years.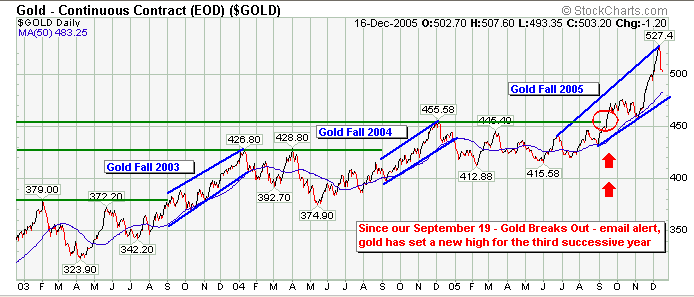 In the past month, gold surpassed $500 an ounce for the first time since the 1980s, and surged to as high as $540, a 24-year high, in overnight Asian trading on December 12. After succumbing to profit-taking in the short term, the metal has been trading in the in the $495 to $510 range. We anticipate the potential for a little more profit-taking as we head toward the New Year before the next major rally.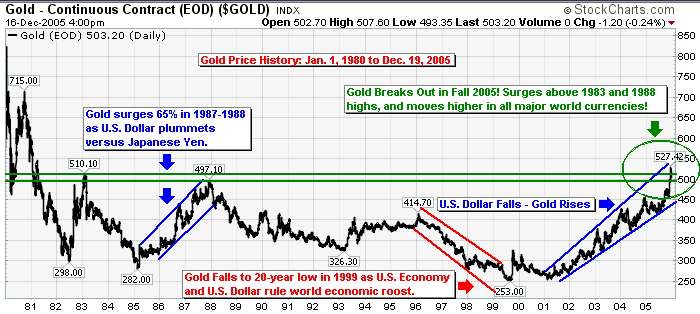 The 25-year U.S. dollar gold chart above tracks price movement since 1980. Several call-out boxes indicate factors that affected the gold price from the 1980s into the beginning of the new bull market in gold in 2002. Of greatest significance is the fact that gold has moved over its 1983 and 1987 highs in just the last several weeks. Those resistance points are indicated by the two parallel green lines crossing the chart. Gold's breakout above its highs from the 1980s, coupled with its strong recent gains in all major world currencies, confirm an international bull market that is attracting new buyers around the globe.
Palladium surges since Strong Buy Alert
Concurrent with gold, the other precious metals have all surged higher this fall season. Silver moved strongly above its recent upside resistance point of $8.22 to over $9.00 before pulling back into the $8.45 range. Platinum briefly traded as high as $1010, and is now trading in the $960 range. Palladium has surged since our Strong Buy Alert last month, rising from $235 to as high as $292 an ounce before pulling back to around $255.
We continue to expect palladium to gain strongly because of growing investment and industrial demand. Earlier this month the world's largest carmaker, General Motors, announced its intention to shift from platinum to palladium in the manufacture of its exhaust systems, citing platinum's high cost as the reason. International jewelry manufacturers, too, are shifting to palladium to cut costs. GMKN Norilsk Nickel of Russia, the world's largest palladium producer, said demand for palladium may rise 63 percent in 2006 simply on increased jewelry demand. (See Platinum rally may end as GM, carmakers switch to palladium.)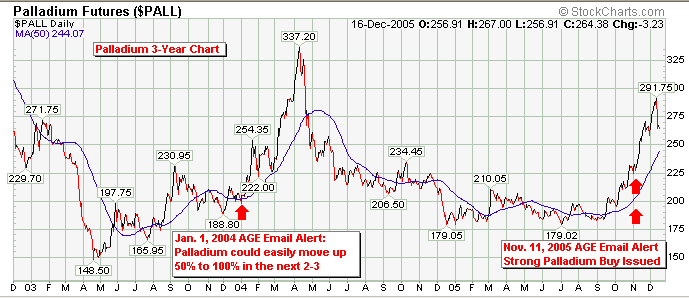 This 3-year palladium chart details our two buy alerts and subsequent palladium price movement. We believe palladium will move well over $300 and ounce and perhaps over $400 an ounce in the next 24 to 36 months.
We'll have more on these three metals in our next email alert. In the meantime remember, we remain very bullish on palladium, bullish on silver, and bearish on platinum. Buy palladium and silver on any price weakness; sell platinum on strength.
Market Rockets take off!
Just like the precious metals, classic U.S. coins have surged in value in this fall. But unlike precious metals, which are continuously mined for new supplies, classic coins are limited in supply to what was minted decades ago. Furthermore, because most classic U.S. gold coins were used heavily in circulation or melted down during the Depression, the surviving numbers in choice Mint State condition are extremely limited. As a result, when demand is strong, like it has been for the last several years, prices can surge dramatically on the back of any significant increase in the gold price. That's exactly what's been happening this fall. The price appreciation of our recommended gold coins—Market Rockets, Power Pair #1, and Power Pair #2—has been excellent over the last several months, outpacing gains in the gold price by substantial amounts. (Please see the performance chart at the top of this alert for comparisons of our classic coins recommendations to the metals, and see the charts below for overall performance of our Market Rockets.)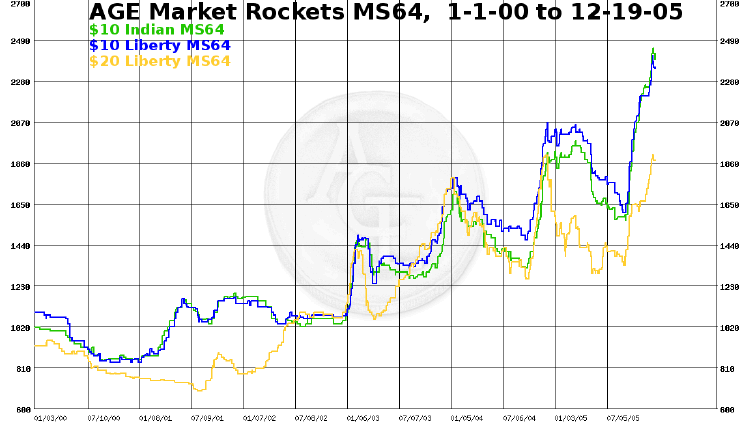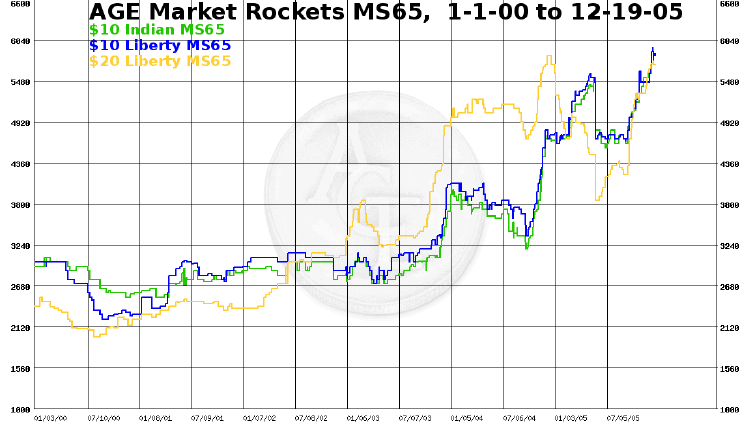 The key to price appreciation in the classic coin market is supply and demand. We've been advising our readers for three years now in our email alerts of the ever-dwindling supply of classic U.S. coins on the national market. In the last two years we've witnessed two periods when demand far exceeded available supplies: in the fall of 2004 and now in the fall of 2005. Prices have surged strongly in both instances, and we expect continued gains into 2006.
Over the course of the last four major national coin shows (Long Beach in September, Saint Louis in October, Santa Clara in November, and Baltimore in December), the national supply of coins has shrunk to the lowest level we've ever seen, and we've been in this market for more than 25 years. Dealers are aggressively competing to refill inventories and there are simply not enough coins to meet the demand. Prices are moving higher and stronger gains are very likely.
At AGE, we pride ourselves in finding coins that represent the best value in the market and recommending them to our customers. As this aggressive coins market evolves, finding hidden value in the market is becoming more difficult, but not impossible—if you know where to look. As our customers know, we define as good value coins that offer unusual scarcity, high quality, excellent popularity, and attractive pricing. If a coin meets these four criteria, we know it contains the fundamentals necessary to provide superior price-appreciation, as a glance at the performance chart at the top of this alert will attest.
Introducing Power Pair #3
Recently we've identified two classic U.S. gold coins that remain undervalued in today's coin market but still offer exceptionally good value and strong fundamentals for price-appreciation. These coins are $20 Saint-Gaudens double eagles from the Denver and San Francisco Mints, in Mint State 63 and higher. Combining them for savings, we're introducing them as our Power Pair #3. These D-Mint and S-Mint Saints are 20 to 40 times scarcer than the Philadelphia-minted Saint-Gaudens, but are selling, in most instances, for small premiums only 5% to 10% over the common P-Mint coins
Generally considered be the most beautiful of all U.S. coins, Saint-Gaudens double eagles are always popular. Our Power Pair #3 also offers exceptional relative scarcity, excellent quality, and low prices relative to the current market. In our book, these coins represent an excellent and under-appreciated value in the current market, and should not be missed!
Click here for detailed information on our new Power Pair #3
Best wishes for a happy holiday season and a prosperous New Year from all of us at American Gold Exchange! We appreciate the trust and loyal business you've given us in the past year. We look forward to dealing with you in 2006!
Sincerely,
Dana Samuelson, Owner and President
Dr. Bill Musgrave, Vice President
Metal
Ask
Change

Gold

$1,780.89
$0.00

Silver

$18.21
$0.00

Platinum

$832.41
$0.00

Palladium

$1,973.67
$0.00
In US Dollars
AGE Gold Commentary
AGE Investor Alert!