AGE Gold Commentary is our regular report analyzing trends in precious metals and rare coins. We monitor domestic and international markets and extrapolate from our 30 years in metals to place current events into a hard asset perspective. View archives.
---
6/22/2006: Precious metals correct and consolidate
Source:
In this issue of Gold Market Commentary:
Precious metals correct and consolidate
World tensions easing?
Gold fundamentals remain solid
Classic U.S. gold coins


Precious metals correct and consolidate
The gold price climbed to its highest point in a generation last month, reaching $725 on the London PM fix on May 12. Since then, as you probably know, gold corrected sharply downward on profit-taking, passing through several support levels in the mid- and low-$600s before reaching an overnight low in Asia at $542 on June 14. The price has now firmed up, establishing a short-term trading range between $567 and $575.
In our February alert, when gold was trading near today's price levels, we cautioned about the likelihood of short-term volatility as international demand rushed into this roaring market. Rapid price movements in either direction always attract speculative, short-term "momentum traders" who push prices a little farther and faster than they'd normally move on fundamentals alone. When upward momentum stalls, these speculators exit the market en masse, exaggerating the net price movement.
Over the past five weeks, to be sure, we've witnessed an extreme case of momentum volatility, but do not be discouraged! Gold is still trading above key support levels and all of its bullish fundamentals remain firmly in place. Remember, no market moves up or down in a straight line. Gold is in the midst of a mega-trend that should continue for years to come. Steep corrections, though never pleasant, are a natural part of the process. On the bright side, the price drop has created a buying opportunity we didn't expect. Gold is now "on sale" at bargain-basement prices. We encourage you to take heart and stay the course. We think you'll be happy you did.
World tensions easing?
Contributing to the recent gold sell-off was the apparent easing of some deeply vexing world and domestic tensions. Al Queda leader Zarqawi's unexpected death, the formation of an Iraqi government, and a surprise trip to Baghdad by President Bush all suddenly made Iraq seem like a safer place. Karl Rove's exoneration gave a much-needed political boost to the Bush administration. And the brinksmanship over Iranian nuclear aspirations seems to have subsided for now. All of these developments combined to drain some of the safe-haven premium out of the gold price. But has anything really changed? Unfortunately, it seems, the positive developments of recent weeks are like band-aids over gaping arterial wounds. Violence in Iraq continues; no real solution has been found to the Iranian nuclear threat; and new brinksmanship has begun with North Korea over long-range missiles that could strike California.
Gold fundamentals remain solid
None of the economic fundamentals that helped to propel gold over $700 have really changed, either. The United States continues to accumulate the largest amount of debt the world has ever seen; oil prices remain extremely (and perhaps permanently) high; inflation is growing both at home and abroad; and the world is hungry for investment alternatives to U.S. debt instruments and equity markets. The U.S. dollar, which experienced a nice rebound over the last year on the back of Fed rate increases, has begun weakening again in recent months and is expected to drop further.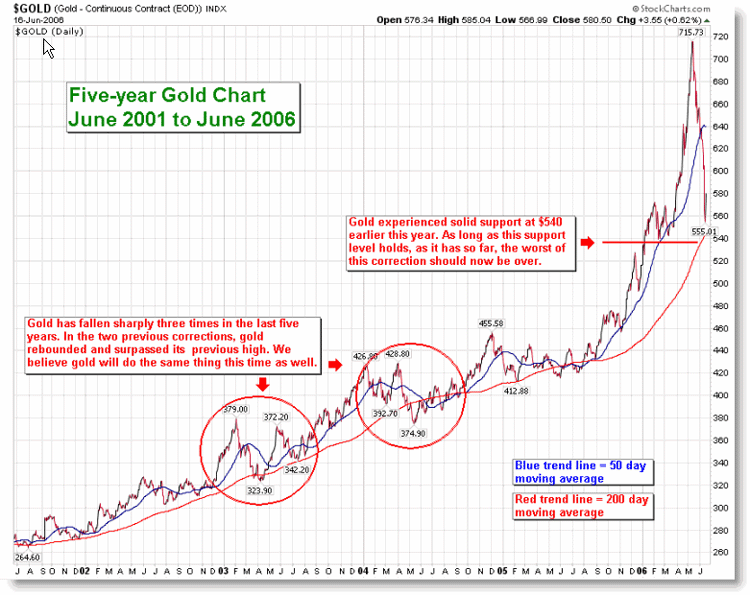 As this five-year chart shows, the gold price remains above its 200-day moving average, which is quite positive. In addition, it is holding well above its previous support level at $540, which is also quite positive. The red circles indicate the two earlier, major sell-offs during the current bull market. On both occasions, after consolidating, gold went on to surpass its previous high and reach substantially higher prices. We believe this pattern will repeat itself again, and the recent sell-off will prove to be little more than a step or two backward in a long march forward.
Fast-moving markets usually overshoot their natural equilibrium points. In particular, gold above $675 was overbought and expensive; gold under $625 is oversold and cheap today. In the short term, it appears, gold will trade within the consolidation range it has recently established, above $550 and below $580. When it surpasses $580 and holds its gains, we'll look for it to move back over $600 with an eye toward testing resistance at $640. We continue to believe gold will test its previous high of $850 sometime in the next twenty-four to thirty-six months, and probably rise substantially higher than that.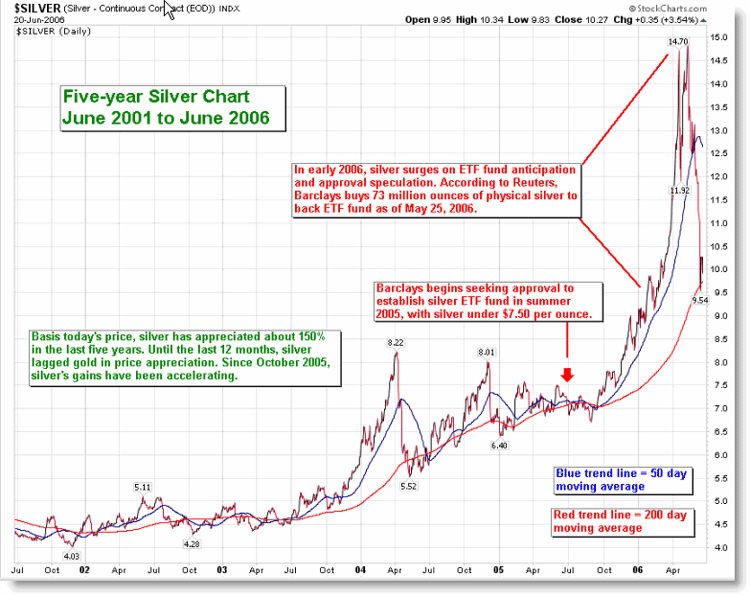 As this five-year chart shows, silver has been extremely volatile in recent months. After lagging gains in the gold price for several years, silver nearly doubled in price since last fall, rising from under $7.50 to nearly $15 per ounce at its peak in May. Much of the recent price acceleration, of course, was driven by overall commodities demand and sympathy with escalating gold prices. But some of the momentum in 2006 has been structurally driven by the creation of the first exchange-traded fund for silver, iShares Silver Trust (SLV), which enables the metal to be traded in ten-ounce shares on the American Stock Exchange. News of the ETF began percolating in the media last February; as anticipation grew, so did the silver price, breaching $10 an ounce for the first time in years.
After ten months of pending approval, Barclays Global Investors, a unit of British bank Barclays Plc, launched the ETF in late April 2006. Within a month, Barclays deposited 73 million ounces of silver in allocated accounts to back shares of its fund, according to Reuters. As you might expect, public demand for the silver ETF shares, together with physical buying to back those shares, helped to drive silver in a near-vertical line to almost $15 before the recent pull-back.
In hindsight, the classic adage "buy the rumor, sell the fact" comes to mind about the silver ETF. Now, after rumor and fact, silver has settled into an oversold trading range between $9.80 and $10.50. Under $10.50, silver is undervalued, in our opinion. Like gold, it remains above its 200-day moving average, which is bullish, and it's likely to consolidate here for a period before moving higher.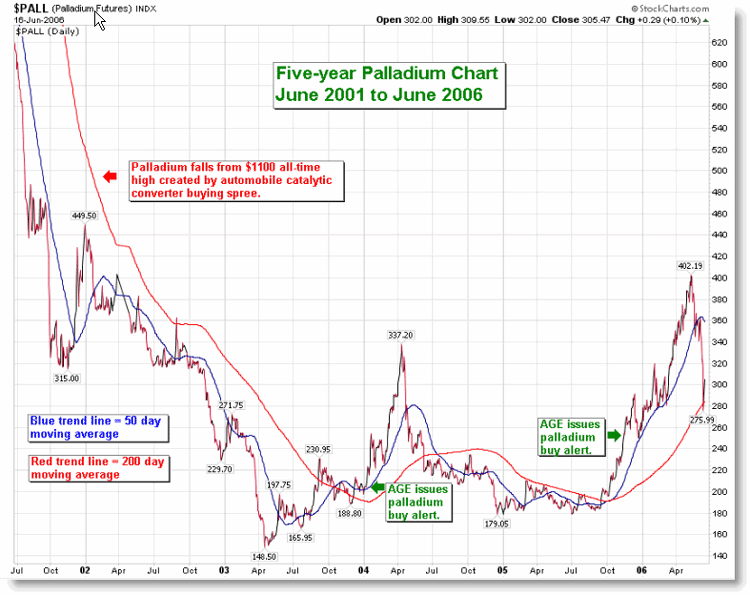 Palladium, like gold and silver, has also held above its 200-day moving average during this recent period of weakness. In September 2005, it was under $200 an ounce. When supply deficits were announced in November 2005, and palladium was trading at $240, we issued our second buy alert. Palladium soon surged to more than $400 before succumbing to the recent metals sell-off
Palladium is currently consolidating in a range between $290 and $315. As long as it holds above $276, we remain bullish. A little further out, we expect it to move higher again into a more reasonably priced trading range of $325 to $360.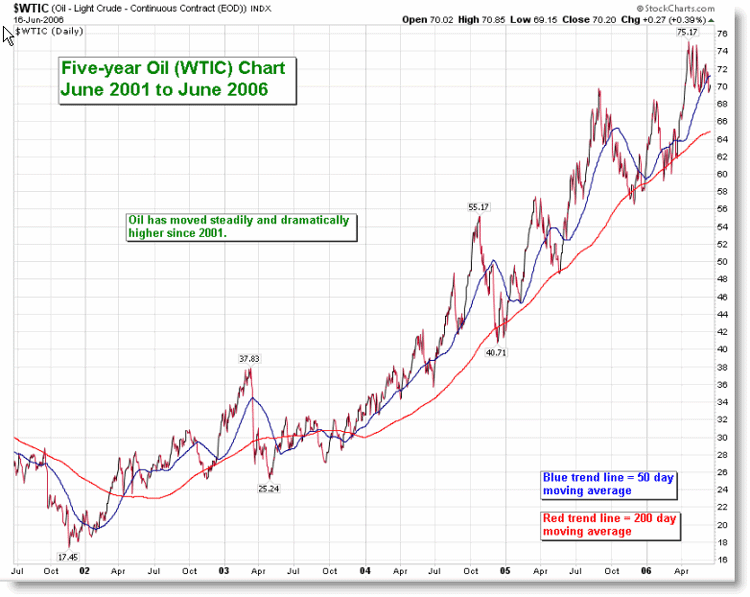 Escalating oil prices have been a primary driver of the precious metals market during the last five years. As this chart indicates, oil nearly quintupled in price, rising from around $17 per barrel in late 2001 to more than $75 in April 2006, before pulling to its current range around $70. Rising energy prices are one of the most intractably inflationary forces in the world. Surging demand from emerging markets like China and India, and increased U.S. dependency on foreign oil, almost guarantee that prices will rise substantially higher. Indeed, despite the painful oil-shocks of the 1970s, which helped to propel gold to its record high of $850, the U.S. is even more reliant on foreign oil today than it was then. In the 1970s we imported 35% of our oil; today we import 50%.
Rising oil prices are fueling not only higher inflation, but also higher demand for gold, especially in the Middle Eastern. Many OPEC nations are beginning to shift their huge reserves of petrodollars away from U.S. Treasuries. According to the IMF, the ten OPEC nations (Algeria, Indonesia, Iran, Kuwait, Libya, Nigeria, Qatar, Saudi Arabia, United Arab Emirates, and Venezuela), plus Iraq, raked in a whopping $1.44 trillion in oil income in the last four years. Last year alone OPEC's receipts, plus those of Iraq, totaled an estimated $555 billion, representing a 44.4% improvement over 2004.
So where are those petrodollars going? A sizeable portion is finding safe haven in gold. In fact, tax-free gold trading just began on the new, fully automated Dubai Gold and Commodities Exchange (DGCX), the Middle East's first derivatives exchange. And according to the World Gold Council, retail investment demand for gold rose by 38% and jewelry demand by 11% in the Middle East through Q3 of last year.
And the Middle Eastern oil-producing nations are not the only ones with a growing appetite for gold. Russia has announced it might increase its gold holdings from 5% to 10% of total reserves, which could remove all Russian gold production from the international market for three years. China, which currently holds 70% of its assets in U.S. dollar denominated assets, has talked seriously about increasing its gold holdings from 600 tones of gold to 2500 tones, a 300% increase. We haven't seen this kind of dramatic shift in worldwide demand for gold since the 1970s.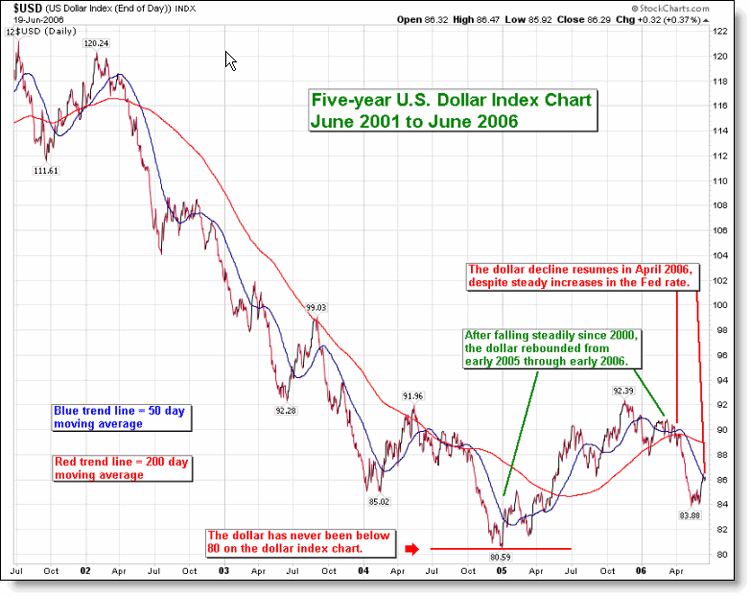 This U.S. dollar index chart shows how far the dollar has fallen in the last five years, a period during which the U.S. government has accumulated debt at an unprecedented rate. The sharp decline in April 2006, from 89 to 83.88, coincides with the spike to generational highs for precious metals. Similarly, the May dollar rebound coincides with the May metals sell-off. Clearly, precious metals are responding to the rise and fall of the U.S dollars in relation to other currencies.
While it's too early to be certain, the dollar's 200-day moving average appears to be turning over from an upward to a downward trend. If the dollar cannot hold above 85.02 (its low from early 2004), it will remain technically weak and, most likely, trend toward its all-time low of 80.59 (from January 2005). The dollar has never been below 80.59 on the index chart, to our knowledge. Breaking this support level would mean extreme weakness and, most likely, a dramatic fall in the dollar. Should this fall occur, precious metals prices would be likely to skyrocket past their recent highs.
So, at this stage in the game, we think it's important to keep several things in mind:
• Gold, silver, and palladium are all above their 200-day moving averages, and remain technically bullish.
• Gold saw two earlier, dramatic pull-backs on its run from under $300 to over $700, and each one set the stage for much stronger future gains.
• All of the fundamental reasons for gold's rise over $700 remain firmly in place.
• Despite the recent correction, we remain convinced that the bull market in gold remains firmly intact and will continue for at least several more years. We urge you to stay the course and add to your positions on weakness. Buy the dips!
Classic U.S. gold coins
Prices for classic U.S. gold coins have softened in sympathy with gold, although coin prices have not fallen as sharply as the gold price. Importantly, nationwide supplies of classic U.S. gold coins have not grown significantly over the last month, meaning that most investors are holding steady, which is the smart move.
Nonetheless, gold's pull-back has clearly sidelined some very active buyers, who are waiting for the market to settle. This temporary lull in demand means that classic rare coins, like gold, are temporarily "on sale." Over the past year, demand for classic coins has been nothing less than frenzied. A break like this is a terrific, unexpected chance to find outstanding coins before prices jump once again. Here's a good rule of thumb: the scarcer the coin, the more likely it will insulate you from strong price corrections in the underlying gold price, and the more leverage it'll provide when the gold market is strong.
Remember, in each of the last four years, precious metals have surged in the fall through the early winter months. During each of those annual surges, classic U.S. gold coins have realized relatively greater gains than the metals. If you've been waiting for a good opportunity to add to your collection or portfolio, the time is now. We urge you to take advantage of what may be the best buying environment for the rest of 2006.
Click here to see our current inventory of classic U.S. gold coins.
That's it for now. As always, thanks for your time.
Sincerely,
Dana Samuelson, Owner and President
P.S. — We're now taking orders for the new 1-ounce American Gold Buffalo coins produced by the U.S. Mint. These lovely .9999 fine gold coins feature the classic profile of a Native American on the obverse and a buffalo on the reverse, much like the old, beloved buffalo nickels. Please note: we're offering American Gold Buffaloes at the same price as regular 1-ounce American Gold Eagles. Many dealers are charging more—sometimes a lot more—for the new gold Buffaloes. Please do not pay an additional premium for these coins! You simply don't need to pay more.
Metal
Ask
Change

Gold

$1,789.63
$1.87

Silver

$18.26
$-0.15

Platinum

$847.89
$6.19

Palladium

$1,986.51
$2.67
In US Dollars
AGE Gold Commentary
AGE Investor Alert!