AGE Gold Commentary is our regular report analyzing trends in precious metals and rare coins. We monitor domestic and international markets and extrapolate from our 30 years in metals to place current events into a hard asset perspective. View archives.
---
7/27/2006: Gold in the summer of 2006
Source:
Gold in the summer of 2006
Precious metals update
AGE's Hard Asset Scorecard


Gold in the summer of 2006
As summer passes from July into August, gold has settled into a trading range of $620 to $650 per ounce. Earlier this month, unexpected violence in Israel and Lebanon briefly pushed the gold price over $670. Once the conflict appeared to be containable within those borders, however, gold dipped as low as $605 before quickly firming up. Today gold is trading at $635, well above its 200-day moving average of $565 and just above its 50-day moving average of $630.
Summer is normally one of the quiet times of the year for precious metals. But this year, because of spreading geopolitical turmoil and consequent safe-haven buying, more volatility than usual is present in the gold market. As our regular clients and readers know, July and August are often excellent months for buying precious metals inexpensively. Demand typically accelerates in the fall, and prices follow suit. This cycle has been strongly in evidence during each of the past four years, ever since the current bull market began in earnest in 2002, and we see no reason why it should diminish this year. In fact, based on the events of this summer and gold's extremely bullish fundamentals, we believe the demand for precious metals and classic gold coins could be quite explosive this fall. If so, now is the best time to buy, ahead of typical fall run-up in prices.
Precious metals update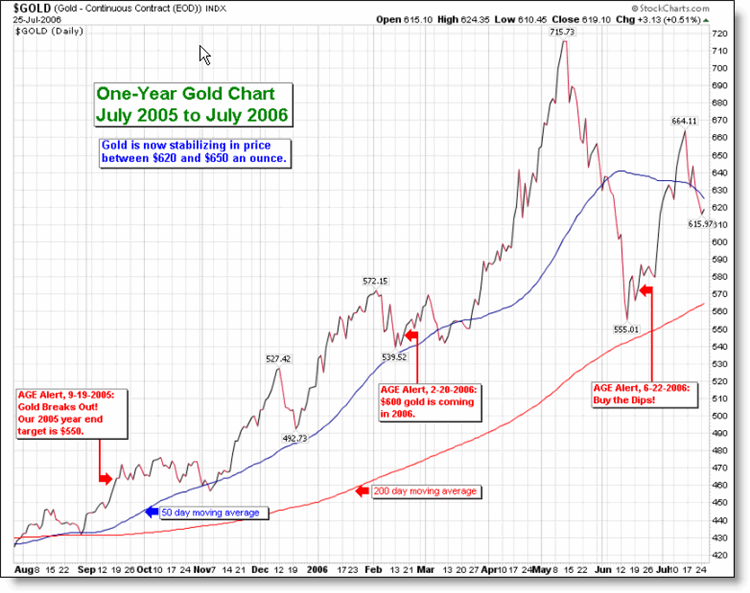 The one-year gold chart above shows how volatile gold has been since surpassing $700 in May. As we told you in our last update, fast-moving markets tend to overshoot their equilibrium points on the way up and down. Gold clearly overshot its equilibrium when it corrected downward from $700 to as low as $542 in early June, before settling into the lower $600s, as we anticipated. In August, gold is likely to be range-bound between $600 and $660, a key upside resistance point. Our advice is to continue to buy on the dips. The market has already told us where it wants to go, which is higher. The surge over $700 earlier this year was simply too much to fast.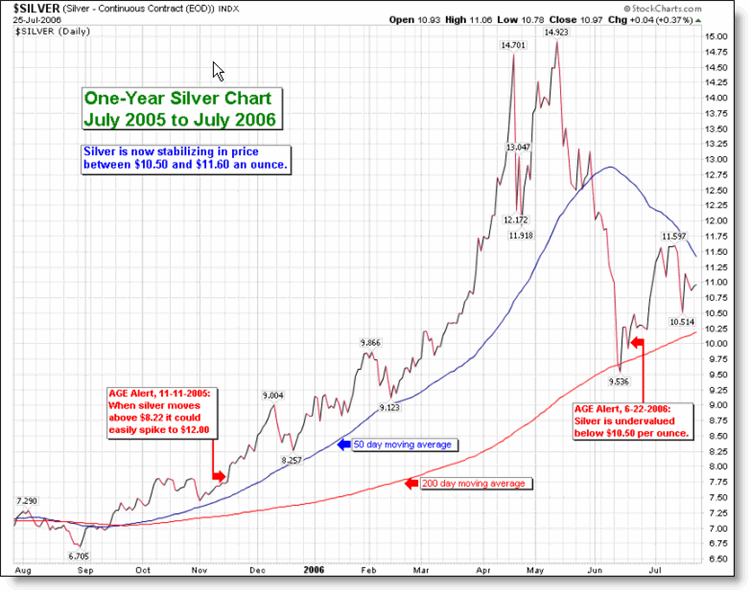 The one-year silver chart above shows more volatility than gold, which is typical when these markets heat up and then cool down abruptly. Like gold, silver is establishing a trading range well above its 2005 levels after hitting generational highs in May. With the current spot price at $11.40, silver continues to trade above its 200-day moving average of $10.25 but below its 50-day moving average of about $11.50. Last month we told you silver was oversold below $10.50 an ounce; so far, the market has agreed with us. Today it has solid support above $10.50, with upside resistance at $11.60. We anticipate silver will continue to trade within this range, but with the bias towards the upside. Once it breaches resistance at $11.60, it'll move quickly towards the next resistance point of $13.25, so be prepared. Like the gold market, the silver market clearly wants to go higher. Buy on the dips!
Platinum has continued to gain on an annual basis. Because of its unusually high price relative to the other precious metals, however, we've shied away from recommending it for the past couple of years. The other metals, in our opinion, have offered better value and profit-potential, and still do. As you can see in AGE's Hard Asset Scorecard below, platinum has underperformed gold, silver and palladium since last September. Trading at just over $1230 an ounce, platinum is down from Mayís generational high of just under $1,325 an ounce. Like the other three precious metals, it is trading today above its 200-day moving average ($1,175) and below its 50-day moving average ($1,240). We continue to believe platinum is expensive relative to gold, silver, and our highly-recommended palladium.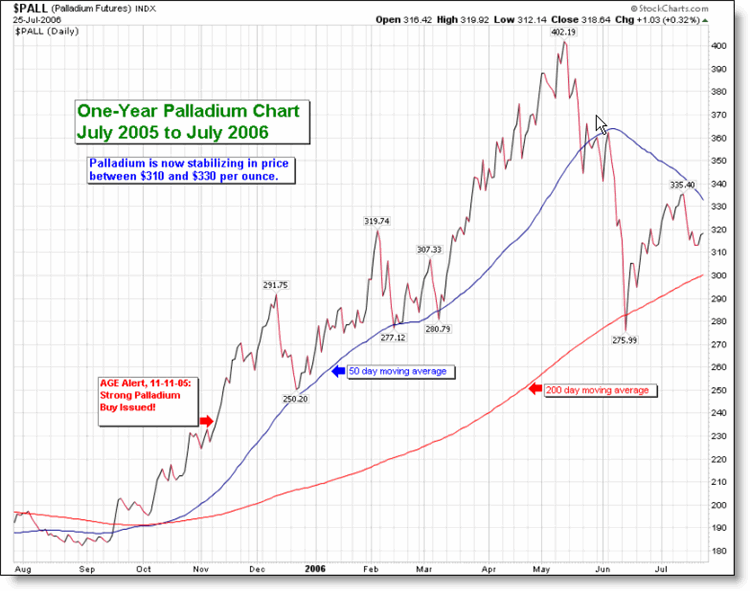 Palladium, like platinum, enjoys growing industrial demand for use in automobile catalytic converters. But costing around one-quarter the price of platinum, palladium remains much more attractive to us as an investment vehicle. As our scorecard shows, palladium outperformed the other three precious metals since September 2005, validating our Strong Buy recommendation of last fall. Trading today around $320 an ounce, below its 50-day moving average of $330 but well above its 200-day moving average of $300, palladium continues to be very attractive to us. Think about all those cars in China with no pollution controls on them whatsoever. Then compare the price of palladium to platinum, and palladium becomes a no-brainer! Buy palladium on weakness and be prepared to hold for the longer term.
Of course, predicting short-term movements in precious metals has become substantially more difficult in our increasingly unpredictable world. But the longer-term direction of gold seems clear, and it's upward. Gold has surged to new highs amidst record-high oil prices, record-high U.S. trade and budget deficits, immense personal U.S. debt, and a stunning increase in demand for commodities in emerging markets like China and India. All of these factors are still very much in play, and continue to exert strong upward pressure on the gold price. What is more, the geopolitical landscape has become increasingly unstable in the last few years, and offers little respite on the horizon. No asset responds better in times of trouble and uncertainty than gold.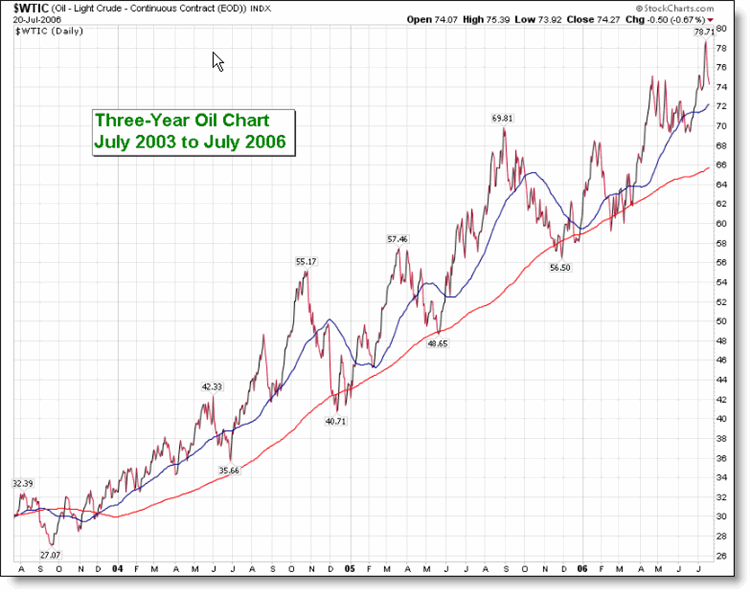 We continue to believe gold will surpass its recent high of $730 an ounce and its all-time high of $850. In fact, we think gold will probably break $1,000 an ounce during this bull market, and has the potential to double its previous high by reaching $1,700 an ounce. We first wrote about gold's potential to break $1,700 way back in 2002, and we feel even more strongly about this potential now. (See Gold at $1,700? You better believe it!) To our minds, it's not so much a question of how high gold will go, but when it will get there. Timing any market is always the most difficult thing to do. Our advice is to continue to invest strongly on the dips, and stay the course.
AGE's Hard Asset Scorecard
At AGE, we specialize in finding excellent value in the metals and rare coins markets, and positioning our customers to realize superior gains. AGE's Hard Asset Score Card presents the price movements of the four traditional precious metals and the classic U.S. gold coins we've been recommending for the last several years. The base prices are from early September 2005, just before the fall buying season began; and, for reference, we've included the prices from the recent generational highs in May 2006 as well as current prices in late July 2006. As you can see, all items have appreciated tremendously since last September, as they have for several years now. Profit-taking after the May highs lowered gains somewhat over the past two months, but gains have still been terrific, especially when compared to most investments over the last nine to ten months.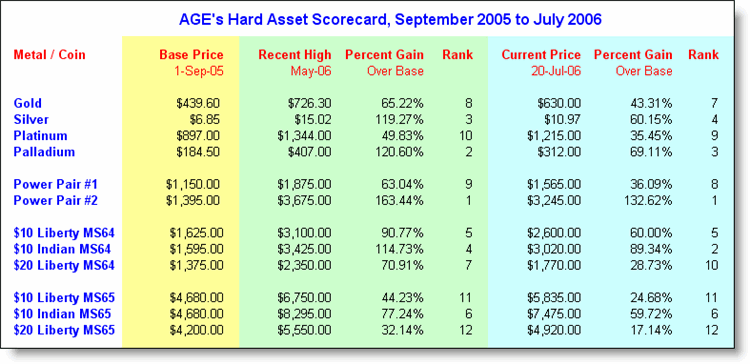 The top performer of the entire group is our Power Pair #2, which gained a whopping 163% in value from September to May, and 132% to date. Power Pair #2 consists of one classic U.S. $10 Liberty and one $10 Indian gold coin in choice uncirculated Mint State 63 condition. Put simply, this pair offers a superb combination of scarcity, popularity and relatively low price point, and has delivered spectacular profits to investors since we began recommending them in 2002. In second place is palladium, described above in our precious metals section, followed by silver. The next four biggest gainers are more classic U.S. gold coins, recommended in our Market Rockets, all of which have outperformed gold bullion!
We favor the classic U.S. $10 and $20 gold coins minted pre-1933 because of their larger size and greater overall popularity than $5 and $2.50 gold coins. Some novice investors are surprised to learn that $10 gold coins, which contain approximately one-half ounce of gold, have delivered greater gains than the larger $20 gold coins, which contain nearly a full ounce of gold. (See, for example, $10 Liberty and $10 Indian coins in MS64, which are included among our recommended Market Rockets.) But this superior performance is not surprising to experienced collectors and market technicians. Overall, $10 gold pieces are substantially scarcer today than $20 coins. Fewer $10 gold pieces were minted originally, and they were circulated much more heavily as currency because of their smaller denomination. As a result, far fewer coins have survived, especially in the higher Mint Sate conditions. Greater overall scarcity creates the leverage, and delivers the superior gains, enjoyed by these coins as the gold price rises.
Another factor to consider is price point. So far, coins with lower price points (and lower overall scarcity) have been outperforming coins with higher price points and greater rarity. This counter-intuitive trend tells us the market so far has been driven by relatively new buyers. As these buyers become more sophisticated, demand will inevitably shift to scarcer and higher-priced coins, which hold the potential for greatest gains. In today's market, however, many of these higher priced coins remain relative bargains. (See, for example, the $10 Liberty, $10 Indian, and $20 Liberty coins in MS65, included among our recommended Market Rockets.)
Ultimately, the presence of so many new buyers in the market is great news for all investors in classic U.S. gold coins. With increased demand comes rising prices, which means increased return on investment, and greater liquidity when you sell. As these new buyers grow in sophistication, they will inevitably flesh-out their portfolios with scarcer coins, lifting the entire market. As an added bonus, many of these coins will disappear from the market, cherished in collections for years if not generations to come, which effectively increases the scarcity of an already scarce commodity. With fewer coins available, prices will enjoy added support in the event of a downturn in gold market, supplying a downside cushion to current investors.
We continue to highly recommend our Power Pairs and Market Rockets, which offer some of the best fundamentals in the classic U.S. gold coin market. To learn why these coins are better than bullion, please click on the links below:
Power Pair #1 (gained 63% from 9-05 to 5-06)
Power Pair #2 (gained 163% from 9-05 to 5-06)
Market Rockets (gained up to 114% from 9-05 to 5-06)
In addition, be sure to review our excellent current inventory other classic U.S. gold coins.
And donít forget, the new American Buffalo gold coins are now shipping! Modeled on the beloved buffalo nickel, which was first issued in 1913 and is still one of America's most popular coins, American Buffaloes are the first .9999 fine 24-karat gold coins ever struck by the U. S. Mint. (American Eagle gold coins are .9167 fine, alloyed with small amounts of copper and silver.) Bearing a denomination of $50, they are intended as a convenient way to own and invest in pure, 24-karat gold in the form of legal tender coins whose content and purity are guaranteed by the United States Government.
We're trading these exciting news coins for the same prices as regular old American Eagles. Other dealers are charging more, and in some instances much more, for the new Buffaloes. Don't pay more when you donít have to! Invest with AGE, your reliable hard asset advisor!
That's it for now. As always, thanks for you time!
Sincerely,
Dana Samuelson, Owner and President
Dr. Bill Musgrave, Vice President
Metal
Ask
Change

Gold

$1,787.88
$0.12

Silver

$18.24
$-0.17

Platinum

$846.45
$4.75

Palladium

$1,977.92
$-5.92
In US Dollars
AGE Gold Commentary
AGE Investor Alert!