AGE Gold Commentary is our regular report analyzing trends in precious metals and rare coins. We monitor domestic and international markets and extrapolate from our 30 years in metals to place current events into a hard asset perspective. View archives.
---
8/28/2006: Precious metals remain bullish
Source:
In this issue of Gold Market Commentary:
Precious metals remain bullish
Denver ANA Coin Show report
AGE Best Buy: $20 Liberty, MS64


Precious metals remain bullish
Since our July update, all four precious metals have been trading within in their anticipated ranges. Gold has been channeling between $620 and $650 an ounce; silver, as expected, raised its range slightly to between $12.00 and $12.60; palladium has been range-bound between $320 and $340; and platinum firmed up to trade between $1,225 and $1,265.
The trend for all the precious metals continues to be bullish. The gold, silver, and palladium charts below demonstrate very similar trading patterns over the past year, as exhibited by the parallel, green trend lines on each chart. These one-year trend lines are almost identical for all three metals, and all point to steadily higher prices. Each chart shows the markets overheating between March and May as money poured in from around the globe, pushing each metal well above its upper one-year trend line. When upward momentum stalled in May, prices corrected sharply, pushing each metal temporarily below its lower trend-line.
What's most encouraging about each of these charts, and distinctly different from the July charts, is its 50-day moving average. Last month, despite the May-June price corrections, all four precious metals were trading trade above their 200-day moving averages (the red line in each chart), but their 50-day moving averages (the blue line) had turned lower. This month, however, the 50-day averages have all begun to turn up again, as highlighted by the red circle on each chart.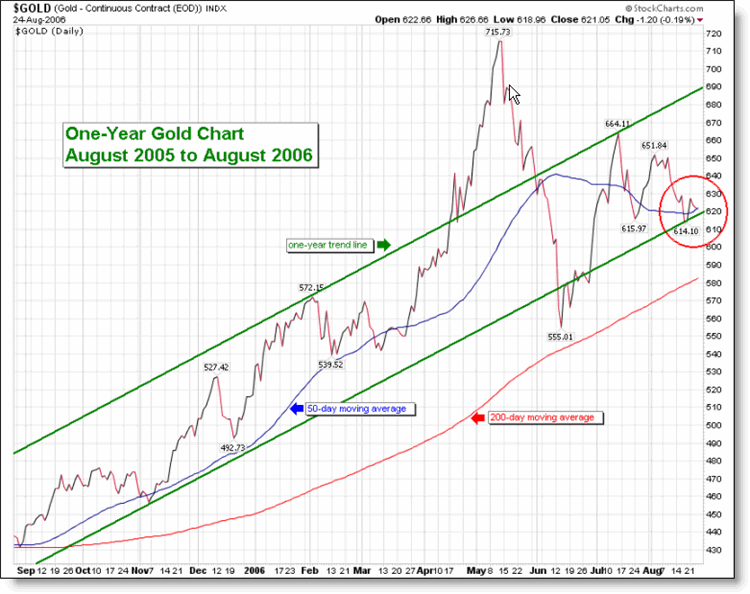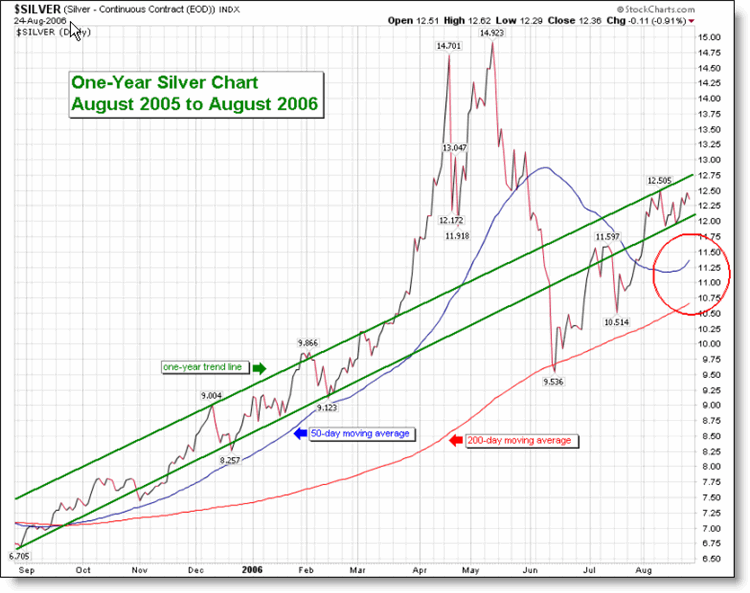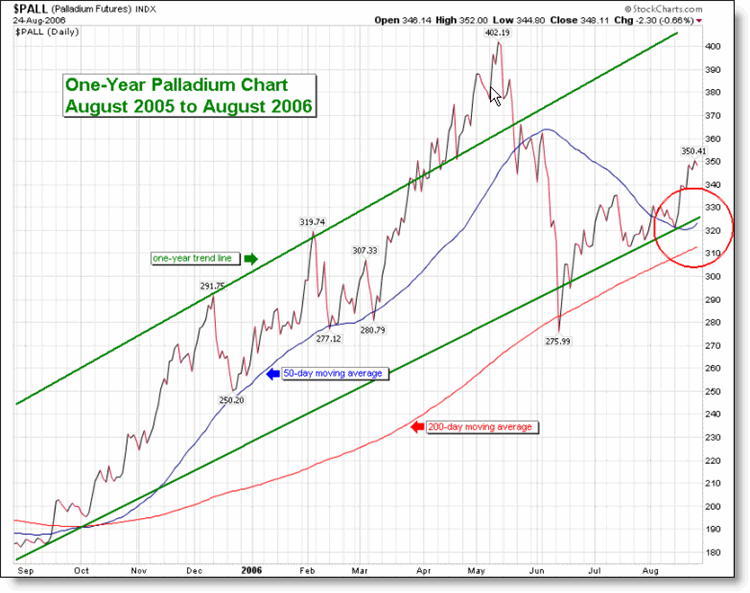 From a technical perspective, the upturn in 50-day moving averages (red circles) is good news, indeed, because it indicates that the bull market remains intact, despite the May-June price corrections and the typically slower summer months that followed. The volatility of the last 60 to 90 days appears to have passed, prices have firmed, and the foundation is set for continued gains through the end of the year.
We're now heading into the fall buying season, which is typically the strongest time of the year for precious metals. Over the past four years, as this bull market has gained power and demand has increased, the fall buying season has been extending further and further into the winter and spring. Last year, all the metals continued their surges well into May. From August to May, gold gained 60%, silver 119%, platinum 49%, and palladium gained 120% before the profit-taking correction occurred.
Of course, gold had quite a bit of pent-up international price pressure going into last fall's buying season, which helped to propel it a bit further than normal. If you'll recall, the gold price increased significantly in U.S. dollars between 2002 and 2005 but gained little in other world currencies during this period. Then, in June of 2005, gold decoupled from the dollar (see Rising gold decouples from dollar), and soon began to rise in all major foreign currencies on its own bullish market fundamentals (see International bull market gains strength). Although we're not expecting to see another 60% rise in the next six months, we do believe gold is likely reach $750 by year-end, and perhaps test its previous all-time high of $850 within the next twelve to eighteen months.
Denver ANA Coin Show report
Weíve just returned from the largest coin show of the year, the summer American Numismatic Association (ANA) show, held in Denver this year. Going into this show, the first major show since Baltimore five weeks ago, we were very interested to see what the market would hold in store for our customers. Classic U.S. gold coin prices have been declining somewhat this summer in sympathy with lower bullion prices and because of some unique factors we'll discuss below. After scouring the bourse floor for four days, we're very happy to return with some outstanding bargains and the firm belief that the market for classic U.S. gold coins is about to heat up once again.
From the August 2005 through May 2006, classic coins rode the surging gold market to price levels not seen in many years. Demand was absolutely feverish, leaving little quality inventory available in the market. This summer, however, demand has abated for the first time in several years. One reason, of course, has been the subdued gold price. After the gold market correction in May, buyers for classic U.S. gold coins dropped sharply in number. On the heels of this correction came the summer months, which are typically a slow time for the coin market anyway, with buyers naturally focused more on vacations and family time than their portfolios and collections.
This year, however, a unique event reduced demand for classic coins even further, indirectly helping to create the superb opportunities we're seeing in the coin market right now. In June, the U.S. Mint began selling the exquisite new American Buffalo gold coins. Modeled on the classic Buffalo nickel, one of America's favorite coin designs, these 24-karat, .9999 fine 1-ounce gold coins have been wildly popular among investors and collectors. According to official mint records, more than 400,000 Buffaloes were purchased from June 1 to August 15, with a total price tag of more than $300 million. Under ordinary circumstances, much of this $300 million would have found its way into the market for classic U.S. gold coins, creating support for significantly higher prices.
When you combine these factors, it's no wonder prices for classic coins were softer. Not only did demand diminish following the May correction, this natural pause came on the cusp of summertime, when coin sales are typically slower anyway. Add in the almost complete diversion of investment dollars into gold Buffaloes for two months, and you can see why dealer inventories are up and prices are down.
But the landscape is changing quickly. The rush to be the first on your block to own gold Buffaloes has now passed, and investment monies are returning to the coin market. Our own Buffalo sales have diminished dramatically in the last several weeks and our coins sales are growing daily. Precious metals prices have stabilized, so the volatility that was scaring off investors in May and June is now over and buyers are returning. And, finally, the fundamentals underlying this mega-trend bull market in precious metals and rare coins remain fully intact; nothing has changed to justify lower coin prices other than short-term profit-taking, summer vacations, and the unique (and short-lived) diversion of investment dollars to Buffaloes.
At the summer ANA show we saw first-hand the state of the classic U.S. gold coin market, and it's fundamentally the same as it was last spring when prices were surging and demand was sky high. We remain convinced that this bull market has several more years to run, at a minimum. Classic U.S. gold coin prices are poised to move higher, perhaps quickly. Under normal market conditions, coin prices can rise 10% to 20% quite easily. Over the past several years, however, this market has been anything but normal. If the gold price surges this fall, as we expect, coin prices could rise substantially higher and faster than usual. One thing is clear: we'll have a very hard time replacing our current inventory at today's prices, so you should buy sooner rather than later to lock in these low prices.
AGE Best Buy: $20 Liberty, MS64
Coming away from the ANA show, the best buy in the classic coin market today is the $20 Liberty in near-gem Mint State 64 condition. This issue has a total surviving population of just over 73,000 coins in MS64, making it quite scarce. Scarcity like this creates strong upward price leverage when the gold market is rising. And what's more, these coins are extremely inexpensive right now at under $1,600 each. Last May they were trading for $2,350, and their previous market high is $4,525. All of our coins are certified in near-gem MS64 by NGC or PCGS, and hand-selected for exceptional quality.

If you donít own MS64 $20 Liberty gold coins, now is an ideal time to add them to your portfolio. If you already own them at higher prices, now is an excellent time to exploit the market low by cost-averaging down. They receive our highest recommendation, with excellent upside potential and very little downside risk at these prices. Please call 1-800-613-9323 today for firm prices and to place your order while current inventory holds.
You can read more about $20 Liberty gold coins in MS64 by reviewing our Market Rockets. In addition, be sure to check out our updated inventory of other classic U.S. gold coins.
And donít forget, the new American Buffalo gold coins are still shipping! Buffaloes are the first .9999 fine 24-karat gold coins ever struck by the U. S. Mint. We're trading these exciting news coins at the same prices as regular old American Eagles. Other dealers are charging more, and in some instances much more, for the new Buffaloes. Don't pay more when you donít have to! Stick with AGE, your reliable hard asset advisor.
That's it for now. As always, thanks for you time!
Sincerely,
Dana Samuelson, Owner and President
Dr. Bill Musgrave, Vice President
Metal
Ask
Change

Gold

$1,805.39
$-2.04

Silver

$19.10
$-0.04

Platinum

$855.65
$-5.74

Palladium

$2,042.62
$-5.41
In US Dollars
AGE Gold Commentary
AGE Investor Alert!