AGE Gold Commentary is our regular report analyzing trends in precious metals and rare coins. We monitor domestic and international markets and extrapolate from our 30 years in metals to place current events into a hard asset perspective. View archives.
---
9/21/2006: Commodity boom alive and well
Source:
In this issue of Gold Market Update:
Precious metals review
Commodity boom alive and well
Runaway debt and deficits
Is the United States bankrupt?
Classic U.S. gold coins on sale
Precious metals prices tumbled during the first two weeks of September in thin trading as many of the market "fear factors" receded to second page news. Concerns about a potential recession prompted the Federal Reserve to hold rates steady. And a truce between Palestine and Israel, coupled with Iran's apparent decision to negotiate about its nuclear program, eased some international tensions for now. As a result, the dollar rose and stocks surged, while oil and precious metals fell.
Although the headlines have been a little rosier, our global reality remains largely unchanged. Oil is still expensive, the economy is still weakening, and the U.S. is still mired in an expensive war. Don't forget, important U.S. elections are coming up, and things always seem to get a bit rosier in the preceding months, no matter what party is in power. Getting re-elected, after all, is what politicians do best. International demand and competition for natural resources continues to build, even if prices have fallen in recent weeks. In this issue, we explain why the fundamentals underlying the highest precious metals prices in a generation remain solidly intact, and why the rising mega-trend in commodities is far from over.
Precious metals review
Let's review the latest gold, silver, oil and U.S. dollar index charts that put recent metals price action into perspective, and then we'll proceed to the economic fundamentals underlying those markets.
As the following five-year gold chart shows, we've had four major corrections during gold's recent rise from under $300 to over $700 an ounce. Each blue circle identifies a major correction, and the call-out box indicates the percentage decline. As you can see, corrections occur after the periods of greatest gain. Once the market has digested the correction and consolidated, the stage is set for the next major leg up.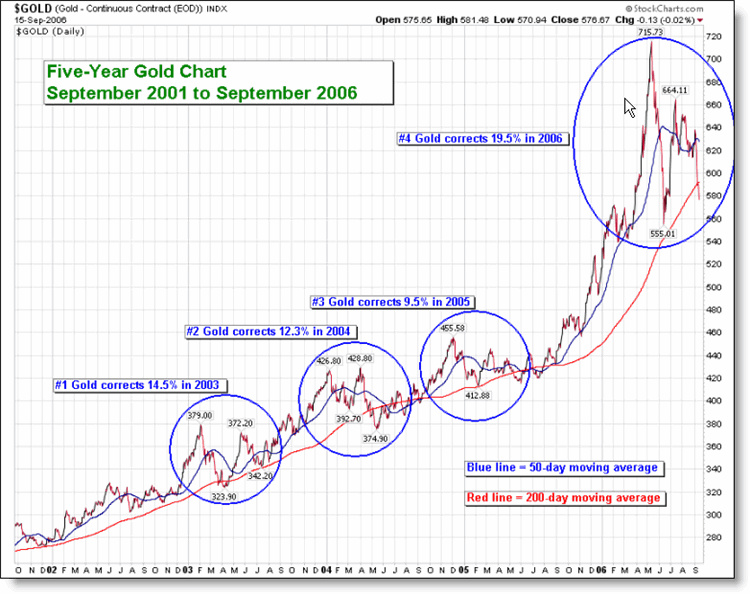 Profit-taking is healthy in a bull market, and markets always tend to overshoot their natural equilibrium points in both directions. The current correction has been the most severe one, but that's only because it followed the most explosive rally we've seen so far, with gold surging by more than 60% from August 2005 to May 2006. The good news is that support seems to be holding at the critical $575 level; if this support level is broken, we see the next major support at $540. Buyers are once again returning to the markets. It's still a little early to tell but the worst may indeed be over.
As the chart clearly shows, each correction following a major rally offered the best buying opportunity of the year. We're confident that this pattern will continue to hold. In the current mega-trend for precious metals, gold under $650 is cheap and gold under $600 is a steal. Why? As we explain in detail later in this update, the fundamentals driving this bull market are still firmly in place. Eventually they will reassert themselves and prices for precious metals will resume their climb.
The current correction is reminiscent of April 2004, when precious metals fell hard after Chinese Premier Wen Jiabao suggested that China would take steps to cool its economy. Gold immediately dropped from $428 to $375, taking the steam out of the market for a short time. Jiaobo succeeded in temporarily talking down the markets, but underlying fundamentals reasserted themselves soon thereafter and the rally resumed. (See Gold dips on China comments – opportunity knocks!) As we told our readers it would, that correction provided the best buying opportunity of the year.
What's most important to remember is this: in an ongoing bull market, major corrections offer the best buying opportunities.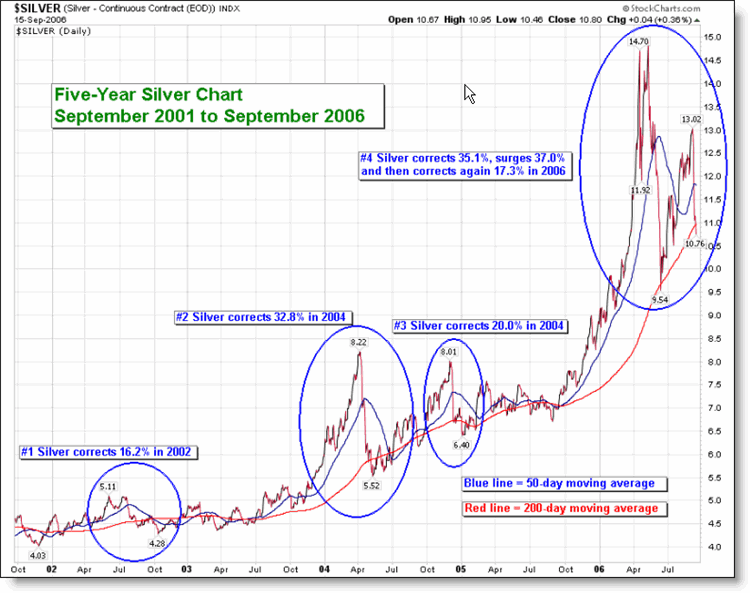 The silver chart above is labeled identically to the gold chart. Silver acts more like a commodity than a currency (unlike gold), so its five-year chart shows more overall volatility than gold. Nonetheless, as with gold, the best buying opportunities for silver occur during the corrections following big rallies. The recent correction has been deeper than previous ones, again because the preceding up-move was so strong. In the current market, silver under $11.50 looks cheap, silver under $11.00 looks dirt cheap, and silver under $10.50 is a steal!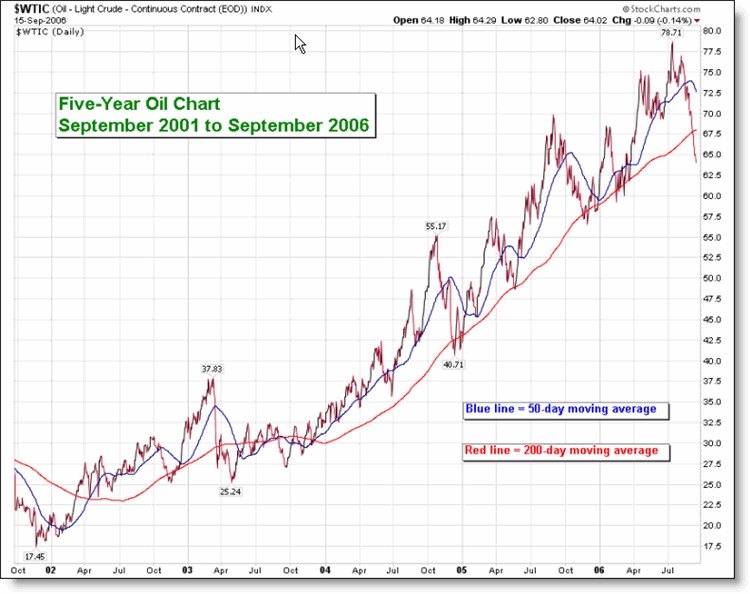 This five-year oil chart shows oil's stunning surge in price since 2001. The major trend has been steadily upward, with demand significantly outpacing production capacity. Like gold and silver, oil has corrected downward four times since 2001, with the latest being the most extreme – a 20% drop from over $78 in the spring to $61 a barrel today. From the cheering on CNBC this week, you'd think oil dropped back to down to the $20 to $35 range, which was normal just a few years ago. Those days are long gone. The reality is, from a historically perspective, oil over $60 a barrel is still extremely expensive, but it's more likely to get much costlier than much cheaper.
The gold price has clearly been influenced by the oil price, both up and down. Sooner or later, we expect gold to decouple itself from oil just as it decoupled from the dollar last year. If gold continues to move with oil in the near term, we expect it roughly to follow the patterns of 2004 and 2005, when oil was strong in the third quarter of the year (summer driving season), weak in the fourth quarter (moderate temperatures), and then strong again in the first quarter of the new year (cold temperatures). If this pattern holds, we can expect a substantial rally in gold and oil as winter comes on in the Northern hemisphere. And it bears repeating, important U.S. elections are just ahead and things always seem to get a bit rosier just before elections.
This five-year U.S. dollar index chart clearly shows how much purchasing power the dollar has lost since 2001. After the major decline from 2001 to 2004, the dollar rebounded in 2005, largely on the back of Fed rate hikes, before weakening again in 2006. Gold's dramatic surge from under $600 to over $700 coincided with the big drop in value for the dollar last spring. The dollar's trading pattern since has been more or less sideways between the 2006 green resistance and red support levels. A break below the 2006 red support level will probably lead to a re-test of the 2004 low. If the dollar drops below this low it could go into free fall. For reasons detailed below, we believe a major drop in dollar value is a very real possibility and will have profound consequences for the gold price.
Commodity boom alive and well
Although prices for oil, precious metals, and other commodities have dipped recently, the market fundamentals underpinning these markets are as strong as ever. The current boom in commodities began in early 2002 when U.S. interest rates were slashed to their lowest levels in modern history. Tremendous liquidity was unleashed into world markets, stimulating dramatic economic growth in the U.S. and abroad. Demand for commodities and industrial materials soared as a result, especially in emerging markets like China and India.
More recently, with inflation mounting to alarming levels, we've seen a steady tightening of monetary policy, especially in the U.S., Europe, and Japan, which has removed a lot of this excess liquidity. In large part, the recent slowdown in commodity prices has been the direct consequence of these higher interest rates as they've slowed economic growth and demand for raw materials. In the short term, the Fed seems to have done its job: inflation appears to have moderated (for now) and the U.S. economy has slowed significantly. Demand for commodities has taken a natural and necessary breather.
But fundamentally, worldwide demand for commodities has not changed. The economies of China and India will to continue to grow and consume untold amounts of energy and other natural resources. Volatile politics in the Middle East, Asia and Russia will continue to drive anxiety about supplies of oil. And the war on terror will continue to spur demand for safe haven financial assets like gold, silver, platinum, and palladium. In addition, the runaway U.S. debt virtually guarantees that inflation will remain a recurrent and intractable problem for years. That's a pretty potent brew to underpin the demand for commodities!
Internationally renowned market analysts the Aden Sisters also believe the commodities mega-boom is still alive and well. In the latest edition of their excellent newsletter, The Aden Forecast, they provide solid technical evidence that the mega-trend for stocks is down and the mega-trend in commodities and gold is up. As they point out, the start of the major bear markets for stocks in 1929 and 1973 coincided with major bottoms in the commodities index; in both cases, stocks remained weaker than commodities for nine to thirteen years. They see the same thing happening now. In 2000, the mega-trend in financial assets that had been dominant for two decades began to shift back toward hard assets. Since 2000, gold has gained 58% more than the Dow and the long-term commodity cycle has turned up for the first time since 1973. The big difference this time is that stocks have yet to drop sharply; but the Dow has failed to rise above its 2000 high, so the real bear market decline in stocks may be yet to come.
The economy has clearly slowed down and is likely to slow further. According to a new Business Roundtable Survey, CEOs from large U.S. companies are expecting the economy to slow substantially over the next six months. This is the second consecutive quarter of negative sentiment among corporate leaders. Most blame higher energy costs, which have moderated somewhat in recent weeks but still remain painfully high at over $60 a barrel for crude. And with winter rapidly approaching, we can expect demand and prices to climb once again.
The housing bust is also to blame for the economy's dulled prospects. Confidence among U.S. home builders fell for the eighth straight month in September, dropping to the lowest level since February 1991. It's the fastest decline in the 21-year history of the index. Housing starts have fallen about 21% since the peak at the beginning of the year. New-home sales are down about 22% from the peak last July. As housing slows, employment in construction, real estate, banking and related retail sectors has also weakened.
"The housing sector is likely to shed 1.5 million to 2 million jobs over the next several years," said Andrew Tilton, an economist for Goldman Sachs. "This will raise the possibility of recession, and we expect it to result in Fed easing in 2007."
Consumers are definitely feeling the pinch. The net worth of U.S. households increased by only 0.1% in the second quarter to $53.3 trillion, the slowest gain in nearly four years, the Federal Reserve said last week. After adjusting for inflation, net worth fell in the quarter.
We're all rooting against recession, which would be bad for everything. If we fall back into a major recession, prices for all commodities would drop for a while. But it seems the Fed might be orchestrating a reasonably soft landing for the economy—time will tell. In any event, looking at the bigger picture, we're firmly convinced that the current bull market in commodities and precious metals is a mega-trend that will continue for the foreseeable future. So we strongly recommend adding to your positions now, while precious metals are temporarily on sale.
Runaway debt and deficits
While the commodity mega-trend will provide long-term momentum for higher gold prices, the strongest driver is likely to come from the corrosive effects of growing U.S. debts and deficits on the value of the U.S. dollar. Prices for imported oil pushed the U.S. trade gap of goods and services to a new record in July, widening by 5% to $68 billion and beating the previous record of $66.6 billion set last October. The nation's current account deficit also increased more than expected in July, totaling more than $218 billion in the second quarter. The broadest measure of U.S. trade with the world, the current account includes both trade in goods and investment flows. The huge current account gap has put downward pressure on the dollar in recent years.
The size of the trade gap was larger than expected and will be a drag on economic growth in the third quarter. What's more, we're on pace for the largest annual trade deficit in history. For the first seven months of the year, the trade gap is $453 billion. This is a faster pace than the same period last year, meaning that the record $716.7 billion annual deficit set last year could be broken.
Perhaps most alarming is the fact that foreign investment in the U.S. is starting to wane. The new Treasury's capital flows report shows net inflows dropped to $32.9 billion, less than half of what was expected, while the deficit on investment income rose to an all-time record of $4.1 billion in the second quarter. What does this mean? Simply that the U.S. is now a confirmed net debtor nation paying out more income than it receives; our trading partners (creditors) and global investors appear finally to be losing their appetite for U.S debt and assets. This scenario has been anticipated for several years and it looks like it's finally coming home to roost. The greenback depreciated 3% on a trade-weighted average basis against Group of Seven major currencies in the second quarter, and this is only the start.
If this new trend continues and large volumes of international money look elsewhere for investment, the change would almost certainly trigger a rapid fall in the dollar and send shockwaves through the U.S. economy. The gold price would soar under these conditions, and for two reasons. First, because gold is denominated in dollars, a decline in dollar value means an automatic increase in gold value. Second, only in the last few decades has the dollar replaced gold as the world's currency of last resort; if the dollar plummets, gold is likely to resume its historical role as the world's primary currency, and the gold price, which nearly tripled from 1999 to May 2006, will move much, much higher. We believe gold will ultimately move well over $1,000, and some analysts are already calling for $2,000 gold or higher.
Is the United States bankrupt?
Even more dangerous than the trade gap, however, is what economist Laurence J. Kotlikoff has recently labeled as the U.S. "fiscal gap," or the growing inability of the U.S. government to meet its current and future financial obligations. The fiscal gap includes not only our gargantuan national debt, which is currently $8.3 trillion, but also the future burdens of Social Security and Medicare to which the government is financially (and legally) obligated.
Kotlikoff is no slouch: he's Professor of Economics at Boston University and a research associate at the National Bureau of Economic Research. In the July/August 2006 issue of the Federal Reserve Bank of St. Louis Review, he poses the question, "Is the United States Bankrupt?" His answer is a frightening yes: "the U.S. government is, indeed, bankrupt, insofar as it will be unable to pay its creditors, who, in this context, are current and future generations to whom it has explicitly or implicitly promised future net payments."
It's remarkable that this extraordinary piece of research has gotten so little press because its conclusions are earth-shaking. Following the same methodology used by the Department of the Treasury in 2002 to perform its own internal analysis commissioned by then Treasure Secretary Paul O'Neill, Kotlikoff identifies the U.S. "fiscal gap" as the difference between "all future government expenditures, including servicing official debt, and all future receipts."
According to Kotlikoff's study, our current fiscal gap measures an absolutely staggering $65.9 trillion! This dizzying figure is more than five times the U.S. GDP, almost twice the size of the national wealth, and, significantly, around eight times the "official" national debt of $8.3 trillion!
(Interestingly, Kotlikoff says Secretary O'Neill's own Treasury study outlining this fiscal gap was prepared for inclusion in the president's 2003 budget, but was immediately censored when O'Neill was fired in December 2002.)
The costs are monstrous and growing rapidly as our population ages. The Centers for Medicare and Medicaid Services spent $515 billion in 2005—21% of the federal budget and about $21 billion more than all defense spending. Federal spending on the elderly is plausibly projected to double from 2000 to 2030 as a share of national income. About three quarters of that increase will be health spending—mostly Medicare, but also Medicaid (70% of Medicaid spending goes to the old and disabled). The rise in health spending exceeds all of today's discretionary domestic spending on schools, the FBI, the environment and much more.
One way to get your mind around the staggering implications of our fiscal gap is to ask what changes will need to be made to offset it. Kotlikoff's answers are truly terrifying: the immediate and permanent doubling of personal and corporate income tax; an immediate and permanent two-thirds cut in Social Security and Medicare benefits; or the immediate and permanent (and impossible) cutting of all federal discretionary spending by 143%. Yikes!
Given the reluctance of our politicians to raise taxes or cut benefits, the most likely scenario, he concludes, is that the government will simply start printing more money. However, this "solution" will merely amplify the problem and lead to spiraling expectations of higher inflation, "with the process eventuating in hyper-inflation." Fiscal policies like ours, he says, have created hyper-inflation in twenty nations over the past century.
Kotlikoff does offer some other possibilities, such as direct investment from China, to help to offset our fiscal gap. China saves more than one-third of its national income annually (the U.S. saves around 2%) and is running a global account surplus. But it's far more likely that substantial inflation is on the horizon. Indeed, our fiscal gap almost guarantees it because inflation will be necessary to erode the real value of our government debt. Here is yet more evidence to support the current mega-cycle in commodities, for when inflation rises, commodities gain. And during periods of hyper-inflation, gold reclaims its title as the undisputed heavyweight champion of the financial world.
So what does it all mean? Looking at the bigger picture, not much has really changed since last fall when gold began its run to a generation high of $720. The U.S. economy is weak, and the national debt continues to grow unabated. The U.S. trade deficit is once again setting records, and our truly alarming fiscal gap gets larger by the month. Oil prices, while off from recent highs, still threatens to rise to astronomical levels. The dollar is precarious and, with interest rates peaking, it will soon lose one of its main props. And we remain mired in an extremely costly war in an extremely volatile region of the world, which could quickly degenerate into chaos and cause an event-driven run on both oil and gold. All of these circumstances combine to favor a much higher gold price.
We are now in period of consolidation, which is to be expected after the huge, tectonic shifts that occurred in the metals markets, the dollar, and the oil price over the past the past few years. However, after the dust settles, and sooner rather than later, the larger trends of the declining dollar, rising commodities, and a rising gold price will reassert themselves once again. We believe that gold will test $700 again by year end and perhaps test its previous all-time high of $850 within the next twelve to eighteen months. And much greater gains in the gold price are probable.
Classic U.S. gold coins on sale
Classic U.S. gold coins have softened in price over the summer months. Many classic U.S. gold coins are presently oversold by 10% to 30%, in our opinion, and offer unusually good value for the long-term investor. The availability of quality coins on the national dealer-to-dealer market, however, remains abnormally low. When retail demand heats up again, prices for most classic U.S. gold coins will surge quickly. Investor appetite for classic coins tends to coincide with a rising gold price or a falling stock market. If both circumstances occur at once, which will be a likely scenario in coming months, prices for classic gold coins can truly explode.
The single best buy in the classic coin market today continues to be $20 Liberty gold coins in near-gem Mint State 64 condition. This issue has a total surviving population of just over 73,000 coins in MS64, making it quite scarce. Scarcity like this creates strong upward price leverage when the gold market is rising. And what's more, these coins are extremely inexpensive right now at under $1,700 each. Last May they were trading for $2,350, and their previous market high is $4,525. All of our coins are certified in near-gem MS64 by NGC or PCGS, and hand-selected for exceptional quality.

If you don't own MS64 $20 Liberty gold coins, now is an ideal time to add them to your portfolio. If you already own them at higher prices, now is an excellent time to exploit today's low prices by cost-averaging down. They receive our highest recommendation, with excellent upside potential and very little downside risk at these prices. Please call 1-800-613-9323 today for firm prices and to place your order while current inventory holds.
You can read more about $20 Liberty gold coins in MS64 by reviewing our Market Rockets. In addition, be sure to check out our updated inventory of other classic U.S. gold coins.
And don't forget, the new American Buffalo gold coins are still shipping! Buffaloes are the first .9999 fine 24-karat gold coins ever struck by the U. S. Mint. We're trading these exciting news coins at the same prices as regular old American Eagles. Other dealers are charging more, and in some instances much more, for the new Buffaloes. Don't pay more when you don't have to! Stick with AGE, your reliable hard asset advisor.
That's it for now. As always, thanks for you time!
Sincerely,
Dana Samuelson, President
Dr. Bill Musgrave, Vice President
Metal
Ask
Change

Gold

$1,788.83
$1.07

Silver

$18.30
$-0.11

Platinum

$847.41
$5.71

Palladium

$1,995.33
$11.49
In US Dollars
AGE Gold Commentary
AGE Investor Alert!