AGE Gold Commentary is our regular report analyzing trends in precious metals and rare coins. We monitor domestic and international markets and extrapolate from our 30 years in metals to place current events into a hard asset perspective. View archives.
---
2/28/2007: Gold price hits major milestone
Source:
Greetings from American Gold Exchange. In this issue of Gold Market Commentary:
Metals higher on oil, Iran
Gold price hits major milestone
Long Beach Coin Show report
Recommended classic U.S. coins

Metals higher on oil, Iran
Precious metals have been grinding higher since our last update, primarily because of rising oil prices and escalating tensions in the Middle East. Typical winter increases in demand for oil, combined with Iran's growing defiance of the world community over acquiring nuclear capability, have pushed the oil price up by more than 20% in the past month. All four precious metals have been pulled higher with it (see the latest charts are below).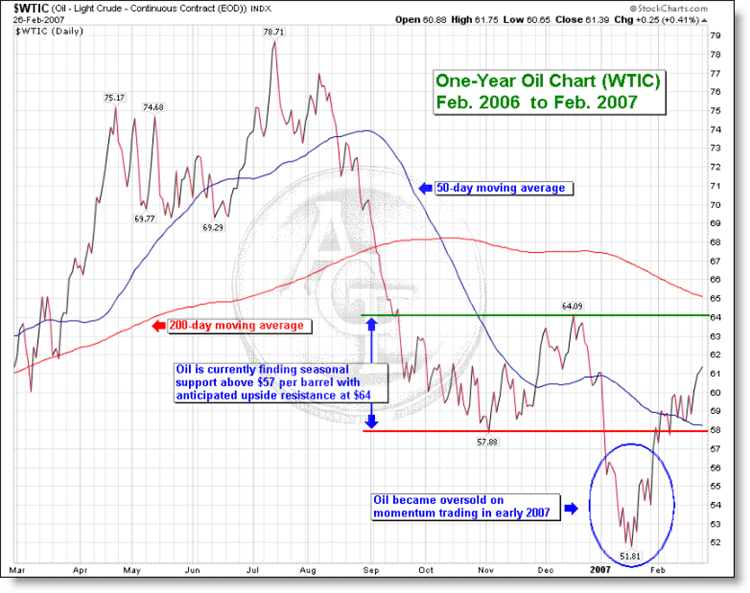 As you can see, oil has rebounded firmly from its knee-jerk sell-off in early January, settling into a higher seasonal trading range between $58 and $64 a barrel. After dropping as low as $52 a barrel in January, oil is now back over $60 and looks to go higher.
Oil and precious metals are supported by rising tensions with Iran, the world's fourth-largest oil producer and exporter. Saber-rattling over Iran's burgeoning nuclear program has created a wall of worry, and oil and precious metals are climbing it. In mid-February, President Bush positioned a second aircraft carrier group in the Arabian Gulf as a tacit warning. The BBC reported last week that the U.S. has contingency plans to bomb Iranian nuclear sites and military infrastructure if the nation persists in developing nuclear technology, or if it's linked to a major attack on U.S. forces in Iraq.
Meanwhile, Iran remains defiant in the face of additional U.N. sanctions and posturing by the U.S. military.
It's difficult to determine how much seasonal demand is responsible for oil's 20% gain in the last month and how much is because of a fear premium, but both clearly exist at present.
Gold price hits major milestone
This month gold achieved an important if largely overlooked milestone. As of February 26, the average gold price for the month of February rose to $664 per ounce, its second highest monthly average in a generation. February's average price will be one of the five highest ever recorded, including January 1980, when gold spiked to $850 (average monthly price of $675) and May 2006, when gold surged to $730 (average monthly price of $676). It will also be only the second month with an average price above $635 since gold's bull market began in earnest in 2002.
In both January 1980 and May 2006, the high average monthly prices were driven by a major surge that did not hold. This time, the price gains have been slow, incremental, and steady, with the monthly average rising on almost every daily New York market close.
Why is this milestone important? Because of big money managers. Unlike most gold bugs, who follow gold's every price tick, large hedge fund and institutional money managers focus mainly on monthly price trends. When the monthly average is moving up or down, they sit up and take notice because, as the old traders' adage goes, the trend is your friend. And when the big money managers enter a market, prices tend to rise dramatically.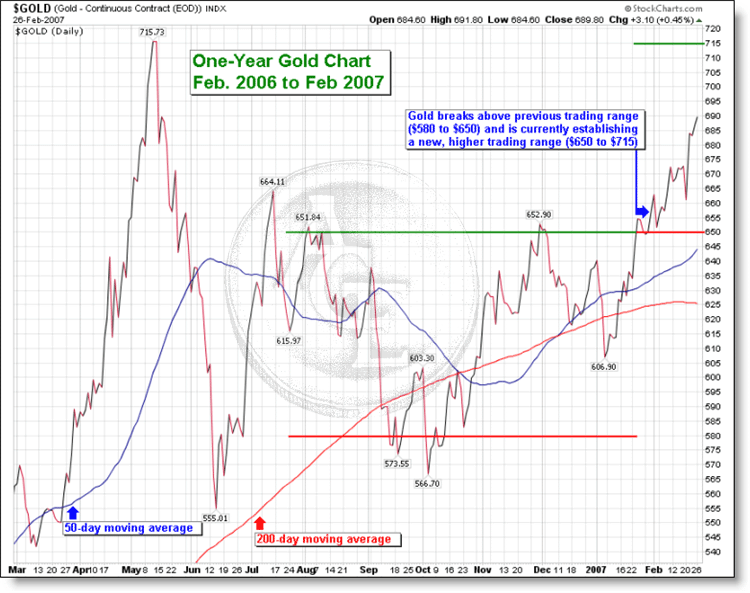 Today's high average price provides a far more solid foundation for continued gains than those earlier ones, and big money managers know it. Once hedge funds and other large institutional investors return to the gold market, after departing in droves last May and June, the next phase of this bull market could begin and the gold price could really soar.
However, because the rally has been fueled somewhat by seasonally higher oil prices and growing tensions with Iran, we cannot say conclusively that the next major up-move for gold has begun. Lower springtime oil prices and a negotiated settlement with Iran could take some of the steam out of this rally. But in the current environment, oil prices could just as easily hold or go even higher; and when you consider Ahmadinejad's rising rhetoric and the Bush administration's equally hard-line stance, a diplomatic solution to the developing Iranian nuclear crisis seems unlikely.
It is also worth noting that Iran appears to have a financial incentive to maintain or increase tensions over their nuclear ambitions. As the rhetoric rises, so does the oil price, putting more U.S. dollars into Iranian coffers. Indeed, while the U.N. is deciding how to punish Iran's bad world-citizenship, the oil market is rewarding it with windfall profits. If Ahmadinejad is as crazy as he sounds, perhaps he's crazy like a fox. On the other hand, if Iranian oil supplies were suddenly removed from the market for any reason, the oil price would surge dramatically and precious metals would quickly set new 21st century highs. Considering these factors, we believe the current precious metals market has approximately 10% downside and 25% upside in the short run.
The present gold rally even seems strong enough to shake off yesterday's "Shanghai sell-off" in the global equities markets. The Shanghai stock market closed down almost 9% overnight, its biggest single day decline in a decade. This sudden drop triggered an immediate sell-off in equities, with U.S. stocks plunging to their worst one-day performance since 2001 and European stocks faring even worse.
In response, gold closed lower for the first time in three sessions on concerns that Chinese demand for commodities may weaken. But prices finished well above the day's low, and with gold displaying so much strength in the last few weeks — knocking over resistance, consolidating briefly then edging up — the inherent resilience of the metals market is making itself known. How this scenario plays out remains to be seen, and we'll certainly keep you posted, but any negative effect on precious metals is likely to be short-lived. Gains in oil, tensions in Iran and Iraq, and declines in the dollar continue to feed safe-haven investment in gold, which could ultimately become the recipient of a sizeable amount of yesterday's instant liquidity.
In the long run, the fundamentals that have propelled this bull market in gold since 2002 remain fully intact and continue to strengthen. The U.S. continues to accumulate debt at an unprecedented level, which will further weaken an already weakening dollar; competition grows from China and India for natural resources, which will drive up prices for all commodities; Iraq remains a violent quagmire, and tensions with Iran continue to mount; inflation is rising, and the money supply continues to expand unabated; and the list goes on and on. Although gold might be volatile in the short term, we believe it will climb above $850, above $1,000, and ultimately set a new high somewhere between $1,200 and $1,800 in coming years.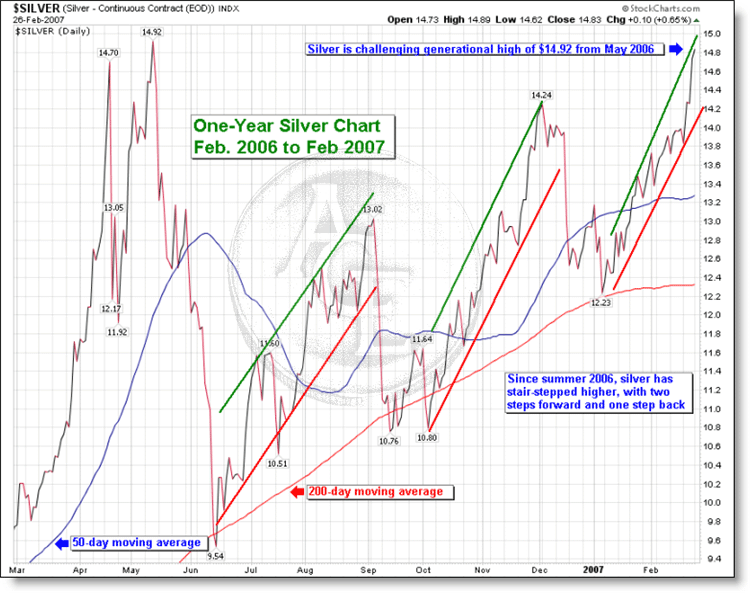 Like gold, silver has moved into a higher trading range since our last update. Notice the fully developed third up-leg in the chart in the last nine months. Silver has been stair-stepping higher in price, setting higher highs and higher lows. During each of three up-legs, which are defined on the chart with red support and green resistance levels, prices moved steadily higher and then suffered a sharp sell-off on profit-taking. Each sell-off, in turn, set the stage for an even greater leg up.
We see silver enjoying current support at $14 an ounce, and then at $13.25 if it falls below $14. We believe the silver price is poised to move above the May 2006 high of $14.92, and will eventually reach towards the $18 to $22 range. So we strongly advocate buying on any strong dips.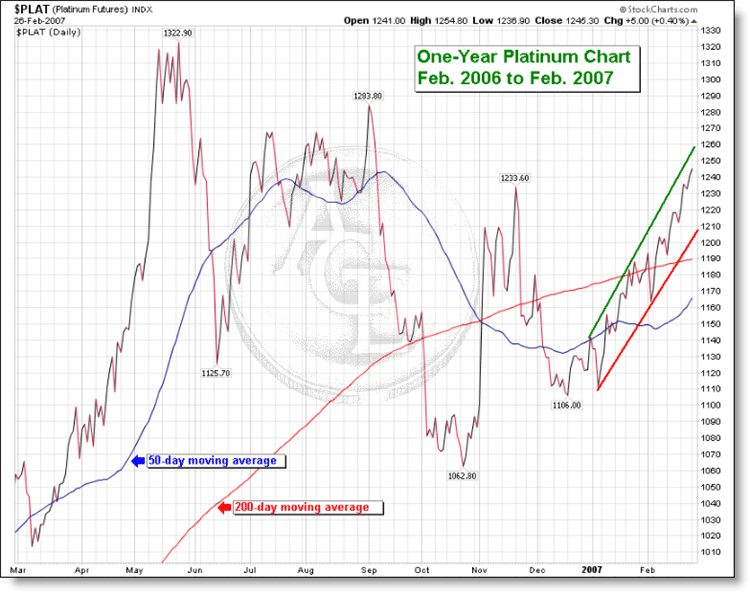 Since our last update, a clear uptrend in platinum has developed, defined by the red support and green resistance lines. This metal has been extremely volatile over the last twelve months, so we've advocated sidestepping it in favor of palladium. While platinum's recent move higher as been orderly, we continue to favor its much less expensive and far less volatile sister metal, palladium, for investors who want to harness the many industrial applications of platinum.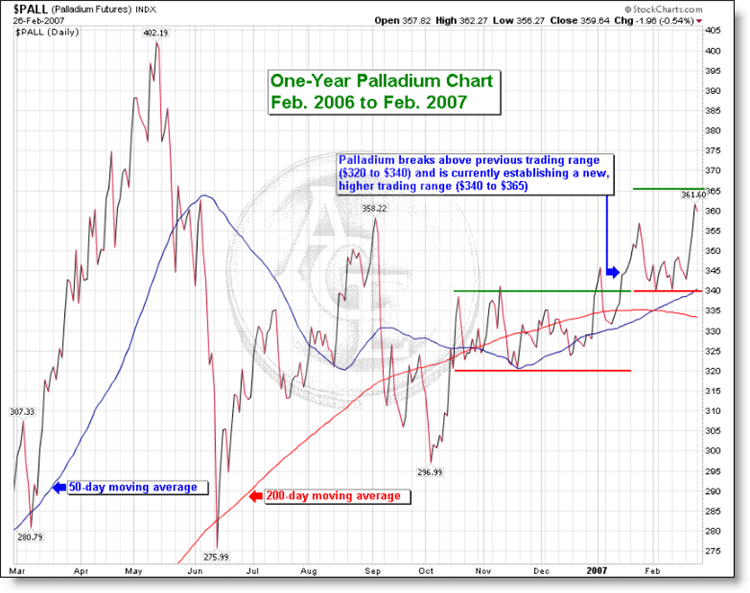 Palladium has been rising nicely since our last update, establishing a higher trading range between $340 and $365 an ounce. Assuming the global equities sell-off does not adversely affect precious metals prices for more than a day or two, we anticipate palladium will hold support over $335 to $340 and grind steadily higher as it has done since the start of the year.
Long Beach Coin Show report
We've just returned from the Long Beach Coin Show, which is usually an excellent show for buying coins. This year, however, surprisingly little inventory was available. Although we were able to buy the cream of the crop in terms of quality, our overall buying volume was one-half to one-third of what we had hoped. National dealer inventories remain at abnormally low levels, and substandard coins (in our admittedly picky judgment) are becoming more and more common. We're now rejecting more coins than ever before because so many are below our strict standards for in-grade technical merit and overall eye-appeal, despite their PCGS or NGC ratings. Our long experience has proven to us that quality is one of the main keys to long-term gains for our customers. We simply will not compromise quality in order to make sales. Many dealers, unfortunately, are not so conscientious, so it's caveat emptor if you deal with them.
Despite shrinking supplies, classic U.S. gold coins have been lagging the gold bullion market in recent months. In fact, many bread-and-butter coins are selling at prices more reminiscent of gold at $575 or $625 than gold at $675. Coin prices, of course, are driven by supply and demand; and while supplies have been low, recent buying activity by the public has been a bit lower. Why? The main reason would seem to be the unexpected (and tenuous) strength of the Dow, which recently set another new all-time record. With stocks still defying gravity despite yesterday's correction, many investors appear to have become complacent about our current economic environment. To us, the current equities rally seems rather like a sand castle waiting to be swept away by crashing waves of debt, deficits, and weakening dollars.
For investors who want to add private, non-reportable classic U.S. gold coins to their investment portfolios, the current market is presenting some fantastic buying opportunities. At today's prices, even if gold has a seasonal setback, which is not unusual in springtime months, many classic U.S. gold coins have virtually no downside risk in the current market. Should gold continue to move higher, classic U.S. gold prices would almost certainly play a fast game of catch up. In any case, classic U.S. gold coins are a very safe bet right now. We strongly urge you to stock up while you can!
Recommended classic U.S. coins
These are the classic U.S. coins we recommend most highly today:
$5 Indians, Mint State 63 and $5 Indians, Mint State 64 – These unusual incuse design $5 gold coins are extremely scarce and have shown the ability to dramatically surge in price when demand is strong. Prices and premiums have recently dropped to very low levels, despite extremely limited national availability. Although we have few to offer, we are issuing a Strong Buy alert on these classic U.S. gold coins for the first time ever because they are such an excellent value right now.
Power Pair #1 – An inexpensive pair of classic U.S. double eagles (a P-Mint $20 Saint-Gaudens in MS63 plus a pre-1900 $20 Liberty in MS62) at low premiums relative to gold bullion. Appropriate for conservative investors who like modest leverage to gold and complete financial privacy. Premiums on these classic gold coins are extremely low at the moment, making them a great, conservative buy right now.
U.S. Peace silver dollar rolls, BU – The smart way to buy silver. Inexpensive with excellent scarcity for the price.
And be sure to take a look at our superb inventory of classic U.S. gold coins. Please call 1-800-613-9323 and speak to one of our friendly rare coin experts if you see anything of interest or want to learn more.
That's it for now. As always, thanks for your time.
Sincerely,
Dana Samuelson, President and Owner
Dr. Bill Musgrave, Vice President
Metal
Ask
Change

Gold

$1,780.89
$0.00

Silver

$18.21
$0.00

Platinum

$832.41
$0.00

Palladium

$1,973.67
$0.00
In US Dollars
AGE Gold Commentary
AGE Investor Alert!